This chocolate crepe cake with fluffy cream cheese filling looks deceptively difficult, but is easy to make and assemble. If you can make crepes, you can make a crepe cake!
Two Days Ago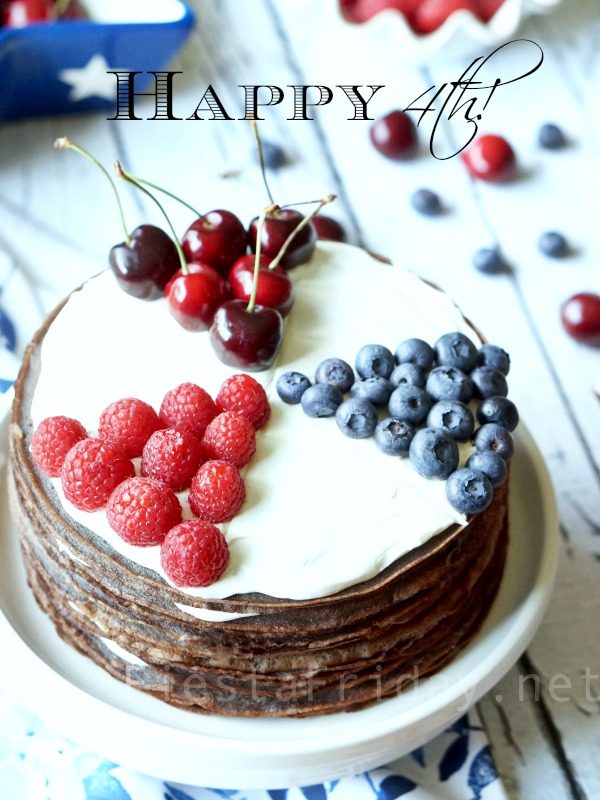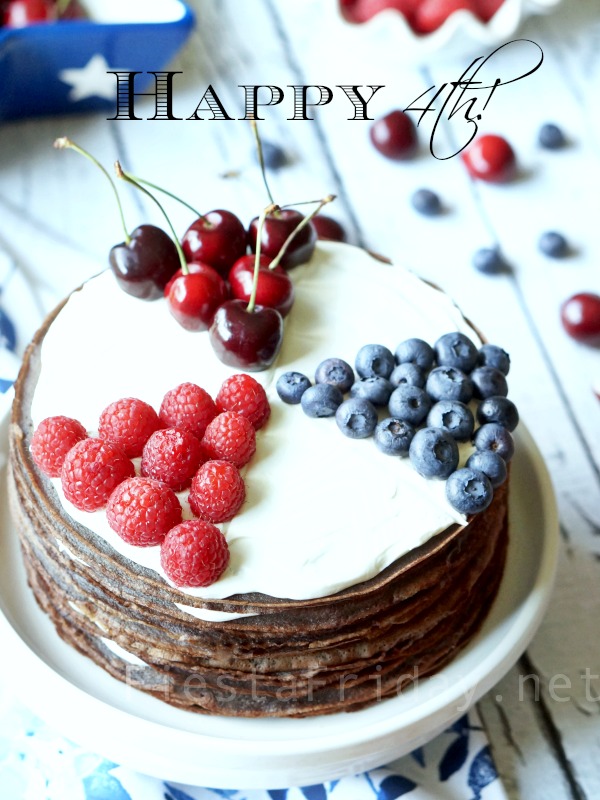 Happy Independence Day, guys!!
There's still time to make dessert! And if you want to wow your guests, may I recommend this Chocolate Cheesecake Crepe Cake?
But you'd better hurry! Hustle and make haste, please! Time's a-wastin'!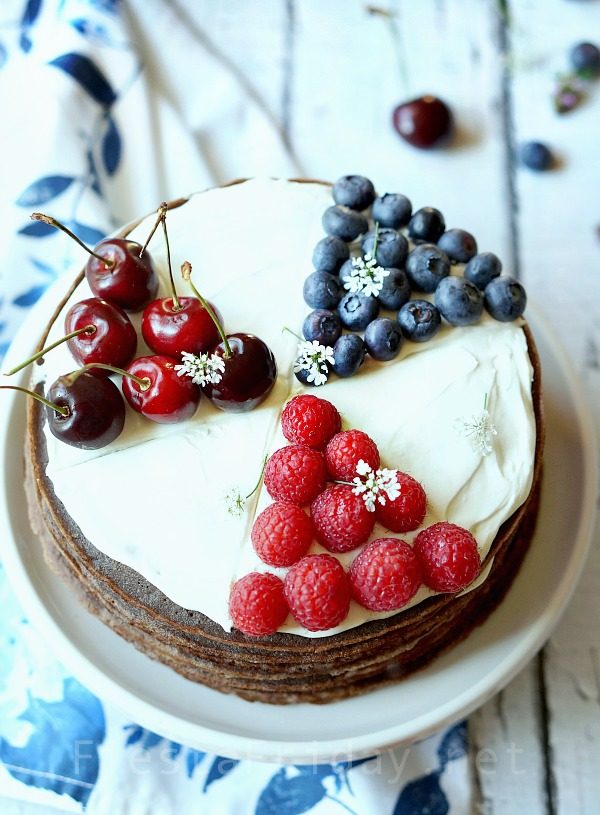 Today
Or you can just slow down, relax, and make it another time for another occasion. I don't see any reason why you should stress yourself. A crepe cake will wow anybody at any time.
Like me, for instance. I was continually wowing myself as I was making it. And I was also continually wowing anybody that entered my kitchen.
"What ARE YOU making?!"
"What IS that?!"
"Oh, WOW!"
Those were the catch phrases of the day. They were all acting like they never saw a crepe cake before! Have I never made it before?! < — Insert a thinking emoji here. Not to brag or anything, but crepes are somewhat my specialty. I can crank them up at a moment's notice. Ask my son if you don't believe me. He always wants crepes! Sometimes at some ungodly hours of the day. And mom aka moi has to get her hiney off the couch and make them, coz she loves the son and doesn't want him to be crepe-deprived. However, even though I make crepes all the time, it turns out that I've made a crepe cake only once. My one and only crepe cake recipe is here –> Mille Crêpe Cake
It's time to correct that oversight. Let's start flooding this space with all kinds of crepe cakes! Starting with this Chocolate Cheesecake Crepe Cake, which is not just about the perfect dessert for a hot Fourth of July day, but any other special occasion.
Including Thursday. Because Thursday is new, current, up-to-the-minute. Basically, today. And today's theme –>Rainbow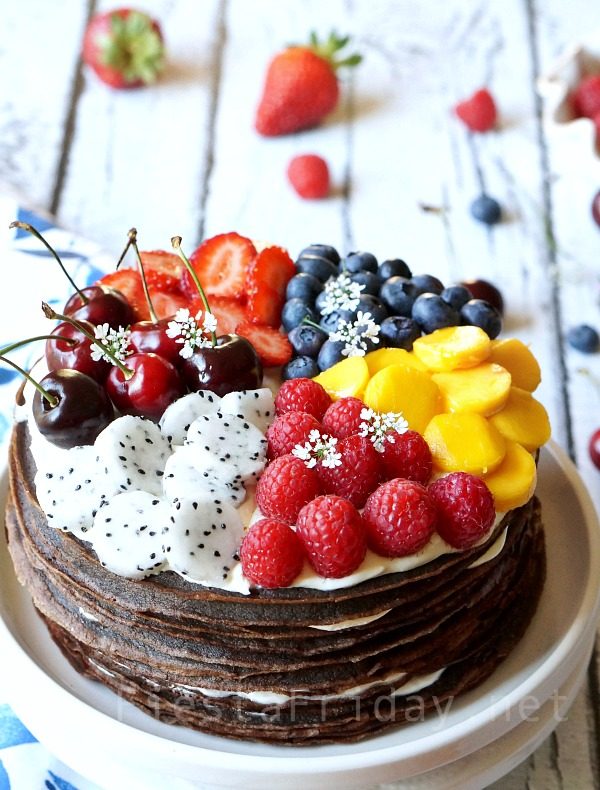 Because this theme –>Red, white, and blue is old, outdated, in-the-past. Basically, 2 days ago.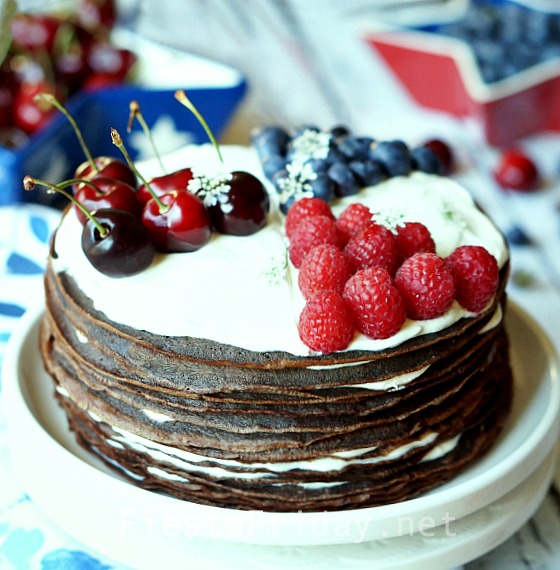 Anyway, I'm just kidding. I'm trying to let you see how versatile a crepe cake is. It's basically just like any other cake that you can decorate however you want.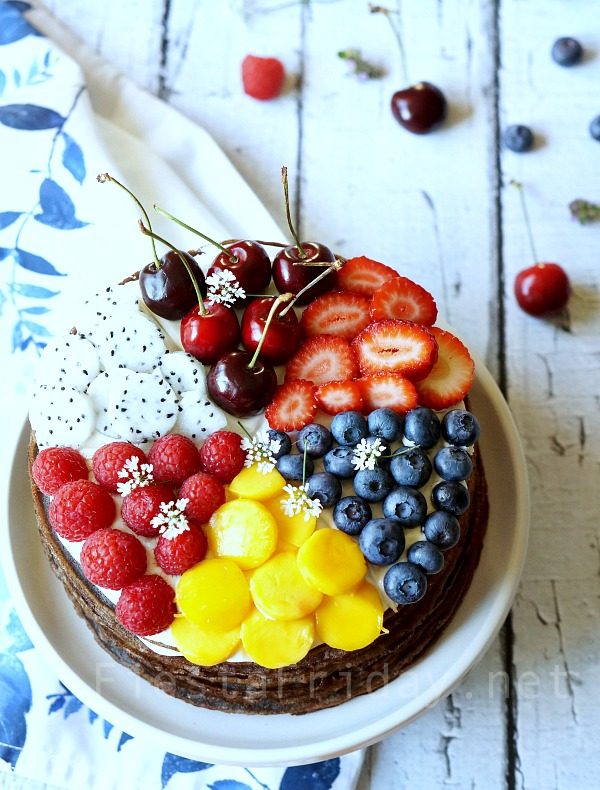 Making it is also quite easy, in my opinion. If you can make crepes, you can make a crepe cake. It's that simple.
Maybe one of these days I'll put together a step-by-step how-to, so maybe if the son ever wants to learn how to make crepes for himself, which he should, I can just show him my blog. Although for him, it'd be a lot easier to just show a fast-motion video.
Anyway, let's cut the chit-chat, and show you what the inside layers of the cake looks like. That's all that matters.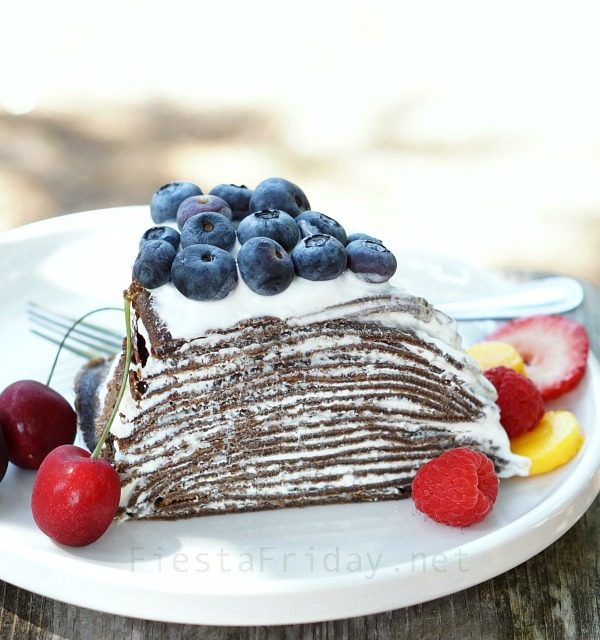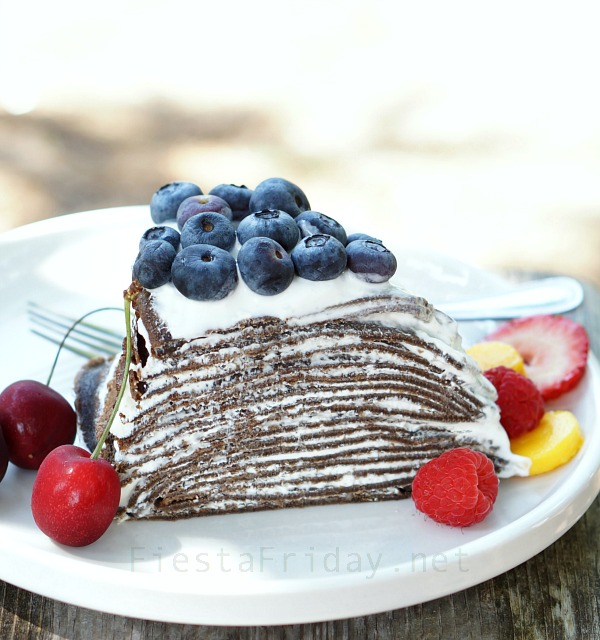 Full disclosure –>It was hard cutting into this crepe cake cleanly. Several layers slid off the top of the cake when I did, since the filling had partially melted. It was a hot day. So if you make this, leave it in the fridge and take it out last minute, just before you're ready to serve.
Chocolate Cheesecake Crepe Cake
This chocolate crepe cake filled with fluffy cream cheese looks deceptively difficult, but is easy to make and assemble. If you can make crepes, you can make a crepe cake!
Author:
Angie | FiestaFriday.net
Ingredients
1 stick (8 tablespoons) butter
3 cups milk
6 eggs
1 cup all-purpose flour
½ cup whole-wheat flour (optional, can be substituted with all-purpose flour)
½ cup buckwheat flour (optional, can be substituted with all-purpose flour)
3 tablespoons cocoa powder
1 tablespoons extra dark cocoa powder (optional, can be substituted with regular cocoa powder)
2 tablespoons sugar
½ teaspoon salt
1 (8 oz.) package cream cheese
1 (8 oz.) tub whipped topping (cool whip)
1 cup powdered sugar
Fresh fruits
Instructions
In a small saucepan, heat butter over medium heat, swirling it every now and then, until it browns (about 5 minutes). Set aside to cool. Use 6 tablespoons for the crepe batter and the remaining 2 tablespoons to cook the crepes.
Heat the milk just until warm, then place it, along with the rest of the crepe ingredients in a blender, and blend until smooth (about 30 seconds). Place the batter in the fridge for about 2 hours to let the foam that forms on the top to subside.
Bring the batter back to room temperature when you're ready to make the crepes.
Place a non-stick 6-inch pan over medium heat. Add a little browned butter.
Pour ¼ cup batter and swirl to cover the surface. Cook until the bottom just begins to brown, and the top dry, about 60 seconds, then carefully lift an edge and flip the crepe with a spatula.
Cook the other side for about 10 seconds. Slide the crepe onto a plate. Repeat until you've used up the batter
You should get about 25 (6-inch) crepes. Let them cool before assembling.
To make the filling, beat softened cream cheese with the powdered sugar until light and fluffy.
Fold in the whipped topping.
To assemble, place 1 crepe on a plate. Using an offset spatula, spread about 2 tablespoons of filling to cover the crepe. Repeat with the remaining crepes. There's enough filling for about 20 crepes.
Decorate cake with fresh fruits.
Chill the cake before cutting and serving to firm up the filling, for at least 2 hours and up to overnight. The colder or firmer the cake, the easier it is to cut.
Pin This!