Chocolate Cheesecake Crepe Cake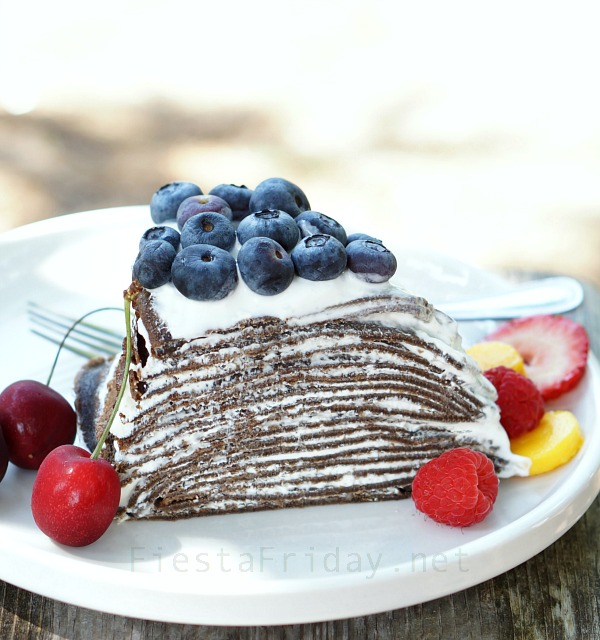 Author:
Angie | FiestaFriday.net
1 stick (8 tablespoons) butter
3 cups milk
6 eggs
1 cup all-purpose flour
½ cup whole-wheat flour (optional, can be substituted with all-purpose flour)
½ cup buckwheat flour (optional, can be substituted with all-purpose flour)
3 tablespoons cocoa powder
1 tablespoons extra dark cocoa powder (optional, can be substituted with regular cocoa powder)
2 tablespoons sugar
½ teaspoon salt
1 (8 oz.) package cream cheese
1 (8 oz.) tub whipped topping (cool whip)
1 cup powdered sugar
Fresh fruits
In a small saucepan, heat butter over medium heat, swirling it every now and then, until it browns (about 5 minutes). Set aside to cool. Use 6 tablespoons for the crepe batter and the remaining 2 tablespoons to cook the crepes.
Heat the milk just until warm, then place it, along with the rest of the crepe ingredients in a blender, and blend until smooth (about 30 seconds). Place the batter in the fridge for about 2 hours to let the foam that forms on the top to subside.
Bring the batter back to room temperature when you're ready to make the crepes.
Place a non-stick 6-inch pan over medium heat. Add a little browned butter.
Pour ¼ cup batter and swirl to cover the surface. Cook until the bottom just begins to brown, and the top dry, about 60 seconds, then carefully lift an edge and flip the crepe with a spatula.
Cook the other side for about 10 seconds. Slide the crepe onto a plate. Repeat until you've used up the batter
You should get about 25 (6-inch) crepes. Let them cool before assembling.
To make the filling, beat softened cream cheese with the powdered sugar until light and fluffy.
Fold in the whipped topping.
To assemble, place 1 crepe on a plate. Using an offset spatula, spread about 2 tablespoons of filling to cover the crepe. Repeat with the remaining crepes. There's enough filling for about 20 crepes.
Decorate cake with fresh fruits.
Chill the cake before cutting and serving to firm up the filling, for at least 2 hours and up to overnight. The colder or firmer the cake, the easier it is to cut.
Recipe by
Fiesta Friday
at https://fiestafriday.net/2017/07/06/chocolate-cheesecake-crepe-cake/