Seasoned right, inexpensive cuts of beef like top or bottom round steaks, aka London Broil, can make an exceptionally satisfying meal, perfect for feeding a crowd without breaking the bank.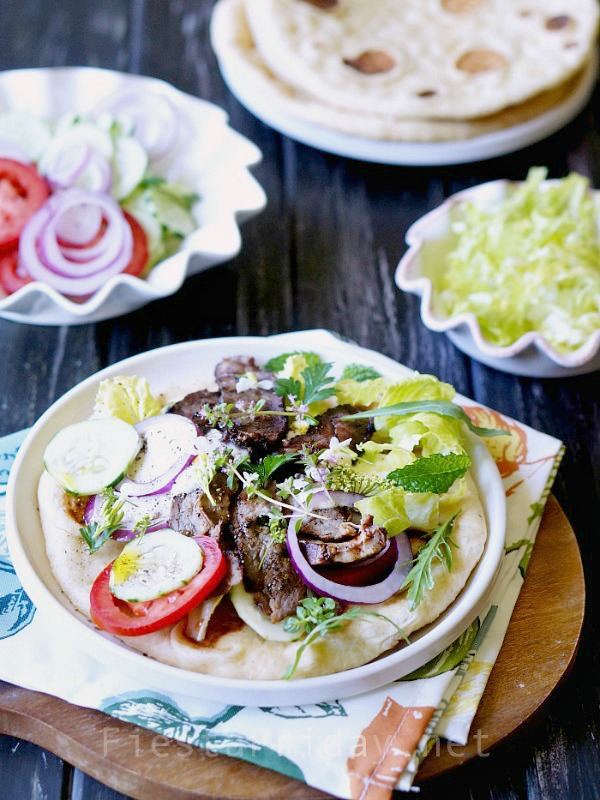 So, what are you guys doing for the Fourth of July? Anybody going to do anything special and celebrate big?
Please tell, guys, enquiring minds want to know!
Okay, stop, I don't know where that came from. I swear I don't read National Enquirer! I'm not interested in the three-eyed alien and his human lady-love.
Okay, maybe a little… But I'm much more interested in knowing what you'll do, eat, or drink, that sort of thing.
Okay, that just makes me sound like a creep. I swear I'm not. I think I'm just going to tell you what I'll do instead.
First thing I'll do to prepare for the Fourth of July will be to clean the grill. Wait, that's not even my job. That's the husband's job. I think I'll take care of the food shopping instead.
I'll get us nice steaks, that's what I'll do. Ribeyes are my family's favorite, but if I'm going to feed a crowd, I'll get London Broil instead. Which, around here, is a misnomer. Around here, people refer to London Broil as a cut of meat, when in actuality London Broil is a method of cooking steaks. Which is marinating first then grilling or broiling.
And it doesn't have anything to do with the city of London, either. So confusing!
And to confuse you even more, when I do London Broil, I like to give it a Lebanese treatment. Coz Lebanese London Broil rolls off the tongue like…like…uhm…like…how much wood would a woodchuck chuck if a woodchuck could chuck wood…
Never mind… Let's proceed with the London Broil.
First, get cheap cuts of beef like top or bottom round or flat iron or flank steaks. They're all pretty inexpensive.
Then, sprinkle them liberally with kosher salt (only coarse salt like kosher or sea salt, please, not table salt). Don't worry, most of the salt will be rinsed off later. Let them sit like that for about 45 minutes to an hour, not less, not more.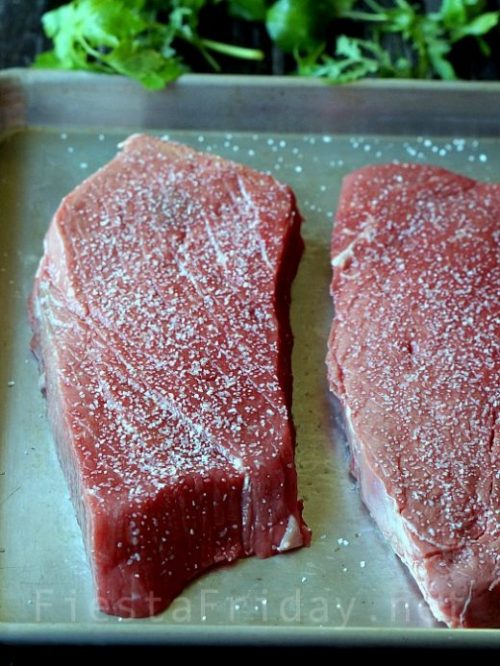 The science behind salting meat is explained in this video from Cook's Illustrated.
While your steaks are getting the salt treatment, make your marinade.
Some minced garlic and fresh herbs like oregano and parsley are mixed with ground black pepper, cumin, and cinnamon. Then add either ground sumac or lemon juice and olive oil. A little bit of salt is fine, too, but not too much since the steaks have been salted.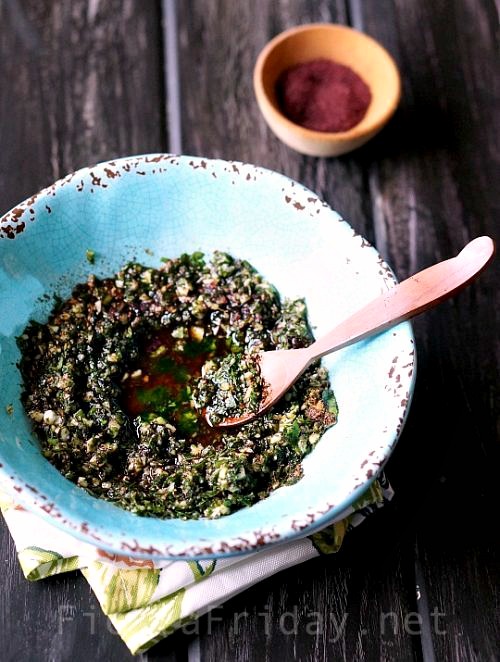 I call this my Lovely Lebanese Liquid. Okay, it's more like a paste than liquid. Never mind…
Now, go back to your steaks. Rinse them and pat dry with paper towels, then smear the marinade all over them. Put them in the fridge for at least 2 hours before grilling, to get them properly "flavorized".
At this point, you can relax… Actually, never mind… This is when you make your flatbreads.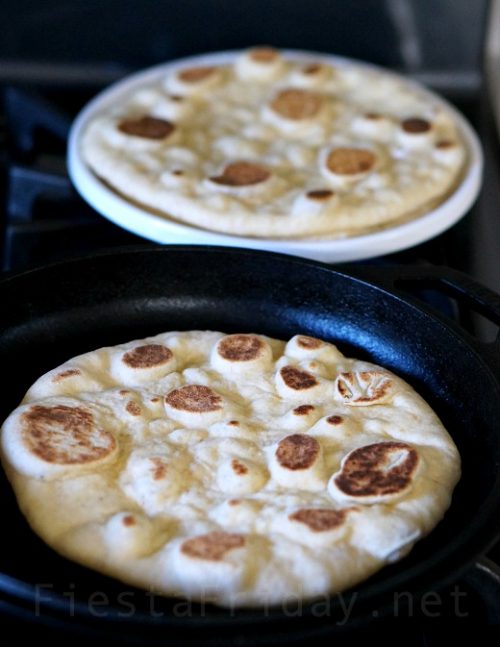 Or you can just buy them, so you can relax. I'll tell you how I make my flatbreads another time. This post is already long enough.
When it's time to grill, take the steaks out of the fridge and let them relax first at room temperature before grilling.
I like to grill mine quickly on high heat, 3-4 minutes on each side. That'll give me rare steaks.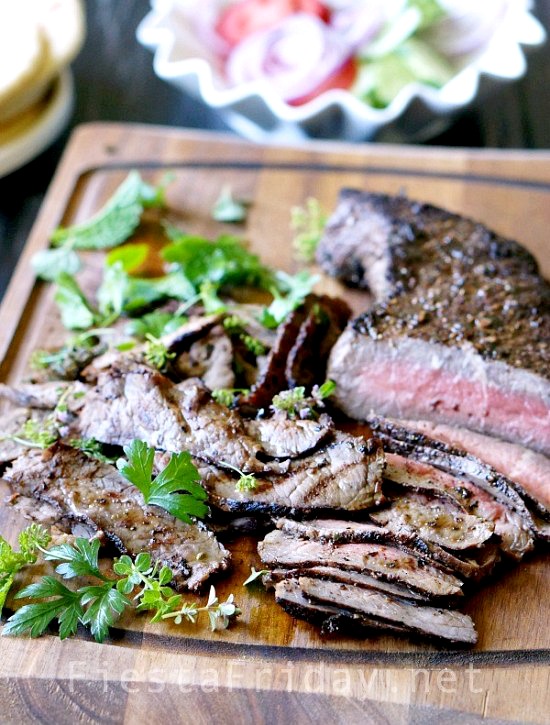 And then if anybody wants their meat less rare, I would toss sliced pieces back on the grill for just several seconds. Everybody will be happy this way.
May I suggest that you serve the London Broil gyro style, with flatbreads, lettuce, cucumber, tomatoes, lots of herbs, and a yogurt-based sauce like tzatziki.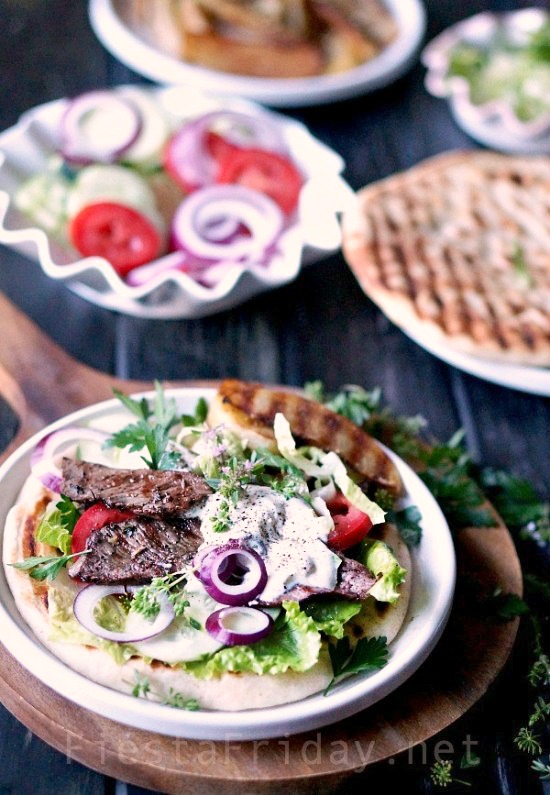 So, that's what I'm going to do for the Fourth of July.
What about you? This enquiring mind still wants to know!
London Broil, Lebanese-flavored
Seasoned right, in this case Lebanese-style, an inexpensive cut of beef like top or bottom round steaks can make an exceptionally satisfying meal, perfect for feeding a crowd without breaking the bank.
Author:
Angie | FiestaFriday.net
Cuisine:
Middle Eastern/Mediterranean
Ingredients
2-3 lbs top or bottom round steak
1 tablespoon kosher or sea salt
1 tablespoon minced garlic
2 tablespoons chopped fresh oregano
1 tablespoon chopped parsley
2 teaspoons ground cumin
1 teaspoon cinnamon
1 teaspoon black pepper
1 teaspoon ground sumac (can be substituted with lemon juice)
2-3 tablespoons olive oil
Instructions
Salt steaks all over with kosher or sea salt. Set aside for 1 hour. Then rinse steaks, and pat dry really well with paper towels.
Mix all the marinade ingredients in a small bowl. Smear both sides of the steaks with the marinade. Place in the fridge for 2 - 4 hours. When you're ready to grill, take them out and let them relax at room temperature for about 30 minutes first.
Set grill on high heat.
For rare to medium-steaks, grill for 3-4 minutes on each side. Rest for at least 5 minutes before cutting.
Cut against the grain thinly to serve. You can toss the slices back on the grill for just 10-20 seconds for well-done slices.
Serve on flatbreads with cucumber, lettuce or arugula, onion, tomato, and lots of fresh herbs (parsley, oregano or thyme works well), and tzatziki sauce or even your favorite creamy salad dressing.
If you like this recipe, please give it a ⭐⭐⭐⭐⭐ rating in the comments section below. Thanks!
Pin This To make Later – Follow me on Pinterest