Do you know what it's like to have SAS? That's what I have, Short Attention Span.
Just yesterday, as I was working hard on a recipe post, I happened to glance out of the window and saw that the plants in the garden were wilting.
Not wanting to lose those plants, I left my computer and went outside to water the plants.
That was when I saw the cucamelons were starting to bear fruit. I was so excited that I quickly went back inside to go back to my computer.
Not to finish the post, but to consult the internet on what to do with cucamelons.
While I was browsing, I noticed the TV was showing a Harry Potter movie. Every time a Harry Potter movie is on, I have to watch it, so browsing ended.
Then, while on a commercial break, I flipped channels and came across the Dracula Untold movie. Oh, I thought, I almost went to see this movie but decided against it because Rotten Tomatoes gave it only 20 something percent. Now it's free on TV, so let's watch.
As I was watching, I couldn't help thinking that Luke Evans looked familiar. I couldn't put my finger on it, but he looked like someone. But who??
It was bothering me so I had to ask the husband, but while we were discussing it, my phone started dinging and messages from friends came on, asking when we could get together.
I started answering but was overcome with sleepiness that I dozed off in the middle of the conversation.
I woke up this morning with this message on my phone:
"Don't you dare fall asleep on us, AGAIN!!"
And without a recipe post.
Now you know what life with SAS is like.
On the upside, after a good night's sleep, I managed to solve the mystery of Luke Evans. He's like the baby of Antonio Banderas and Orlando Bloom, in a comfortably-masculine-without-being-macho package.
And now, features!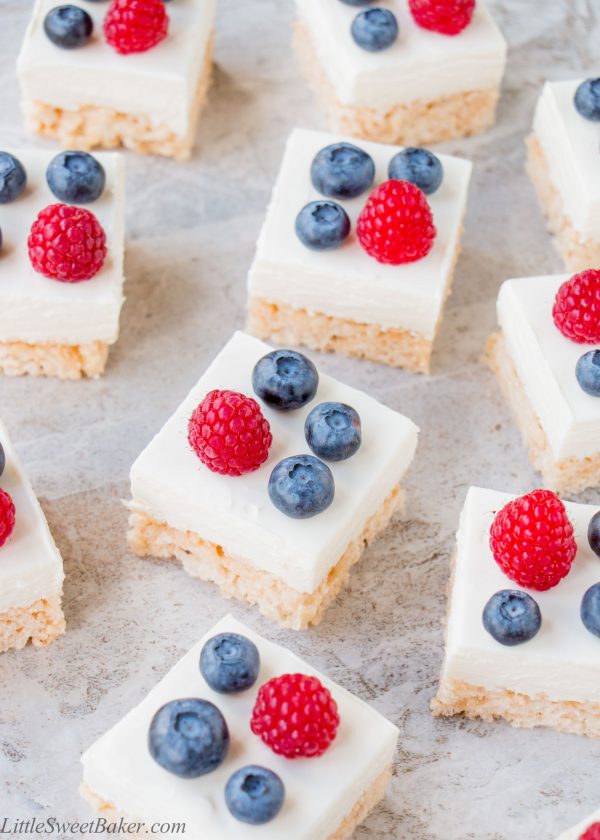 Cheesecake Rice Krispies Treats from Lily @ Little Sweet Baker
"Here's your Fourth of July snack and dessert rolled into one! Pretty sure will be a hit with kids and adults alike. And you won't even break a sweat making it; it's no bake!" — Angie
Spicy Quinoa Stuffed Eggplant from Monika @ Everyday Healthy Recipes
"I love stuffed eggplants, but I've never had it with quinoa. I'll definitely give this tasty dish a go this summer!" — Ai
Chicken Bulgogi from Jess @ Cooking is My Sport
"I love chicken and I love Korean food! So there's no reason I wouldn't fall for this chicken bulgogi. All I need now is an extra serving of rice! — Jhuls
Onglet Steak with Loaded Fries
"What a beautiful plate of steak! And those fries with sour cream and manchego cheese… to die for!" — Ai
***
Now, let's party! Join Fiesta Friday #178 by adding your link. Don't forget to link your post to FiestaFriday.net, so we can feature you. We'll vote for features this week. So come back Tuesday afternoon to cast your vote! You may vote for up to 5 links. Who wants to cohost next week and beyond?
If you're new to Fiesta Friday, please read the guidelines.
[inlinkz_linkup id=724208 mode=1]