London Broil, Lebanese-flavored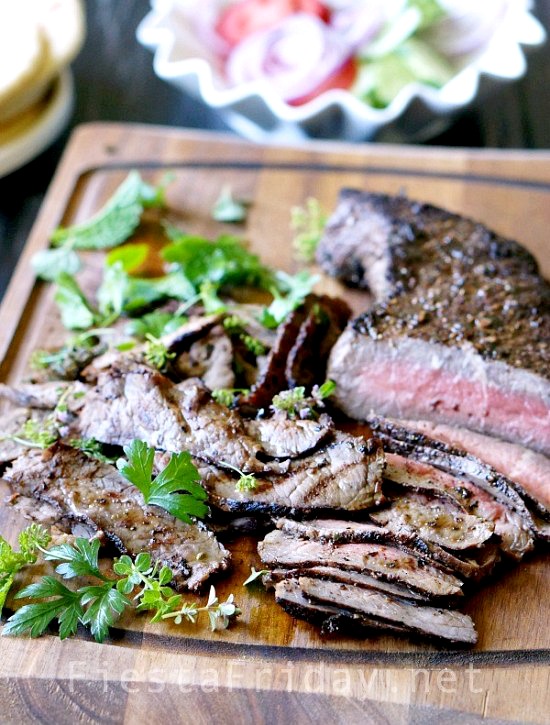 Author:
Angie | FiestaFriday.net
Cuisine:
Middle Eastern/Mediterranean
2-3 lbs top or bottom round steak
1 tablespoon kosher or sea salt
1 tablespoon minced garlic
2 tablespoons chopped fresh oregano
1 tablespoon chopped parsley
2 teaspoons ground cumin
1 teaspoon cinnamon
1 teaspoon black pepper
1 teaspoon ground sumac (can be substituted with lemon juice)
2-3 tablespoons olive oil
Salt steaks all over with kosher or sea salt. Set aside for 1 hour. Then rinse steaks, and pat dry really well with paper towels.
Mix all the marinade ingredients in a small bowl. Smear both sides of the steaks with the marinade. Place in the fridge for 2 - 4 hours. When you're ready to grill, take them out and let them relax at room temperature for about 30 minutes first.
Set grill on high heat.
For rare to medium-steaks, grill for 3-4 minutes on each side. Rest for at least 5 minutes before cutting.
Cut against the grain thinly to serve. You can toss the slices back on the grill for just 10-20 seconds for well-done slices.
Serve on flatbreads with cucumber, lettuce or arugula, onion, tomato, and lots of fresh herbs (parsley, oregano or thyme works well), and tzatziki sauce or even your favorite creamy salad dressing.
Recipe by
Fiesta Friday
at https://fiestafriday.net/2017/07/03/london-broil-lebanese-flavored/