Crepes are not at all hard to make, despite its French name, and they can be made sweet or savory. In this recipe, filled with cream cheese and served with berries and chocolate as well as caramel sauce, they make the perfect Mother's Day breakfast or dessert!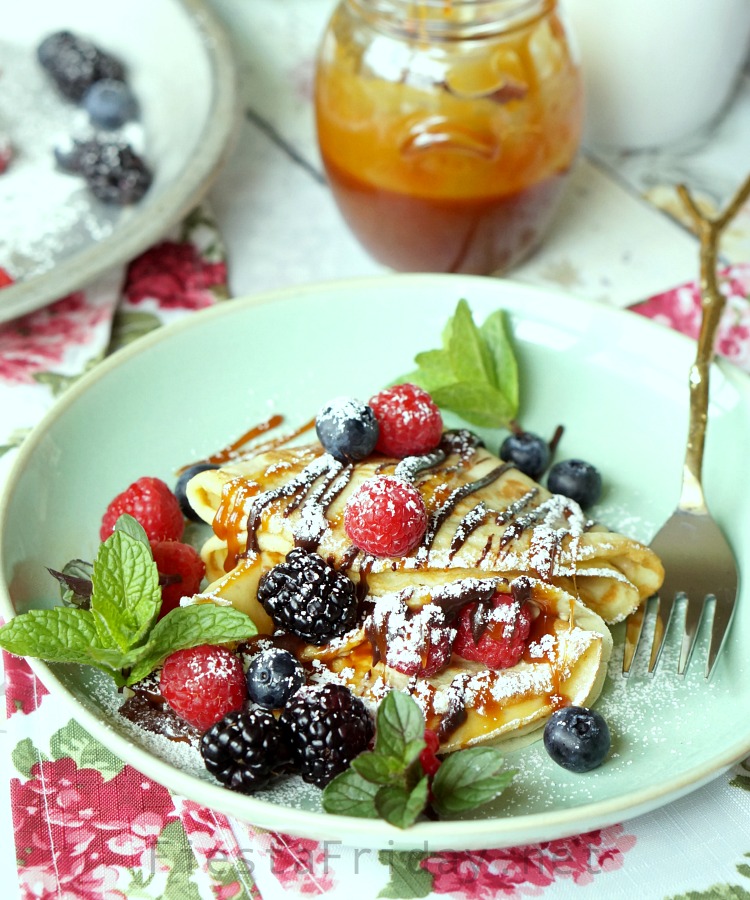 If there's one thing I'm good at making, it's crepes. That may sound braggadocious to you, but it's come only after years of satisfying my son's cravings.
Crepes are his number one, most favorite breakfast, or lunch, or snack, or dessert. So far, he hasn't asked for crepes for dinner. If only he knew they make a great dinner… please don't tell him!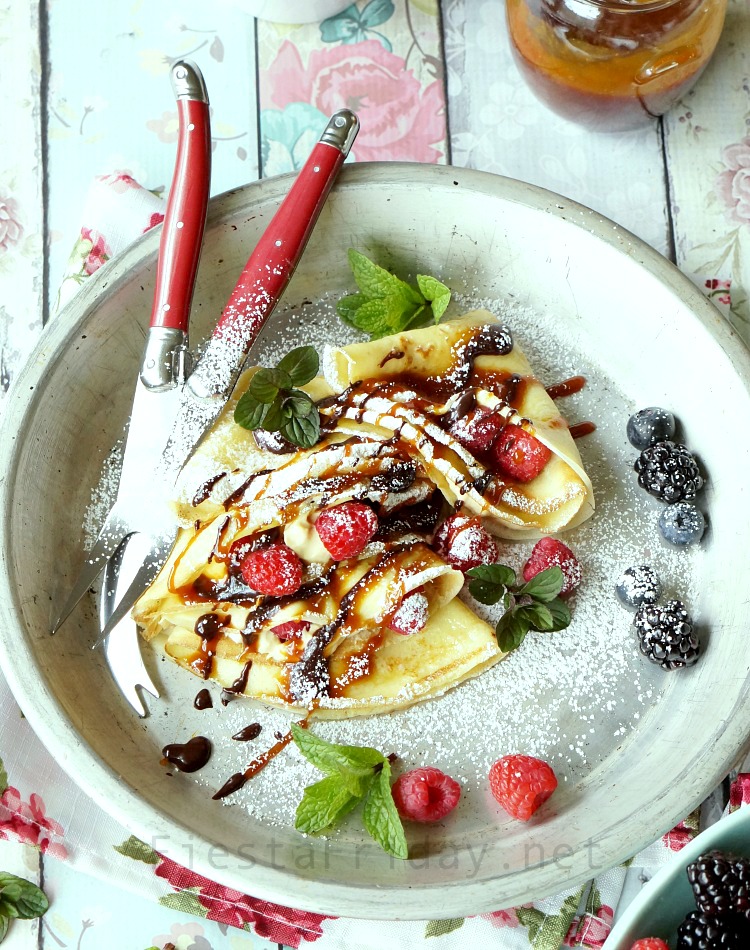 So, anyway, because his cravings can hit at any moment, I'm often forced to make crepes at a moment's notice.
Thankfully, crepes are not hard to make at all. I think the French name just scares people into thinking that they're some fancy food that are complicated to make.
Nothing can be further from the truth. It is, in my opinion, one of the easiest and most versatile things you can make.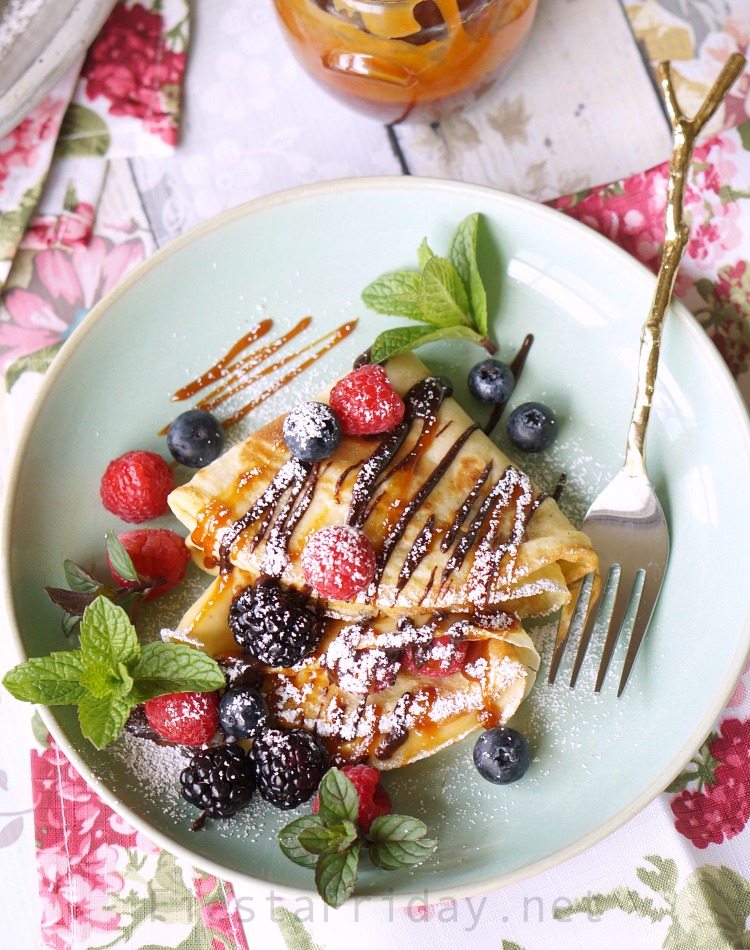 First of all, crepes call for very few ingredients and they're all pantry and refrigerator staples. Flour, eggs, milk, and butter – that's it!
You can add salt and herbs to make savory crepes. Or sugar and cocoa powder to make sweet crepes. Or vary the type of flour and you will get a different texture.
And if you want to impress, you can stack them up and make crepe cakes.
Since Mother's Day is coming up, I thought maybe I should turn the tables. Maybe my son can return the favor.
He can make me crepes for Mother's Day. Like these ones.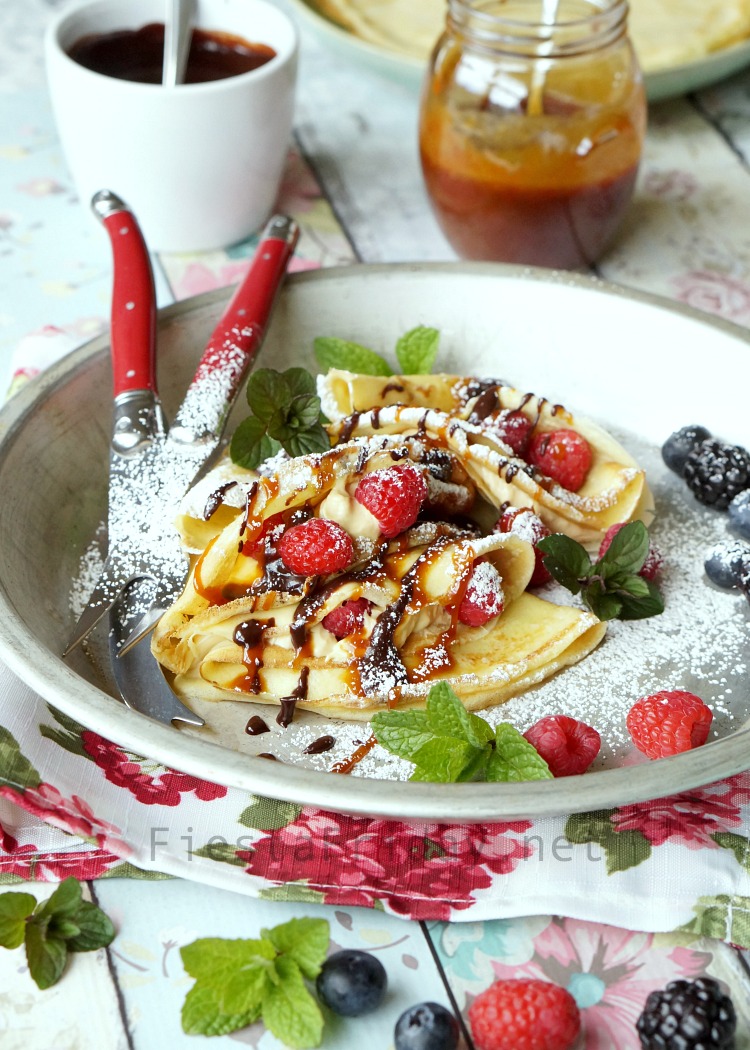 Served with lots and lots of berries, just so I can pretend they're a healthy treat.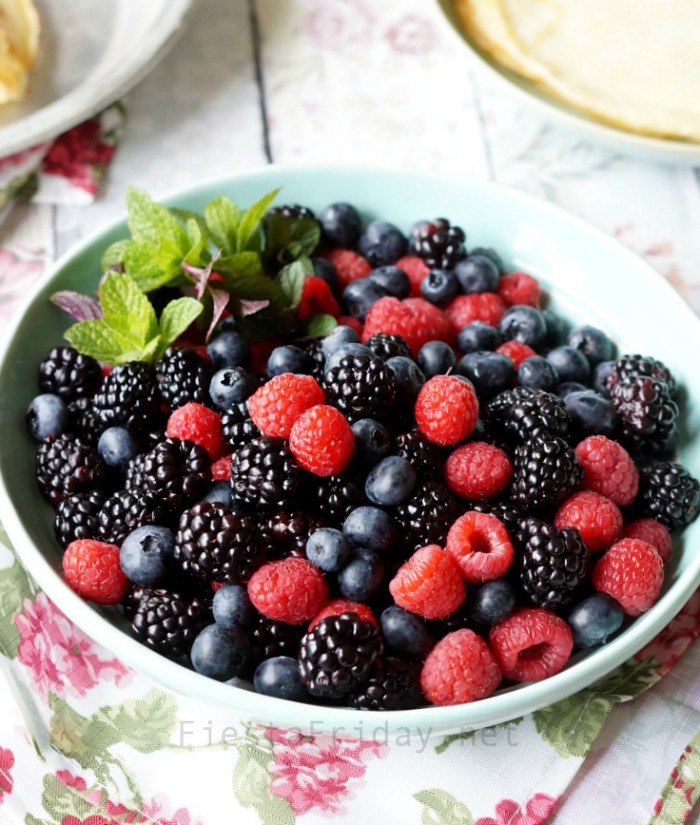 I'm pretty sure I know what my daughter will make me. Her specialty is Egg in the Basket. Sometimes she makes them on garlic toasts – THE BEST! Hint, hint…
The husband, on the other hand, is another story altogether. When I asked him what he was going to get me for Mother's Day (because I was afraid of more boxes of chocolate and store-arranged flowers), he said, "Why? You're not my mother."
I'll keep that in mind when Father's Day comes around. He's not my father.
Chocolate Caramel Cream Cheese Crepes
Author:
Angie | FiestaFriday.net
Ingredients
For the crepes
1 cup all-purpose flour
1¼ cups whole milk
2 large eggs
2 tablespoons melted butter or browned butter
2 teaspoons sugar
1 teaspoon vanilla
Pinch of salt
For the filling
1 (8 oz.) package cream cheese, softened
¼ cup caramel sauce
1 cup whipped cream
For the toppings
Caramel sauce
Chocolate Sauce
Mixed berries
Powdered sugar
Instructions
In a mixing bowl, combine flour and milk. Whisk until smooth, then add eggs. Whisk again, breaking up the eggs. Add the rest of the crepe ingredients and whisk to mix everything until batter is smooth.
Place a non-stick 6-inch pan over medium heat. Add a little melted or browned butter, or spray with non-stick cooking spray. (You don't have to do this for every crepe, maybe every other crepe or even every third crepe.)
Pour ¼ cup batter and swirl to cover the surface. Cook until the edges just begin to brown, and the top dry, about 45 seconds, then carefully lift an edge and flip the crepe with a spatula.
Cook the other side for about 10 seconds. Slide the crepe onto a plate. Repeat until you've used up the batter.
In a mixing bowl, beat cream cheese and caramel sauce until smooth and fluffy. Fold in whipped cream.
Spread about 1 or 2 tablespoons of filling on one side of the crepes, fold into quarters.
Serve with a drizzle of caramel & chocolate sauces and berries. Dust with powdered sugar.
If you like this recipe, please give it a ⭐⭐⭐⭐⭐ rating in the comments section below. Thanks!
Pin This To make Later!