Chocolate Caramel Cream Cheese Crepes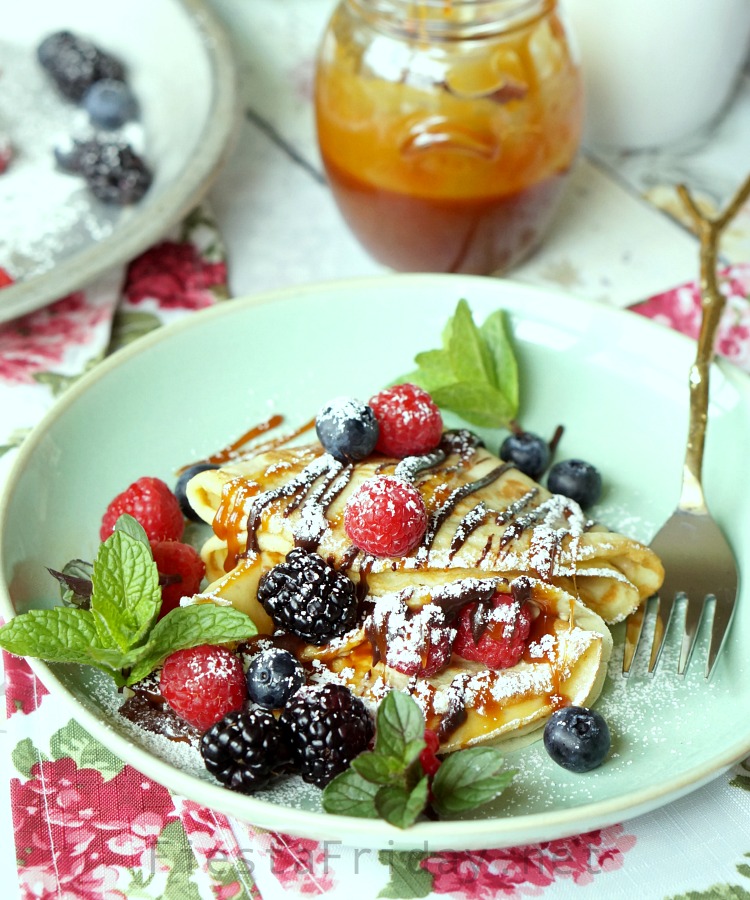 Author:
Angie | FiestaFriday.net
1 cup all-purpose flour
1¼ cups whole milk
2 large eggs
2 tablespoons melted butter or browned butter
2 teaspoons sugar
1 teaspoon vanilla
Pinch of salt
1 (8 oz.) package cream cheese, softened
¼ cup caramel sauce
1 cup whipped cream
Caramel sauce
Chocolate Sauce
Mixed berries
Powdered sugar
In a mixing bowl, combine flour and milk. Whisk until smooth, then add eggs. Whisk again, breaking up the eggs. Add the rest of the crepe ingredients and whisk to mix everything until batter is smooth.
Place a non-stick 6-inch pan over medium heat. Add a little melted or browned butter, or spray with non-stick cooking spray. (You don't have to do this for every crepe, maybe every other crepe or even every third crepe.)
Pour ¼ cup batter and swirl to cover the surface. Cook until the edges just begin to brown, and the top dry, about 45 seconds, then carefully lift an edge and flip the crepe with a spatula.
Cook the other side for about 10 seconds. Slide the crepe onto a plate. Repeat until you've used up the batter.
In a mixing bowl, beat cream cheese and caramel sauce until smooth and fluffy. Fold in whipped cream.
Spread about 1 or 2 tablespoons of filling on one side of the crepes, fold into quarters.
Serve with a drizzle of caramel & chocolate sauces and berries. Dust with powdered sugar.
Recipe by
Fiesta Friday
at https://fiestafriday.net/2018/05/09/chocolate-caramel-cream-cheese-crepes/