Grilled Vegetable Salad with Sweet Balsamic Dressing. Serve it warm or cold, as a side or entrée with grilled chicken. It's a family favorite and party crowd-pleaser!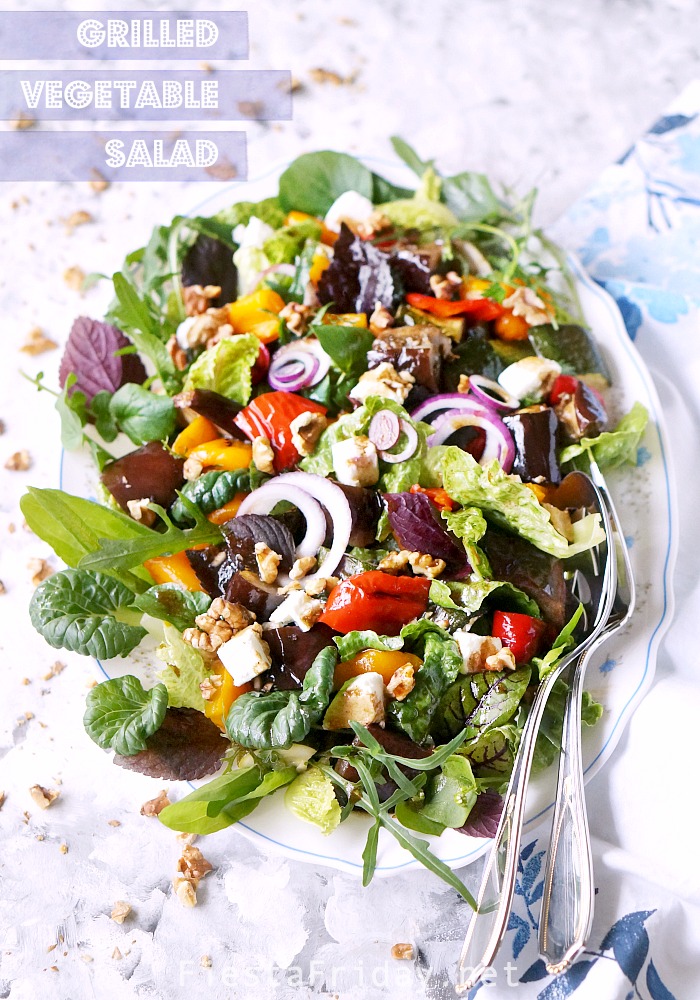 Grilled Vegetables. That's my current obsession. Along with Lucifer. One is a healthy obsession, the other not so.
Being obsessed with grilled vegetables is a good thing, but with Lucifer?! That's another thing altogether, and probably not good.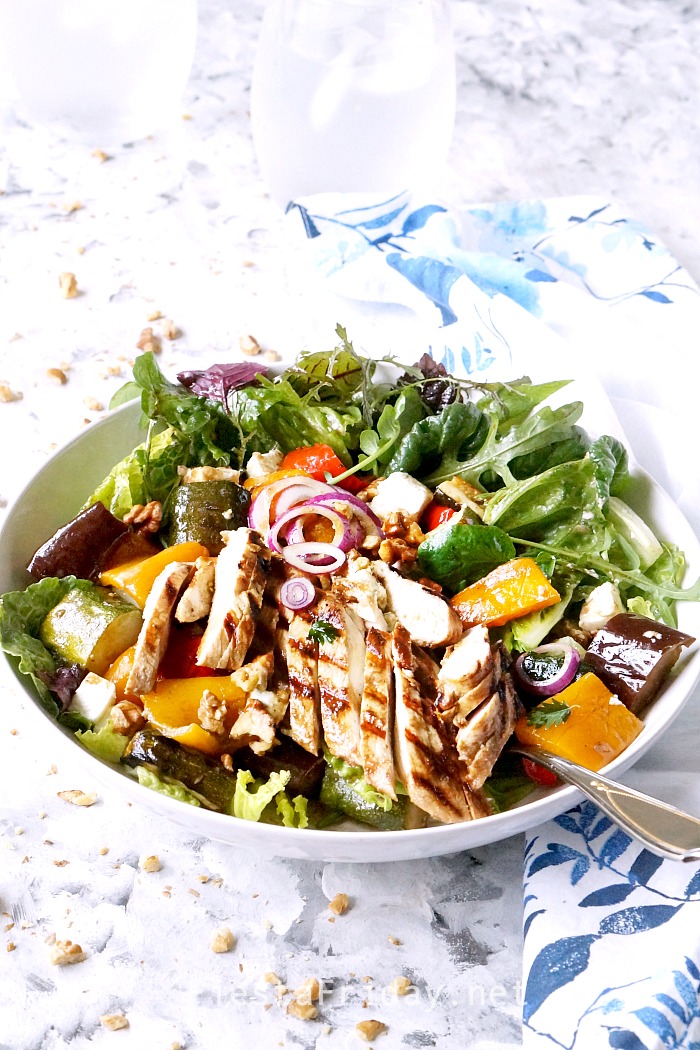 But, so what, right?! It may not be a worthy obsession, but sometimes you need lightweight entertainment that doesn't require a whole lot of cerebral exercise. Right?!
The show makes me laugh, that's good enough. And at times it can be clever, too. As long as you don't judge it too harshly. Besides, Tom Ellis. And Leslie-Ann Brandt.
Anyhow, let's move on to the grilled vegetables, shall we? Now that's an obsession worthy of a conversation.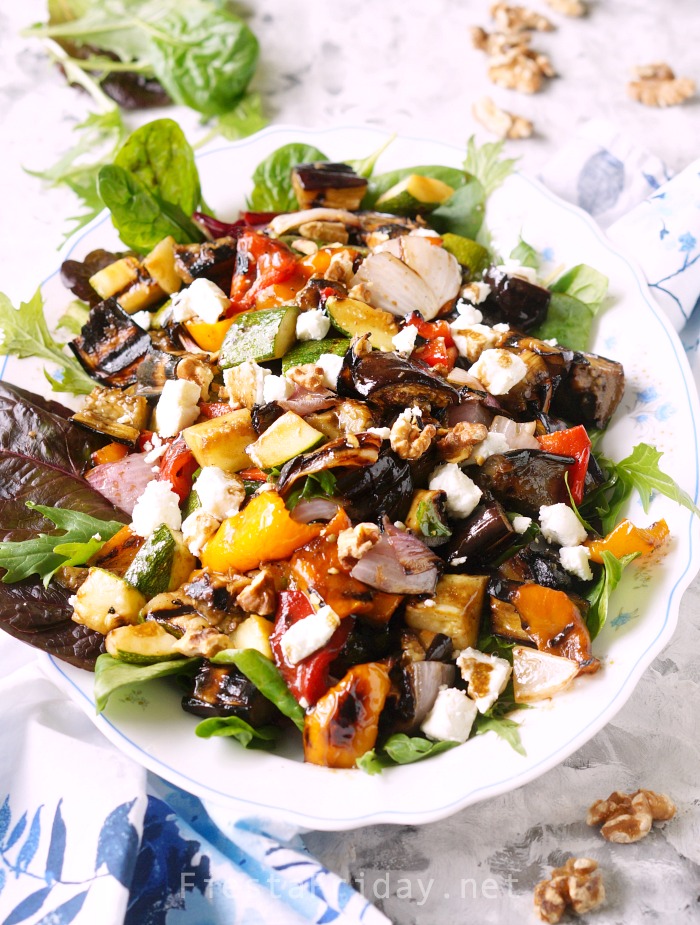 Ever since we got a new grill, we've been grilling anything and everything. Marinated chicken? Let's grill it. Frozen pizza? Put it on the grill. Corn on the cob? Hey, should we grill? Potatoes? Definitely grilling them! Steak? Grill, of course. On and on.
It's amazing how you can use your grill to cook just about anything. Next Fiesta Friday Challenge → Cookies and Cakes on the Grill. Maybe??
So, when I found myself with a fridge full of vegetables, I couldn't help but turn on the grill. Then I proceeded to burn the vegetables.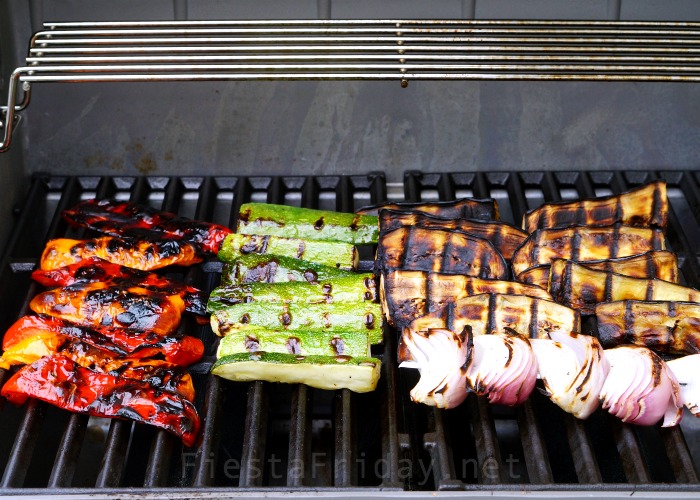 I was manning the grill all by myself. The Grillmaster aka the husband was still at work, and I was in and out of the house and deck. I was grilling and watching Lucifer at the same time, trying to satisfy two obsessions at once. Don't do that!
Especially when grilling vegetables. They don't take very long to cook. They're done in a New York minute. Or maybe in this case, a New Jersey minute, which is more like 10 minutes. Poor New Jersey, always the butt of jokes. I blame it solely on Snooki.
Because I had burnt the first batch (though it wasn't too bad and I was able to salvage most of it), I sent The Grillmaster out to make more when he finally arrived home from work. In the end, there was just so much!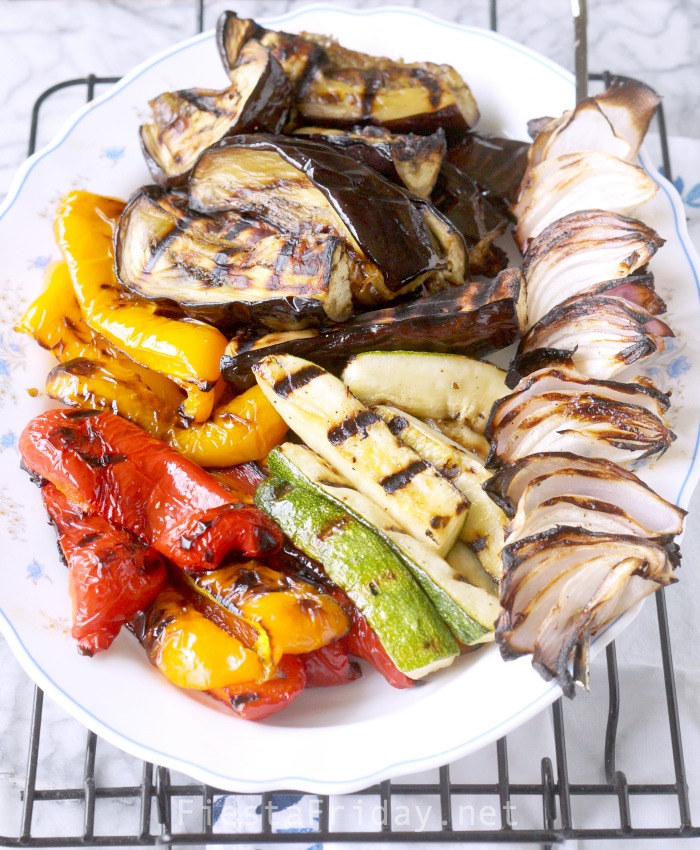 Enough to make two big platters, one of which went with the daughter to her Memorial Day Pool Party. I broke the mold by not sending in cookies or cupcakes. And it turned out to be a winner. The Grilled Vegetable Salad was a party favorite, and her host friend's mom even requested a recipe.
I told her to follow my blog to get the recipe, hehehe… I'm now one follower richer because of this superb Grilled Vegetable Salad.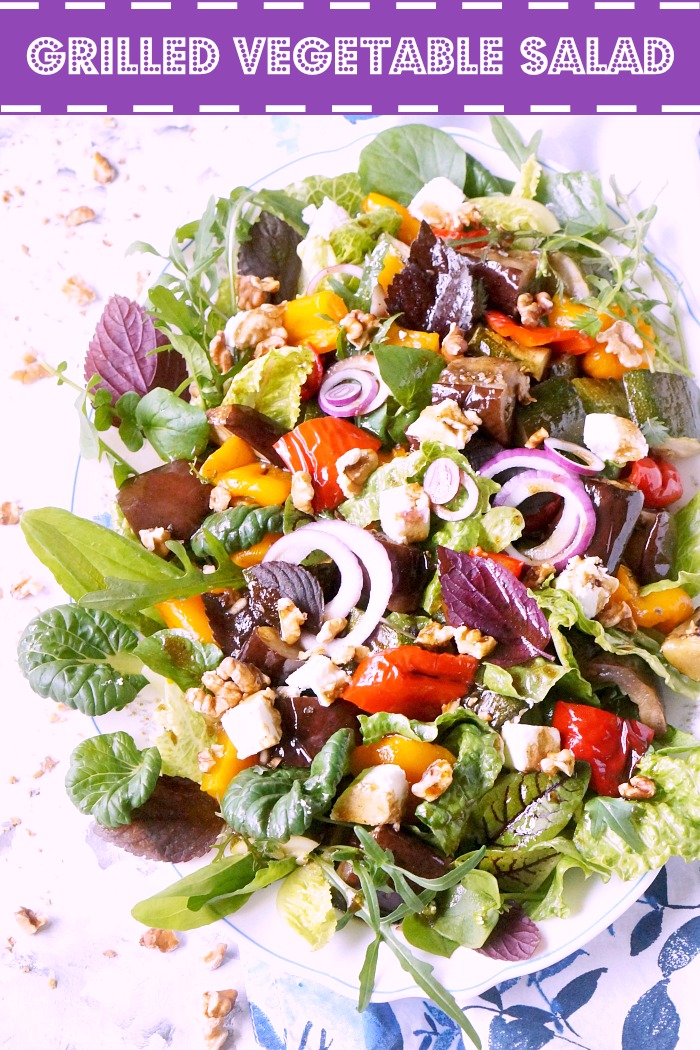 How To Grill Vegetables to Perfection
Prepare vegetables by cutting them into pieces that can lay flat.
Cut them into relatively large pieces so they'll be easy to flip. Once they're cooked, you can cut them into bite-sized pieces.
Keep it simple. Just toss them in a little bit of oil and sprinkle with salt & pepper. Any sauce or dressing can be added later once they're cooked.
Use either a skewer or grill basket for small pieces, or vegetables that would break apart when cooked, such as onions.
Different vegetables require different cooking times. Here is a handy-dandy chart for you: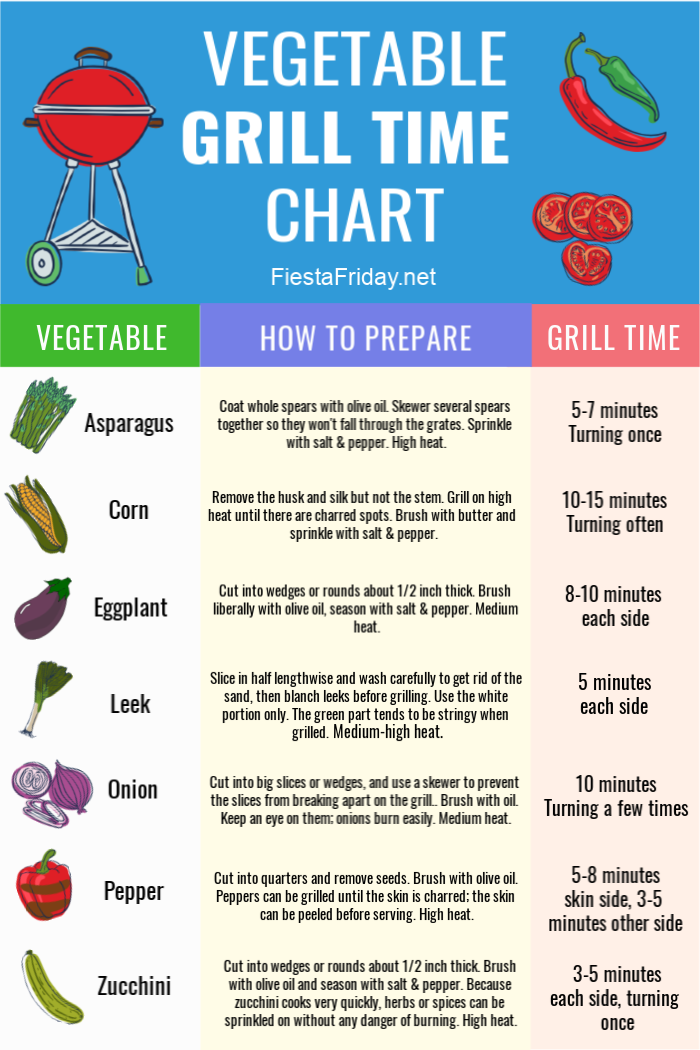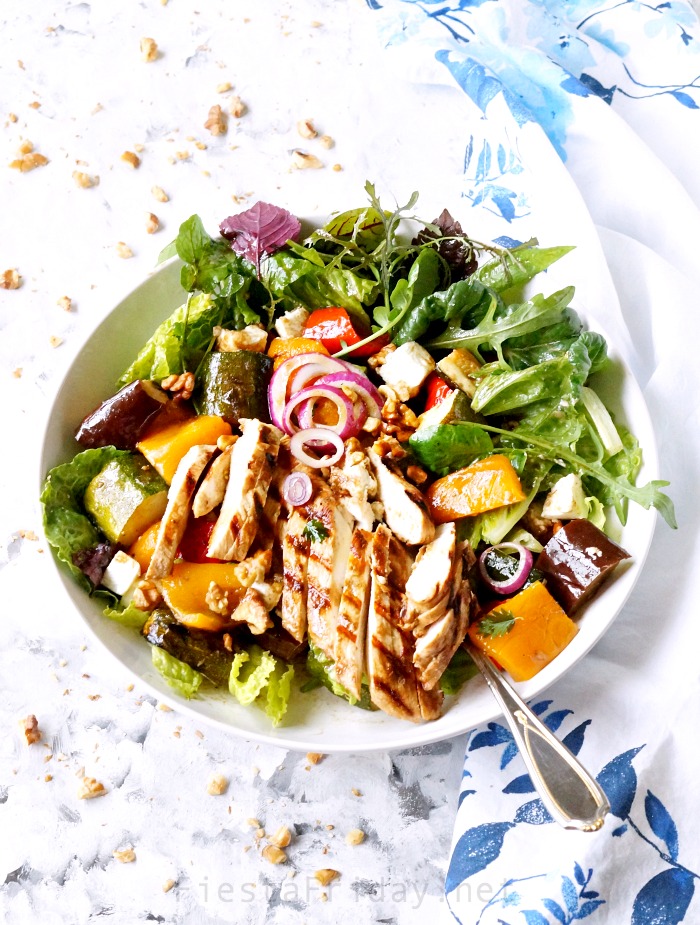 Grilled Vegetable Salad
Grilled Vegetable Salad with Sweet Balsamic Dressing. Serve it warm or cold, as a side or entrée with grilled chicken. It's a firm family favorite and party crowd pleaser!
Author:
Angie | FiestaFriday.net
Ingredients
For the Grilled Vegetables
These are suggested vegetables, but you can use any vegetables of your choice.
1 eggplant
1 zucchini
1 red bell pepper, seeds removed
1 orange bell pepper, seeds removed
1 red onion
2 tablespoons olive oil
Salt & pepper
For the Sweet Balsamic Dressing
1-2 cloves garlic, minced
1 shallot, minced
¼ cup balsamic vinegar
1 tablespoon Dijon mustard
1-2 tablespoons raw sugar
Salt & pepper
¾ cup extra-virgin olive oil
For the Salad
Grilled vegetables, cut into bite-sized pieces
Mixed lettuce/Spring mix (about 2-3 cups)
Sweet Balsamic Dressing
Goat cheese
Roasted walnuts
Grilled chicken (optional)
Fresh herbs of your choice (optional)
Instructions
For the Grilled Vegetables
Cut vegetables into thick wedges or round slices.
Toss in olive oil, sprinkle with salt & pepper.
Thread onion pieces on a skewer.
Grill until they reach desired tenderness. (Refer to chart above)
Eggplant should be grilled until fork-tender, but zucchini/summer squash or peppers can be left slightly crisp. Onions should be slightly charred and caramelized.
For the Sweet Balsamic Dressing
Put all ingredients, except for the oil, in a bowl. Whisk to mix, then while continuing to whisk vigorously, pour olive oil slowly to emulsify the dressing.
Alternately, you can put all ingredients in a jar, screw on the lid tightly and shake vigorously.
This makes about 1 cup of dressing, enough for 2 big platters of salad.
Assembling the Salad
Toss lettuce with about 2 tablespoons of dressing. Place on a big serving platter.
Cut grilled vegetables into bite-sized pieces and toss them with about ¼ cup of dressing. Place on top of lettuce. Add grilled chicken if using. Add crumbled goat cheese and chopped roasted walnuts.
Drizzle extra dressing and sprinkle on fresh herbs, as desired.
Pin This To Make Later