Grilled Vegetable Salad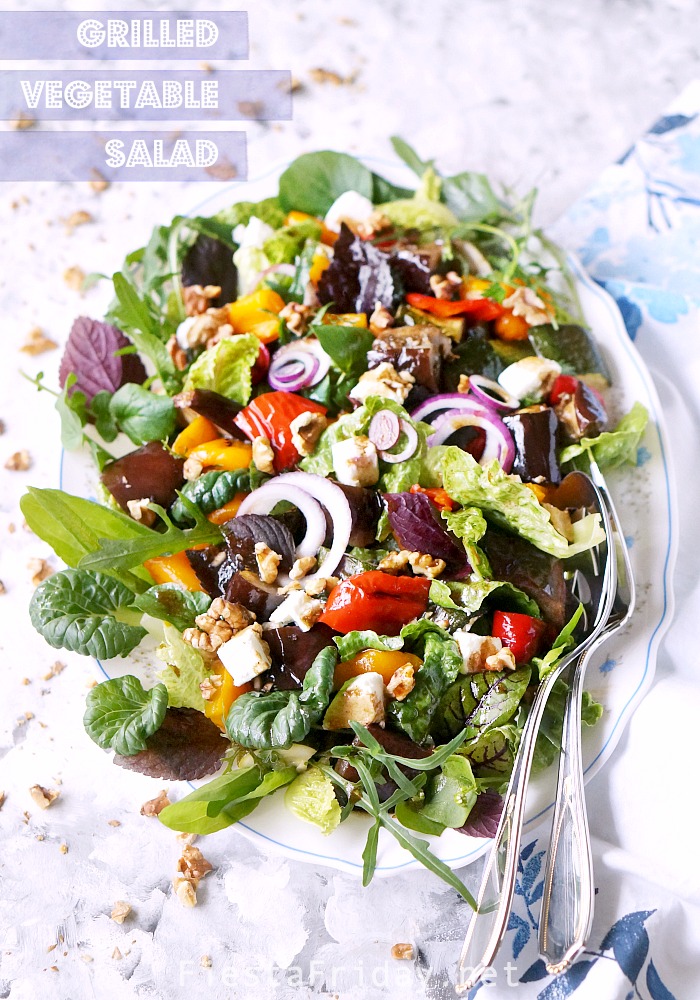 Author:
Angie | FiestaFriday.net
These are suggested vegetables, but you can use any vegetables of your choice.
1 eggplant
1 zucchini
1 red bell pepper, seeds removed
1 orange bell pepper, seeds removed
1 red onion
2 tablespoons olive oil
Salt & pepper
1-2 cloves garlic, minced
1 shallot, minced
¼ cup balsamic vinegar
1 tablespoon Dijon mustard
1-2 tablespoons raw sugar
Salt & pepper
¾ cup extra-virgin olive oil
Grilled vegetables, cut into bite-sized pieces
Mixed lettuce/Spring mix (about 2-3 cups)
Sweet Balsamic Dressing
Goat cheese
Roasted walnuts
Grilled chicken (optional)
Fresh herbs of your choice (optional)
Cut vegetables into thick wedges or round slices.
Toss in olive oil, sprinkle with salt & pepper.
Thread onion pieces on a skewer.
Grill until they reach desired tenderness. (Refer to chart above)
Eggplant should be grilled until fork-tender, but zucchini/summer squash or peppers can be left slightly crisp. Onions should be slightly charred and caramelized.
Put all ingredients, except for the oil, in a bowl. Whisk to mix, then while continuing to whisk vigorously, pour olive oil slowly to emulsify the dressing.
Alternately, you can put all ingredients in a jar, screw on the lid tightly and shake vigorously.
This makes about 1 cup of dressing, enough for 2 big platters of salad.
Toss lettuce with about 2 tablespoons of dressing. Place on a big serving platter.
Cut grilled vegetables into bite-sized pieces and toss them with about ¼ cup of dressing. Place on top of lettuce. Add grilled chicken if using. Add crumbled goat cheese and chopped roasted walnuts.
Drizzle extra dressing and sprinkle on fresh herbs, as desired.