Lucifer. That's my latest obsession. I binge watched the entire 4th season in one weekend. Suffice it to say nothing else was done. But I did manage to make this.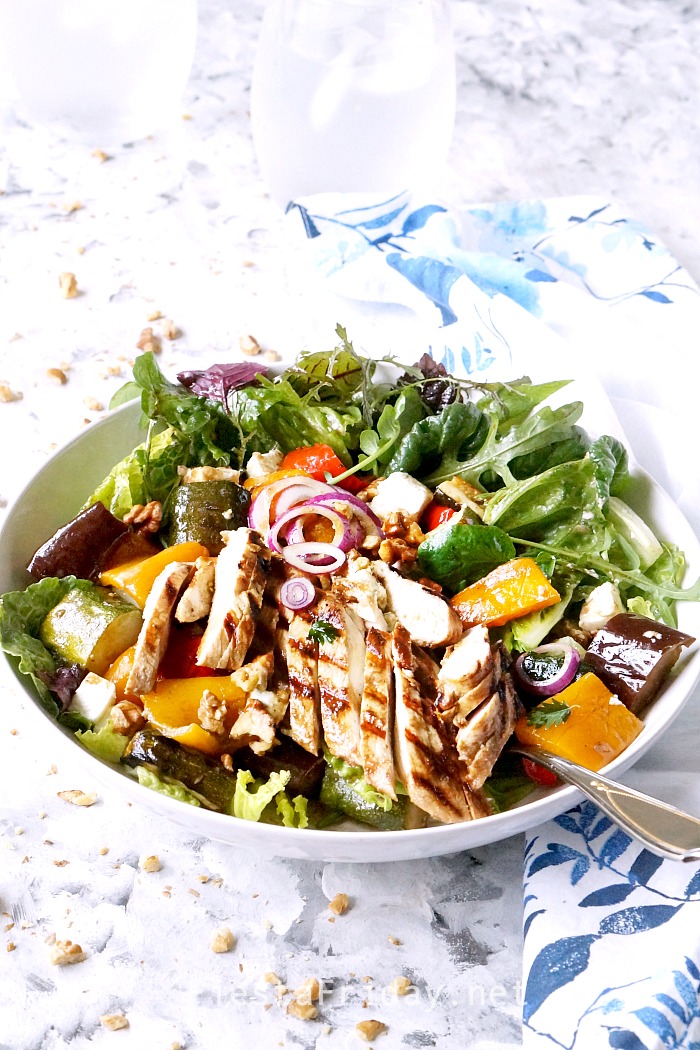 A healthy salad that everyone enjoyed. I mean, EVERYONE. Including the husband and son, who are usually averse to too much vegetables.
Either my constant attempts at getting them to like vegetables have finally paid off, or it was just a superior salad. Or maybe a combination of both.
The recipe for it should be coming up very soon. Finally, a recipe post, yay!
Btw, I'm hosting the fiesta with ALL of you as my cohosts this week. That's right! Please visit as many links as you can, and leave kind and lovely comments. Don't forget to pin, tweet, or share and give the recipes the star-ratings, if the system is in place. And if you feel inclined, you can send me a message and convince me which links should be featured on the next fiesta.
Alrighty, then… Happy Fiesta Friday, everyone!
Now, Features!
Salted Caramel Chocolate Tart from The Baking Explorer
"I can't turn down anything with chocolate, and the salted caramel is definitely a plus. The tart looks so elegant, rich and is the perfect answer to any chocolate craving." — Jhuls
"A rich chocolate caramel taste treat! Lovely photography as well." — Diann
Lemon Blueberry Ricotta Pancakes from Mrs. Kringle's Kitchen
"What a nice breakfast flavor explosion! I'm good! Will see if I can hold out until I harvest my own blueberries, but doubt this is possible…." — Diann
Traditional Tagine from Life Diet Health
"The spice combination in this vegetarian tagine from Morocco makes this recipe something to aspire to dining upon." — Diann
6 Spreads for Corn on the Cob Recipes
"Oh, goody! Just exactly what I need for my grilled corn on the cob!" — Angie
***
Now, let's party! Join Fiesta Friday #278 by adding your link. Don't forget to link your post to FiestaFriday.net, so we can feature you. You're ALL my cohosts this week. So, go do your cohosting thing, please.
If you're new to Fiesta Friday, please read the guidelines.
If you're interested in becoming a co-host, please leave me a message.
You are invited to the Inlinkz link party!