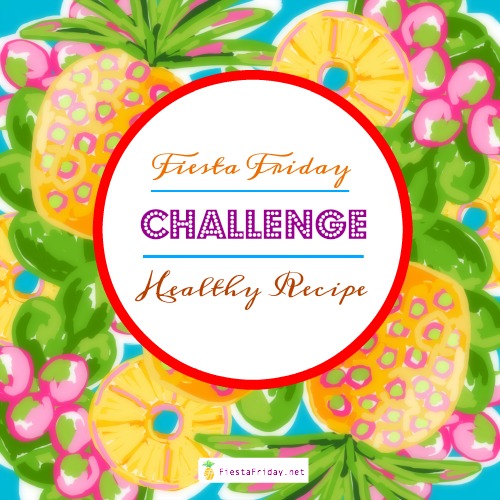 After racking my brain about what to do with the Fiesta Friday Challenge, I finally decided on the specifics.
It seems we all agree that it should be a healthy recipe challenge. However, healthy is too broad a definition. Plus , it's supposed to be a challenge, so it should be…uhm…challenging.
So, with that said…
Fiesta Friday challenges you to create a healthy recipe that incorporates these two ingredients:
Leafy greens
Pineapple
Why those two? Well, the greens were suggested by some of you, and it makes perfect sense since they're a healthy ingredient. And pineapple? Well, isn't it obvious? This is a pineapple-loving site ??? and it's also a healthy fruit.
But what's considered healthy? Since I'm not a physician or a nutritionist, I won't pretend to know the answer to that. I'd rather let you persuade us.
However, the line has to be drawn somewhere. Obviously a recipe involving a copious amount of fat or sugar will be out no matter how much greens and pineapples are put into it.
In other words, please be sensible about it. It doesn't have to be vegetarian or vegan or GF or raw, but it cannot be artery-clogging or cavity-inducing 5,000-calorie-per-serving recipe. Okay, folks?!
Rules & Guidelines for the challenge are as follows:
Post a recipe of something you make that uses both a leafy green vegetable and pineapple together. In a single recipe. It can be a cocktail/mocktail, appetizer/snack, soup, entrée, dessert, etc. Anything food or beverage is acceptable.
What leafy greens can be used? Is lettuce included? Well, technically it's a leafy green, so yes, it's acceptable. But there are so many other more nutritious greens out there. Here is a partial list: bok choy, cabbage, collard, kale, Swiss chard, spinach, etc. Get the idea?

Explore other lesser known greens, too, such as amaranth, dandelion, pea shoots, mustard and turnip greens, etc. Get out of your comfort zone and seek out these delicious and nutritious veggies.

Herbs such as basil, parsley, or mint will not be considered, even though they're leafy and green. The only exception would be if they're used as the main ingredient in the recipe, i. e., tabbouleh or pesto.
Fresh pineapples are available year-round these days, so they are preferred but if you have difficulty acquiring them, canned, frozen or dehydrated can be used. Pineapple juice is also acceptable.
Display the Fiesta Friday Challenge Badge on the post.

Link the post to FiestaFriday.net
Add a photo thumbnail of your recipe to the link-up provided below.
You may enter as many recipes as you like.
Submissions will be accepted until January 31, 2017
Now, before you get all stressed out, let me remind you that this is just a friendly challenge. We're not exactly competing, we're mostly sharing with each other. However, for the highly motivated among you, there will be judging, winner(s) selected, and prizes awarded. Just to sweeten the pot, so to speak, and to generate extra excitement.
1st PLACE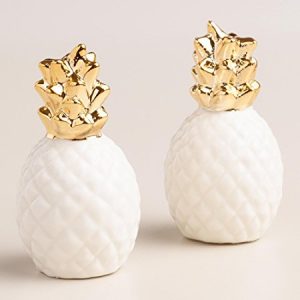 Gold & White Pineapple Salt & Pepper Shaker Set
2nd PLACE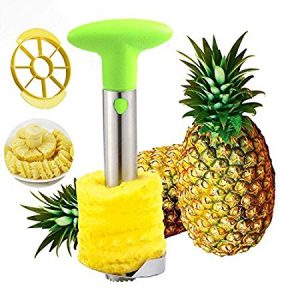 Stainless Steel Pineapple Peeler, Corer, Slicer and Wedger
3rd PLACE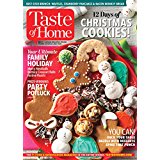 One-year Subscription to Taste of Home Magazine
(I didn't solicit any sponsor(s) for these prizes. They're my personal gifts to the winners. Because of that, I reserve the rights to substitute them with alternatives should they become unavailable. Also, if you're a non-US resident, you may be receiving an egift card instead, in lieu of the prize. )
***
Join Fiesta Friday Healthy Recipe Challenge by adding your link. Don't forget to display the badge on your post and link your post to FiestaFriday.net
[inlinkz_linkup id=690419 mode=1]