These Summer Rolls are fresh, light and healthy! Filled with pineapple, ham, fresh herbs and vegetables, they're perfect little parcels for dipping in Roasted Almond Hoisin Sauce.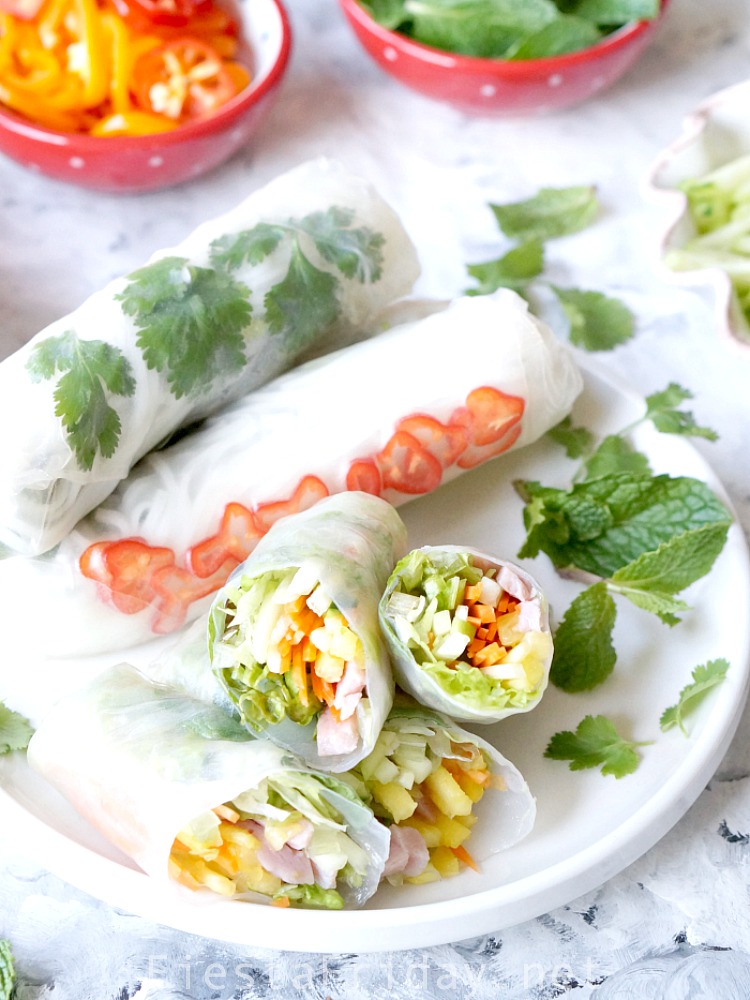 Full disclosure, right off the bat, I'm the worst summer rolls roller in the world!
They almost always seem to want to burst at me whenever I'm making them. Doesn't matter if I make them skinny or fat. Small or big.
Which is unfortunate, since summer rolls are something I would want to eat everyday.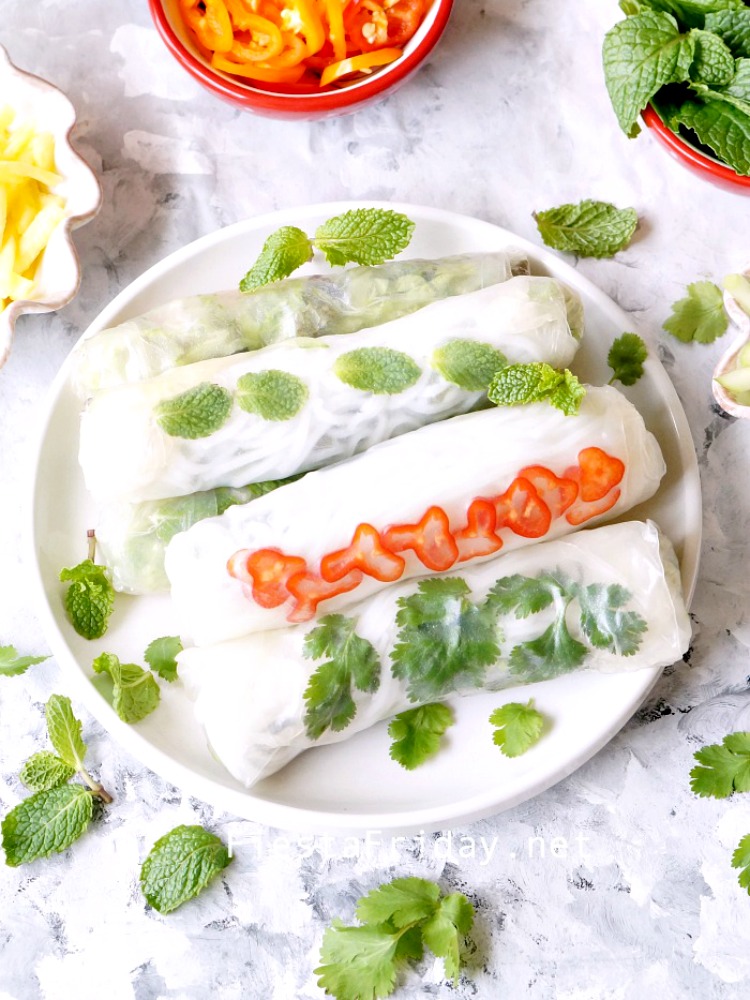 The plan was to bring this to you the very next day after Easter, to give you an idea on what to do with your leftover Easter ham, but the summer rolls were not cooperating.
I had to keep redoing it. Here I even tried to add edible flowers to make them prettier. But nobody wanted to eat them. They kept asking me where I got the flowers from. Why are people so suspicious?!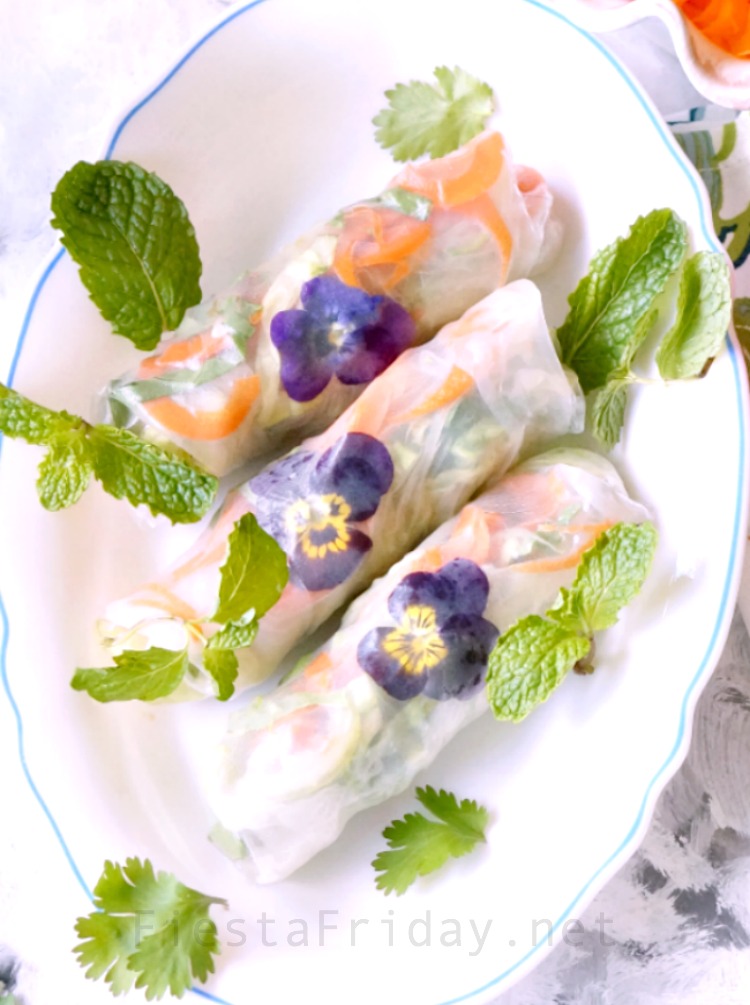 I kept telling myself that we're all friends here anyway at Fiesta Friday, and you wouldn't mind if I present to you less-than-perfect summer rolls. But I HAD TO KEEP TRYING!! They don't call me stubborn for nothing. I prefer to call myself determined. And diligent. And daring. Uh…actually I'm a scaredy cat.
Okay, anyway, what I really want to talk to you about is the dipping sauce. This Roasted Almond Hoisin Sauce.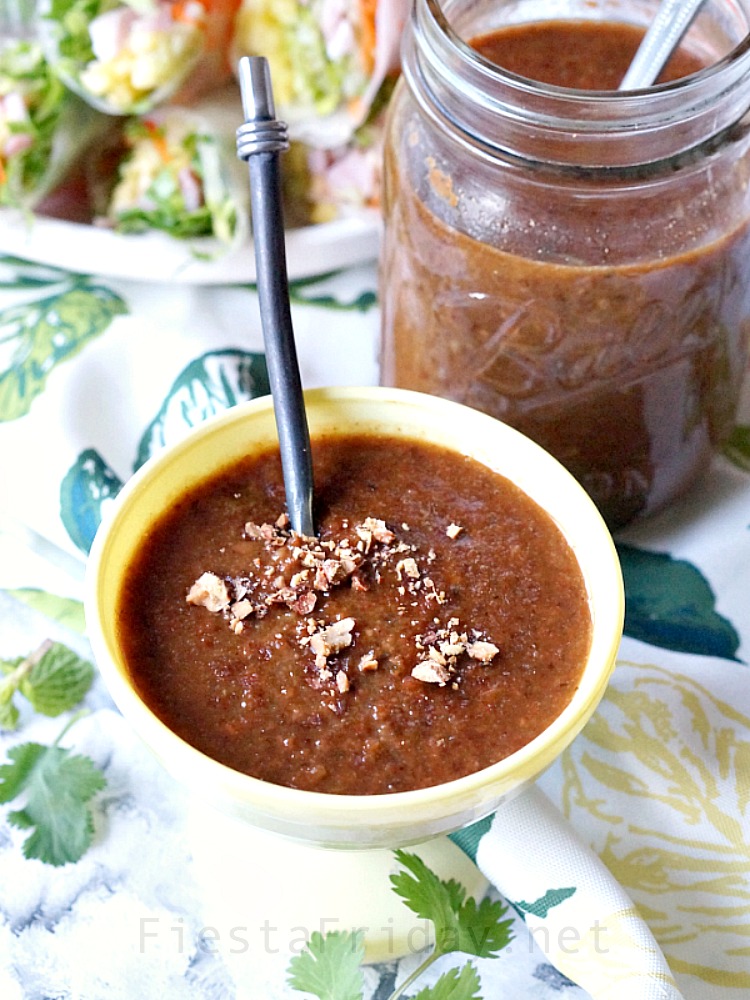 That, ladies and gentlemen, is THE best dipping sauce I've ever tasted! So good you might want to start using it as satay or noodle sauce, or even salad dressing.
So good I thought about changing the title of the post to "Roasted Almond Hoisin Sauce with Pineapple and Ham Summer Rolls." But then I would sound like a weirdo.
But listen, honestly, even though these summer rolls themselves are pretty well-flavored by the herbs and pineapple in them, they are NOT complete without the sauce. Please take note of that!
As anyone knows, summer rolls are highly personal. Some people like them with shrimp. Others with chicken, beef or pork, or even all veggies. With or without noodles, and so on.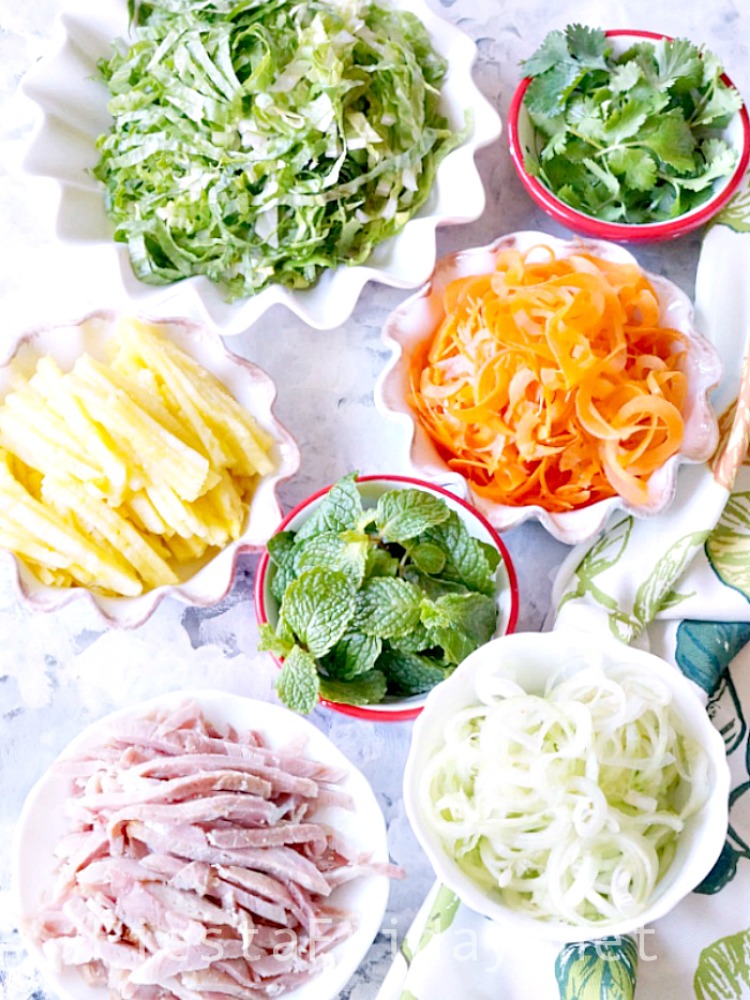 Whatever your preference is, before you start making the rolls, start making the sauce first.
And you start by roasting and grinding your own almonds.
Sure you can use almond butter, but you won't be able to control the degree of chunkiness or roastiness. Yeah, let's continue butchering the English language, shall we? Hey, if Sarah Palin could get away with saying words like "spinelessness," I could use roastiness.
This is what the perfect chunkiness and roastiness looks like to me.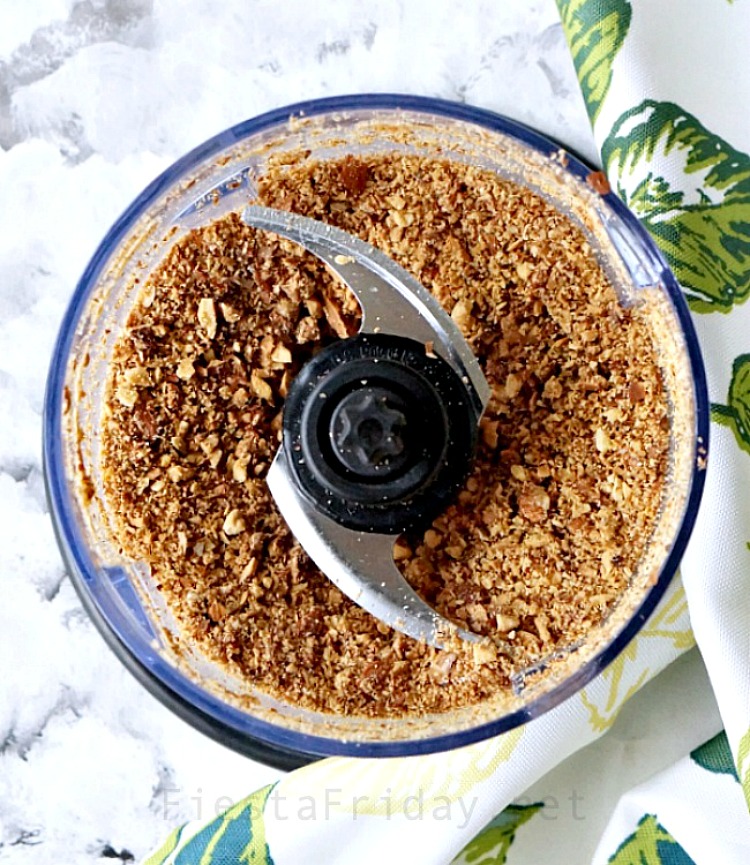 I probably should separate the rolls and the sauce into two different posts, but I don't have time to write two posts. Besides, I'm giving you BOGO this way. Who can refuse BOGO?!
So, to recap, I found out a few things that helped me make better summer rolls.
Helpful hints on making summer rolls
Make sure you use freshly bought rice paper. Older ones tend to be brittle and easy to tear.
Shop around for a good brand. They vary a lot in qualities. You generally get what you pay for.
Cut ingredients into thin and long pieces rather than chunky.
Rice noodles do help bind the filling, which makes rolling easier, since they're kind of tacky. They're also a traditional filling ingredient. However, they're not essential.
Don't leave the paper in the water for longer than 10 seconds! It may still be slightly stiff when you take it out of the water, but it'll soften in just a few more seconds.
These were my first batch. Not bad, because I selected the few that didn't tear.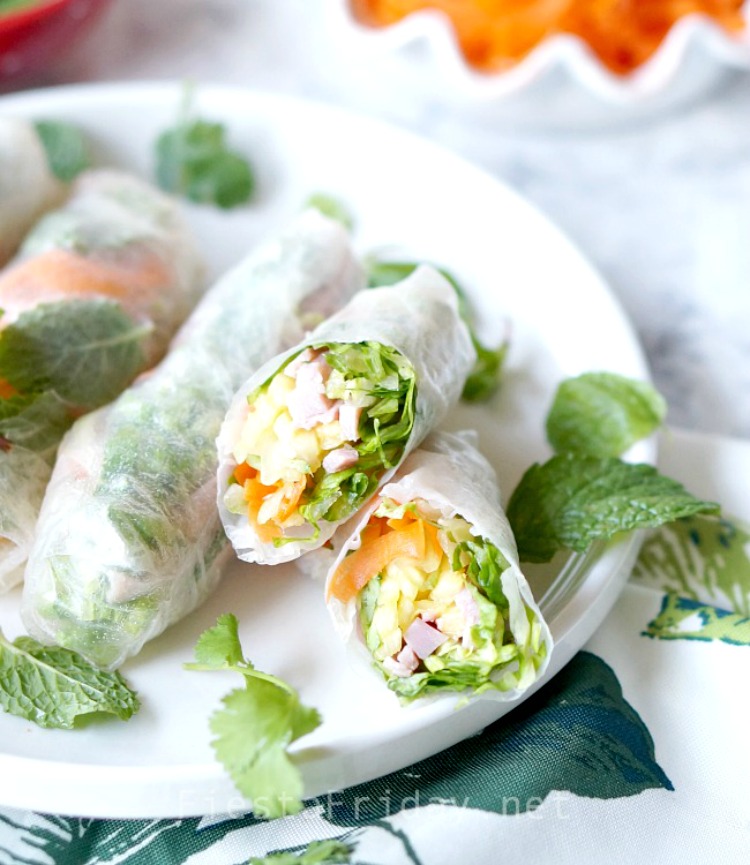 Now I think I can make pretty decent ones. Practice does make perfect.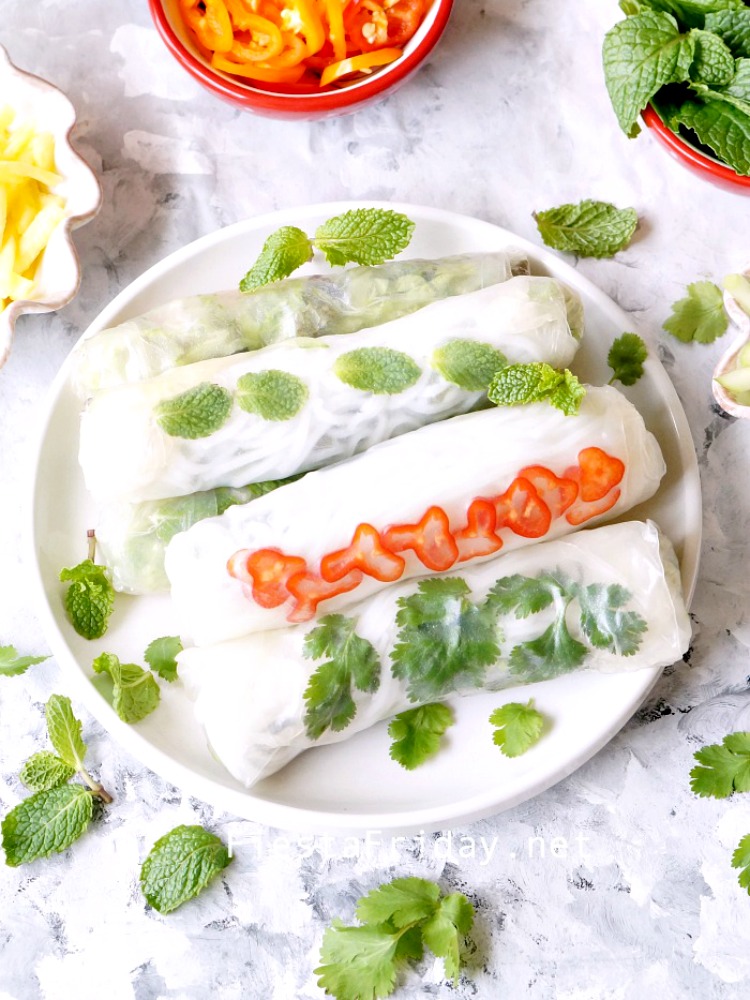 Pineapple and Ham Summer Rolls with Roasted Almond Hoisin Sauce
These Summer Rolls are fresh, light, and healthy! Filled with pineapple, ham, fresh herbs and vegetables, they're perfect little parcels for dipping in the Roasted Almond Hoisin Sauce!
Author:
Angie | FiestaFriday.net
Cuisine:
Asian/Vietnamese
Ingredients
For the rolls
8 (10-inch) round rice paper sheets
2 cups shredded lettuce leaves
1 cup julienned or spiralized carrots
1 cup julienned or spiralized cucumbers
1 cup julienned pineapple
1 cup julienned cooked ham
Fresh herbs (mint or basil or cilantro or a mix)
For the sauce
1 cup roasted almonds, ground to your liking.
½ cup finely minced onion
1¼ cups water
½ cup hoisin sauce
¼ cup apple cider vinegar
2 tablespoons brown sugar
2 teaspoons garlic chili paste
Instructions
For the rolls
Work with 1 rice paper sheet at a time. Dip it into a large shallow bowl or plate filled with hot water. Completely submerge paper in water and leave for about 10 seconds. Gently lift it and lay it down on a cutting board that's been lined with damp kitchen or paper towel.
Pile vegetables, ham, and pineapple on the bottom third of rice paper, in a straight row across. Try to evenly distribute the filling across. Don't clump it together in the center.
Fold both sides of the paper over the filling, then roll up the bottom part of paper and continue rolling into a cylinder, like you would a burrito.
If you like, before the last turn/roll, place herbs to garnish/decorate the rolls. They will show through the thin translucent paper.
For the sauce
Place all ingredients in a small saucepan. Stir to incorporate.
Cook on medium high heat until it comes to a boil, stirring occasionally.
Sauce will thicken considerably once it's cool. Add more water if you prefer thinner consistency.
This will make about 2 cups of sauce. Refrigerate any leftover sauce.