Pineapple and Ham Summer Rolls with Roasted Almond Hoisin Sauce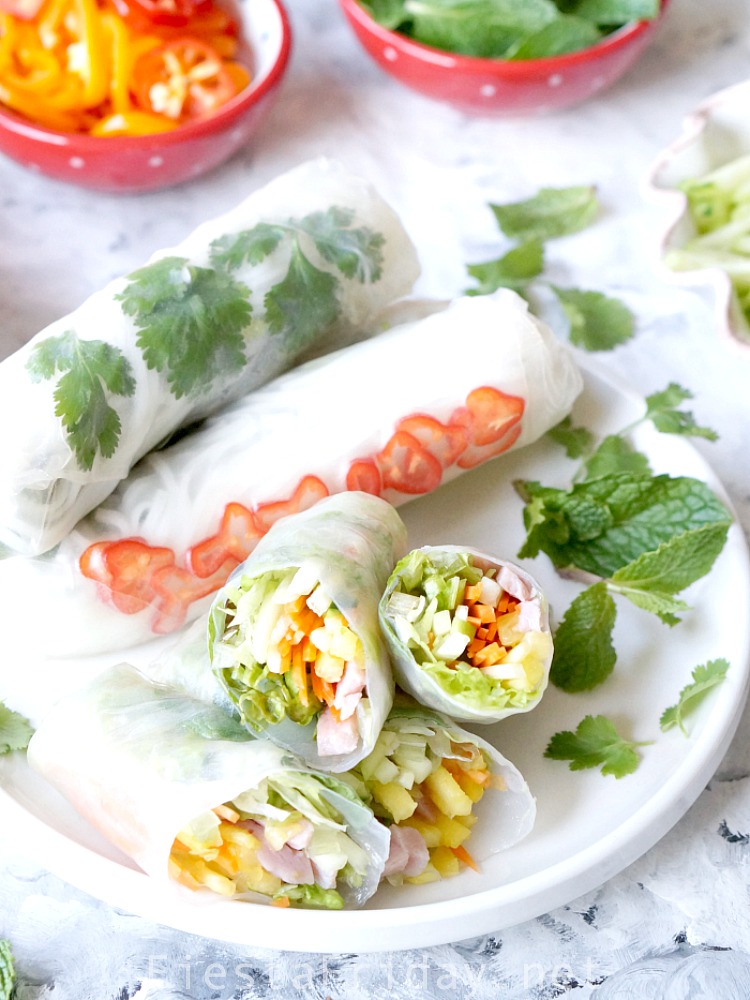 Author:
Angie | FiestaFriday.net
Cuisine:
Asian/Vietnamese
8 (10-inch) round rice paper sheets
2 cups shredded lettuce leaves
1 cup julienned or spiralized carrots
1 cup julienned or spiralized cucumbers
1 cup julienned pineapple
1 cup julienned cooked ham
Fresh herbs (mint or basil or cilantro or a mix)
1 cup roasted almonds
½ cup finely minced onion
1¼ cups water
½ cup hoisin sauce
¼ cup apple cider vinegar
2 tablespoons brown sugar
2 teaspoons garlic chili paste
Work with 1 rice paper sheet at a time. Dip it into a large shallow bowl or plate filled with hot water. Completely submerge paper in water and leave for about 10 seconds. Gently lift it and lay it down on a cutting board that's been lined with damp kitchen or paper towel.
Pile vegetables, ham, and pineapple on the bottom third of rice paper, in a straight row across. Try to evenly distribute the filling across. Don't clump it together in the center.
Fold both sides of the paper over the filling, then roll up the bottom part of paper and continue rolling into a cylinder, like you would a burrito.
If you like, before the last turn/roll, place herbs to garnish/decorate the rolls. They will show through the thin translucent paper.
Place all ingredients in a small saucepan. Stir to incorporate.
Cook on medium high heat until it comes to a boil, stirring occasionally.
Sauce will thicken considerably once it's cool. Add more water if you prefer thinner consistency.
This will make about 2 cups of sauce. Refrigerate any leftover sauce.
Recipe by
Fiesta Friday
at https://fiestafriday.net/2018/04/12/pineapple-ham-summer-rolls-with-roasted-almond-hoisin-sauce/