Holiday Ham, made special with a uniquely tantalizing glaze of sweet soy sauce and chili paste that will elevate your traditional holiday dinner into a world-class experience!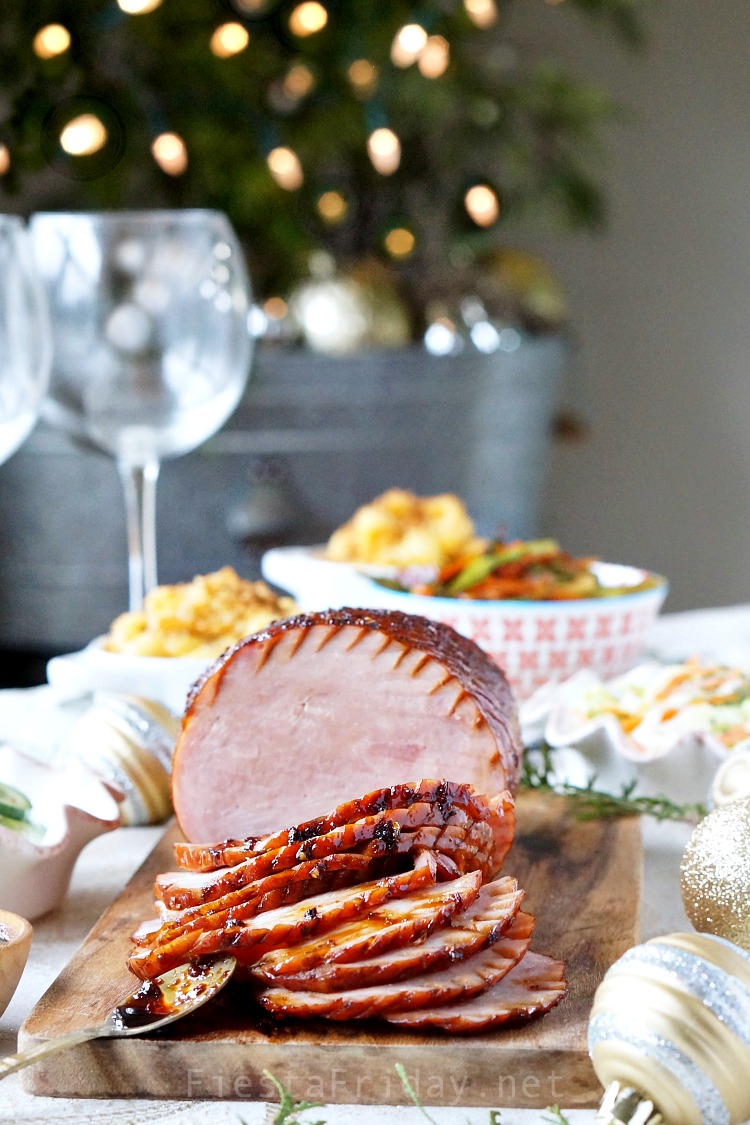 Ham is not only my family's entrée of choice when it comes to holiday dining, but happens to be my preferred meat to cook during the hectic holiday season.
Why? Well, for one, ham is extremely easy to deal with. Hatfield® Hams, specifically, make your holiday cooking a breeze and fool-proof, whether you're a seasoned cook or a newbie in the kitchen. Why, most of the cooking preparations are already done for you.
They come fully cooked and ready to serve with just a quick warming in the oven or microwave. They also come in many convenient sizes, big or small, to fit your family needs. For instance, the Hatfield® Uncured Ham that I use here is a 2 pounder, which is just perfect for a small family like ours, with plenty of leftover.
If you want to try Hatfield® Uncured Ham, now is the time. For a limited time, receive a $2 rebate from Ibotta on your purchase.
Did I mention Hatfield is also family owned, American-made, ethically raised, and gluten-free?
If you're cooking for yourself, however, or for a romantic dinner for two, the new smaller-sized Hatfield® 1/2 Pre-Sliced Ham or Hatfield® 1/4 Pre-Sliced Ham (With Natural Juices or With Water Added) is ideal for such an occasion.
Hatfield Hams are delicious plainly served, as is, and on many occasions that's what I do to get a meal on the table in a hurry.
However, when serving your Holiday Ham, you need to give it a little flair, because everybody expects something a little more special than everyday-meal ham.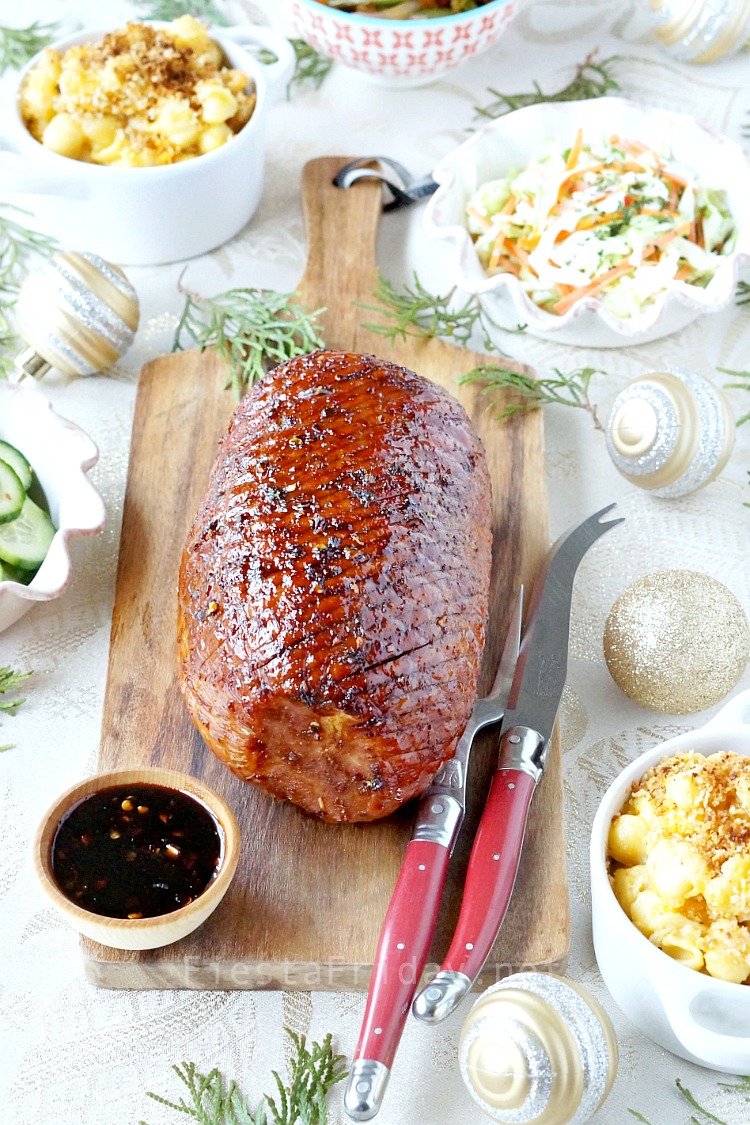 That's when you dig a little deeper into your bag of tricks. All the way into South East Asia.
That's right, folks, this holiday season I'm going to take you on a trip to the exotic islands of Indonesia.
By sharing with you this sensational & superb, smoky & spicy, and scrumptious & succulent holiday ham. Is there another "S" word I can use to describe this spectacular spread? Scintillating comes to mind, but I think you've got the picture.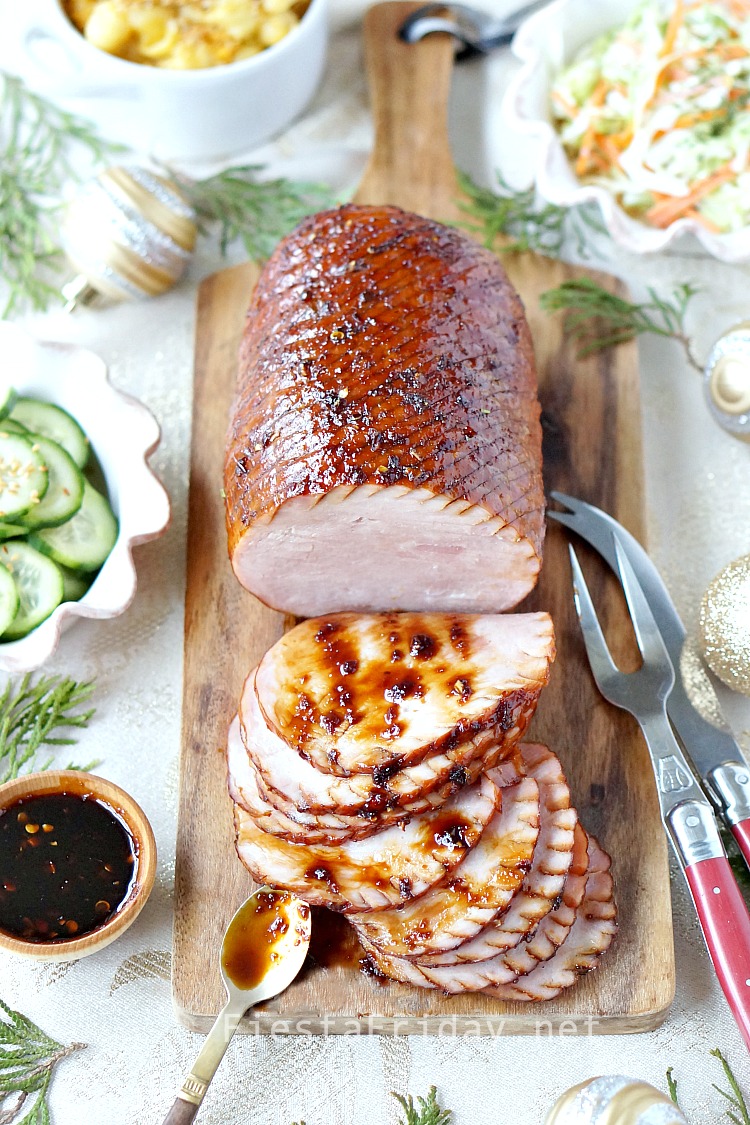 This is nothing like your run-of-the-mill ham dinner. This Hatfield Holiday Ham is full of characters that are bold & bodacious, bright & brilliant… okay, enough with the alliteration.
And then there's more… the pièce de ré·sis·tance… it only uses 5 ingredients, minus the ham.
You read right. There's nothing complicated about this Holiday Ham. The ham is already fully cooked. The only requirement you need is to make the simple glaze. If you can find sambal oelek (chili paste) and kecap manis (Indonesian sweet soy sauce), you're set. Even then, if you can't find them, you can substitute the sambal oelek with any kind of chili paste and the kecap manis with an equal ratio of low-sodium soy sauce, molasses, and brown sugar.
Make more glaze than needed. You'll be glad if you do. That glaze is perfect for just about anything, including stirring into stir-fried vegetables for your side dish.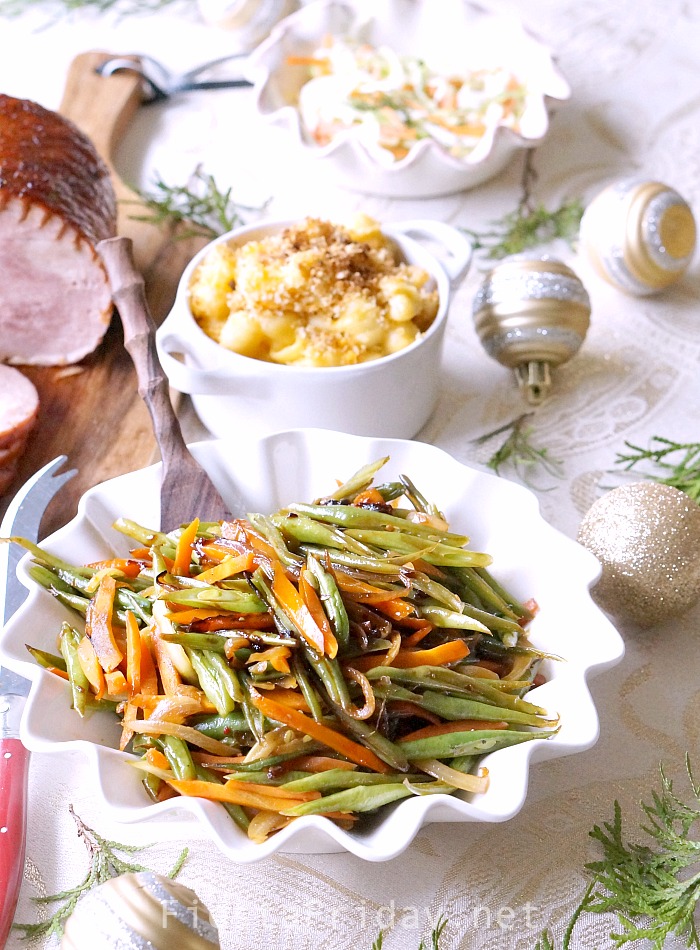 What else can you serve with this Holiday Ham?
Mac 'n' cheese
Coleslaw, Macaroni or Potato Salad
Pickled Vegetables
Roasted Potatoes or Potatoes au Gratin
Rice Pilaf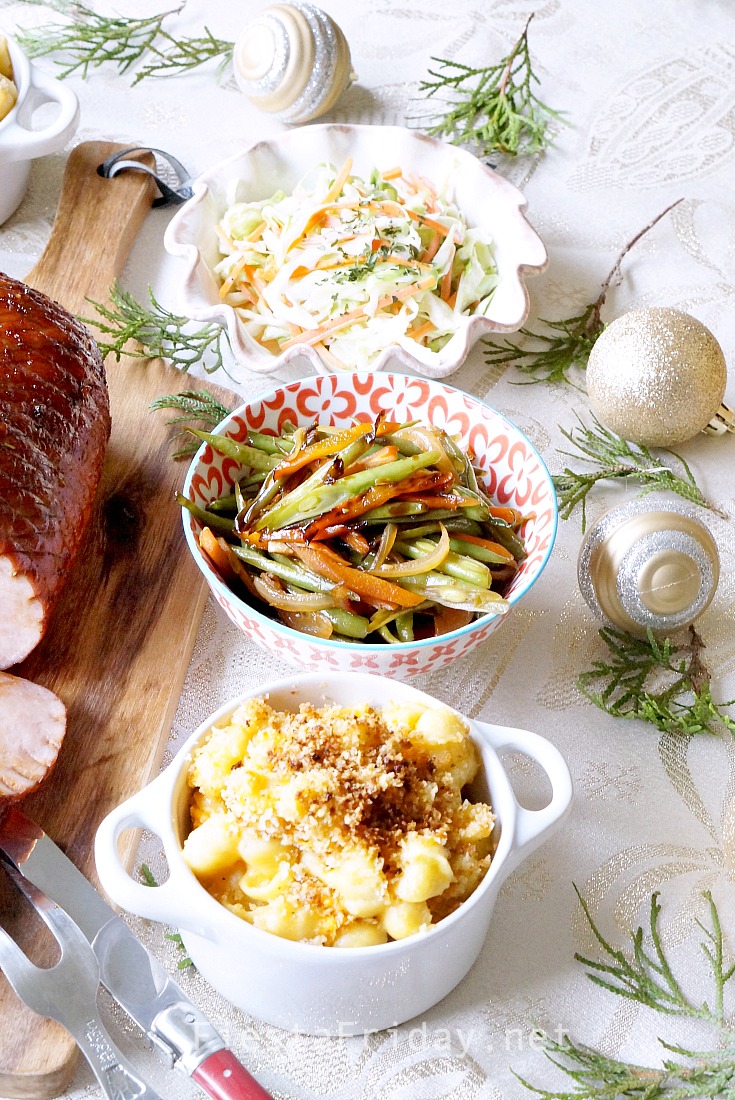 The possibilities are literally endless, since ham, as you know, is very versatile.
If you happen to be lucky enough to be left with some ham after your dinner, may I suggest turning it into these tacos.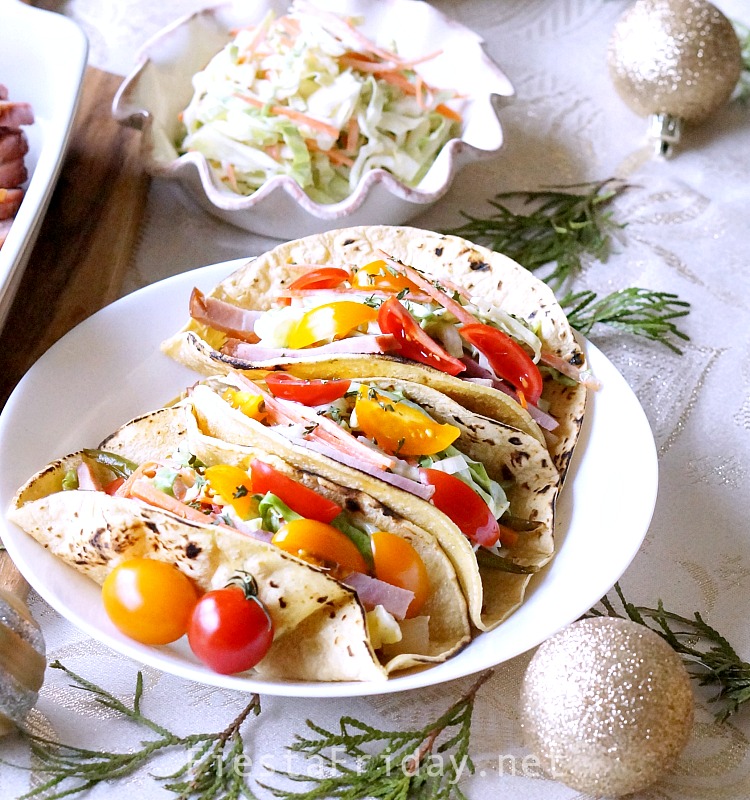 What else can you make with your leftover Holiday Ham?
Literally, the versatility of your leftover ham is endless, as you know, since hardly anything can't be improved with the addition of ham.
Alrighty then, go shop already, and make this.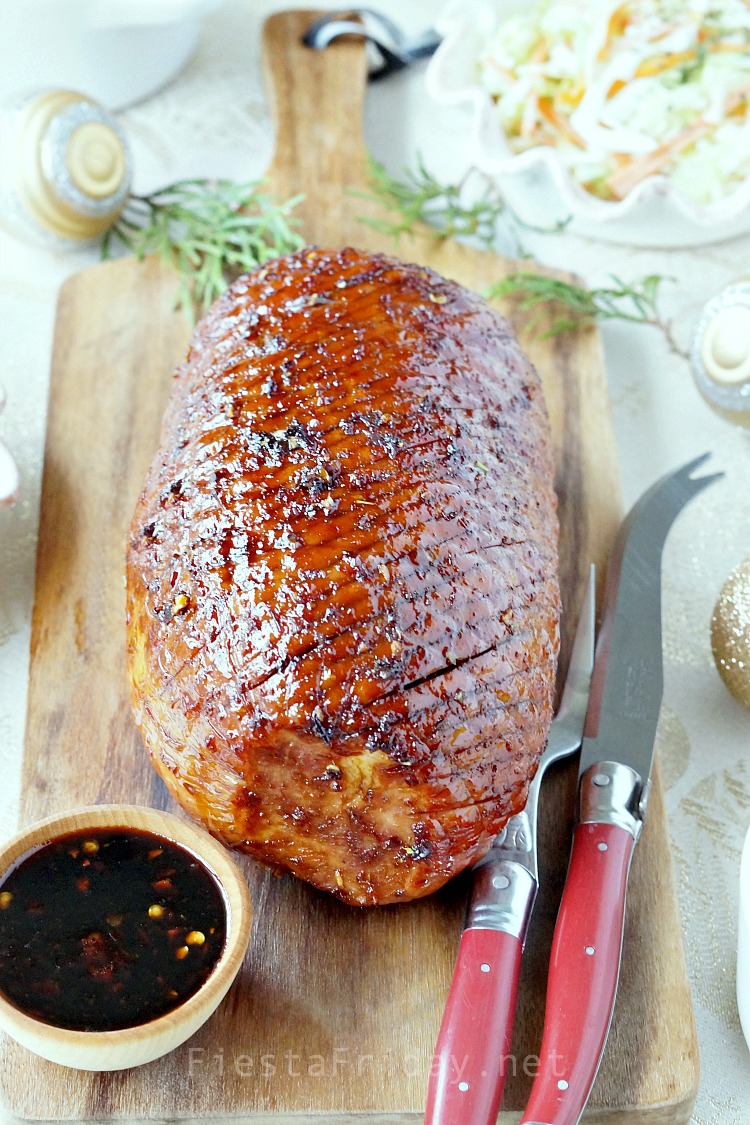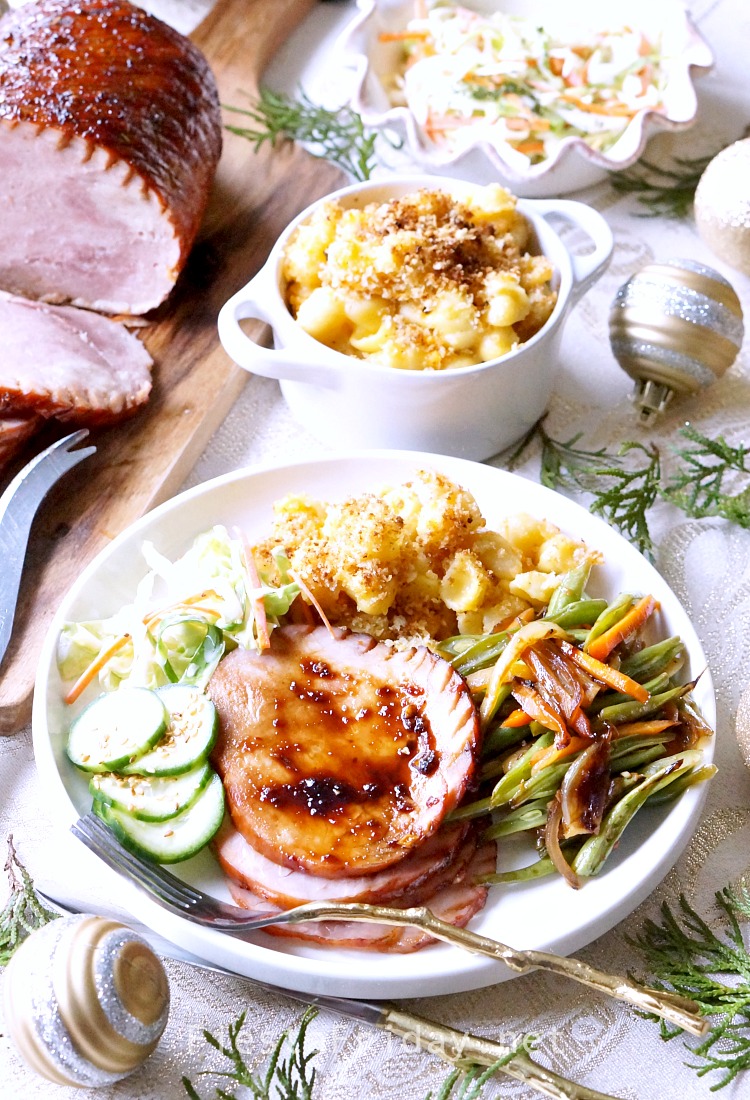 I found my ham at my local Shoprite, by the way, which at the time of purchase was running a $5 discount on most cuts of Hatfield Hams. After the rebate mentioned above, the whole piece cost less than $7.00. If that's not a bargain, I don't know what is.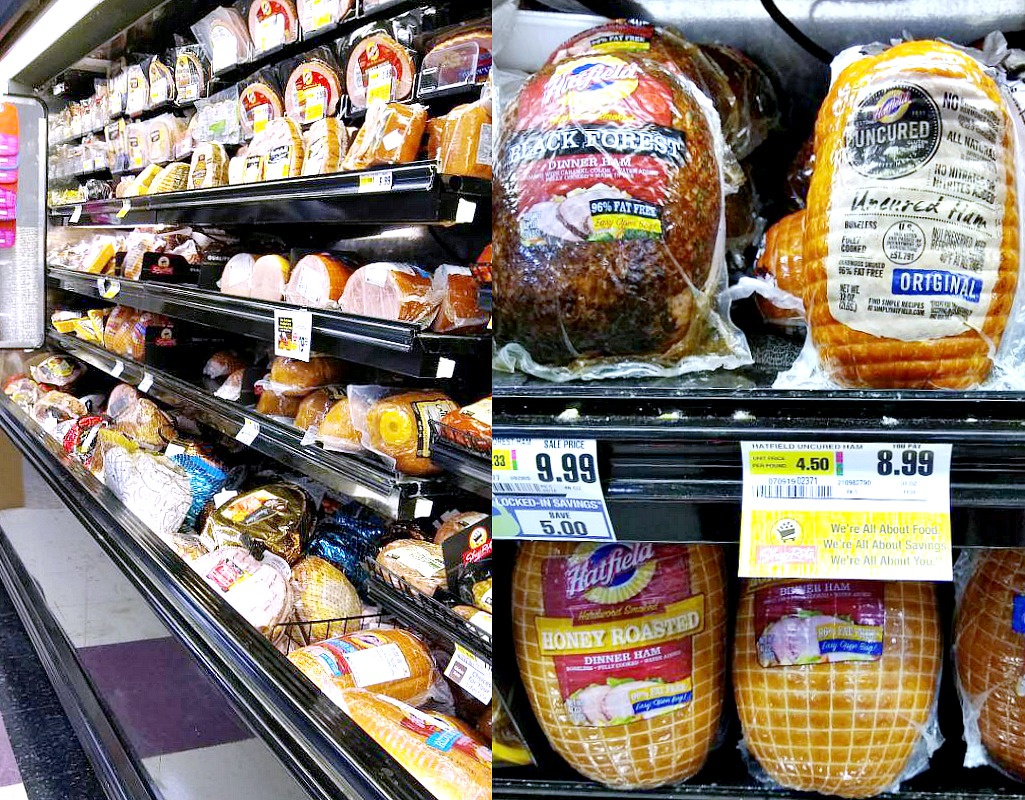 Hatfield Holiday Ham
Holiday ham, made special with a uniquely tantalizing glaze that will elevate your traditional holiday dinner into a world-class experience!
Author:
Angie | FiestaFriday.net
Ingredients
1 (2 lbs.) Hatfield Uncured Ham
For the glaze
⅓ cup kecap manis (Indonesian sweet soy sauce) * See Note
1 tablespoon sambal oelek, or any kind of chili paste
2 cloves garlic, finely minced
1 tablespoon lime juice
1 teaspoon grated ginger
For the stir-fried vegetables
½ lb. green beans (about 2½ cups)
1 medium carrot
1 small onion
1 tablespoon olive oil
2 tablespoons ham glaze
Instructions
For the ham
Heat oven to 325°F.
In a small bowl, mix all glaze ingredients. There will be enough glaze for the ham and the vegetables, with some leftover. ** See Note
Remove ham from packaging. Score it diagonally.
Place ham in a baking dish. Brush generously with the glaze. *** See Note
Place in the oven and bake for 30 - 40 minutes, basting every 10 minutes, until ham is completely warmed through. Remember, the ham is already fully cooked.
Let ham rest for 5 minutes prior to slicing.
For the stir-fired vegetables
Slice onion, carrot, and green beans into julienne strips.
Heat a skillet on medium-high. Add olive oil.
Cook vegetables in the oil until tender and slightly caramelized, about 10 - 15 minutes, stirring often.
Add salt & pepper to taste.
Once vegetables are cooked to desired tenderness, drizzle 2 tablespoons of glaze, stir and cook for another minute. Served with the ham
Notes
* If you can't find kecap manis (Indonesian sweet soy sauce), you can substitute it with a mix of equal ratios of low-sodium soy sauce, molasses, and brown sugar.
** Microwave any leftover glaze for 30 seconds and serve it alongside ham.
*** The instructions on the package recommend that you add ½ inch of water in your baking dish. I assume this is to keep the ham moist. I did not do this, and I didn't find the ham to be dry.