Potato Pumpkin Pancakes (Latkes) that easily become the base for a Breakfast Pizza!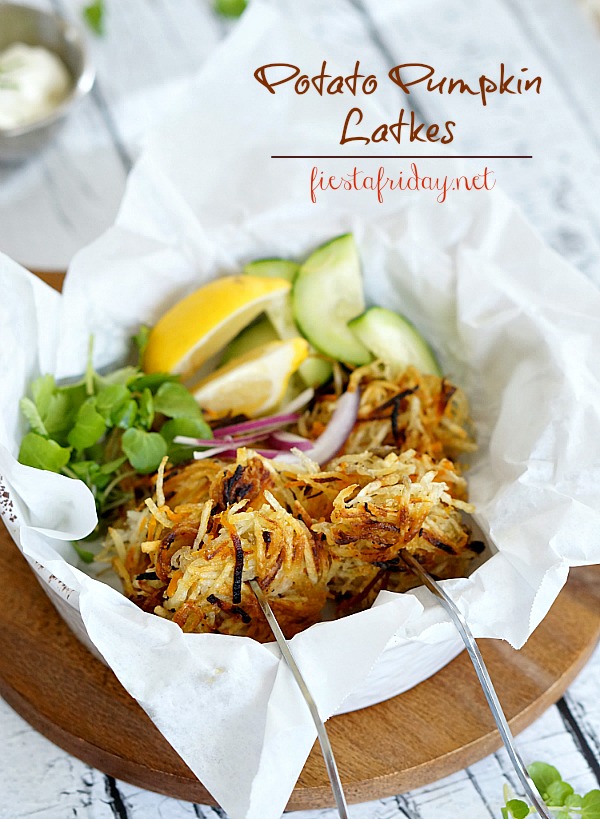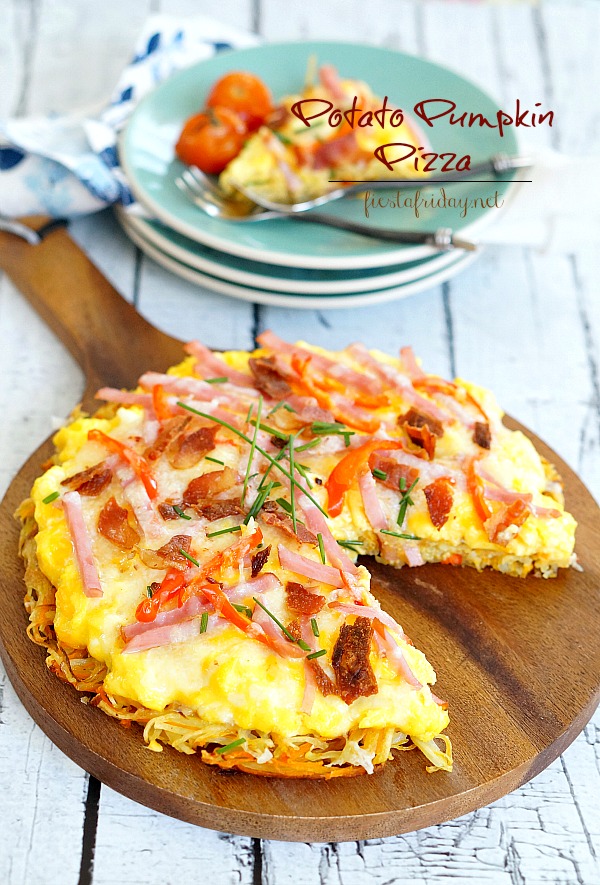 It's my first pumpkin recipe of the season, yo!
Except it's not pumpkin… It's butternut squash… And I'm embarrassed to have said yo! Please don't tell my kids!
Anyway, pumpkins… butternut squash… they're the same thing, right?
Wrong!!
Butternut squash are much, much more delicious!
Why else would canned pumpkin be made of butternut squash? What, you didn't know that?!
Well, newsflash, yo! If you think you've been eating pumpkin all this time, you really have been eating butternut squash. Or something similar… And I guess I'm not that embarrassed to say yo!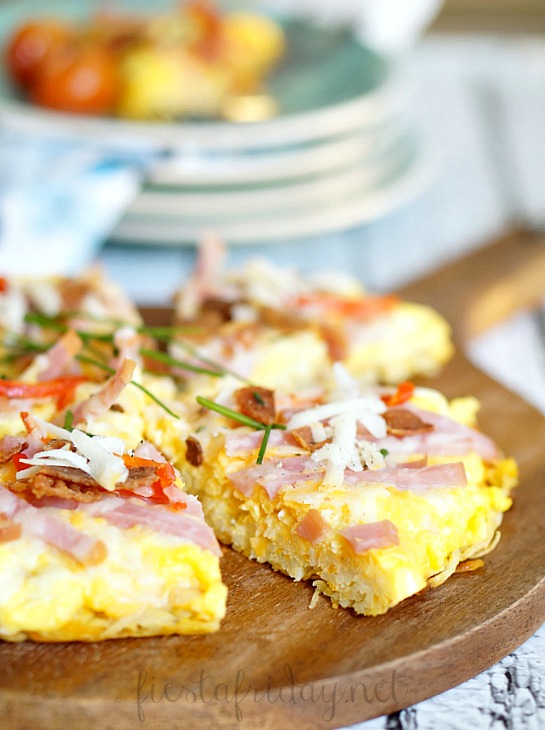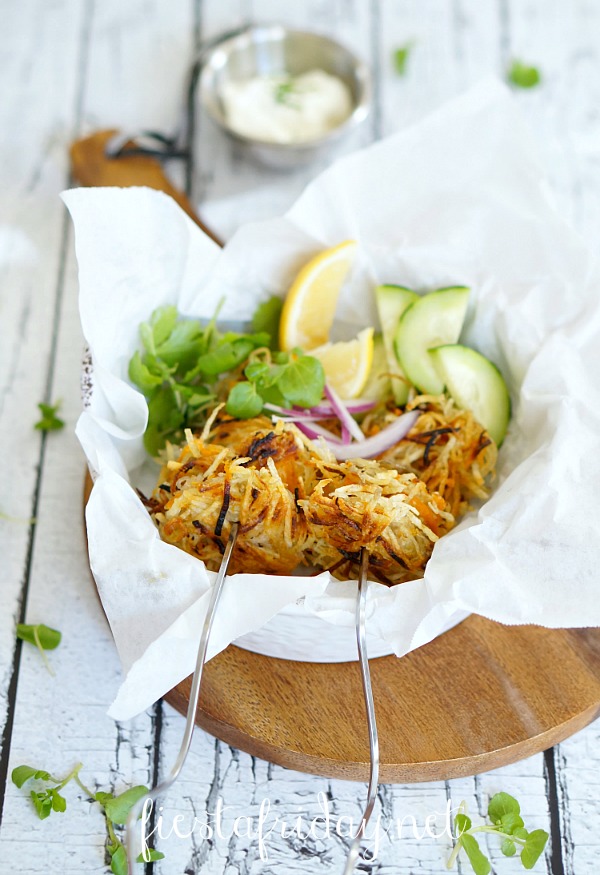 The truth is, most of the pumpkin purée you buy in a can is more likely a mix of different winter squash, mostly the butternut type, even if it says 100% pumpkin.
And the truth is, the USDA thinks that's okay. And the truth is, they belong to the same family, botanically speaking, anyway.
I realize this is all so confusing…
I tell you what. Just think of butternut squash as pumpkins and pumpkins as… uhm… Halloween or Thanksgiving decoration and you'll be just fine.
Whenever a recipe calls for pumpkins, just use butternut squash, instead. Or canned pumpkin, which is really butternut squash, and you'll be just fine.
Think butternut squash = food, and pumpkins = jack-o'-lantern, and you'll be just fine.
Less confusing now, I hope?
Of course, if you insist on eating your jack-o'-lantern, knock yourself out. I'm not one to advocate waste.
And definitely, definitely, eat the seeds! They're the best part!
Okay, now onto the pancakes and pizza, yo!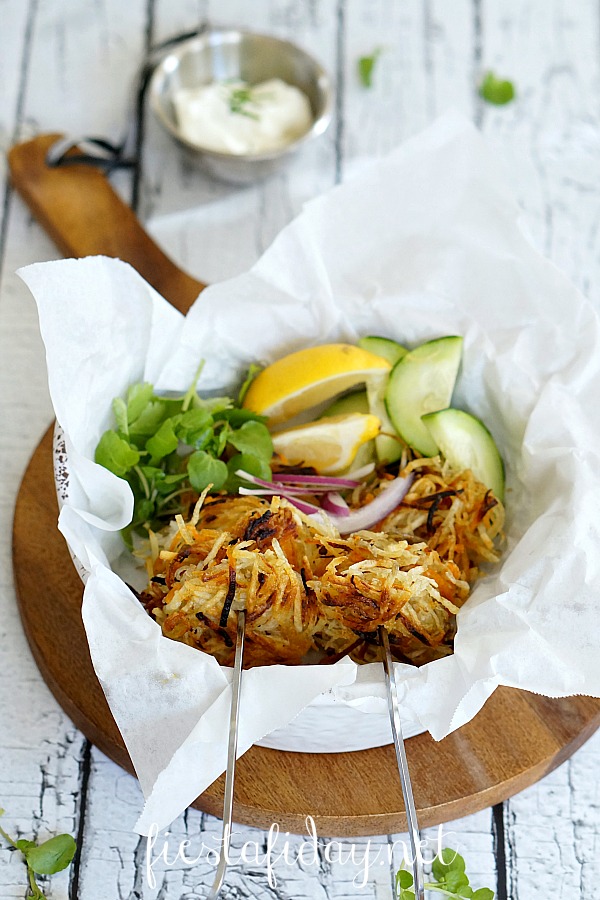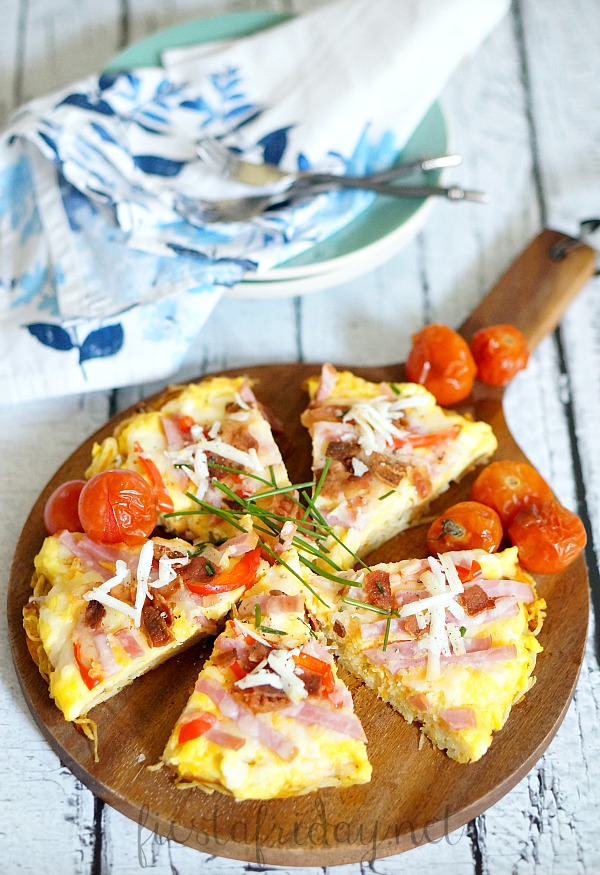 When I said pancakes, I didn't mean like breakfast pancakes you get from IHOP, but more like latkes. And when I said pizza, I didn't mean like pizza you get from Pizza Hut, but more like breakfast pizza.
I realize this is all so confusing… It's National Confusing Post Day, yo!
I made these pancakes on Thanksgiving while waiting for the turkey. I was already peeling potatoes for the mash. And I had all those squash in my centerpiece. And we had to eat something. That turkey took the whole morning, yo!
I wasn't going to blog about them since it's such a simple recipe. But then Hanukkah happened.
And so I told myself, "Hey, yo, Angie, those potato pumpkin pancakes are perfect for Hanukkah."
In reality, this was what I heard, "Hey, yo, Angie, here's the perfect excuse to eat fried food."
So I did the only sensible thing to do. I made them again…
To share with you…
At first I tried to make them small and cute, perfect as pre-meal appetizer, by the way.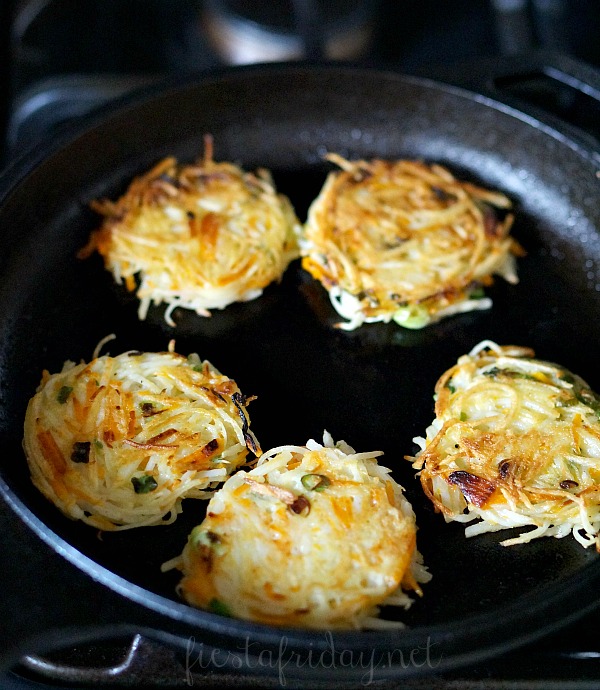 But then I told myself, " Hey, yo, Angie, quit wasting time and just dump the entire thing and be done with it!"
So I did the only sensible thing to do. I went big.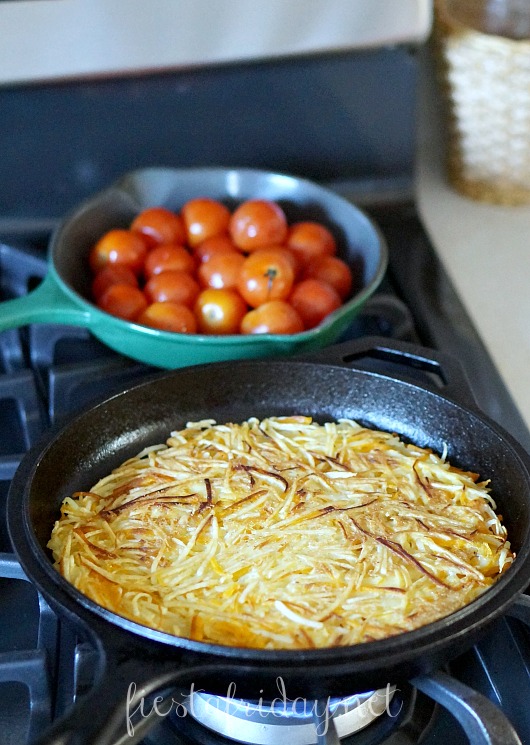 But then when I saw it naked, I didn't like it.
So I clothed it with a bunch of toppings and it became a pizza. A breakfast pizza, yo!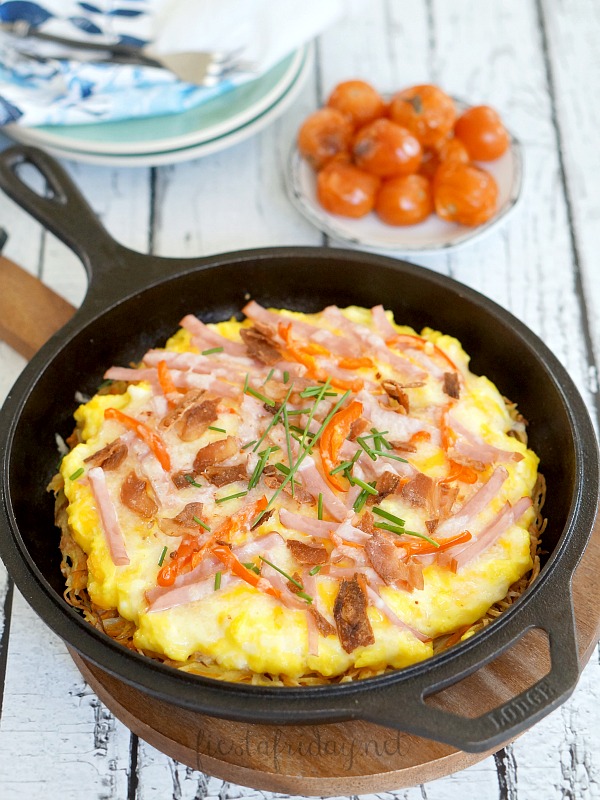 Potato Pumpkin Pancakes and Pizza
Potato Pumpkin Pancakes that easily become the base for a Breakfast Pizza.
Author:
Angie@fiestafriday.net
Recipe type:
Appetizer, Breakfast
Yield:
7 pancakes or 1 pizza
Ingredients
For the pancakes/pizza base
2 cups shredded potatoes (Russet or Yukon)
1 cup shredded butternut squash or pumpkin
1 medium egg, beaten
2 teaspoons all-purpose flour
½ teaspoon salt
½ teaspoon pepper
2 green onions, sliced thinly
Olive oil
Toppings for the pizza
Soft scrambled eggs
Cheddar cheese, shredded
Manchego cheese, shredded
Ham or Canadian Bacon, sliced thinly
Cooked bacon, crumbled
Sweet pepper, sliced thinly
Chives, chopped roughly
Instructions
Use a kitchen towel to squeeze dry shredded potatoes and squash.
Mix all ingredients in a bowl.
Heat olive oil in a frying pan. Start with 1 tablespoon and add more as needed.
Drop by the spoonful to make pancakes.
Fry on medium-high heat for about 3-4 minutes on each side, or until golden brown and crispy. Reduce heat if the squash pieces turn overly brown too quickly.
Drain on paper towels before serving.
To make the pizza base, just spread the mixed ingredients thinly on the pan. Cook just as the pancakes, adjusting cooking time as needed for the bigger piece (about 1-2 more minutes on each side).
To finish the pizza
Top pizza base with soft scrambled eggs, cheddar and manchego cheese, ham, and peppers.
Place under the broiler just until the cheeses melt, about 4 minutes.
Sprinkle bacon as soon as it comes out of the oven.
Add chives and more cheese (if desired) before serving.
Notes
This recipe makes about 7 (3-inch size pancakes) or 1 (8-inch) pizza base.
I'm sharing these with my good friends at Throwback Thursday.