Potato Pumpkin Pancakes and Pizza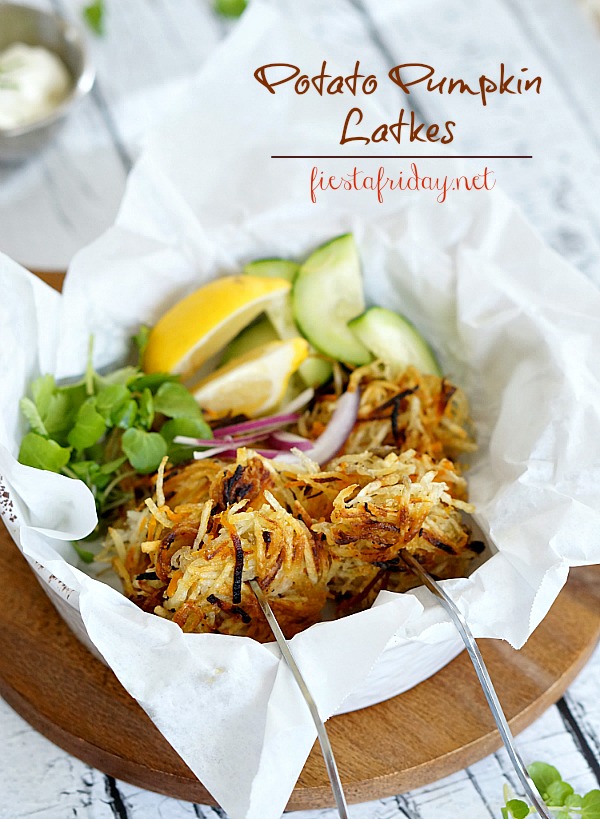 Author:
Angie@fiestafriday.net
Recipe type:
Appetizer, Breakfast
Yield:
7 pancakes or 1 pizza
2 cups shredded potatoes (Russet or Yukon)
1 cup shredded butternut squash or pumpkin
1 medium egg, beaten
2 teaspoons all-purpose flour
½ teaspoon salt
½ teaspoon pepper
2 green onions, sliced thinly
Olive oil
Soft scrambled eggs
Cheddar cheese, shredded
Manchego cheese, shredded
Ham or Canadian Bacon, sliced thinly
Cooked bacon, crumbled
Sweet pepper, sliced thinly
Chives, chopped roughly
Use a kitchen towel to squeeze dry shredded potatoes and squash.
Mix all ingredients in a bowl.
Heat olive oil in a frying pan. Start with 1 tablespoon and add more as needed.
Drop by the spoonful to make pancakes.
Fry on medium-high heat for about 3-4 minutes on each side, or until golden brown and crispy. Reduce heat if the squash pieces turn overly brown too quickly.
Drain on paper towels before serving.
To make the pizza base, just spread the mixed ingredients thinly on the pan. Cook just as the pancakes, adjusting cooking time as needed for the bigger piece (about 1-2 more minutes on each side).
Top pizza base with soft scrambled eggs, cheddar and manchego cheese, ham, and peppers.
Place under the broiler just until the cheeses melt, about 4 minutes.
Sprinkle bacon as soon as it comes out of the oven.
Add chives and more cheese (if desired) before serving.
This recipe makes about 7 (3-inch size pancakes) or 1 (8-inch) pizza base.
Recipe by
Fiesta Friday
at https://fiestafriday.net/2015/12/11/potato-pumpkin-pancakes-pizza/