I'm finally home… for a good stretch of time…
For a couple of weeks, at least… Until my sister and mom start demanding that I go visit them in California.
Oh, the trip is already planned… but I'm secretly trying to cancel it.
I'm unplanning the plan. Or is it displanning? Which sounds more correct to you? Or are both incorrect?
Now you know what goes through my mind. Obviously, important stuff!!
And if I'm not thinking of important stuff such as the fate of the English language, I'm thinking of this.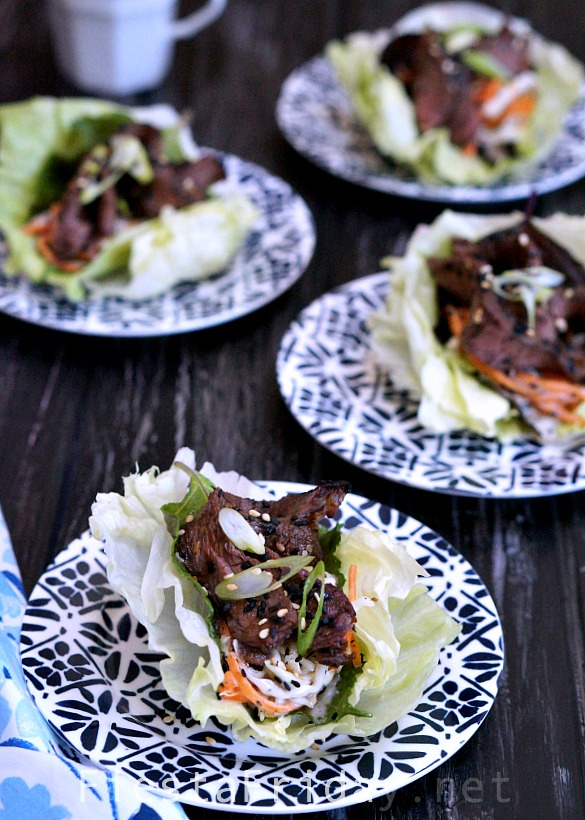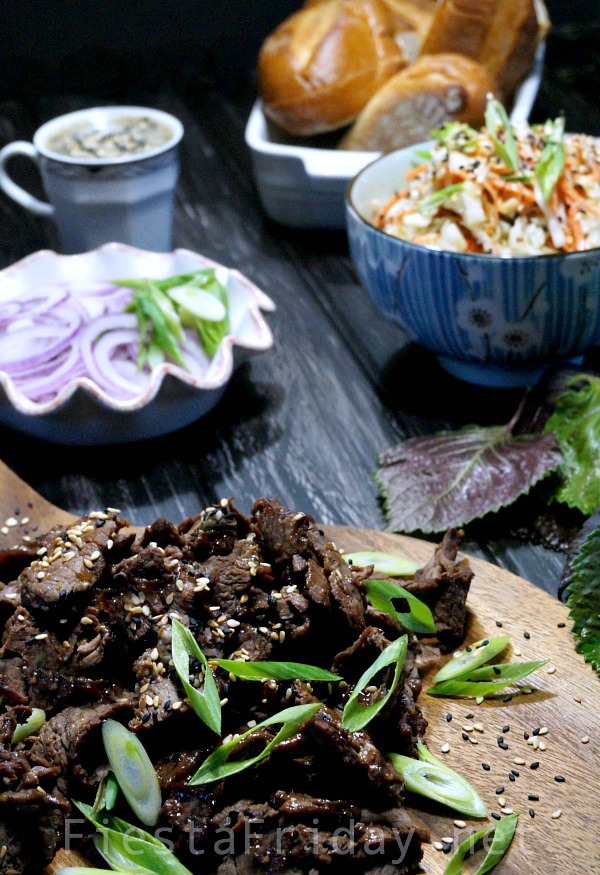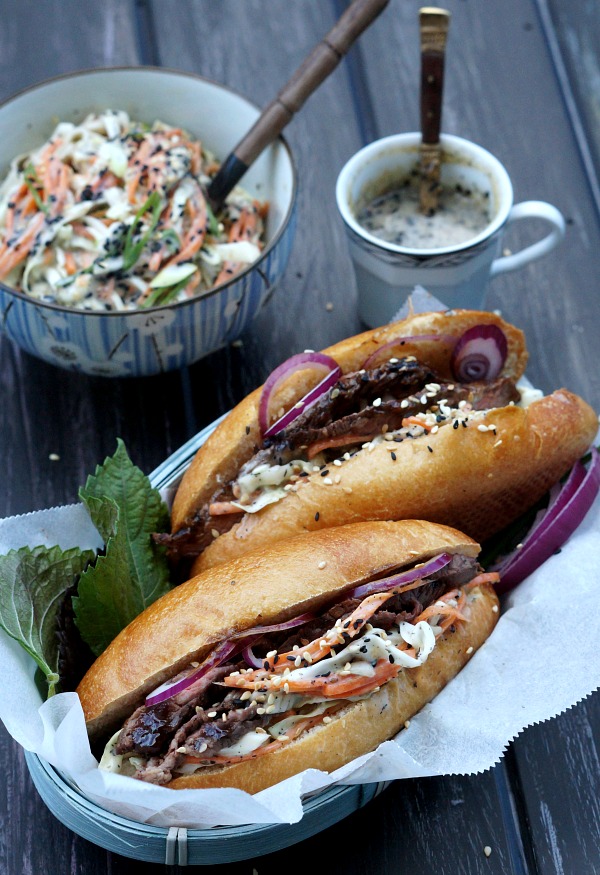 What else… FOOD! Arguably THE most important thing in the universe ever. Actually, there's no argument there. It is definitely THE very thing that makes the world go round.
Or is it the sun? Or is it love?
I told you I think about important stuff all the time.
Anyway, back to food. The first thing I did as soon as I had time to prepare a home-cooked meal was fire up the grill. 'Coz nothing can be simpler than throwing a piece of steak on the grill, amirite?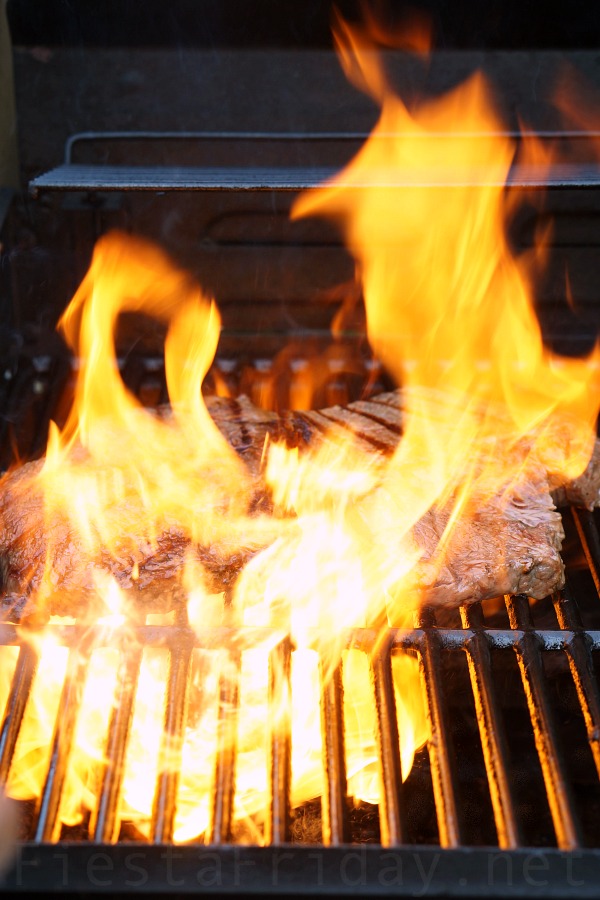 Especially if your husband lends a hand. That's right, people, let someone else take care of the hot grill. While you stay cool in the kitchen and prepare this Sesame Slaw.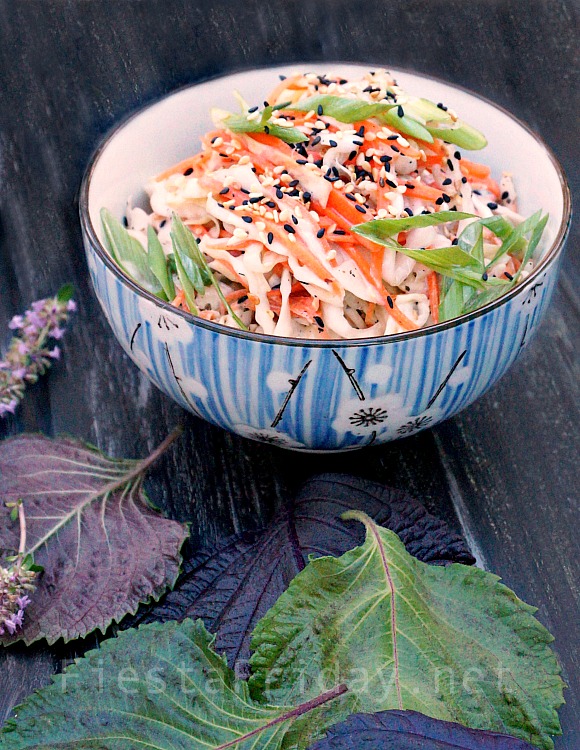 And this Sesame Sauce.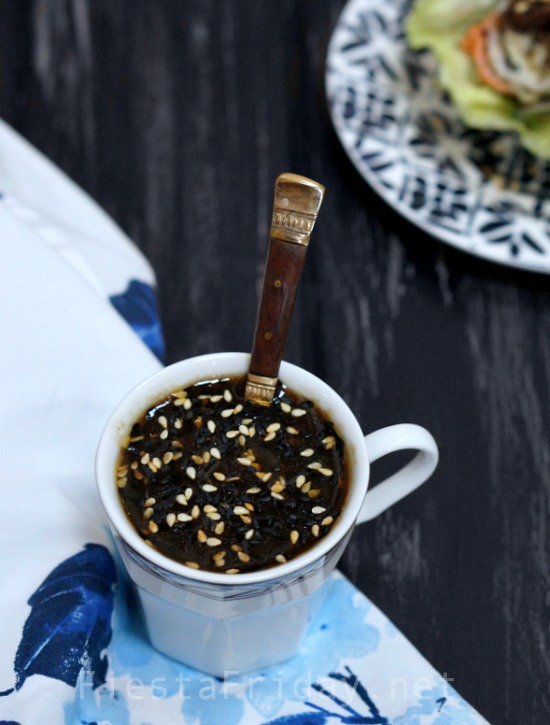 Open Sesame! I guess that's the password of the day.
Seriously, it's so nice to make dinner with your husband. Or wife. Or boyfriend. Or girlfriend. Anybody! Having an extra pair of hands in the kitchen is always a plus. Things move a lot faster, which only means you get to eat sooner. Amirite?
As a matter of fact, I didn't even blink twice before this was put on the table…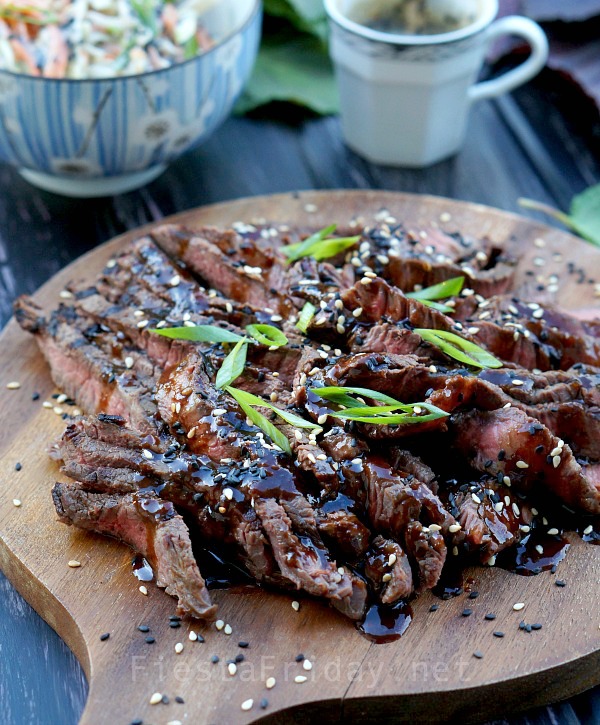 And then a couple more blinks later, this was ready…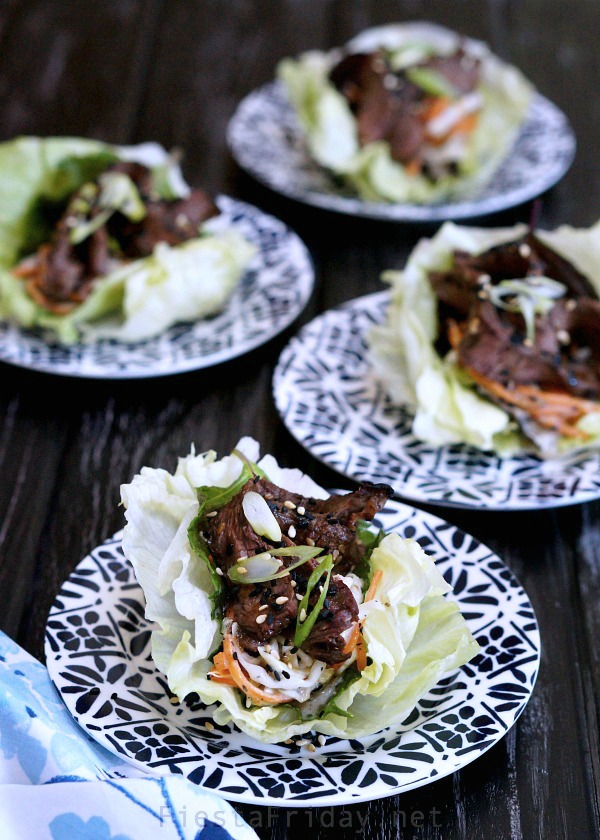 And since we had a lot more steak, these Koagie (Korean hoagie) Sandwiches were put together next. Also in just several blinks…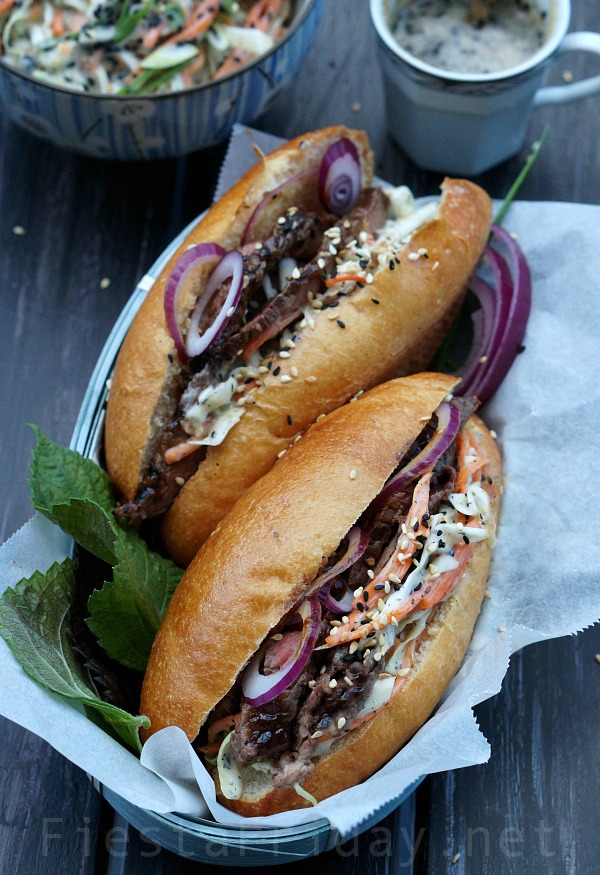 Pretty much in just a matter of a dozen blinks of an eye, an entire meal is served. I'm not kidding! You must, must, find those blinks to put together this dinner. So easy… so good… it's a must-try. This one I'm really proud of.
Sesame Steak Sauce
Korean-style Steak Sauce to drizzle over your grilled meat.
Author:
Angie | FiestaFriday.net
Recipe type:
Condiment/Sauce
Ingredients
½ medium pear (about ½ cup, any kind of pear), peeled and chopped
½ cup beef/chicken broth or water
¼ cup soy sauce
2 teaspoons Worcestershire sauce
3 tablespoons brown sugar
4 cloves garlic, chopped
½ medium onion, chopped
1 inch piece fresh ginger, chopped
2 teaspoons mirin
2 teaspoon toasted sesame seeds
1 teaspoon sesame seed oil
Instructions
Put all ingredients, except for mirin, sesame seeds and oil, in a blender.
Purée until smooth.
Pour into a small saucepan and cook on medium high heat.
Bring to a rolling boil, then reduce heat and let it simmer for 10 minutes, stirring occasionally.
Strain sauce, pressing on solids to extract as much as possible.
Return to heat and continue cooking on medium heat until sauce is slightly reduced and thickened, about 5 minutes.
Add mirin, sesame seeds and oil. Stir briefly then remove from heat.
Serve with grilled steak.
Sesame Slaw
Sweet and slightly tangy, crunchy and creamy, what more do you want from a slaw? Use this in lettuce cups, sandwiches, or as a side dish (banchan) for a Korean barbecue meal!
Author:
Angie | FiestaFriday.net
Ingredients
3½ cups shredded cabbage
1½ cups shredded carrots
2 green onions, chopped
⅓ cup light mayonnaise
2 tablespoons cider vinegar
2½ tablespoons sugar or honey
3 tablespoon sesame seeds (black or white)
1 small garlic bulb, grated
½ teaspoon grated fresh ginger
½ teaspoon salt
½ teaspoon sesame seed oil
Instructions
Toast sesame seeds in a small skillet on medium heat, stirring occasionally, until lightly browned (about 3 minutes).
Coarsely grind the sesame seeds in a mortar and pestle.
Add to the rest of the dressing ingredients and whisk until well blended.
Mix the vegetables (cabbage, carrots, green onions) in a large bowl.
Pour dressing and toss with a pair of tongs to mix. Refrigerate until ready to serve.
Serve in lettuce cups or sandwiches.
Pin This!