Warning!!
This is a whine post! No, not a WIne… post. WHIne…
I'm going to complain… About yellow jackets… And their stings…
I got stung. Twice. No, not 2 stings. But two different, separate sting events. The first time I got 2 stings, and the second time I got 3 stings. So in total I was stung 5 times. All in one week!
And if you haven't met a yellow jacket sting, consider yourself lucky. Let me tell ya… It's the most darndest thing in the world! And for me to get 5 in a matter of days, I must have been very unlucky, boo…hoo…
Maybe I've done something wrong, and am now reaping the bad karma… But I also can't help thinking… Why do bad things happen to good people??? As you can tell, I'm wallowing in self-pity here, but please, allow me, don't judge… You haven't been stung by a yellow jacket!
But enough about the whine… Now it's time to wine…
And dine…
It's Features Time!
My latest Mexican chilli sauce
from Elaine @ foodbod
"I am drawn to anything and everything that comes out of Elaine's kitchen. Her use of vegetables and spices is extraordinary and she is a huge inspiration for readers to make dips, sauces and pickles that can be stored for days and weeks and used to jazz up all kinds of meals. In particular I love this week's post from Elaine for her clever use of different kinds of chilli. Too often it's easy to resort to just one kind of chilli – but as Elaine as shown more flavour can come from experimenting and using different kinds." — Laura
"This sauce showcases Elaine's masterful ingenuity at its best! She knows spices like no one else. She needs to bottle up her sauces and set up shop! Like yesterday!" — Angie
Triple Berry Layer Cake
from Haley @ if you give a blonde a kitchen
"Once I saw this post, I knew I had a winner. Nothing else could beat this cake. Never saw a more prettier "naked" cake! The swiss meringue buttercream looks perfect! Love the way Haley tries to convince the readers that it is "healthy". With a cake this tall, a thin slice should classify as relatively "healthy"!" — Su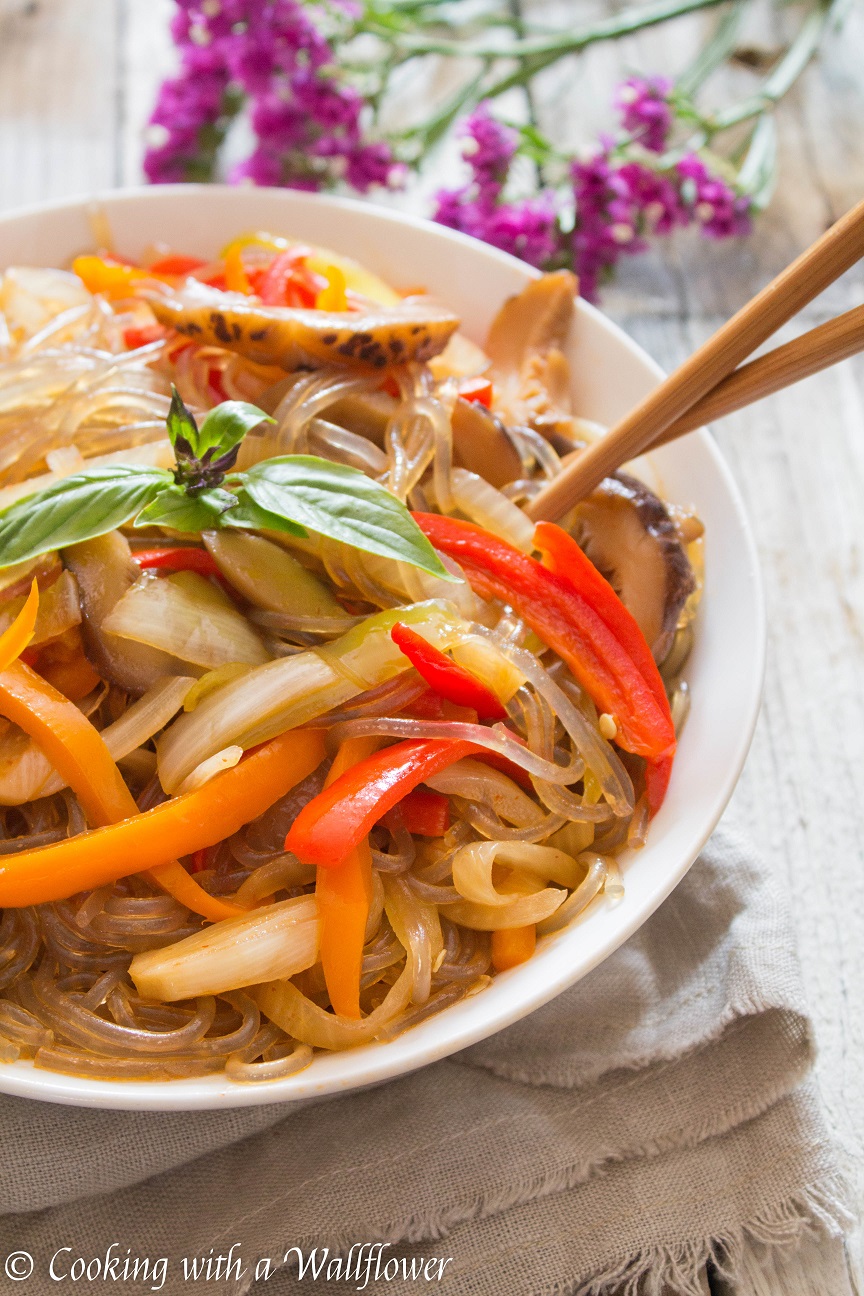 Spicy Korean Glass Noodle
from Andrea @ Cooking with a Wallflower
"Andrea brings us a very unique dish. She also magically transforms a simple recipe into something so exotic! I am entranced!" — Su
One Pan Chicken & Broccolini Dinner
from Liz @ spades, spatulas & spoons
"I've been following Liz's blog for some time now and her recipes always catch my eye for their hearty-ness – and this chicken one-pot is a great example. Too often chicken recipes use the relatively flavour-less breasts and/or remove the skin so I was glad to see Liz showcasing one of the more tasty cuts of chicken and keeping the skin on!" Laura
***
Now, let's party! Join Fiesta Friday #132 by adding your link. Don't forget to link your post to FiestaFriday.net and the co-hosts' blogs. Your co-hosts this week are Sandhya @ Indfused and Nancy @ Feasting With Friends
If you're new to Fiesta Friday, please read the guidelines
[inlinkz_linkup id=655365 mode=1]