Pineapple Upside Down Cake is an old-fashioned favorite, but that doesn't mean it should be boring. Just give it a few tweaks, et voilà! It's a classic with a twist!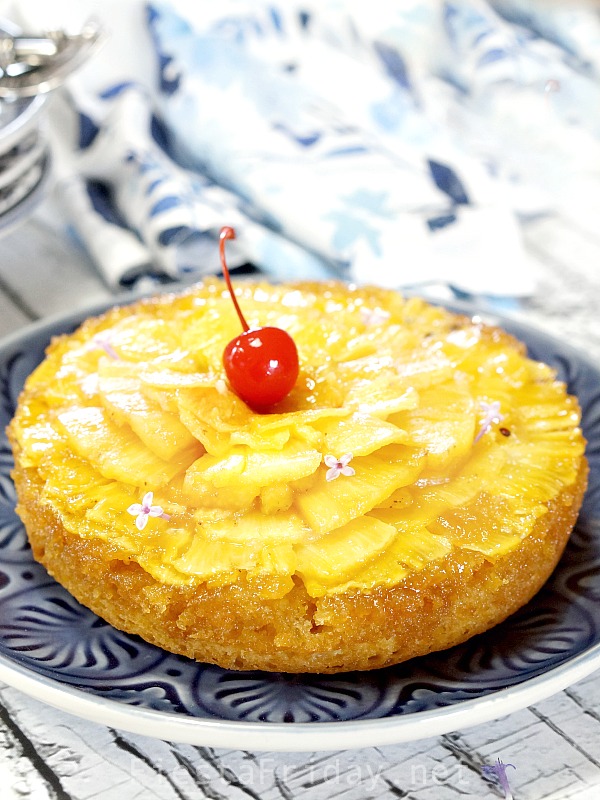 Remember when I told you I've been WhatsApping with my high school pals? Well, it's still going on. The phone is still dinging…
Daily… Sometimes at odd hours. It's mildly distracting… in an entertaining sort of way. If you know what I mean.
But I'm now able to ignore it if I want to. Kinda… And I'm… s l o w l y… s l o w l y… becoming a productive member of society again.

Now if I can only turn the slowly to surely, everything will be just peachy. Or pineapple-y in this case. Ha. Ha. Not funny! I refuse to laugh at my own jokes!
Let me illustrate how slow things are around here. The other day I tried to make a dessert, pull some weeds, and chase away a rabbit. All in a day's work, normal happenings, nothing-unusual kinds of activities… Which should take, what?! Maybe a couple of hours top.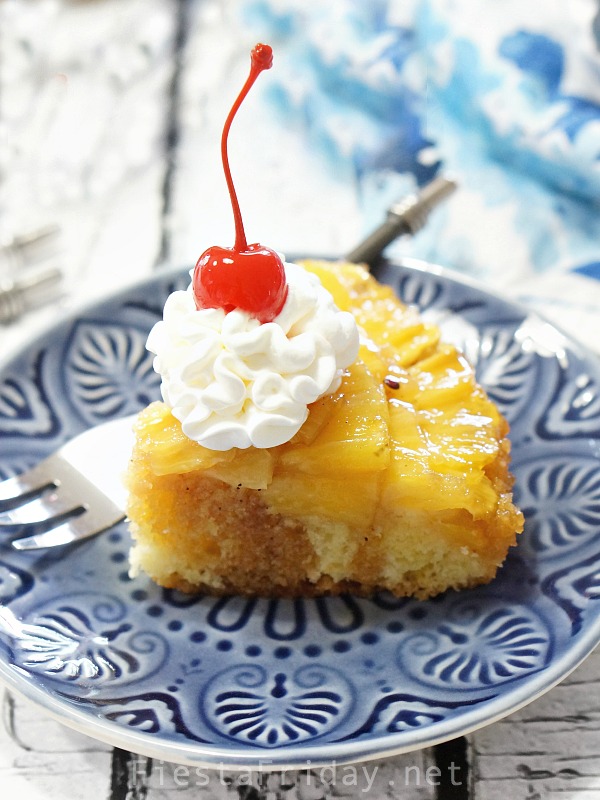 Well, the dessert ended up being finished the day after, the weeds will probably sprout back (I didn't get to the roots) and the rabbit? Right now, as we speak, it's munching on my phlox.
But so whaaat?! Who caaares, right?! Slowly is good enough for me, for now.
As long as the dessert gets done. That's all that matters, right?!
So, let's talk desserts. Specifically, a very special pineapple-y dessert. A classic. One that's sure to put a smile on your face.
This one!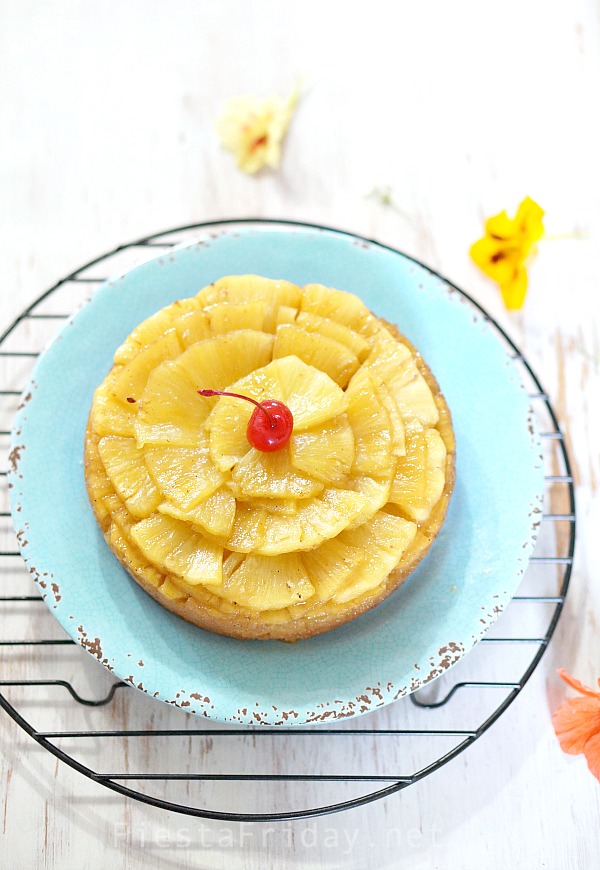 Smile!
Is that a happy dessert or what?!
In fact, it made me so happy to look at it that I made it twice in a week! Okay, to be honest, I didn't like the way the photos turned out so I did a do-over. And I'm still not too crazy about them. I'm a little out of practice with my camera, sigh…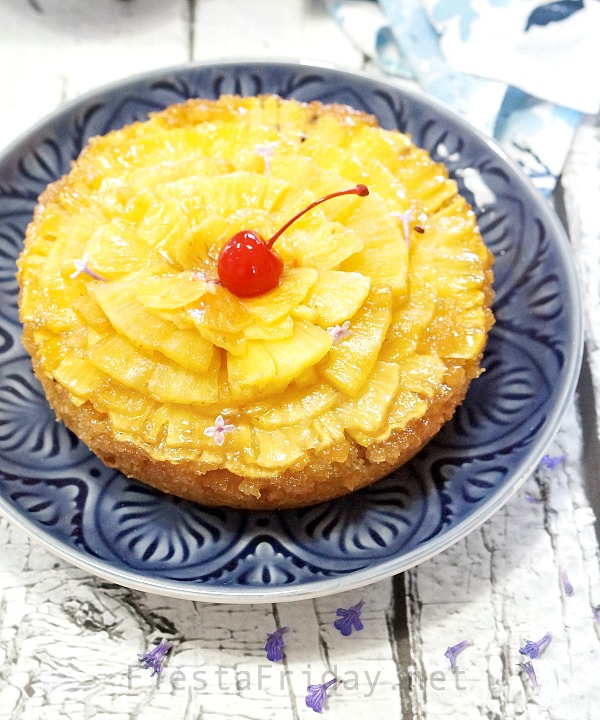 I didn't think I was ever going to blog about Pineapple Upside Down Cake. It's such an old-fashioned kind of dessert, and I'm NOT, I repeat… NOT into old-fashioned. Okay, I'm a little old. But I'm very fashionable. Ha. Ha. I'm still trying to make me laugh at my own jokes. Not happening!
Anyway, Pineapple Upside Down Cake may be old-fashioned, but it's a total keeper. Who doesn't like Pineapple Upside Down Cake, right?! For many of us, it brings lots of memories.
It is certainly the first upside down anything I ever knew. Nowadays of course there's upside down everything. But when I was younger the only thing I associated with an upside down anything was a Pineapple Upside Down Cake. Then again I didn't grow up with a lot of desserts, so I wouldn't have known anything else.
So, anyway, since I'm not that into old-fashioned, I tried to revamp the old cake. Give it a new makeover, a refresher. Make it fashionable. Et voilà!
I think it looks good enough. What do you think?
Pineapple Upside Down Cake
Pineapple Upside Down Cake is an old-fashioned favorite, but that doesn't mean it should be boring. Just give it a few tweaks, et voilà! It's a classic with a twist!
Author:
Angie | FiestaFriday.net
Ingredients
For the syrup
¾ cup light brown sugar
½ cup butter
⅓ cup pineapple juice
2 tablespoons dark rum
1 teaspoon ground cardamom
For the cake
1 small pineapple, peeled and cored
¾ stick unsalted butter, softened
½ cup granulated sugar
1½ cups all-purpose flour
1½ teaspoons baking powder
½ teaspoon baking soda
1 teaspoon ground cardamom
¼ teaspoon salt
2 large eggs
1 teaspoon vanilla
1 tablespoon dark rum
½ cup unsweetened pineapple juice
Instructions
For the syrup
In a small saucepan, combine all ingredients except for rum and cardamom.
Bring to a boil, then simmer for 5 minutes until slightly thickened.
Stir in rum and cardamom, remove from heat and set aside.
For the cake
Heat oven to 350°F.
Cut pineapple into sixths lengthwise, then cut each section into thin slices.
Pour 2-3 tablespoons of syrup on the bottom of the cake pan, swirl to coat evenly
Arrange the pineapple slices in a circular pattern, starting from the center (Remember, the bottom will be the top once cake is inverted). *See how-to photos below.
Set aside while making the cake batter. Reserve some slices to add later.
Sift together flour, cardamom, baking powder, baking soda, and salt.
Beat butter and sugar in a large bowl with an electric mixer until light and fluffy.
Add eggs, 1 at a time, beating well after each addition. Beat in vanilla and rum.
Add half of flour mixture and beat on low-speed just until blended.
Add in pineapple juice (Batter may be curdled at this point).
Add remaining flour mixture, beating just until blended.
Spoon batter over pineapple and spread evenly.
Bake for 35 minutes (for a 6-inch cake) or until golden and a tester comes out clean.
While cake is still hot, poke holes with a skewer. *See how to photos below.
Pour 2-3 more tablespoons of syrup and let it soak through.
Cover with aluminum foil to keep moisture in until ready to serve.
Cook reserved pineapple slices in the leftover syrup until soft and pliable, about 5 minutes. Set aside.
When ready to serve, invert a plate over cake pan, and while holding plate and cake pan firmly together, invert swiftly onto the plate.
You will notice that the pineapple slices are flat on top of the cake. Fluff with a spatula lightly to make them more pouffy, adding/inserting the reserved slices as necessary.
Best served warm or at room temperature.
How To Photos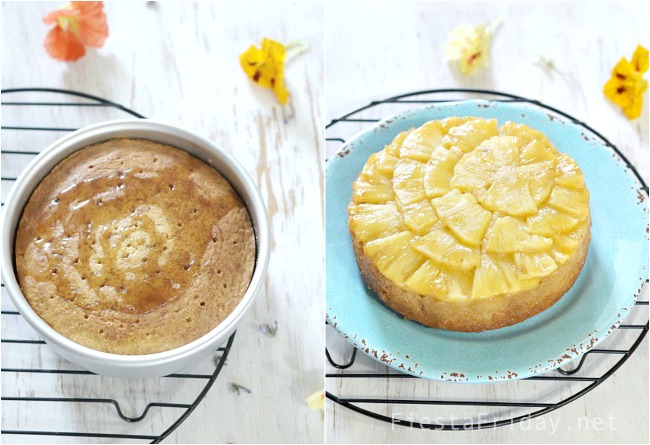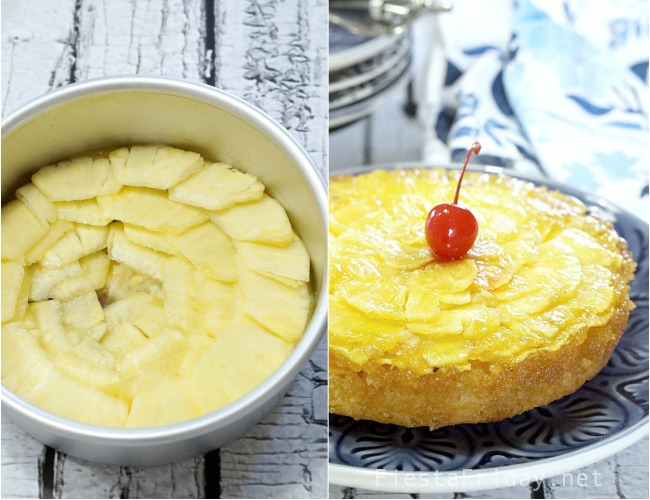 I'm also sharing this with my friends at Throwback Thursday. I hope they like it!