Helloo…anybody home?! Where's everybody?! It's been really quiet here lately. Or is it just me? It's probably all my fault. I haven't been partying with you properly. And I keep promising things and then I don't deliver.
Well, that's about to change! This time it's for real, folks!
A special dessert is coming right up! Right now!
Wait for it, wait for it… And now, here it is! See? I did keep my promise!
I hope you like the Pineapple Upside Down Cake I made for you. And you know when I make something pineapple-y, it's got to be special. Pineapples are my thing. See my logo? It's a pineapple!
Pineapples are a symbol of hospitality and friendship, right? When you see a pineapple on display, you know you've been welcomed. And I want you to know that you're all welcomed to join Fiesta Friday, anytime, wherever you're from. It's an open party for everyone!
Some weeks I'm not around much, but you can always party with each other, okay?
This week though, I hope to be around more. Since I don't have any cohost. It'll be all me, all the time. Brace yourself!
Should we vote for favorite features? Please let me know your preference. Otherwise, I'll be the one selecting features. You'll be sick of me by the time this round is over!
Now, Features!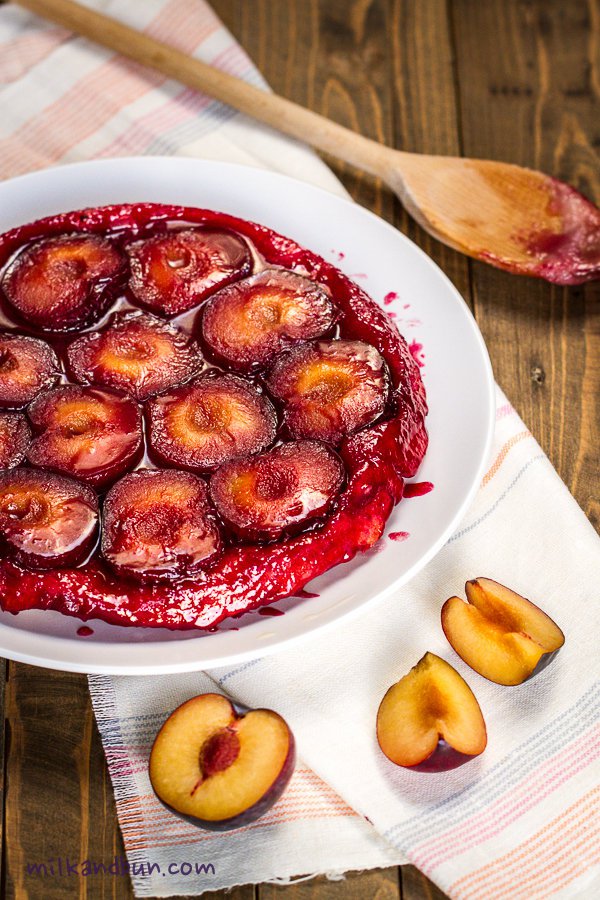 Plum Tart Tatin from Mila @ milknbun
"I loved Mila's post and that she shared the news of her new arrival with everyone at FF. What a lovely, happy post, and of course, the tart looked good too ;)" — Elaine
"Congratulations to Mila on the birth of her baby! No wonder she hasn't been active at Fiesta Friday or in the kitchen. But seriously, there's nothing more important than that sweet and precious baby, NOTHING!! We're all very happy and excited for her. And how nice of her to bring that gorgeous tart to share with us. She's already a super Mom!" — Angie
Guacamole from Debbie @ The Mountain Kitchen
"Who doesn't like a great guacamole?! Debbie also has a good tip on how to keep it looking fresh. And for those who are history buff, the recipe comes with information on the origin of guacamole." — Quinn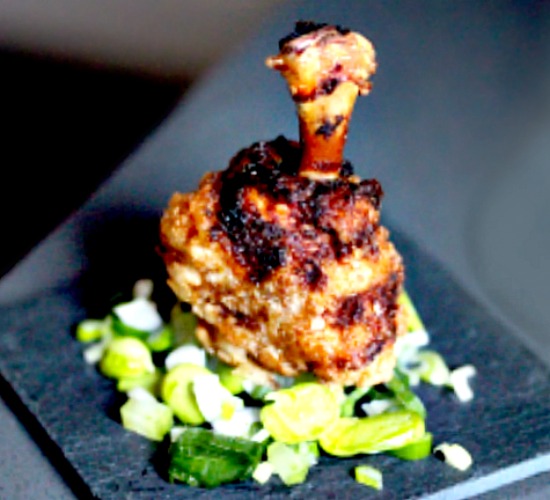 One chicken – Six ways from Petra @ Food Eat Love
"This is such an amazing and useful post. How in the world could Petra make six different dishes – one of them this chicken lollipop – out of one chicken?! But she did! She used the whole animal, from bones to skin! That is so clever! And amazing!" — Angie
Golden Beet and Avocado Toast from Caroline @ Caroline's Cooking
"Caroline's dish appeals to me in every possible way; the colours, the flavours, the ingredients, the simplicity :)" — Elaine
***
Now, let's party! Join Fiesta Friday #126 by adding your link. Don't forget to link your post to FiestaFriday.net.
If you're new to Fiesta Friday, please read the guidelines
Don't forget to come back on Tuesday to vote for your favorite links!
[inlinkz_linkup id=645256 mode=1]