Pineapple Upside Down Cake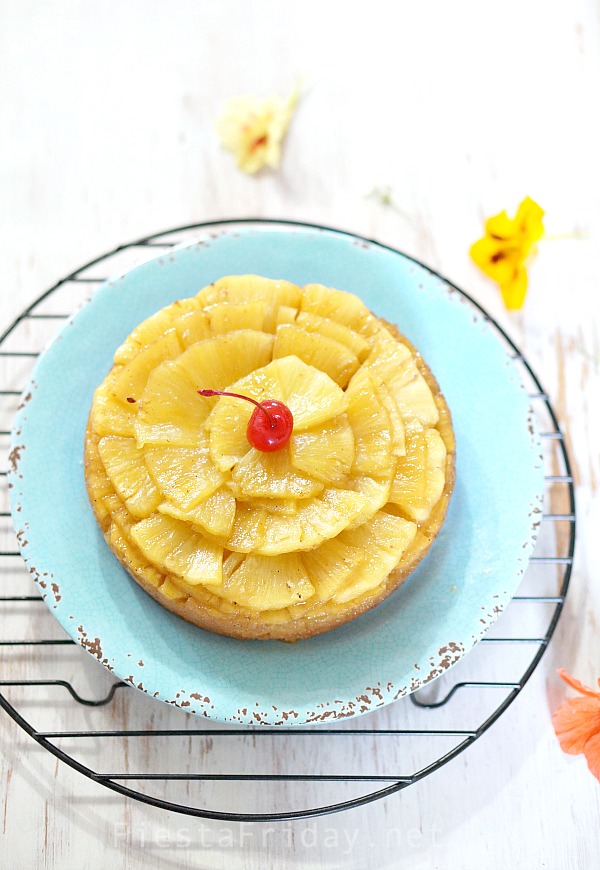 Author:
Angie | FiestaFriday.net
¾ cup light brown sugar
½ cup butter
⅓ cup pineapple juice
2 tablespoons dark rum
1 teaspoon ground cardamom
1 small pineapple, peeled and cored
¾ stick unsalted butter, softened
½ cup granulated sugar
1½ cups all-purpose flour
1½ teaspoons baking powder
½ teaspoon baking soda
1 teaspoon ground cardamom
¼ teaspoon salt
2 large eggs
1 teaspoon vanilla
1 tablespoon dark rum
½ cup unsweetened pineapple juice
In a small saucepan, combine all ingredients except for rum and cardamom.
Bring to a boil, then simmer for 5 minutes until slightly thickened.
Stir in rum and cardamom, remove from heat and set aside.
Heat oven to 350°F.
Cut pineapple into sixths lengthwise, then cut each section into thin slices.
Pour 2-3 tablespoons of syrup on the bottom of the cake pan, swirl to coat evenly
Arrange the pineapple slices in a circular pattern, starting from the center (Remember, the bottom will be the top once cake is inverted). *See how-to photos below.
Set aside while making the cake batter. Reserve some slices to add later.
Sift together flour, cardamom, baking powder, baking soda, and salt.
Beat butter and sugar in a large bowl with an electric mixer until light and fluffy.
Add eggs, 1 at a time, beating well after each addition. Beat in vanilla and rum.
Add half of flour mixture and beat on low-speed just until blended.
Add in pineapple juice (Batter may be curdled at this point).
Add remaining flour mixture, beating just until blended.
Spoon batter over pineapple and spread evenly.
Bake for 35 minutes (for a 6-inch cake) or until golden and a tester comes out clean.
While cake is still hot, poke holes with a skewer. *See how to photos below.
Pour 2-3 more tablespoons of syrup and let it soak through.
Cover with aluminum foil to keep moisture in until ready to serve.
Cook reserved pineapple slices in the leftover syrup until soft and pliable, about 5 minutes. Set aside.
When ready to serve, invert a plate over cake pan, and while holding plate and cake pan firmly together, invert swiftly onto the plate.
You will notice that the pineapple slices are flat on top of the cake. Fluff with a spatula lightly to make them more pouffy, adding/inserting the reserved slices as necessary.
Best served warm or at room temperature.
Recipe by
Fiesta Friday
at https://fiestafriday.net/2016/07/01/pineapple-upside-cake/