Cheesy Chicken Corn Chowder (skinny), without cream, but does not sacrifice the taste or flavor. It's sooo…good, but without the guilts! My family loved this so much I had to make it twice this week!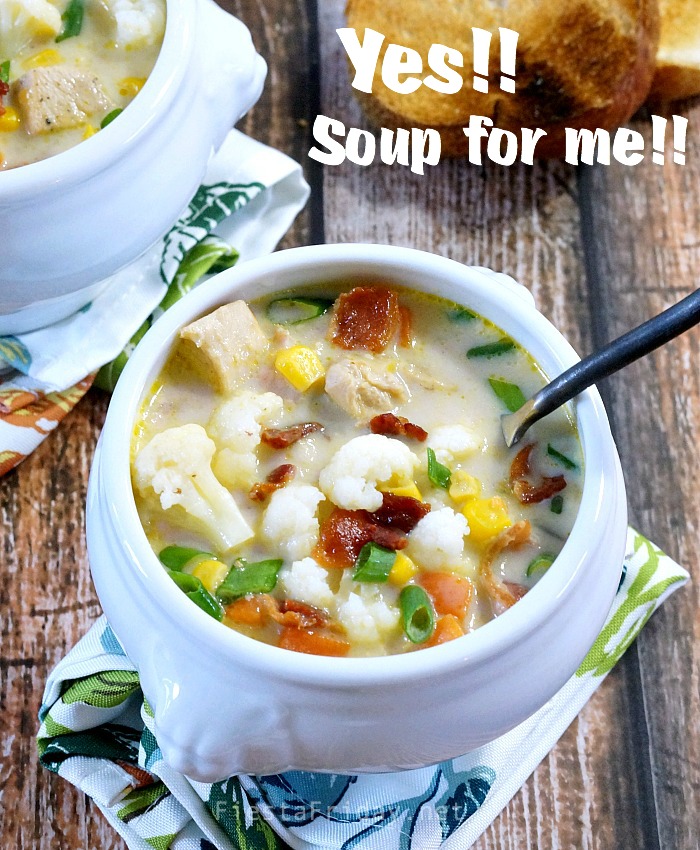 So… what did you guys do for Valentine's Day?
What did you get?
What did you give?
What did you cook?
What did you eat?
Anything good to report?
Oh, you want to keep it private?
That's okay, you don't have to tell me if you don't want to.
I myself have nothing exciting to share.
Once you have kids, Valentine's Day is just another day.
Except with flowers and chocolate.
And heart donuts.
Courtesy of the hubs.
Or more accurately, courtesy of Dunkin Donuts.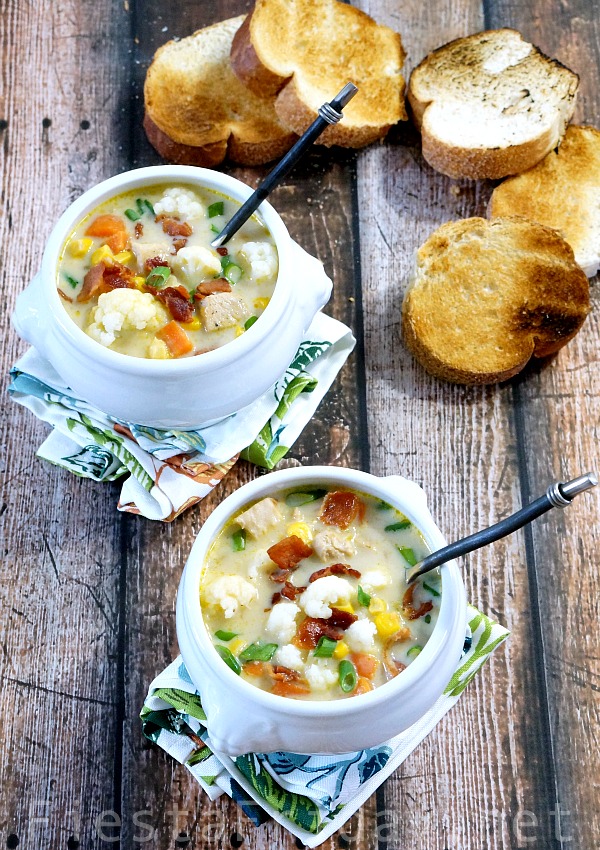 Oh, and I got new earbuds, too.
Courtesy of the hubs.
Or more accurately, courtesy of Apple.
My old ones broke.
I think I'm the only person in the world who manages to break her earbuds.
How? I think I'd like to keep it private.
Just so I won't reveal how careless I can be.
Anyway, in return for his gifts, I made the hubs this soup.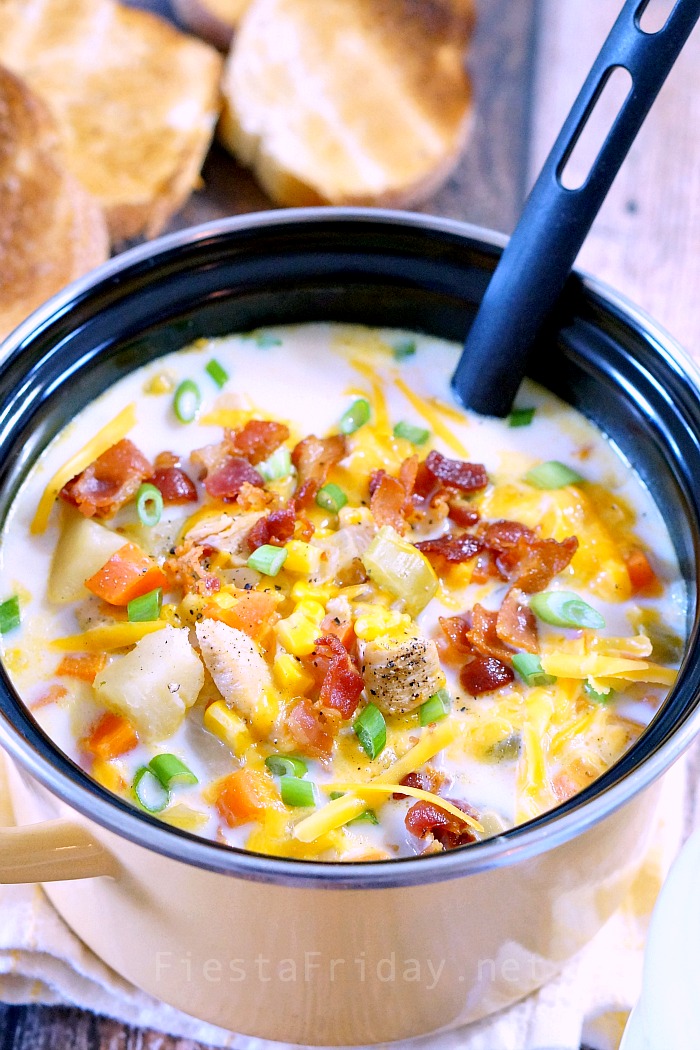 Actually, the soup was more for me.
I'm more of a soup person than he.
So, I guess I didn't exactly give him any present.
Except for the Blood Orange Tart, which he looked at.
And looked at some more.
And then he ended up only taking a bite of the crust.
He claimed he was giving up sugar for Lent.
I should have known.
As much as I'm drawn to the unusual, my husband is a regular Joe Blow.
Give him orange oranges, and he'll eat them.
Give him blood oranges, and he'll just look at them.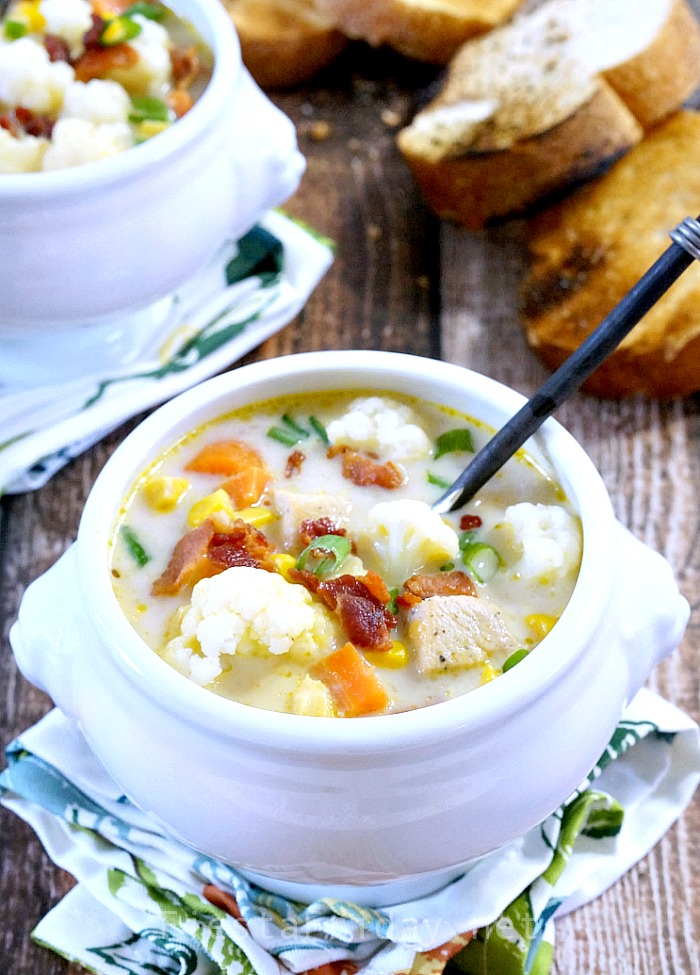 That's the story of the husband and the tart.
So, I guess I really didn't give him anything in return.
But it's not my fault.
I told him I didn't want anything.
But he said he wasn't buying it.
He said when I said no, no, no…
I really meant yes, yes, yes…
Uhm… not really, I said, in my most patronizing voice.
No means no.
But was he even listening?
Of course not.
The flowers and chocolate are an annual thing, whether I want them or not.
And I responded in kind.
Whether or not he wanted the soup,
He was getting it.
It was soup weather, anyway.
It was horrendously cold, and snowy, and rainy…
And snowy, and rainy…
So, soup's on!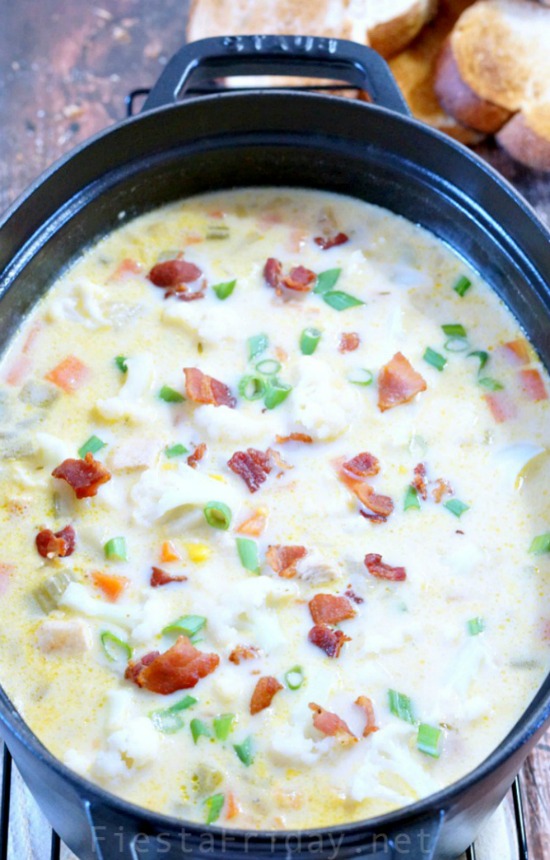 Cheesy Chicken Corn Chowder
Cheesy Chicken Corn Chowder (skinny), without cream, but does not sacrifice the taste or flavor. So good, but without the guilts!
Ingredients
4 bacon strips, chopped
1 large onion, chopped
3 garlic cloves, minced
2 chicken breasts, cut into bite-sized cubes
2 carrots, diced
2 celery ribs, chopped
3 tablespoons all-purpose flour
3 cups chicken stock
1 can (15-1/4 ounces) whole kernel corn, drained
2 large potatoes, cut into cubes (or 2 cups chopped cauliflower)
3 cups skim milk
2 teaspoons chicken bouillon granules (or salt)
1 teaspoon ground black pepper
1 teaspoon dried thyme leaves
1 teaspoon dried parsley leaves
1 cup shredded cheddar cheese (use more or less as per your preference and how skinny you want to make the soup.)
Chopped green onions for garnish
Instructions
In a soup pot, cook the bacon over medium heat until crisp. Remove and drain on paper towels.
In the same pot, using the drippings (or you can drain the pot completely and replace the drippings with 1 tablespoon olive oil/butter), sauté onion and garlic, on low heat, until completely soft and golden brown, scraping the pot often. Don't rush this part; you're building up flavor.
Add chicken, celery, and carrot and cook until vegetables are tender.
Stir in flour and blend. Add chicken stock. Bring to a boil; cook and stir for 2 minutes or until thickened.
Add the potatoes, corn, dried herbs, bouillon/salt and pepper. Reduce heat; simmer, uncovered, for 20 minutes or until potatoes are tender. If you're using cauliflower, add it during the last 5 minutes.
Add milk and continue to simmer just until heated. It's important that once the milk is added that you don't bring the soup into a rolling boil or it might curdle.
Add cheese before serving and stir until it melts. Sprinkle bacon and green onions on top.