I learned something yesterday that threw me off the track.
I was going to tell you about the reaction I got from my better half, when I presented him with an early Valentine's gift. What with Valentine's Day coming up and all.
But what I found out yesterday was absolutely earth shattering. It rattled me deeply. Shook me to the core.
And undoubtedly would be far more interesting to you than my husband's response to the Blood Orange Tart.
I found that… you can buy followers! Yes! There are companies (or should we call them "operations") out there that sell followers.
For a certain amount of money, they can provide you with a certain number of followers.
And what's even more scandalous is that these followers are actually very cheap to be gotten. They cost literally in the pennies.
I was just floored when I found out. I need the whole weekend to recover from this revelation. Seriously, I'm still shaking my head in disbelief.
Did any of you know about this? If you did, you owe it to me to explain why you haven't told me about it. I think I've just lost my innocence and idealism…
"I can't think about that right now. If I do, I'll go crazy. I'll think about that tomorrow." (Who said that?)
Anyway, right now it's time to fiesta!
First, features: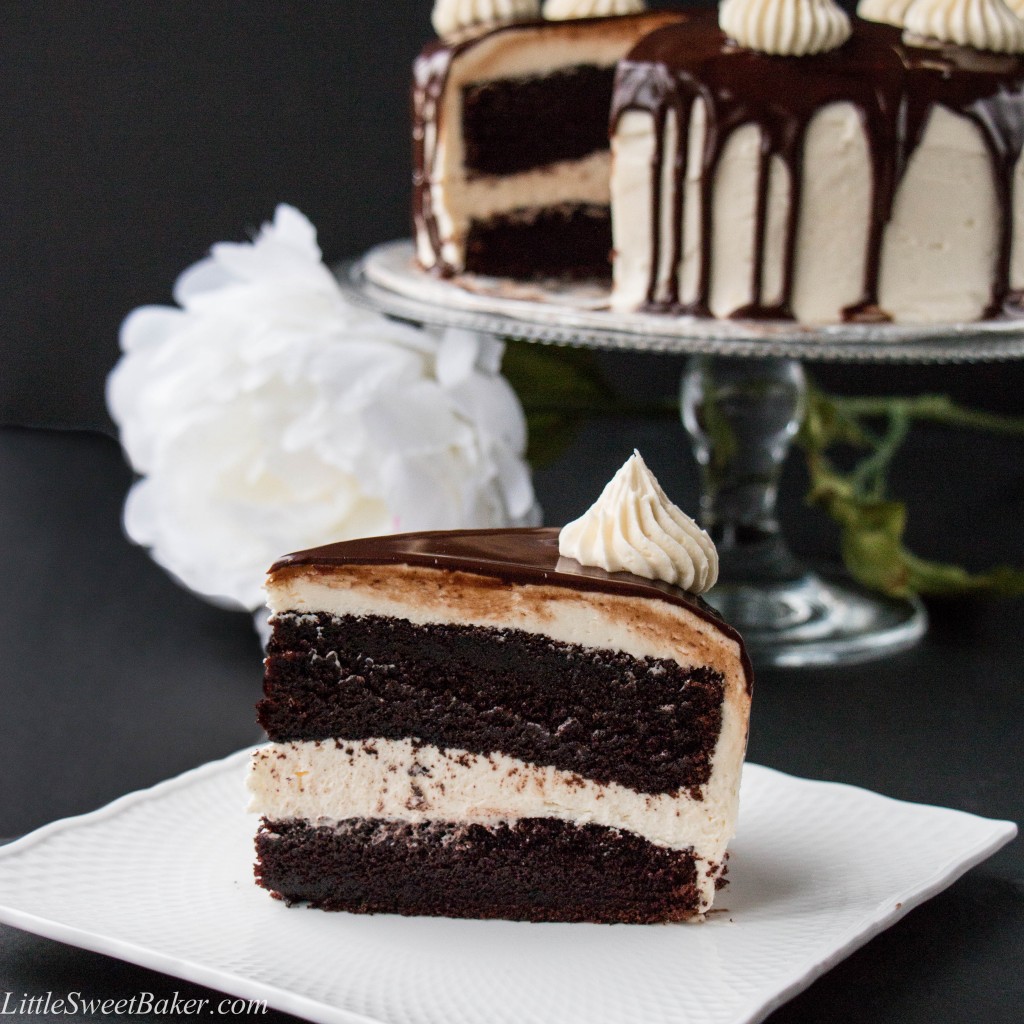 Triple Chocolate Shadow Cake from Lily @ Little Sweet Baker
"Now I know we can't nominate the co-hosts for the features, but I really think this cake was such a show-stopper that it needs to be nominated. All of that rich, chocolatey cake sandwiched between the smooth buttercream. Oh, this cake made my head reel!" — Julianna
"I have to agree with Julianna. Sometimes we do refrain from selecting a co-host's link for fear of being called unfair, but this cake truly is exceptional that I have no doubt there wouldn't be any rumbling for it being featured." — Angie
Medjool Dates Stuffed with Brownie Curd and Crème Fraîche from Julianna @ Foodie on Board
"I'm not sure if I can select a co-host, but I really liked [this]. I have never heard of brownie curd before, but I can only imagine how delicious it would be. A rich fudgy curd paired with naturally sweet dates, creme fraiche, walnuts and orange zest. It's like a party in your mouth!" — Lily
"Again, Lily is absolutely on point. These little morsels are so delightful and delicious that they need to be in the spotlight. I've never heard of brownie curd, either. And now I'm completely intrigued!" — Angie
Super Bowls with Cornbread and Chili from Juju @ Cooking with Aunt Juju.
"This is such a clever idea for parties! All of those flavours and textures contained in one yummy cornbread bowl. It is so versatile too. I am imagining all kinds of fillings or even a "fill-your-own" bowl!"– Julianna
Cheese and thyme bread from Linda @ La Petite Paniere
"A delicious and simple savory quick bread recipe is always handy to have on hand, and this one takes the cake. It's filled with herbs, onions and two types of cheese. The best part is the simplicity of the recipe." — Lily
***
Now, let's party! Join Fiesta Friday #106 by adding your link. Don't forget to link your post to FiestaFriday.net and the co-hosts' blogs. Your co-hosts this week are Steffi @ Ginger & Bread and Andrea @ Cooking With a Wallflower.
If you're new to Fiesta Friday, please read the guidelines
[inlinkz_linkup id=607385 mode=1]