Blood Orange Tart
Shaped like a heart
Strikingly unusual
Like a special jewel
For your Valentine!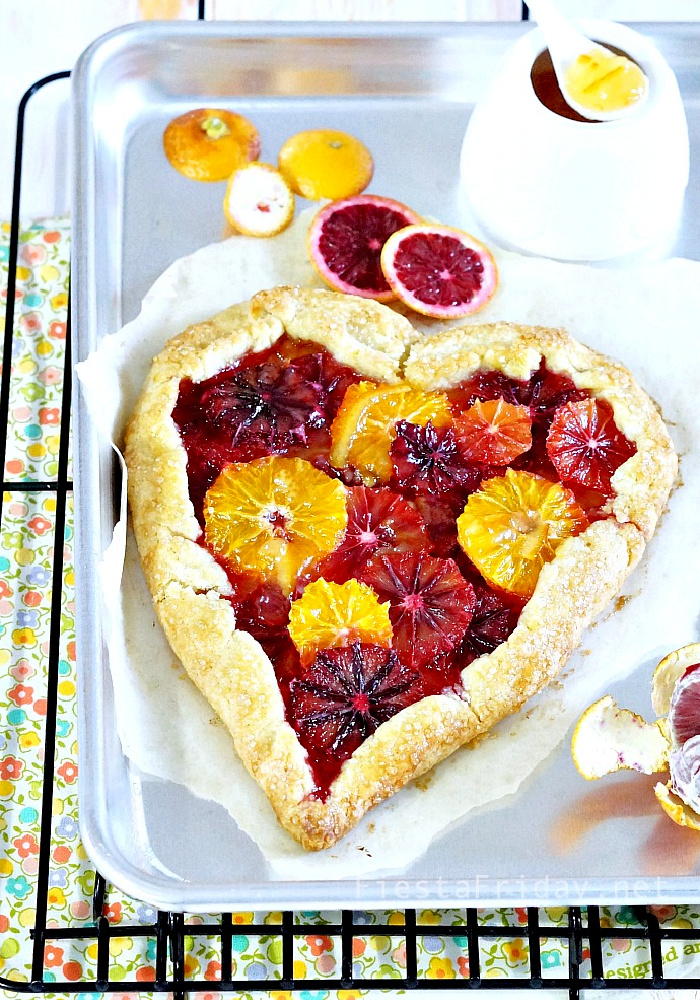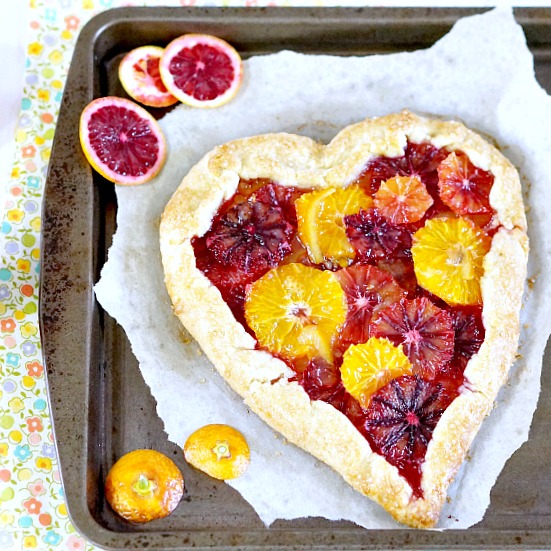 Blood oranges are like two fruits combined into one. They have an orange flavor, obviously. But they also have something else. I can't decide what it is. Raspberry? Pomegranate?
Whatever it is, it's definitely working. They are my current fruit crush.
If you haven't tried them, you should. Right now.
They're in season. Right now. And then they'll be gone. Unlike the regular oranges which you can pretty much get year-round. So… right now, okay?! Just saying.
Besides, they're gorgeous! Yellowish, orangish, with maroon blush. Every time I see them, I have to call out to them," Hello, gorgeous!"
And I just have to cut one open. Just have to.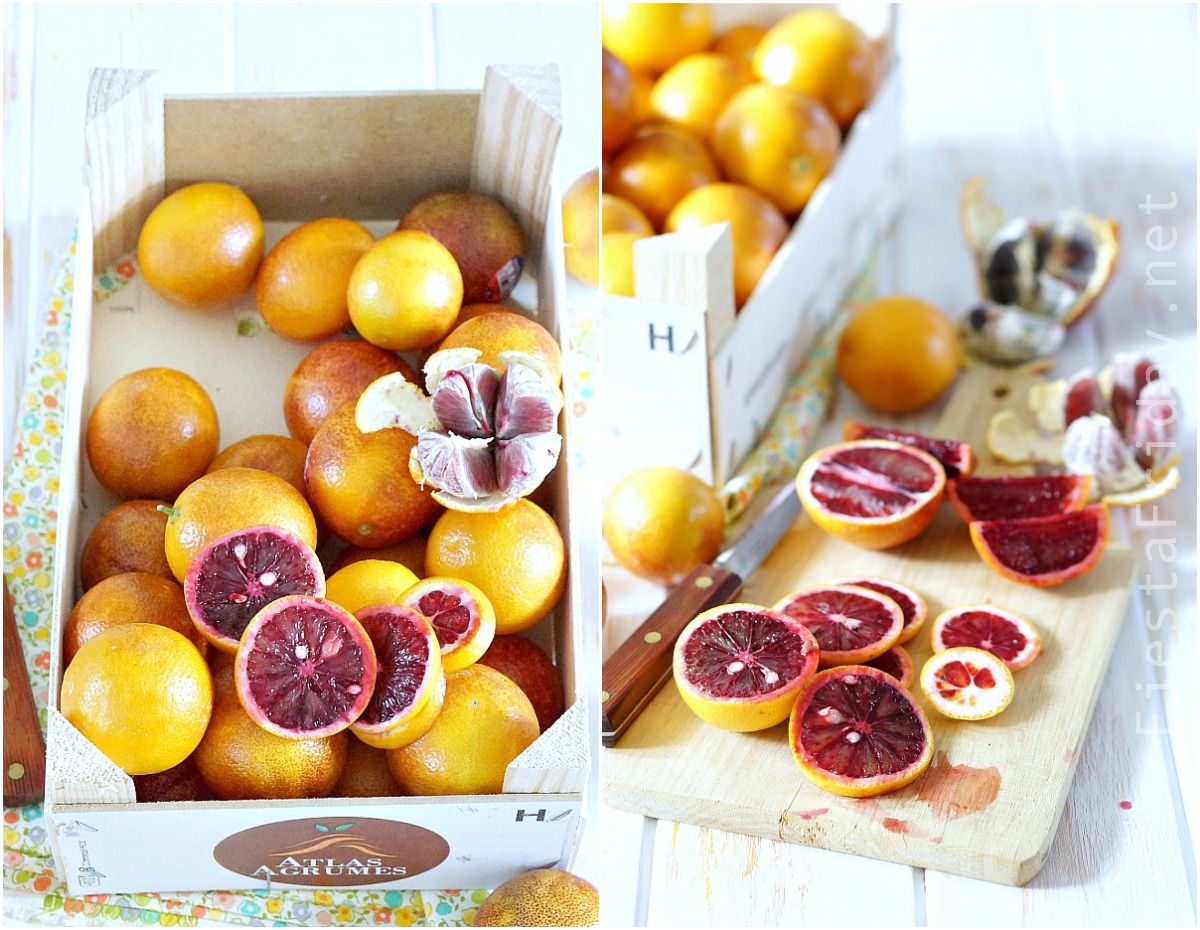 I do have a confession, though. I have the tendency to go for something unusual.
Something unique or uncommon. Something out of the norm.
You should see my garden.
Why grow green kale if you can grow purple kale? Why grow red tomatoes if you can grow black tomatoes? And why grow yellow sunflowers if you can grow chocolate sunflowers?
Right?!
That's what I say!
'Coz obviously, sunflowers are chocolate! Lawl!
Anyway, that's probably why I love blood oranges. They're a bit different.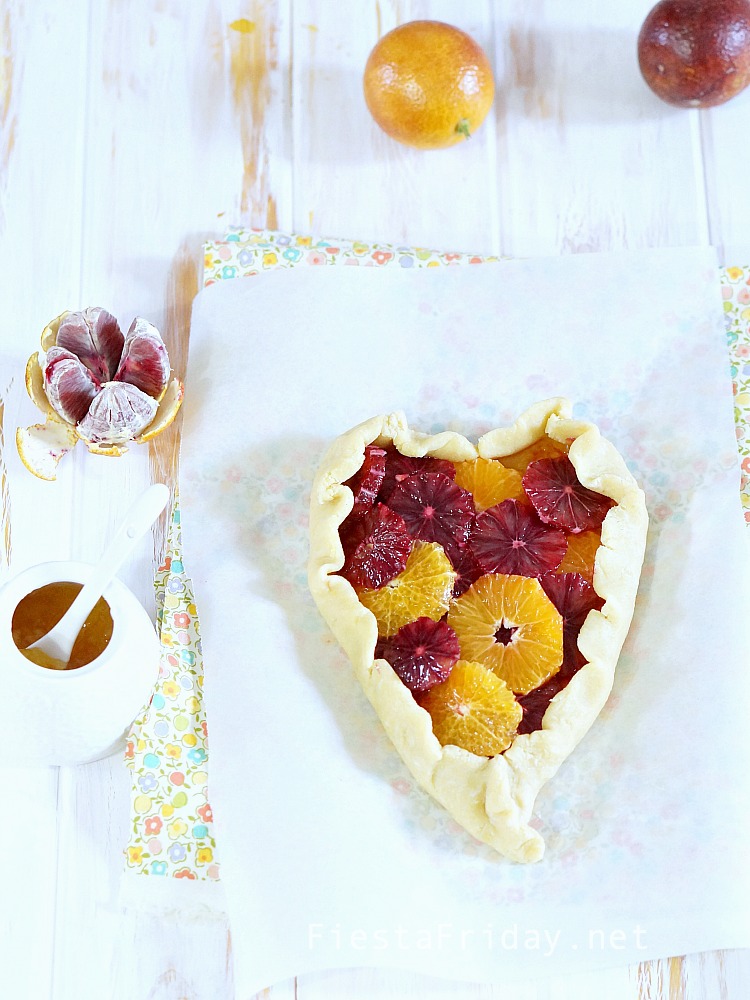 They usually cost a little more than their regular cousins. So, I don't normally buy too many of them.
Except I went to this produce stall the other day and they were selling them for $2 a bag. And there are a dozen per bag! They're small but I don't mind runty fruits. In fact, even better. Cuter and they fit in your kids' lunch boxes perfectly.
I went a little nuts and bought 5 bags. In my defense, this place only lets you use your credit card if your purchase is $10 or more. I had to do it. Just had to.
Thankfully, I already knew what I wanted to do with them. I'm going to turn them into marmalade. We LOVE marmalade with our toasts!
But first, I need to make these.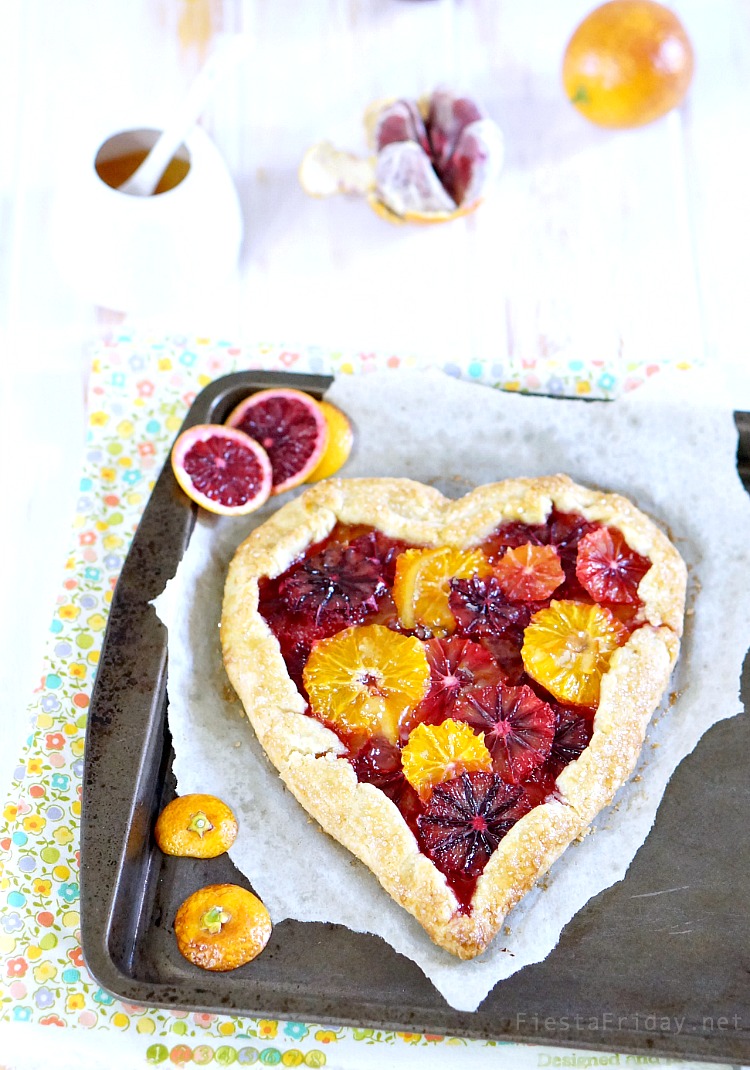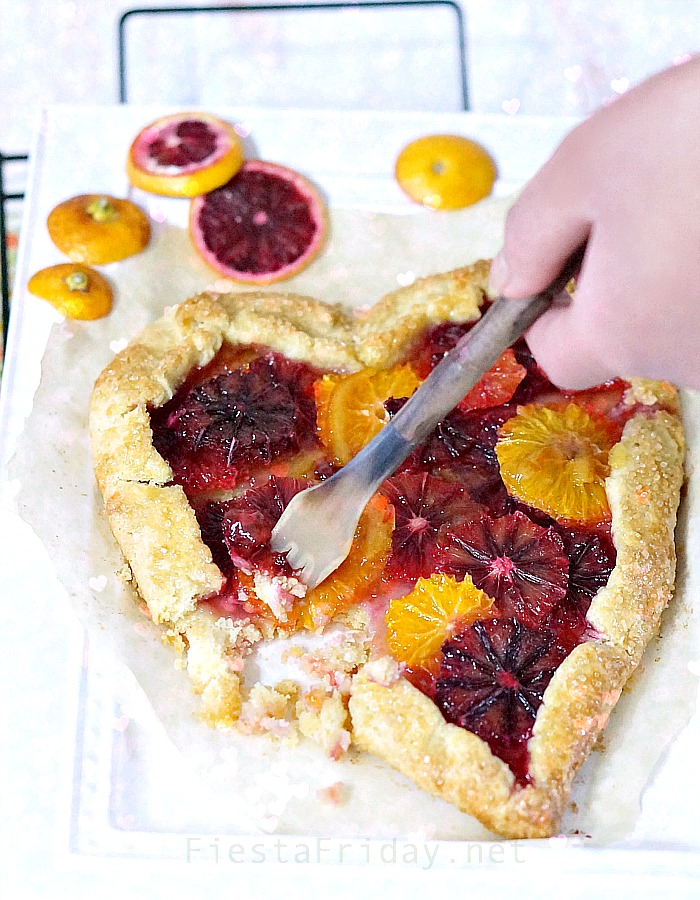 If you're looking for something a little unusual (I prefer to think they're special) to give to your Valentine, these would do it. I think you might even get compliments!
Blood Orange Tart
Blood Orange Tart, shaped like a heart, perfect for Valentine's Day. Slightly unusual but so striking. You'll get compliments for these!
Ingredients
For the crust
1½ cups all-purpose flour
½ cup (1 stick) butter, chilled
¼ teaspoon salt
2 tablespoons sugar
1 large egg
For the filling
5 blood oranges (small)
1 tangerine (optional, just for contrast)
3 tablespoons orange marmalade
Turbinado sugar
Instructions
In a food processor, mix flour, salt, and sugar. Pulse to combine.
Cut butter into small cubes. Add to the flour, and pulse until mixture is crumbly.
Add the egg and continue pulsing until mixture begins to clump together.
Remove dough and place in a mound on a lightly floured surface. Gently shape the dough mixture into a ball, then flatten it into a disk. Try not to overwork the dough, to avoid tough crust. Cover dough with plastic wrap, and refrigerate for at least 30 minutes.
Once chilled, divide the dough into 2 equal portions. Roll each portion into ¼ inch thickness and shape roughly into a triangle (see how-to photos below). Return to refrigerator while you prepare the filling.
Peel oranges and tangerine, removing as much pith (the white membrane) as possible.
Slice them into thin rounds, remove seeds.
Spread about 1 tablespoon marmalade on the center of each crust, leaving about 1½ inch border. Arrange slices of oranges and tangerine, about 2 layers, on top of marmalade (see how-to photos below).
Fold over the border, pleating some areas to create the heart shape.
Brush beaten egg over the border. Sprinkle with turbinado sugar. Brush on more marmalade over the fruit.
Bake in 375 F for 30 minutes.
Notes
This recipe makes 2 (6-inch) tarts, enough for 4 people.
How to make Blood Orange Tart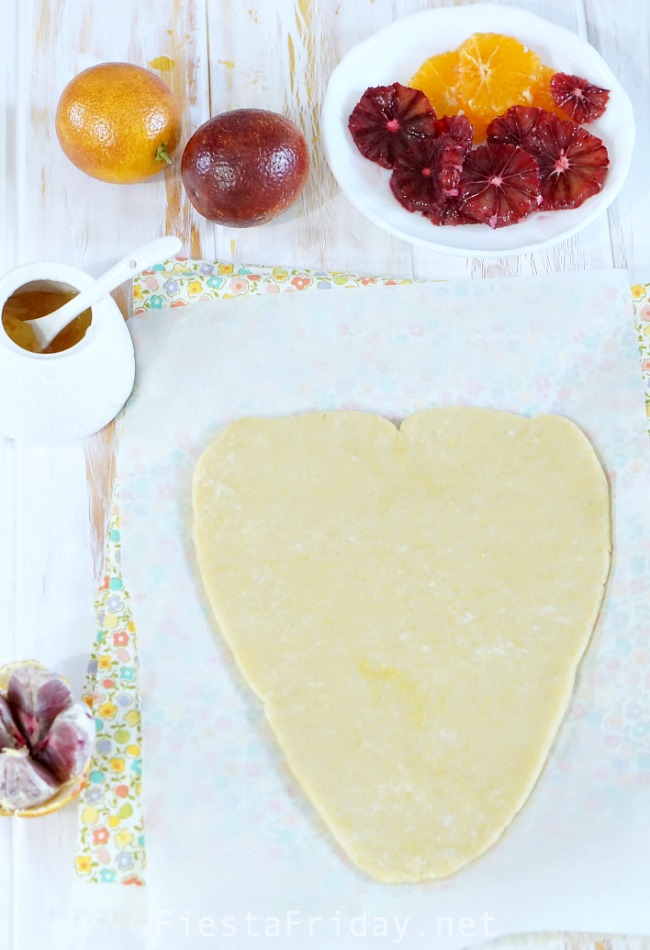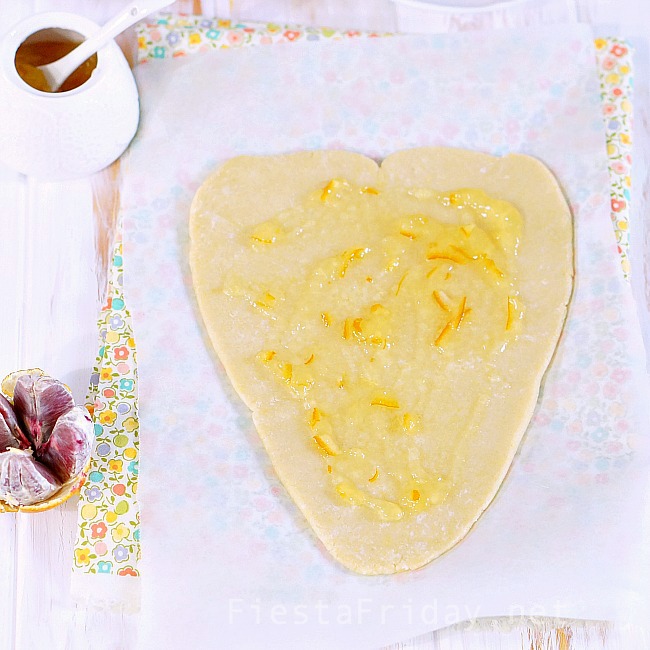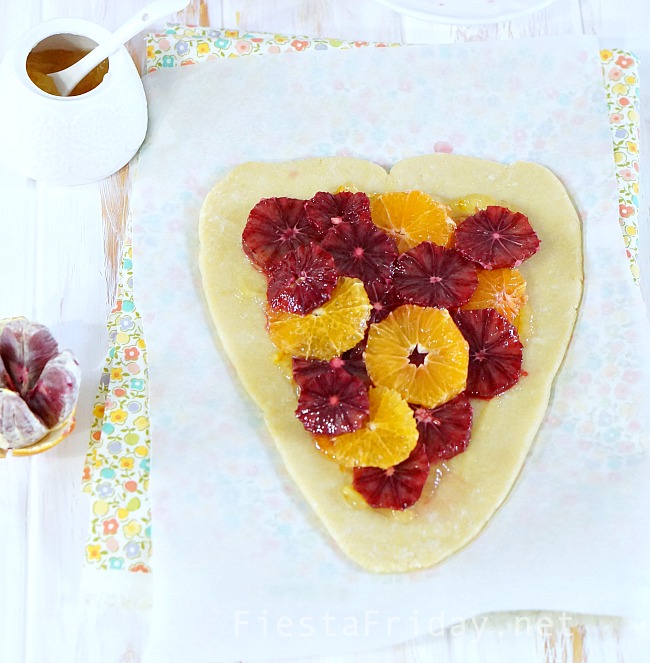 If you like this recipe, please give it a ⭐⭐⭐⭐⭐ rating in the comments section below. Thanks!

Save This To Make Later