Spicy Shrimp Skewers grilled in hot, garlicky, hoisin soy sauce, perfect for Super Bowl. Get lots of beer to go with these!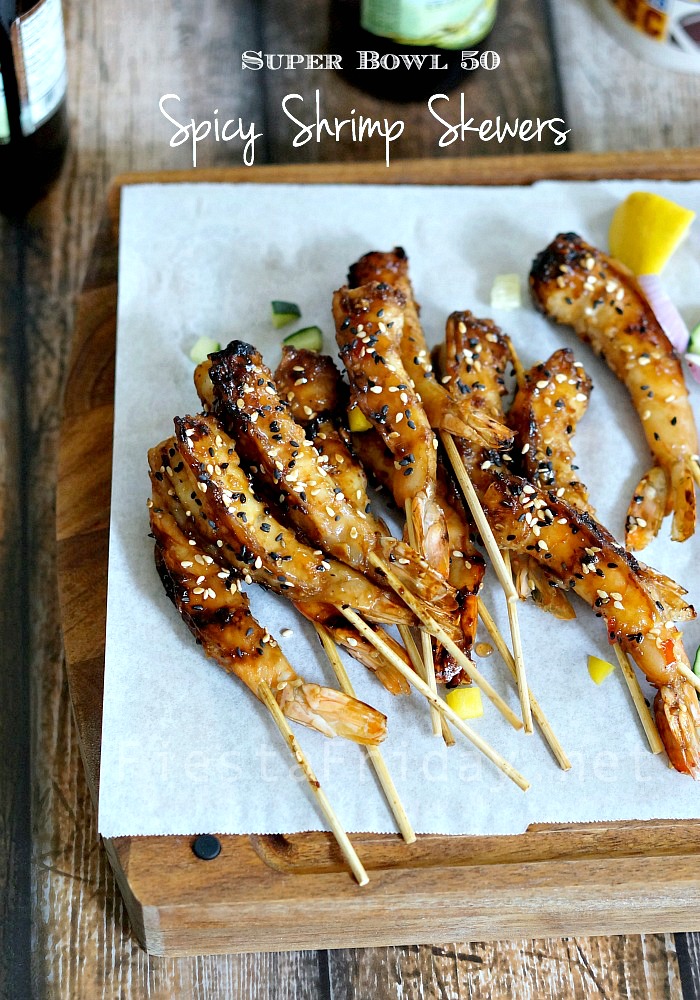 Super Bowl is going to be such a dud this year. For me.
I have absolutely nobody to root for. And you know having somebody to root for is a prerequisite for getting engaged in any sporting event. For me, at least. Who is not a true sports fan.
Making things worse, I also have absolutely nobody to root against! And you know having somebody to root against is a compelling reason to stay engaged in any sporting event.
Yes, it sounds mean but it's absolutely the truth! In my case, at least.
And I've been validated. Just ask this truth-telling coffee cup.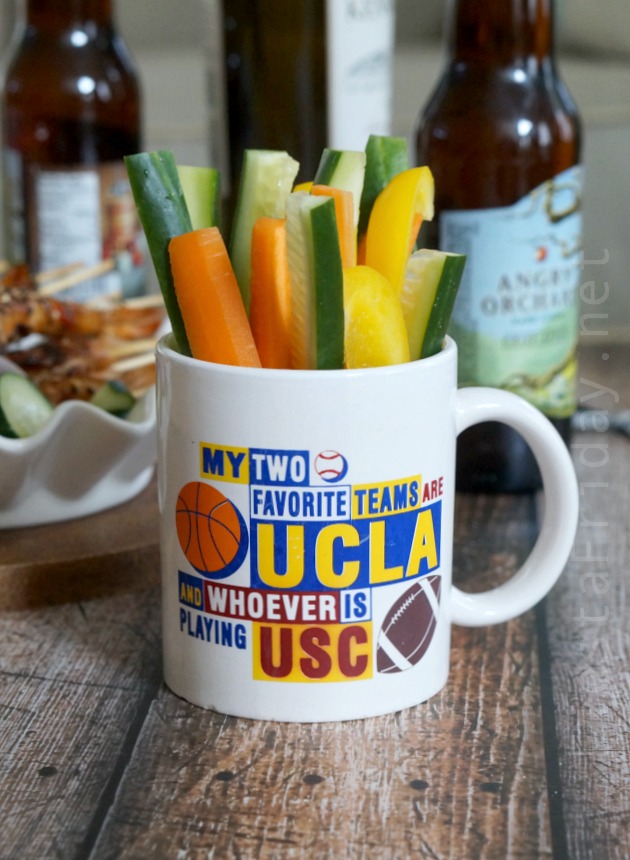 Doesn't that sum up exactly what I was talking about?
If your team is not in the game, then at the very least the enemy team should be in it. So you can boo and hiss, which is paramount to a satisfying sports watching experience. Otherwise, it's just going to be ho-hum.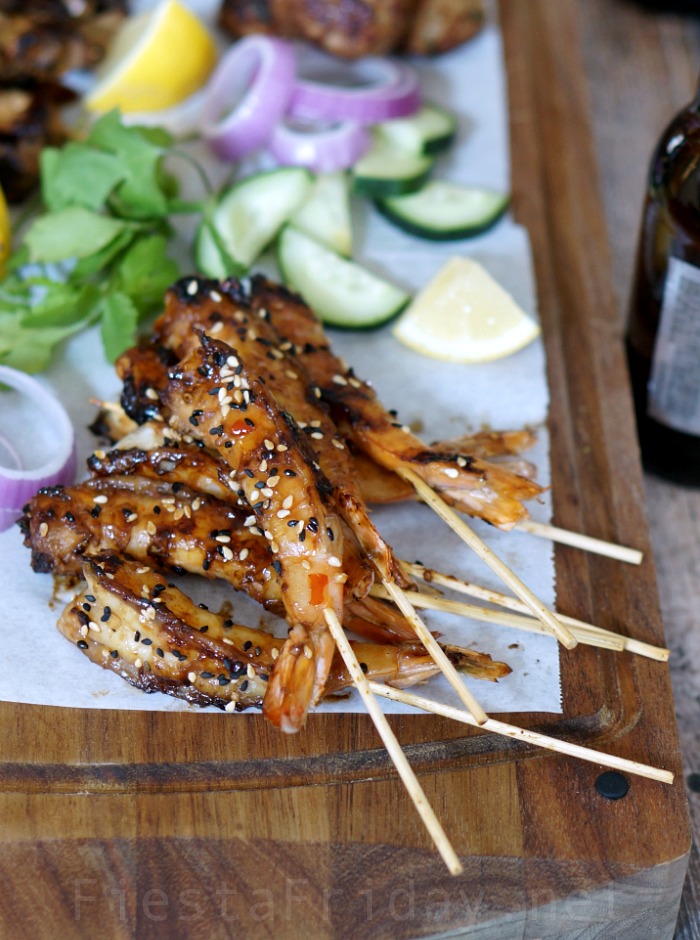 But before I completely write off Super Bowl 50, I should note that it is designated as the Golden Anniversary. That's something, right?
And I heard Bruno Mars will guest perform at half time. Now that's definitely something!
So, at least there's one thing or one person to root for. And then there are always the commercials if everything else underperforms and fails to capture your interest.
With that, I decided to give the Super Bowl the respect it's due. As always, respect comes in the form of food. I know nothing else that says respect as well as food does.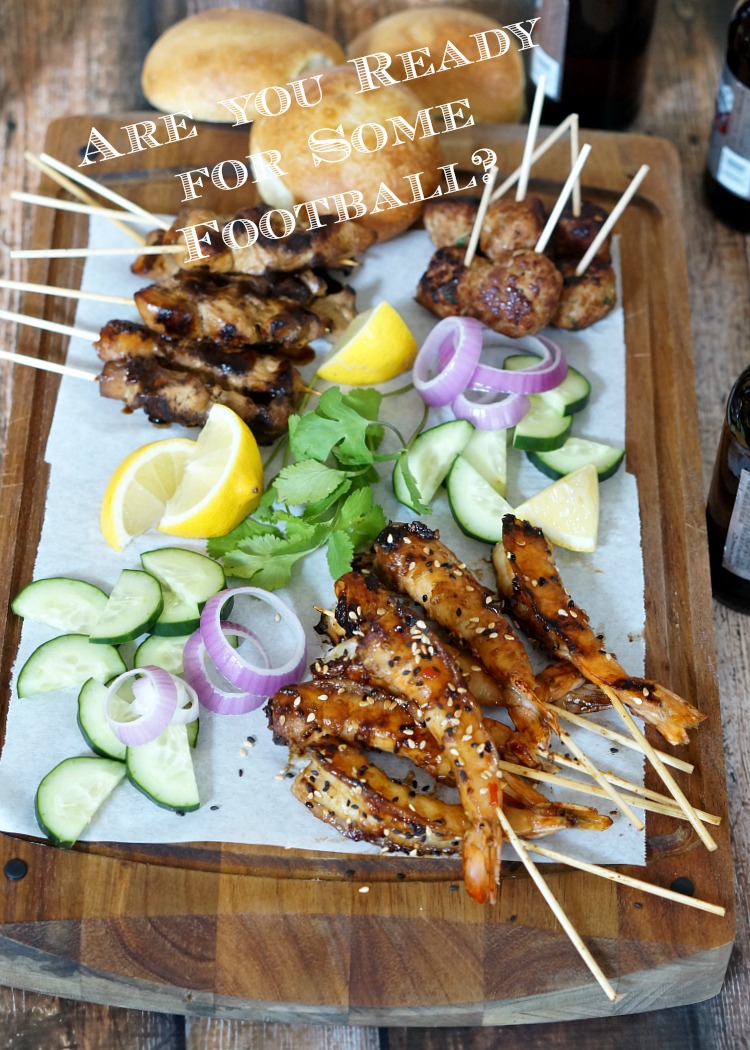 And besides, besides… It is the most important part of the day, really.
Imagine how sad it'd be to watch the Super Bowl and not get your hands greasy…
How sad it'd be to watch the Super Bowl and not once…burp…
The game can be a dud all it wants, but the food can never be…
So, here comes the Super Bowl Spicy Shrimp Skewers.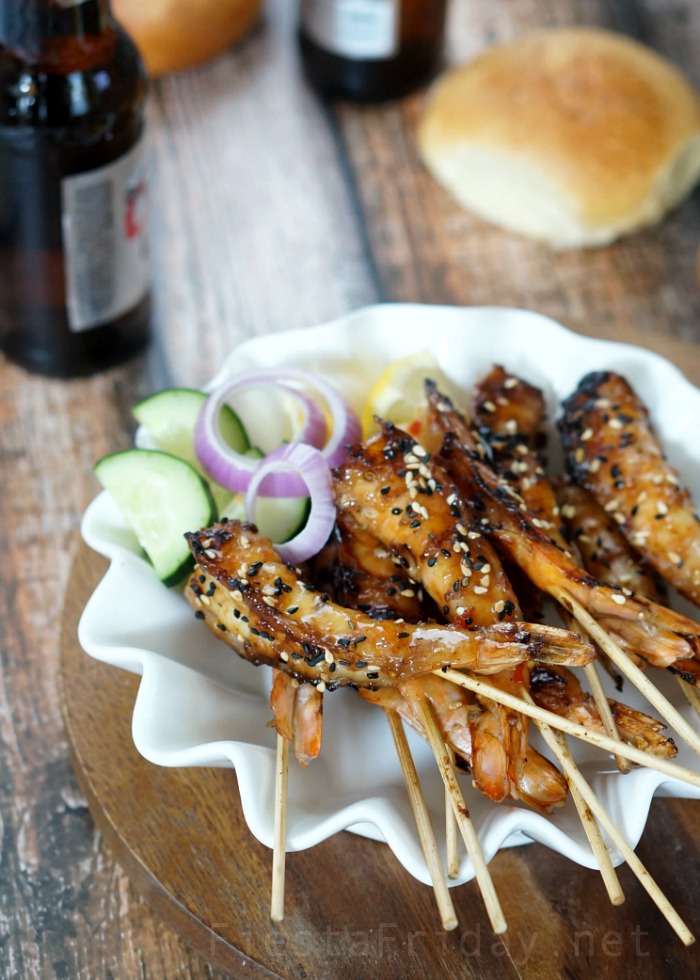 Created especially with Super Bowl 50 in mind. And because I was craving something spicy, and shrimpie, and skewery.
P.S. By the way, why are we forced to show up at work the day after the Super Bowl? Don't they know we need at least a day to recuperate? All that screaming and yelling, all that frustration, all that eating and drinking. They take a toll! It should be National Recover from the Super Bowl Monday the day after. No work, no school!
Spicy Shrimp Skewers
Spicy Shrimps in hot, garlicky, hoisin soy sauce grilled on skewers, perfect for Super Bowl. Get lots of beer to go with these!
Ingredients
1 pound large shrimps (about 16-20), peeled and deveined
3 garlic cloves, minced finely
1 small chunk of fresh ginger, about 1 teaspoon finely minced
3 tablespoons hoisin sauce
2 tablespoons soy sauce
1 teaspoon (more or less as preferred) red pepper flakes or sriracha sauce
2 teaspoons sesame seed oil
Toasted sesame seeds (black or white) for garnish
Instructions
Mix all the sauce ingredients in a small bowl.
Thread shrimps on bamboo skewers lengthwise, keeping them as flat and straight as possible.
Brush the shrimps with the sauce on both sides.
Heat a stove top grill on medium high. Spray with a little bit of oil.
Grill shrimps for about 2-3 minutes on each side.
Sprinkle with toasted sesame seeds.
P.P.S. Also, by the way, I have a dilemma. And a question.
As a food blogger, I have to publish a Super Bowl post ideally before the Super Bowl. Like way in advance. Most bloggers do that. I've been seeing Super Bowl recipes since 3 weeks ago. But I've always found this to be a big dilemma.
I want to make my Super Bowl food on the day of the Super Bowl, not 3 weeks before. Or the day before, like what I did here, which is already considered late by most bloggers' standard.
So, my question is, to those of you who did your Super Bowl posts in advance, what do you actually cook or eat tomorrow? Mardi Gras stuff? Valentine's Day stuff? What? I really want to know. I myself will be making turkey sliders. But then I won't be sharing the recipe until after the Super Bowl is over. See what I mean?