It's February! It sneaked up on us, didn't it? In a stealthy way, I must say.
That sneaky, sneaky February! It came to us sneakily while we were still thinking January.
Despite desperately willing the time to pause, I was unable to do it. This year is going to fly!
I have only one thing to say… Don't walk, run! And chew gum while at it!
I really need to learn to multitask!
Still, it's going to be fun this month. Just in case you're looking for something to fill your time, here's a partial listing of what's happening in February:
Feb 6 National Frozen Yogurt Day
Feb 7 Super Bowl 50 (also National Fettuccine Alfredo Day)
Feb 8 Chinese New Year
Feb 9 Mardi Gras (also National Pizza Day & National Bagel Day)
Feb 10 Ash Wednesday
Feb 12 Lincoln's Birthday
Feb 14 Valentine's Day
Feb 15 Presidents' Day
Feb 17 National Random Acts Of Kindness Day
Feb 20 National Love Your Pet Day & National Cherry Pie Day
Feb 21 National Sticky Bun Day
Feb 22 National Margarita Day
Feb 28 National Public Sleeping Day
See, lots to do! And once again, I'm running behind. But I'll make sure I'll be on time for that last one 🙂
Luckily for me, I won't be manning this fiesta alone. Lily @ Little Sweet Baker and Julianna @ Foodie On Board are my co-hosts this week. So nice of them to agree to help. I remain grateful.
It's Features Time!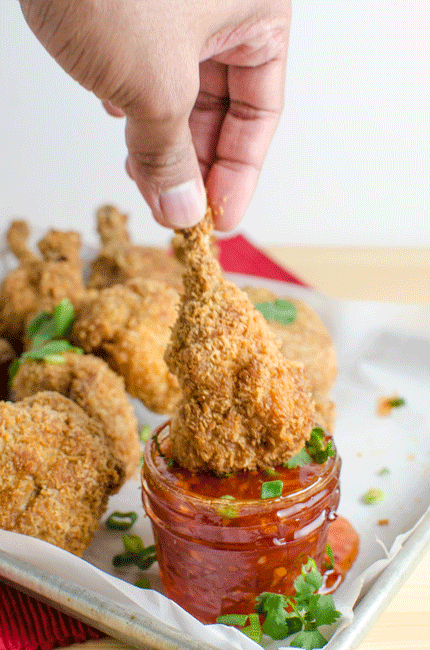 Boneless Cheese stuffed Chicken Wings from Dini @ The Flavor Bender
"My jaw just about dropped when I saw this. Stuffed, deboned chicken wings? But, how?! Where?! How?! I was just blown away by that video! I never even knew you could debone chicken wings! That is just simply AMAZING! You are, in one word, brilliant, Dini!" — Angie
Modeling Chocolate Recipe from Julie @ Hostess at Heart
"I am normally intimidated by the idea of decorating a cake, but Julie actually makes it look fun. It appeals to the child in me, and with any luck following her clear directions, I too could make a show-stopper of a chocolate cake." —Hilda
Chocolate Covered Strawberry Cheesecake for Two from Michelle @ Giraffes Can Bake
"Aaw…isn't this just so adorable? Little heart cheesecake. Just enough for two lovebirds. And two strawberries to go with it, so the lovebirds won't have to fight. Each gets his or her own strawberry. Unless of course one of the lovebirds is me. Then I'll snatch the other one, too, haha…" —Angie
Parmesan Garlic Knots from Sonal @ simplyvegetarian777
"Absolutely love these beautiful parmesan garlic knots! I think they are perfect accompaniment to a bowl of hot soup or stew. Freshly baked, soft and delicious – great for cold days!" —Mila
***
Now, let's party! Join Fiesta Friday #105 by adding your link. Don't forget to link your post to FiestaFriday.net and the co-hosts' blogs.
If you're new to Fiesta Friday, please read the guidelines
[inlinkz_linkup id=605566 mode=1]