Here's an easy recipe that proves that simple can often be best. This Clementine Chocolate Cake, minus the chocolate ganache and decoration, takes only 5 minutes to prepare and uses only 5 ingredients.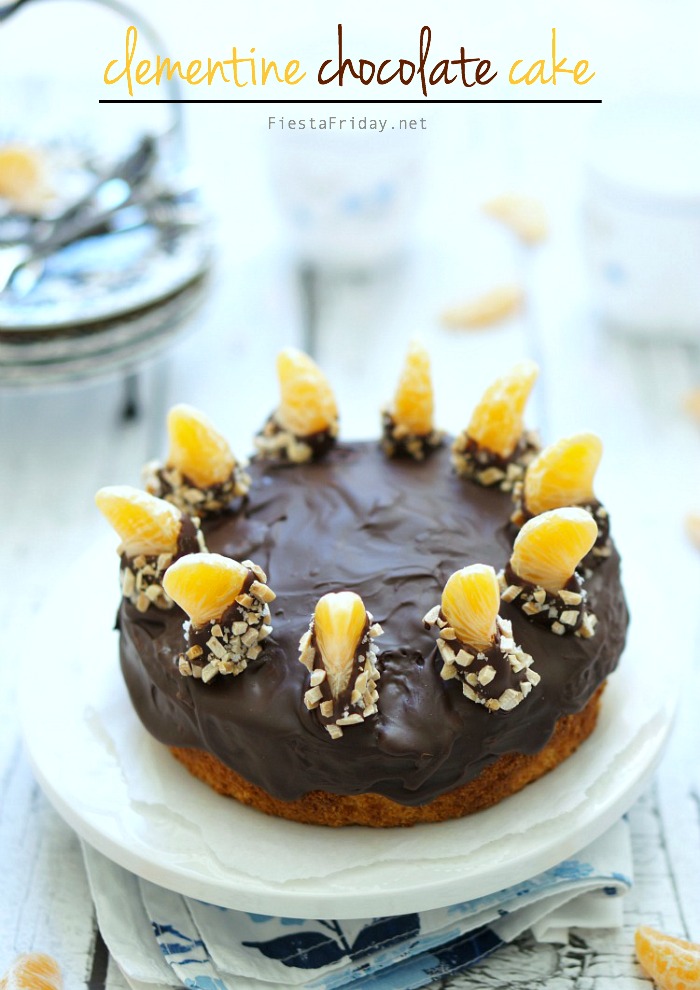 Anything I can count with just the fingers on one hand is easy and simple enough for me.
And I know everyone needs recipes like this. If you don't, then I want to get to know you. In an intimate way….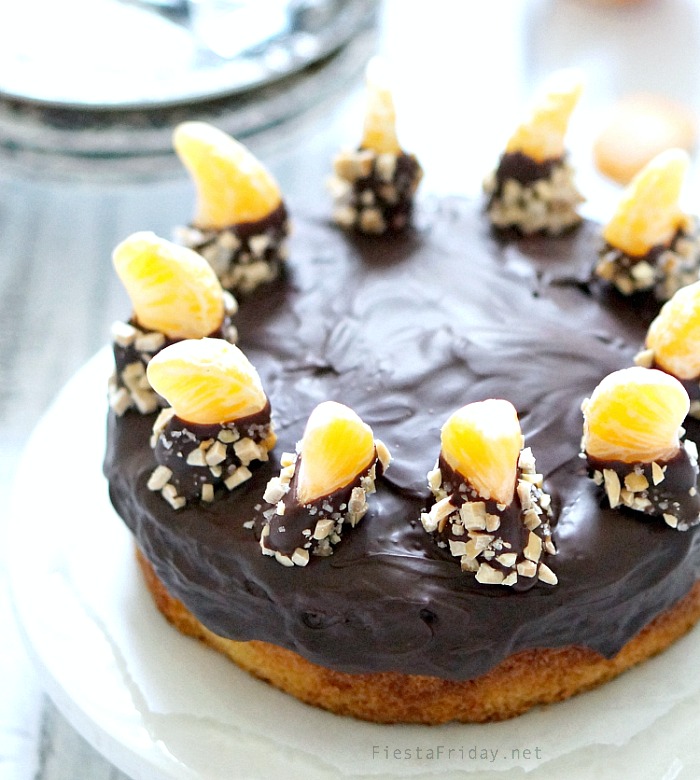 No, not in a romantic way….
Intimate. Meaning, very close. Like inside out.
But not in a boyfriend-girlfriend way. Or boyfriend-boyfriend way. Or girlfriend-girlfriend way. Nothing like that!
I just really want to know a person who doesn't need easy recipes.
I want to scrutinize his/her life.
'Coz I want to be that person some day.
Where I can have all the time in the world to everyday try out elaborate, extravagant recipes. That would be a dream come true!
Now, back to the Clementine Chocolate Cake.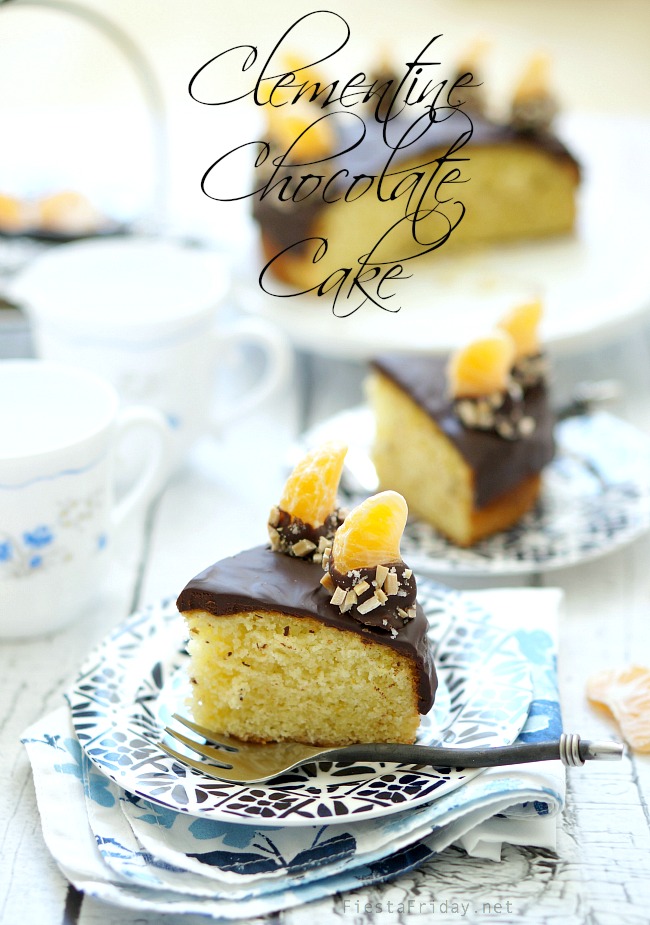 I have for the longest time loved the flavor combination of citrus and chocolate. I know I'm not alone. This is a proven winning flavor combination.
I also happen to have a proven, easy lemon cake recipe that I've been making for the longest time. I think it's even one of the first cakes I've ever made.
So when I received my annual citrus box from my MIL, I knew I had to make the cake. Except this time I decided to use clementines instead of lemons. Oranges or tangerines would also work well. But obviously you wouldn't call it Clementine Chocolate Cake. You would call it Orange or Tangerine Chocolate Cake.
Most of the time when I make this clementine cake, I just make it plain and serve it with either a drizzle of honey or sugar glaze. Perfect for an afternoon tea.
This time around, though, I thought I could add a little pizzazz. By glazing it with chocolate ganache and decorating it with chocolate dipped clementine segments. A few additional simple steps, really.
And look! Nice enough to be the centerpiece of your dinner table, isn't it?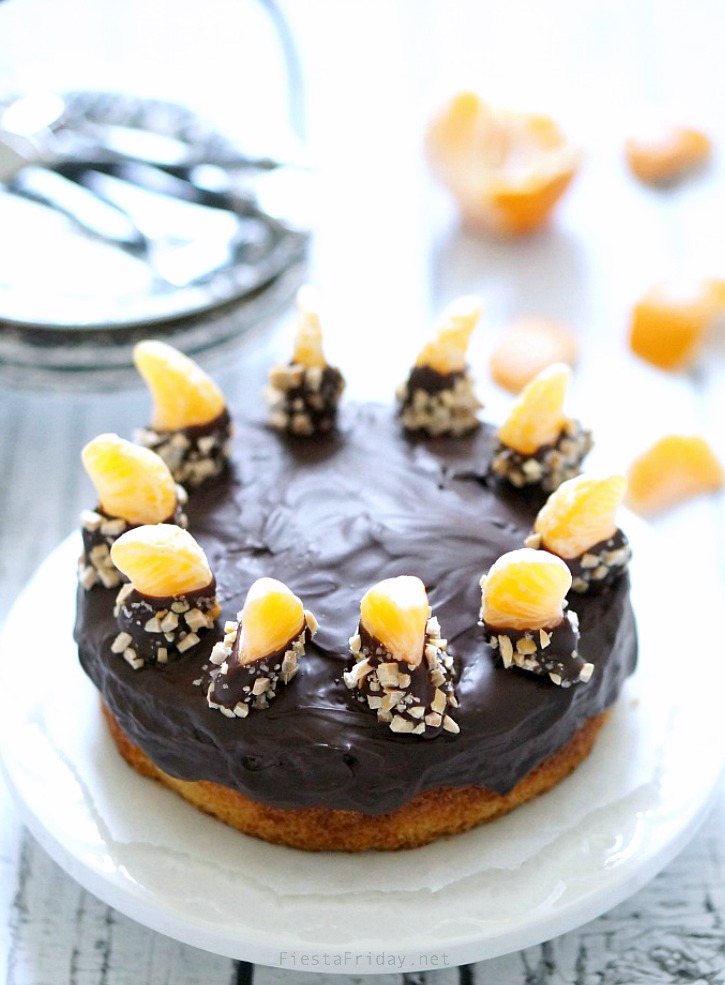 (Or a fitting celebratory cake for a son's acceptance into a college of his choice. Yay! Congratulations, son! Okay, actually, it's a college of my and his dad's choice. He's still waiting for more acceptance letters but at least something's already in the bag. We're so proud!)
Here's the printable recipe for the Clementine Chocolate Cake
Clementine Chocolate Cake
Ingredients
For the cake
1 stick unsalted butter, softened
½ cup sugar
2 large eggs
1 cup self-rising cake flour, sifted
Zest from 1 clementine
For the chocolate ganache & chocolate dipped clementine segments
½ cup (3 oz.) dark chocolate chips
2 tablespoons half & half, warmed
Clementine segments from 1 clementine (about 10)
Chopped almond
Fleur de Sel or any coarse salt
Instructions
For the cake
Heat oven to 350°F.
Cream butter and sugar with an electric mixer until light and fluffy, about 3 minutes.
Add egg, one at a time, beat until well blended.
Add flour and zest, mix until well combined.
Grease or spray a 6-inch round cake pan. Spoon in batter and level the top with the spoon.
Bake for 35 minutes. Cool before decorating.
For the chocolate ganache & chocolate dipped clementine segments
Melt chocolate in a double boiler. Stir until smooth.
Dip clementine segments one at a time, sprinkle with salt and nuts.
Lay on parchment paper until chocolate hardens.
Heat half & half briefly just until it's warm, add to the rest of the chocolate. Return to the double boiler if necessary. Stir into a smooth and spreading consistency.
Spread chocolate over cake. Let it set slightly before placing the clementine segments.
Notes
This recipe makes a small (6-inch) cake, but it can be doubled easily to make 2 cakes or 1 (9-inch) cake.