Clementine Chocolate Cake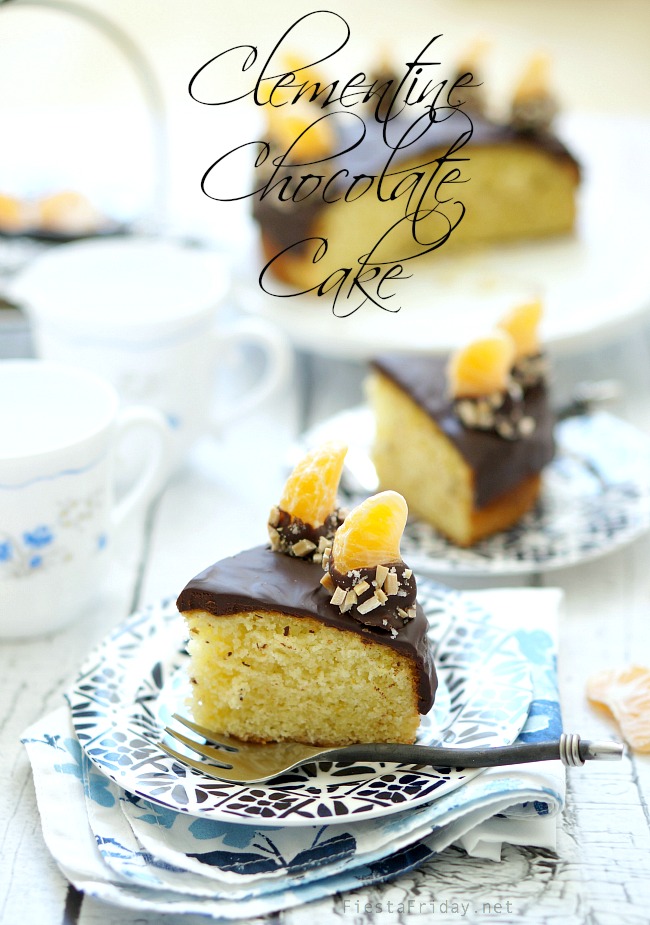 1 stick unsalted butter, softened
½ cup sugar
2 large eggs
1 cup self-rising cake flour, sifted
Zest from 1 clementine
½ cup (3 oz.) dark chocolate chips
2 tablespoons half & half, warmed
Clementine segments from 1 clementine (about 10)
Chopped almond
Fleur de Sel or any coarse salt
Heat oven to 350°F.
Cream butter and sugar with an electric mixer until light and fluffy, about 3 minutes.
Add egg, one at a time, beat until well blended.
Add flour and zest, mix until well combined.
Grease or spray a 6-inch round cake pan. Spoon in batter and level the top with the spoon.
Bake for 35 minutes. Cool before decorating.
Melt chocolate in a double boiler. Stir until smooth.
Dip clementine segments one at a time, sprinkle with salt and nuts.
Lay on parchment paper until chocolate hardens.
Heat half & half briefly just until it's warm, add to the rest of the chocolate. Return to the double boiler if necessary. Stir into a smooth and spreading consistency.
Spread chocolate over cake. Let it set slightly before placing the clementine segments.
This recipe makes a small (6-inch) cake, but it can be doubled easily to make 2 cakes or 1 (9-inch) cake.
Recipe by
Fiesta Friday
at https://fiestafriday.net/2016/02/02/clementine-chocolate-cake/