Cheesy Chicken Corn Chowder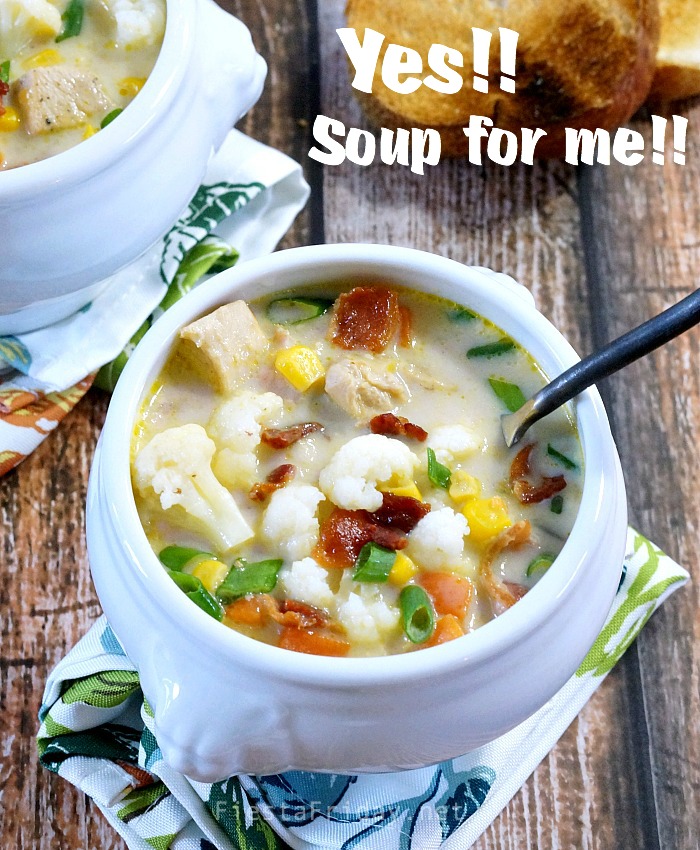 4 bacon strips, chopped
1 large onion, chopped
3 garlic cloves, minced
2 chicken breasts, cut into bite-sized cubes
2 carrots, diced
2 celery ribs, chopped
3 tablespoons all-purpose flour
3 cups chicken stock
1 can (15-1/4 ounces) whole kernel corn, drained
2 large potatoes, cut into cubes (or 2 cups chopped cauliflower)
3 cups skim milk
2 teaspoons chicken bouillon granules (or salt)
1 teaspoon ground black pepper
1 teaspoon dried thyme leaves
1 teaspoon dried parsley leaves
1 cup shredded cheddar cheese (use more or less as per your preference and how skinny you want to make the soup.)
Chopped green onions for garnish
In a soup pot, cook the bacon over medium heat until crisp. Remove and drain on paper towels.
In the same pot, using the drippings (or you can drain the pot completely and replace the drippings with 1 tablespoon olive oil/butter), sauté onion and garlic, on low heat, until completely soft and golden brown, scraping the pot often. Don't rush this part; you're building up flavor.
Add chicken, celery, and carrot and cook until vegetables are tender.
Stir in flour and blend. Add chicken stock. Bring to a boil; cook and stir for 2 minutes or until thickened.
Add the potatoes, corn, dried herbs, bouillon/salt and pepper. Reduce heat; simmer, uncovered, for 20 minutes or until potatoes are tender. If you're using cauliflower, add it during the last 5 minutes.
Add milk and continue to simmer just until heated. It's important that once the milk is added that you don't bring the soup into a rolling boil or it might curdle.
Add cheese before serving and stir until it melts. Sprinkle bacon and green onions on top.
Recipe by
Fiesta Friday
at https://fiestafriday.net/2016/02/17/cheesy-chicken-corn-chowder/