Beignets for Valentine's Day, the quick and easy way! Hey, it's Valentine's Day; you don't want to be slaving in the kitchen!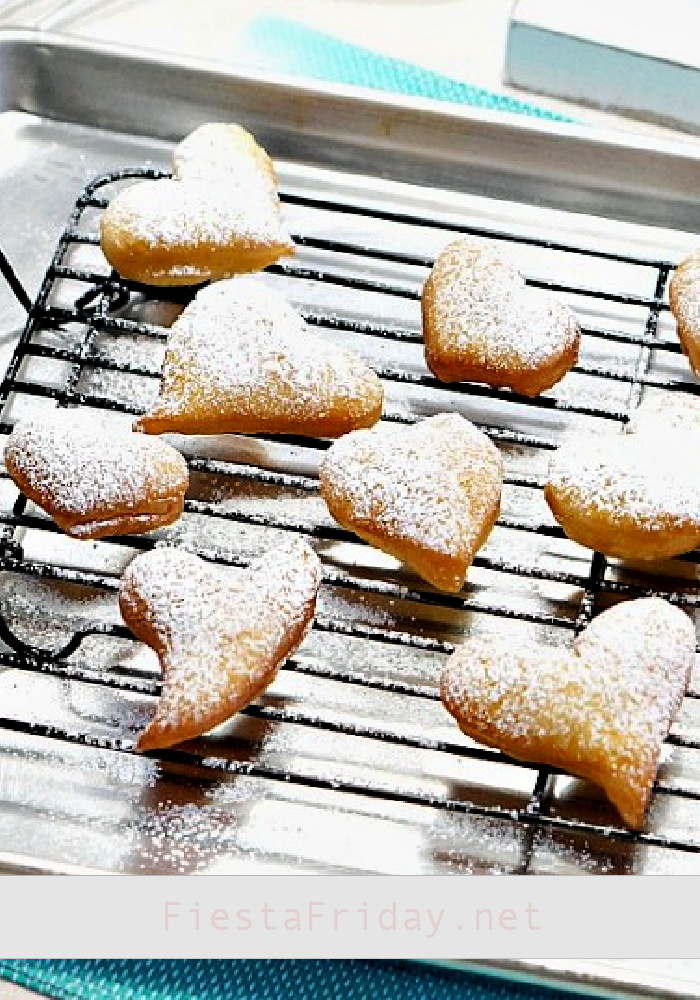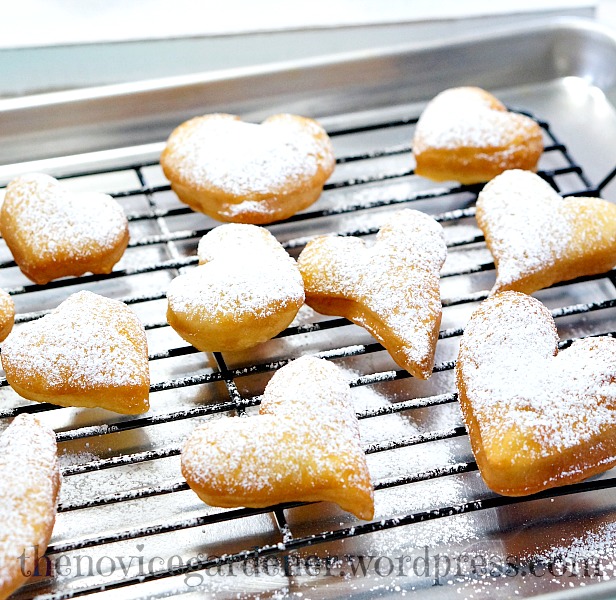 My husband was like, "Oh hey, what are we doing for Fat Tuesday?"
And I was like, "Oh hey, slow down, man! We still have to go through Valentine's Day!"
But then it hit me! Fat Tuesday is next week! Just a few days after Valentine's Day!
How is that possible? I'm already hyperventilating thinking about it! Things need to slow down a little. Everything is happening too quickly!
I feel the need to hurry. Make haste, woman, make haste!! I need to move faster, take longer strides, maybe add an extra step in my walk, and so on and so forth.
Or if I were smart, I should organize, prioritize, and strategize. In other words, work smarter, not harder. That should be my new motto.
And so I turned on all my brain's neurons or protons or electrons, whatever…
In other words, I used 11% of my brain cells, instead of the usual 10.
And I was able to combine Valentine's Day and Fat Tuesday into one.
I made beignets, our fat of choice for Fat Tuesday, and cut them into hearts. So, there… no calendar is going to outsmart me, haha!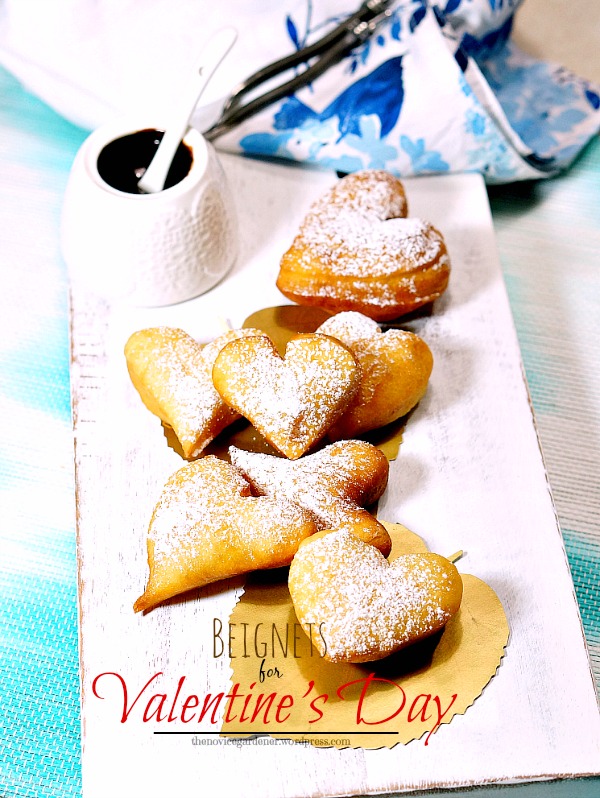 The hyperventilating and panicking all happened yesterday. Today I'm enjoying my beignets. Early for both Valentine's Day and Fat Tuesday.
For once in my life, I'm early! Now finally I can breathe…and relax…aah… That feels good!
***
These beignets are best eaten warm. Perfect just with a dusting of powdered sugar.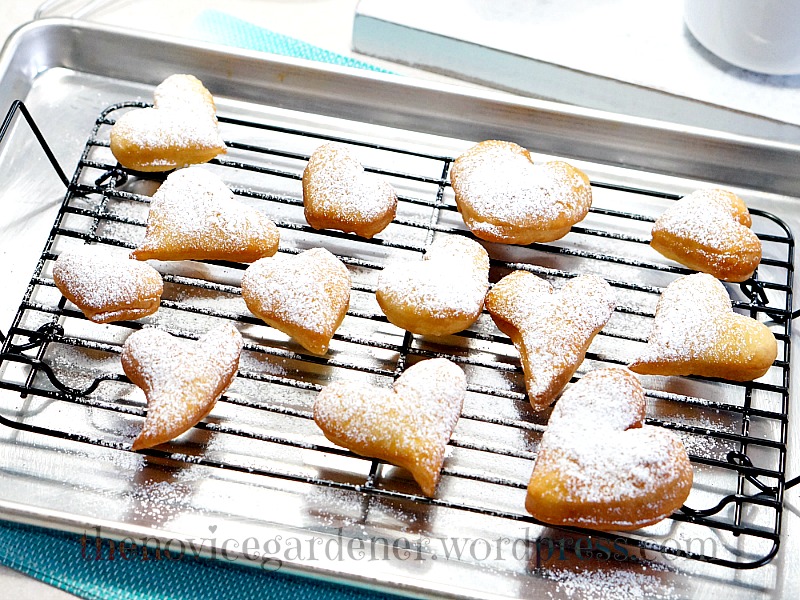 Or you might also want to fill them with Nutella.
They take a little more time, so just make a few. For your Valentine.
And forget about filling the rest. Just do what my daughter did. She made herself a little bit of ganache and ate her beignets by dipping them in the chocolate sauce. She is way smarter than her mom!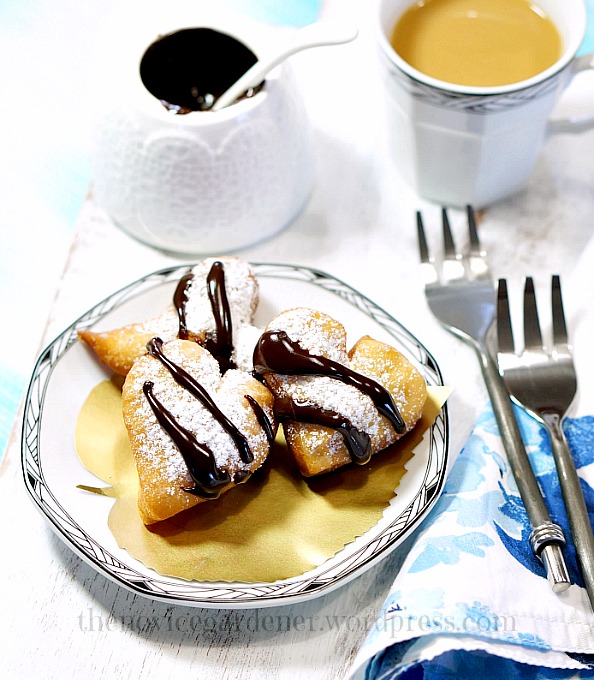 I have my regular basic beignet recipe that I highly recommend. But when you're pressed for time, this fool-proof "lightning-speed" recipe works just as well.
Here's the printable recipe for the easy "lightning-speed" beignets
(Lightning-Speed) Beignets for Valentine's Day
Heart-shaped beignets for Valentine's Day, the quick and easy version.
Recipe type:
Bread/Breakfast
Ingredients
1 cup 1% milk
2 tbsp butter
1 package rapid-rise yeast
⅓ cup sugar
½ teaspoon salt
1 large egg, beaten
3½ to 4 cups all-purpose flour (Use less for whole wheat - see notes)
Oil for deep-frying
Powdered sugar for dusting
Nutella for filling, if desired
Chocolate ganache for dipping or drizzling
Instructions
Place milk and butter in a microwave-proof container and microwave for 1½ minutes, or until milk is warm enough to melt the butter.
Pour into a stand mixer bowl. Add yeast, sugar, and egg. Whisk to combine.
Mix flour and salt. Add into bowl.
Using the dough hook attachment, start mixing, slowly at first, until flour is well-incorporated.
Increase speed and continue to knead the dough until it is smooth and elastic, about 5 minutes.
Remove dough from bowl and place in a lightly greased bowl. Cover with plastic wrap. Leave it in a warm place and let the dough rise until it doubles in bulk, about 1 - 2 hours.
Punch down dough. On a lightly floured surface, roll out dough to about ½-inch thick. Cut into hearts with a cookie cutter.
Cut a little slit on top of the hearts to make sure they will stay heart-shaped when fried (See photo below)
In a deep heavy saucepan or an electric fryer, heat the oil until it reaches 360-375°F. Working in batches, fry the beignets for 1-2 minutes on each side, until puffed and golden brown.
Drain beignets on a plate lined with paper towel. Dust with powdered sugar and serve warm.
To fill with Nutella
Make a little hole on top or bottom of beignet and pipe in Nutella using a piping bag fitted with a round tip (See photo below)
Notes
You will need less flour when using whole wheat flour, since it tends to absorb more liquid. Start with 3 cups first, then add more as needed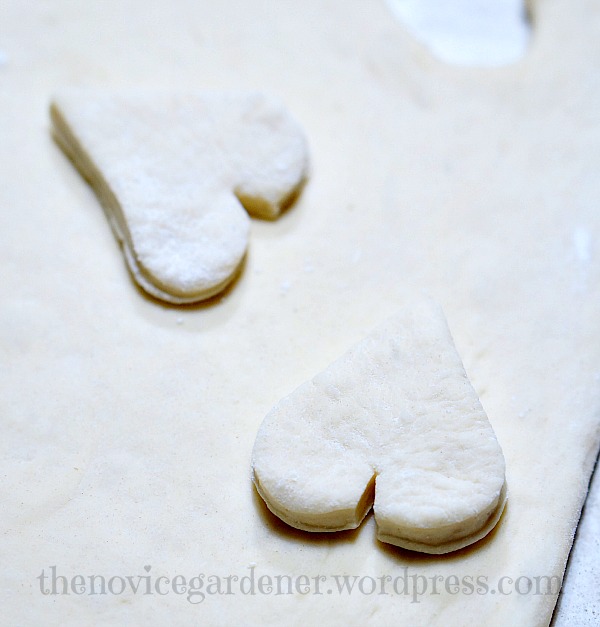 These beignets have the tendency to puff and morph into "pears". Here's a little trick to make sure your beignets stay as "hearts": Cut a little slit on top of the heart to make sure it will stay heart-shaped when it's fried.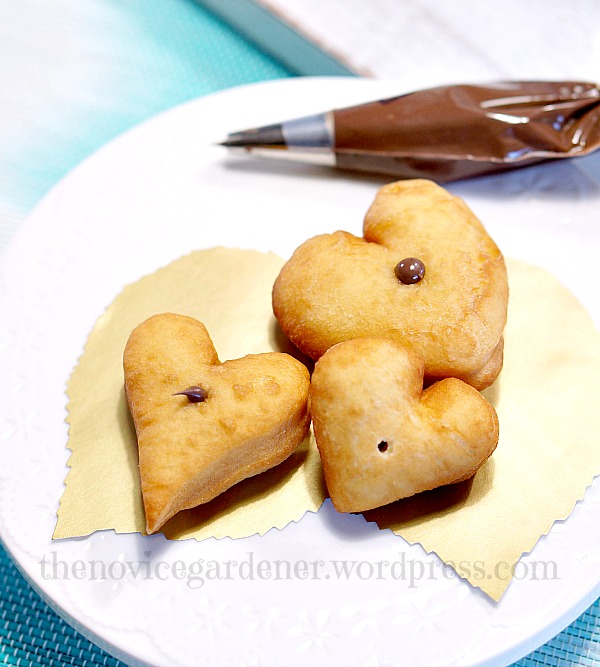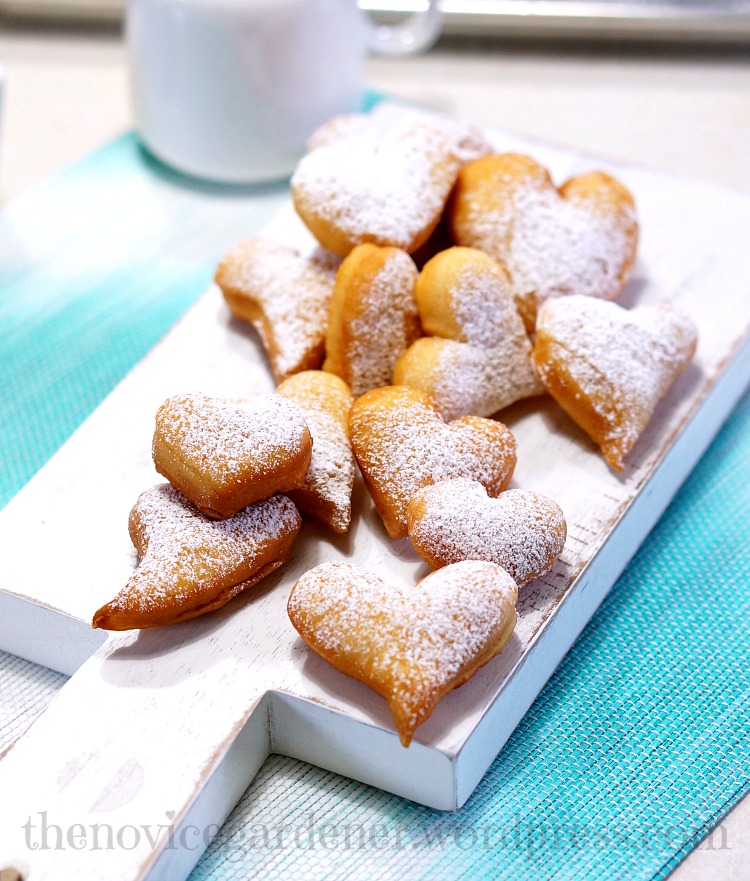 "Oh hey, are we doing anything special for Chinese New Year?"
"Slow down, man, we're still enjoying the beignets!"
When is Chinese New Year, by the way? What?! Two days after Fat Tuesday? How is this happening? Okay, okay…calm down…there's no need to cook on Chinese New Year. We go to Chinatown for that!
Pin This For Later