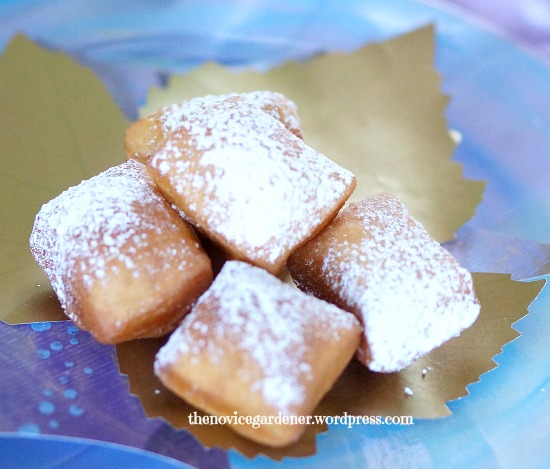 Beignets are essentially doughnuts, except they are rectangular puffy "pillows." They are my favorite Mardi Gras breakfast or snack, but you don't have to wait until Mardi Gras to enjoy them. And you don't have to stick to the traditional rectangular shape, either. Make them any shape you like, just like what I did here. The balls are my favorite. So fun to snack on!

Basic Beignets
Basic New Orleans beignets for Mardi Gras/Fat Tuesday, or any day.
Ingredients
1 cup warm water
1 package active dry yeast
¼ cup + 1 tsp. sugar
4 cups all-purpose flour
½ teaspoon salt
1 large egg, beaten
2 tbsp. butter, softened
½ cup evaporated milk
Oil for deep-frying
Powdered sugar for dusting
Instructions
In your stand mixer bowl, mix together water, yeast, and 1 tsp. sugar. Whisk to dissolve sugar and yeast. Let sit for 10 minutes to proof the yeast.
Once yeast bubbles, add egg, butter, and milk. Stir to combine.
Mix flour, salt, and the rest of the sugar.
Add flour mixture 1 cup at a time to the yeast mixture, and start mixing, using the dough hook attachment.
Continue to knead the dough until it is smooth and elastic, about 5 minutes.
Remove dough from bowl and place in a lightly greased bowl. Cover with plastic wrap and refrigerate until chilled, at least for 3-4 hours. You can leave it overnight.
Once dough is chilled, remove from the refrigerator and roll out on a lightly floured surface about ½-inch thick.
Cut into squares or rectangles or any desired shapes and place on a baking sheet lined with parchment paper. Cover with a cloth and set aside while you heat the oil.
In a deep heavy saucepan or a fryer, heat the oil until it reaches 360-375°F. Working in batches, fry the beignets for 1-2 minutes on each side, until puffed and golden brown.
Drain beignets on a plate lined with paper towel. Dust with powdered sugar and serve warm or at room temperature.