Hello, Fiesta Friends! I hope wherever you are, you're enjoying good weather. I wish I can say the same about my neck of the woods. We're experiencing a little bit of a heat wave currently. Or should I say, a lot.
As I was driving around yesterday, my dashboard was showing that the outside temperature was 100°! That, coupled with the high humidity, made the day positively unbearable.
I couldn't even think of what to eat for dinner, let alone cook for one!
Luckily, I always have some grilled chicken and vegetables in the fridge. For me, I can eat them as is, maybe with just a little bit of dressing drizzled on top.
But in order to entice the family, I had to pretty it up. And so, here it is… Grilled Vegetables & Chicken Dinner Salad, delish!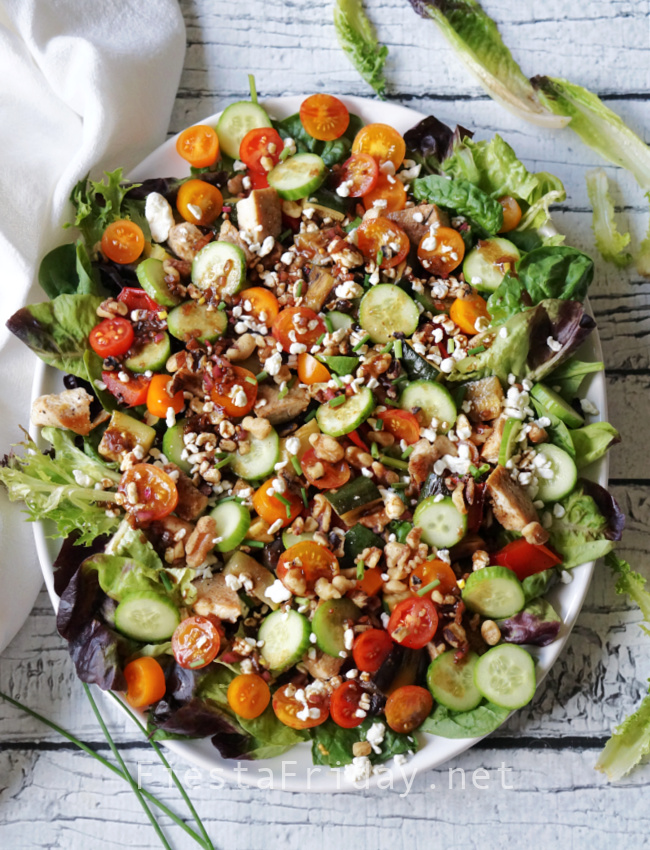 It was just what my body needed on a hot day. If you need the recipe, I have it here –>Grilled Vegetable Salad
Now, Look At These!
Caprese Empanadas
"Omigosh!! These empanadas sound so enticing! Caprese salad encased inside empanada crust, baked into perfection? My goodness, I think that's about the best thing in the world ever!" — Angie
Zucchini Squares
"I really love the idea of using zucchini to make this treat and the little marzipan zucchini flowers are the cutest thing ever!" — Pauline
Steakhouse Sandwich
"This sandwich will definitely satisfy the carnivores (read: the menfolk) in the house. And it'll win extra points for being utensil-free food." — Angie
Beer Braised Short Ribs
"I may not enjoy drinking beer, but I do love cooking with it. And these short ribs sure sound lip-smackingly delicious!" — Angie
***
Now, let's party! Join Fiesta Friday #501 by adding your link(s). Don't forget to link your post to FiestaFriday.net so you can be featured.
If you're interested in becoming a cohost, please let me know.
If you're new to Fiesta Friday, please read the guidelines.
You are invited to the Inlinkz link party!