Hey, you guys, Happy Fiesta Friday!!
Can't you tell how excited I am that it's Friday?!
On its own, Friday is already exciting because it's the beginning of the weekend but for me this week, it's doubly exciting because my sister came to visit and I haven't seen her in a few years.
And she came bearing the best gift there is… what else but food, in the form of cookies from Levain Bakery in NYC.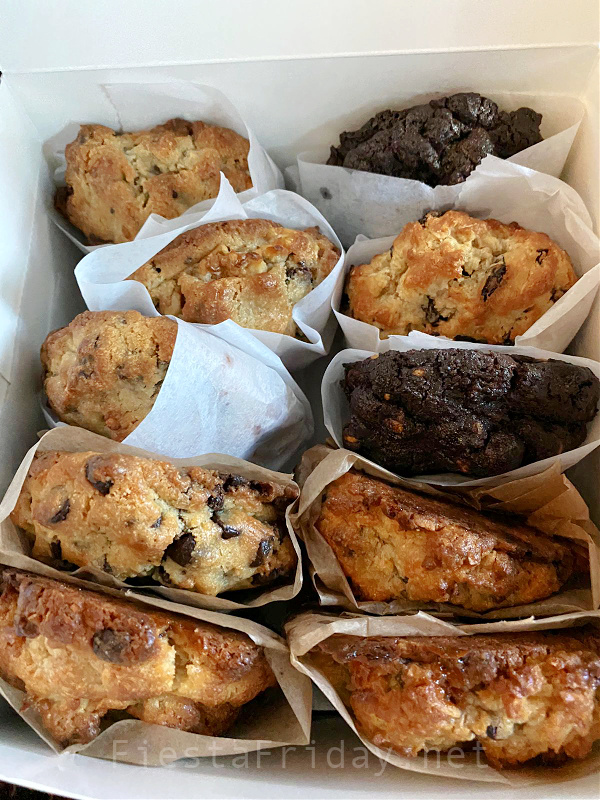 Have you seen cookies as big and chunky as those? They're practically scones! 😂
We have lots to catch up on which means there will be many lunches and dinners together. More excitement!
Then there will shopping excursions, which are not as exciting as food per se, but we always have fun when we shop together. We get silly just like any two sisters get when they're with each other. The things we do and try and talk about!
I hope your weekend will be filled with as much excitement as mine. Happy Fiesta Friday once again! Oh, that's triple excitement!
Now let's take a look at these
Breakfast Banana Splits
Make fig ice cream without an ice cream maker
Easy Christmas Pavlova Wreath
2-Ingredients Cream Biscuits
***
Now, let's party! Join Fiesta Friday #502 by adding your link(s). Don't forget to link your post to FiestaFriday.net and the cohost's blog so you can be featured.
Your cohost this week is Jhuls @ The Not So Creative Cook
If you're interested in becoming a cohost, please let me know.
If you're new to Fiesta Friday, please read the guidelines.
You are invited to the Inlinkz link party!