Easter is two weeks away, and I feel the need to quicken my steps… or lengthen my strides… or both!
Springtime is a busy time for a gardener (that's me). Because now there are things to do in and out of the house. Consequently, this blog is somewhat neglected. I intend to make up for it during my Easter break.
There are so many recipes that I'd like to share with you. Like this one below. Can you guess what these are? Hint: They're NOT the Easter Grapes.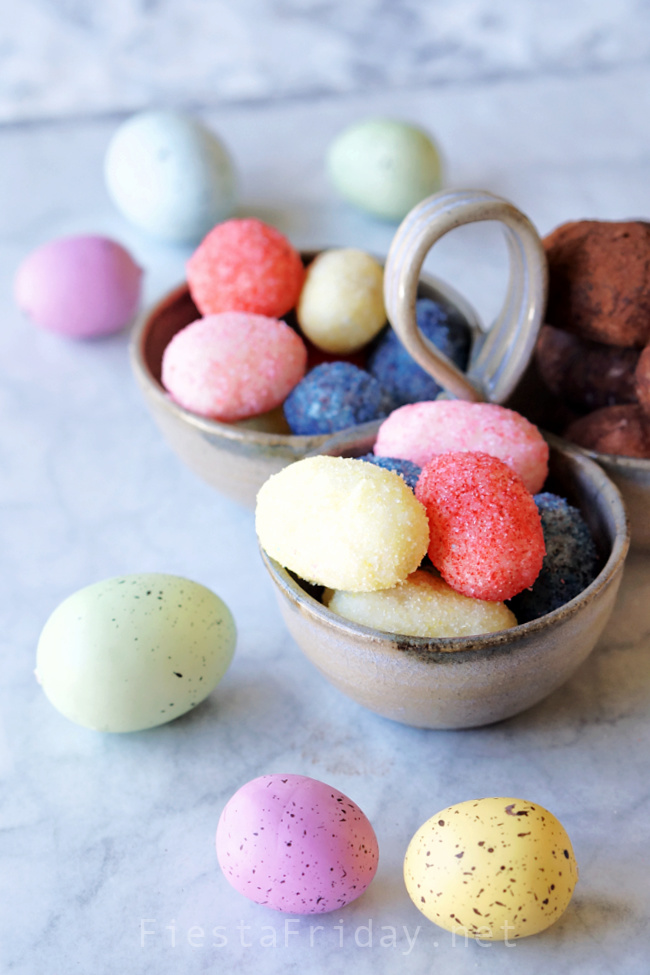 By the time the Easter break comes around, though, it'd be too late to share Easter recipes. Drat! I'm always a holiday behind.
Oh, well… it's not like there's a shortage of recipes here.
Just take a look at these:
How To Make The Easiest Bunny Lofthouse Frosted Sugar Cookie Pops
"These cookie pops are adorable. They seem pretty easy to make, too. That's a win-win!" — Angie
Cherry Chocolate Battenburg Cake
"The colors and design are so creatively done." — Pauline
Sinaloa Style Mini Patties – Empanaditas
"Beer in the dough is very interesting, I've never seen something like this. Love that she uses a traditional recipe and adapted from it." — Pauline
Old Fashioned Hummingbird Cake
"I've been meaning to make a Hummingbird Cake and this one definitely caught my eye. Looks pretty and sounds delectable!" — Angie
***
Now, let's party! Join Fiesta Friday #426 by adding your link(s). Don't forget to link your post to FiestaFriday.net so you can be featured.
If you're interested in becoming a cohost, please let me know.
If you're new to Fiesta Friday, please read the guidelines.
You are invited to the Inlinkz link party!