Happy Friday, friends!
Isn't it revealing that the moment we decide to go maskless, all of a sudden people start getting sick?
A number of students and staff members at my school have been sick this past week. And it's not necessarily due to Covid, either. There are still the common cold, the flu, strep throat, and even seasonal allergies out there.
I myself was feeling poorly last week after being exceptionally healthy for the past 2 years when we were mandated to wear a mask. Didn't even get the start-of-the-school-year cold that I normally get. So much for being maskless …
However, my tests came back negative for either the flu or Covid, so in the end, I was diagnosed with the good ol' upper respiratory infection aka the common cold with post nasal drip.
That drip, drip… is so annoying! Yes, IS annoying. I'm still experiencing it after a week!
Makes me want to go back wearing a mask because I most likely wouldn't have been infected had I worn one. It was a nuisance but hey, it kept the germs at bay. But the silver lining is… life is starting to normalize and I can understand what people are saying and vice versa.
And because I've been sick, our meals this week feature a lot of soup, some from restaurants, some homemade. Like this Creamy Chicken Gnocchi Soup below. Homemade, btw, in case you're wondering. Homemade gnocchi, too.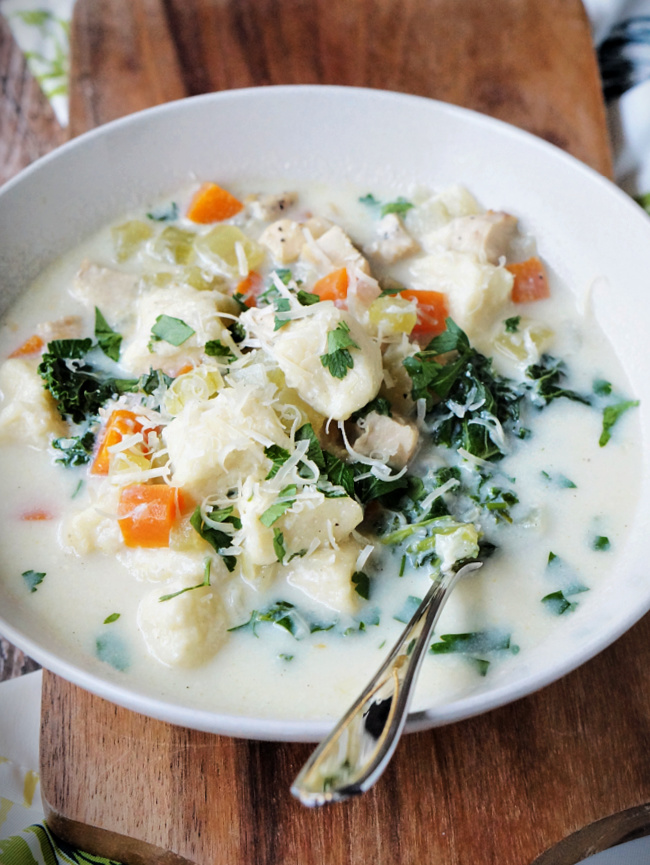 Now, it's time to fiesta!
Starting With These
Greek Hummus Pizza
"I am into anything hummus. For me, there is nothing, a slice of hummus pizza can't solve." — Jhuls
"I'm with Jhuls on this one. Hummus for world peace!" — Angie
Smoky Breakfast Pizza Recipe with Perfect Sunny Egg
"I'll never say no to anything with a sunny-side-up egg. I would gladly trade my usual Filipino breakfast for this." — Jhuls
"Jhuls and I must have been on a pizza kick. And of course, great minds think alike! We shall never say no to sunny eggs!" — Angie
Slow Cooker Chicken Jalfrezi
"Oh, boy, this one makes you want to run to the nearest Indian restaurant! Or better yet, run to the store to get garam masala! It's been a while since I last had Indian food." — Angie
Creamy Chicken Stew
"Easy to prepare, sounds and looks mouthwatering. This is something I'd like to enjoy for dinner. Yum!!" — Jhuls
***
Now, let's party! Join Fiesta Friday #425 by adding your link(s). Don't forget to link your post to FiestaFriday.net and the cohost's blog so you can be featured.
Your cohost this week is Pauline @ Beautiful Voyager
If you're interested in becoming a cohost, please let me know.
If you're new to Fiesta Friday, please read the guidelines.
You are invited to the Inlinkz link party!