Sourpatch Easter "Eggs" are your guilt-free Easter treats. Fresh grapes rolled in jello powder, these "eggs" are a healthier alternative to candy. They're so much fun to make and will satisfy your little egg hunters' sweet tooth!!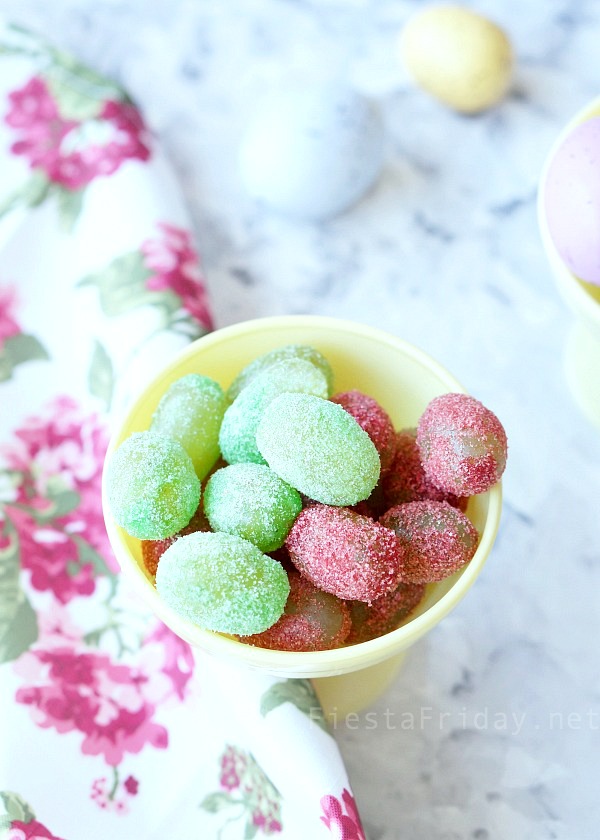 There's still time to make these Sour Patch Easter "Eggs", guys!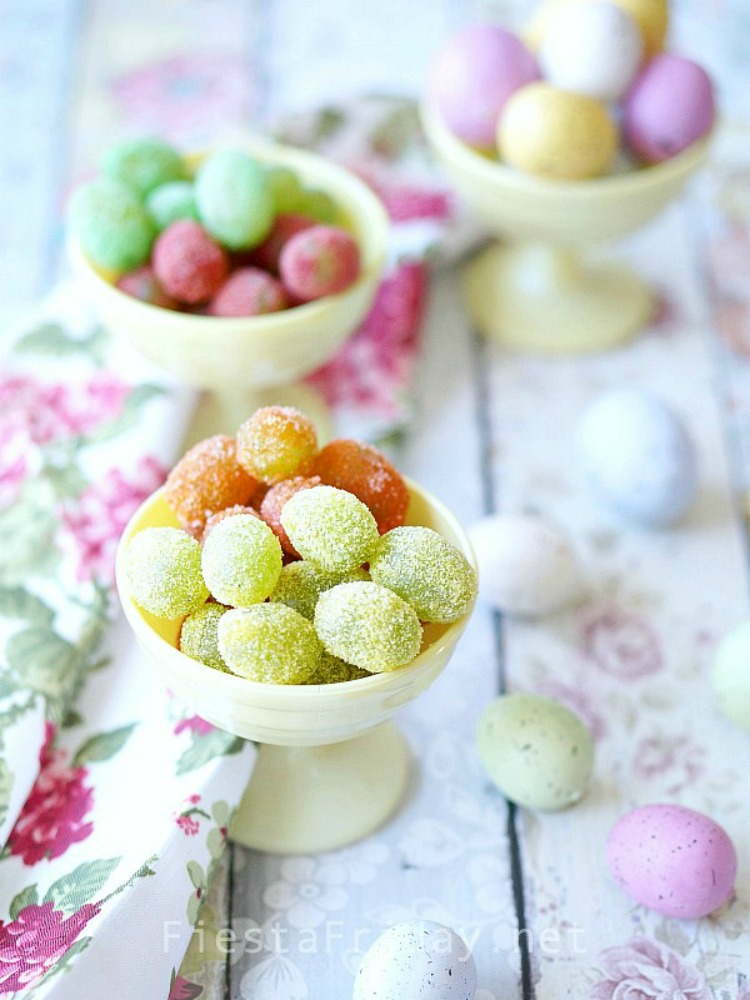 Such an easy-peasy-lemon-squeezy sweet snack to make, and may I add, quite healthy, too, compared to candy.
They're just grapes coated in flavored gelatin powder aka jello mix. That's it!
See, just fresh grapes rolled into dry jello powder or crystal or sugar, whatever you call it.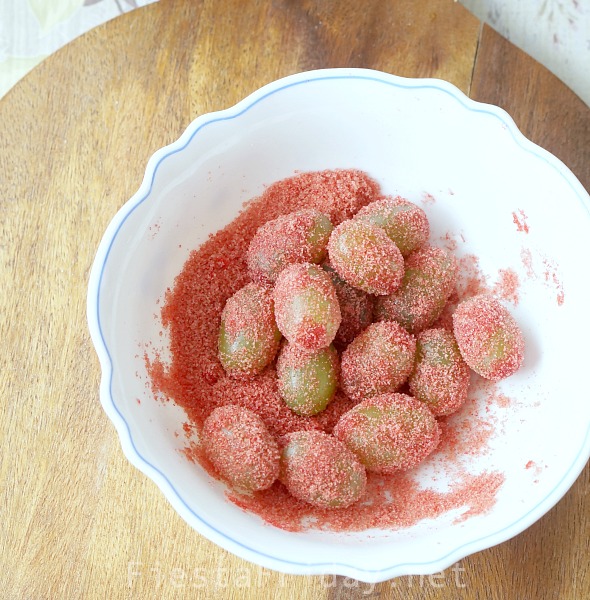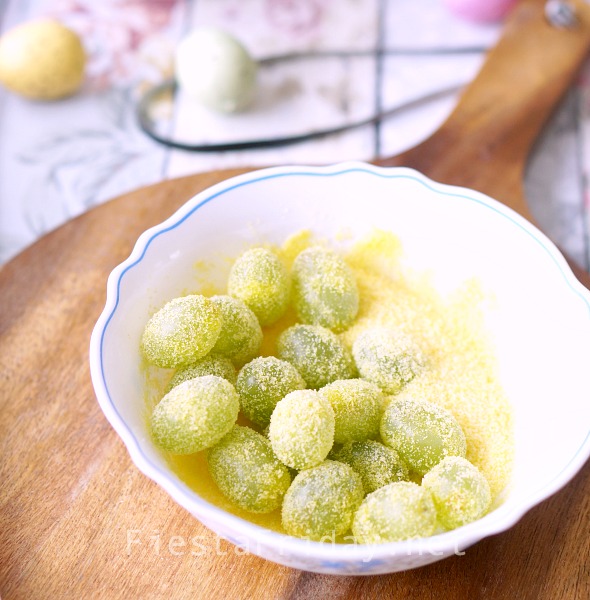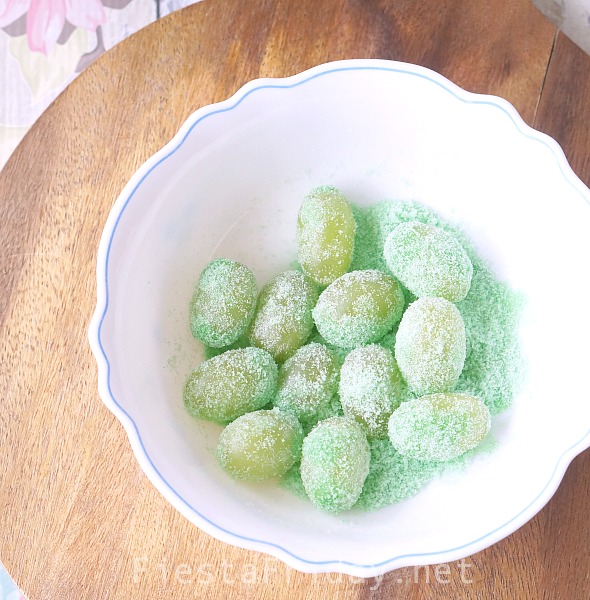 I first came across this sour patch grapes idea on Pinterest, where else! I'm totally hooked on Pinterest, finally. A little late to the game, but better late than never.
Not a single day goes by without me discovering something incredible on Pinterest. So many beautiful images, right? Enough to drag anyone down the rabbit hole.
I'd be in bed ready to turn in for the night and just at the last minute decide to reach for my iPhone or iPad just to see what's going on, just for a few seconds, so I'd tell myself. 30 minutes later I'd still be awake, but by then 100 pins richer. Oh well, no harm done, seriously.
Anyway, sour patch grapes, guys! Like I said, very easy to make.
But the way you do it and the color that you choose can make a big difference in the way they come out or look.
Most recipes would have you roll a bunch of grapes in a bowl of jello powder. Or shake them in a bag with the jello. Either would do an adequate job and would make short work of it.
There's also this recipe that calls for sticking one grape at a time on a toothpick, dipping each individually in water, and then rolling it in the jello powder.
That would no doubt give you a prettier result.
But in the interest of time and for the sake of efficiency, since Easter is tomorrow, I went ahead with the first method, but with a little tweak of my own. In comes a handy-dandy spray bottle.
You'll notice some grapes seem to repel water and after the first toss, don't seem to get much powder stuck on them. Spray those with a little bit of water, using the spray bottle, then sprinkle more powder immediately, and toss again a second time. That should help get more even coverage.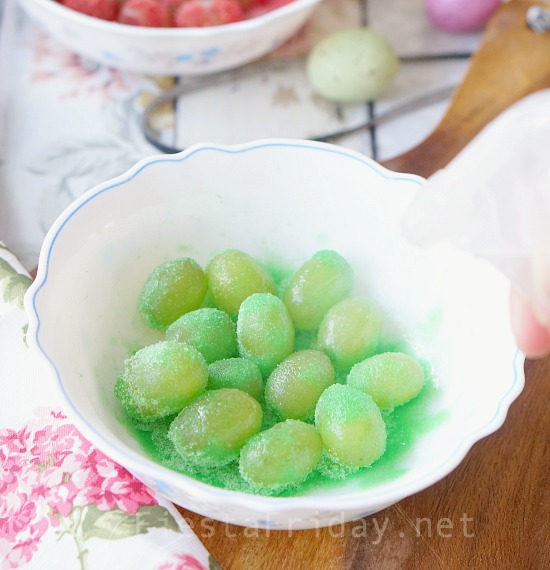 A word of advice on the colors you choose, guys. Blue does NOT look good! Blue color on green grapes just doesn't blend nicely.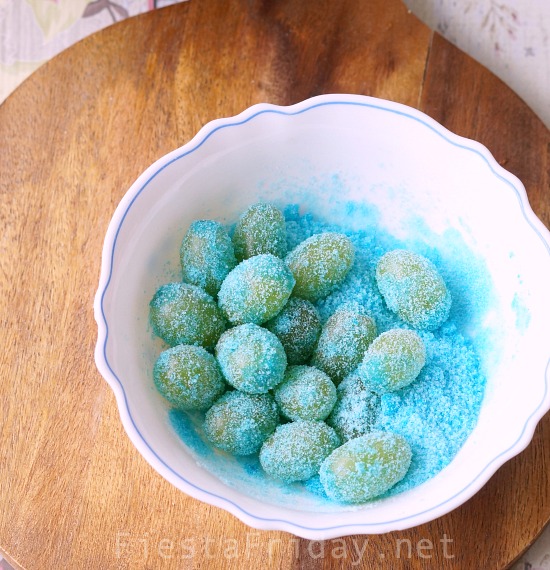 Have fun making these with the little ones, guys! Have a happy, happy Easter!
Sour Patch Easter "Eggs"
These sour patch grapes - just fresh grapes rolled in jello powder - are a healthier alternative to candy. They're so much fun to make and will satisfy your little egg hunters' sweet tooth!
Author:
Angie | FiestaFriday.net
Recipe type:
Snack/Dessert
Ingredients
1 pound (about 2½ cups) green grapes
Flavored gelatin (jello) mix in different colors
A small spray bottle filled with water
Instructions
Pick grapes off the stems. Rinse them in cold running water. Drain, but don't dry.
While grapes are still damp, place a handful in a bowl.
Sprinkle with jello powder. Toss and roll grapes in the powder.
Spray areas that didn't get enough coverage with water.
Immediately sprinkle more powder. Toss again, until most grapes are evenly coated in jello powder
Transfer coated grapes to a plate or another bowl and chill in the fridge for a couple of hours, until serving time.
Pin It To Make Later – Follow Me on Pinterest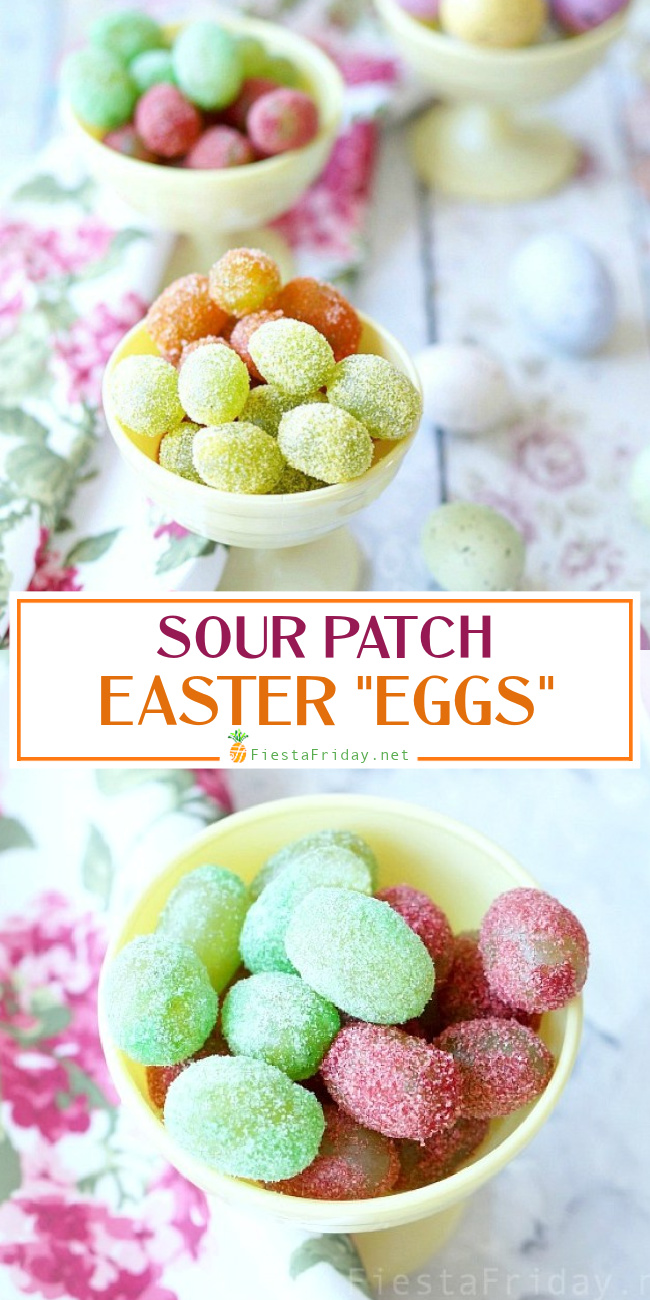 If you like this recipe, please give it a ⭐⭐⭐⭐⭐ rating in the comments section below. Thanks!