What could be better than a bacon biscuit? A bacon biscuit stuffed with a soft-boiled egg! Serve this Surprise Egg in Bacon Biscuit to your unsuspecting Easter egg hunters!
I'm not done talking about biscuits! I kept the best one for last. This! Surprise Egg in Bacon Biscuit, babaam!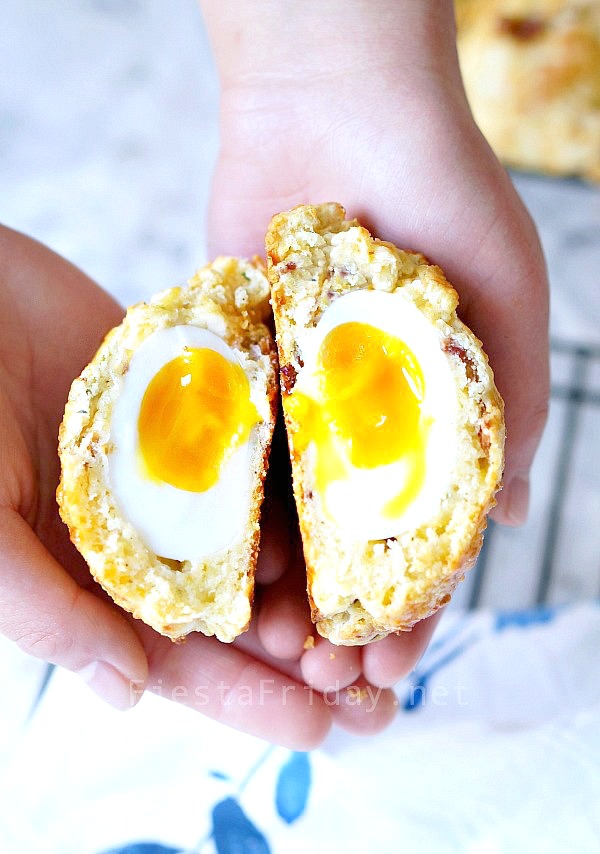 That one up there is THE BEST one of all! I can't emphasize that enough!
Therefore, it deserves its own recipe and therefore, its own post. This post. The Surprise Egg in Bacon Biscuit post.
Brought to you with the help of the daughter. Doesn't she have the cutest hands? The hands that provide me with many hours of piano entertainment. I love it when I come home from work to hear the piano being played. It makes me happy.
In return, I made her these special stuffed bacon biscuits. It made her very happy.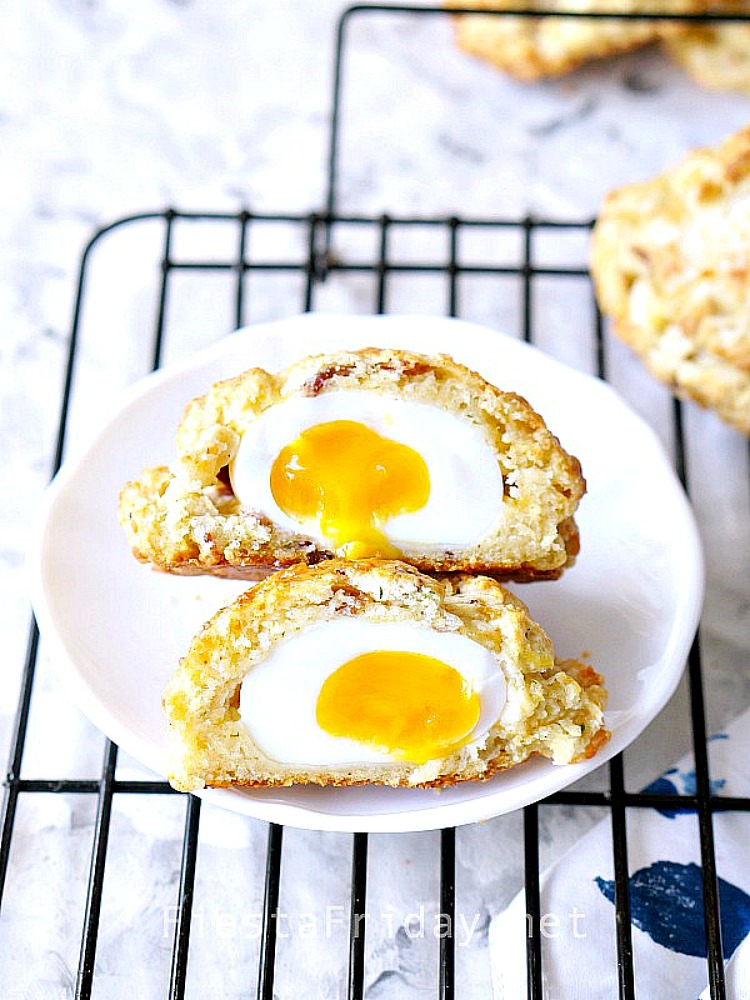 This is the kind of post that doesn't need a lot of words. It's best to enjoy these Surprise Egg in Biscuits just by looking at the photos. And there are a lot of photos here. There can never be enough drippy egg yolk photos, especially when they're enclosed in bacon biscuits.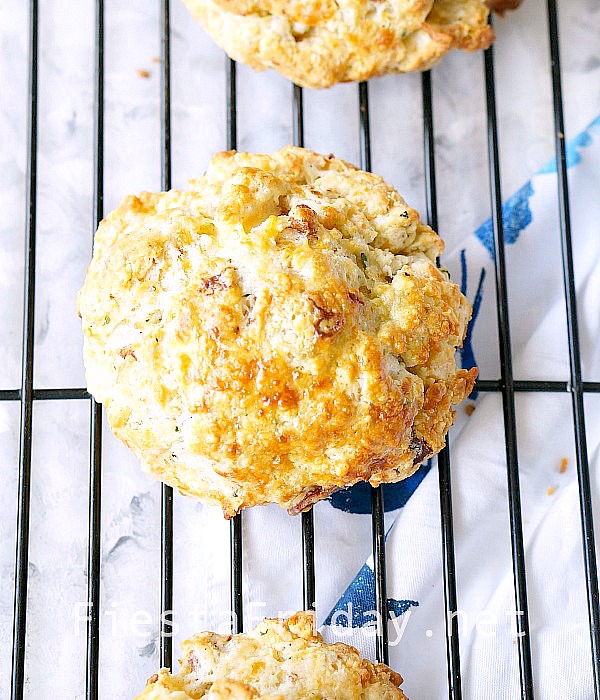 Also, because at first I accidentally deleted the photos of these stuffed biscuits and Best Buy was going to charge me $500 to restore them, which made me freaking mad. I definitely gave that young Geek Squad wannabe a look he'd never forget.
Was he freaking kidding me?! He called it a "Level Three Problem." Like what was that supposed to mean? There are levels in your problems? Like they graduate from one level to the next?!
I finally did it myself, just by reading instructions online. Took me just a little over an hour to get the Level Three Problem resolved. Now I have all the pictures of my stuffed biscuits back, and ready to flaunt them!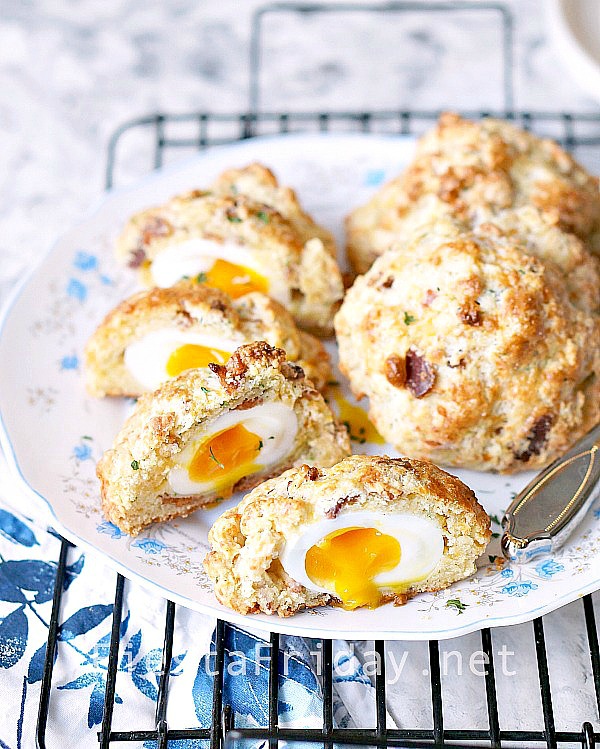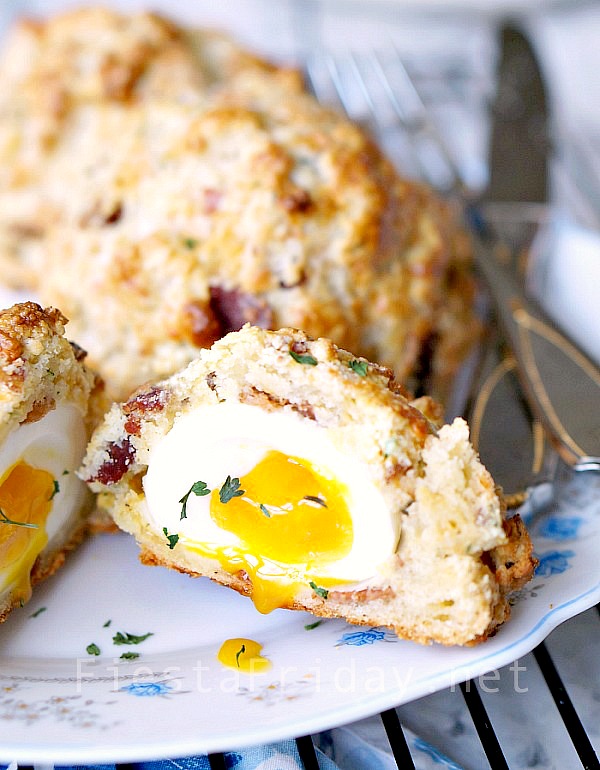 Now, some how-to pictures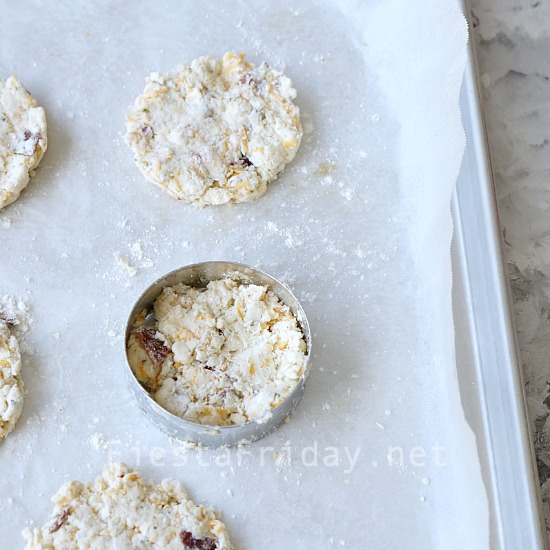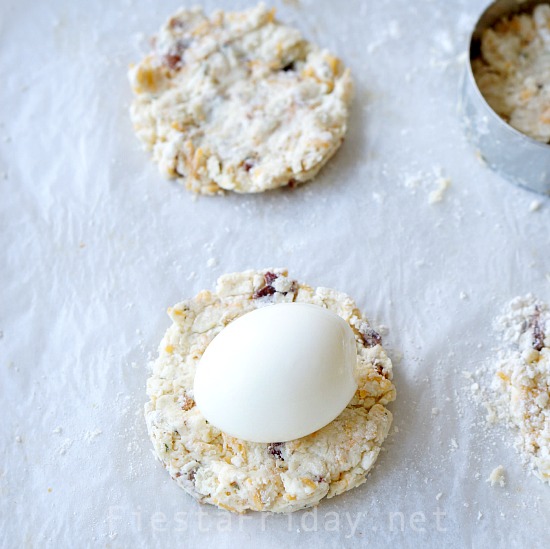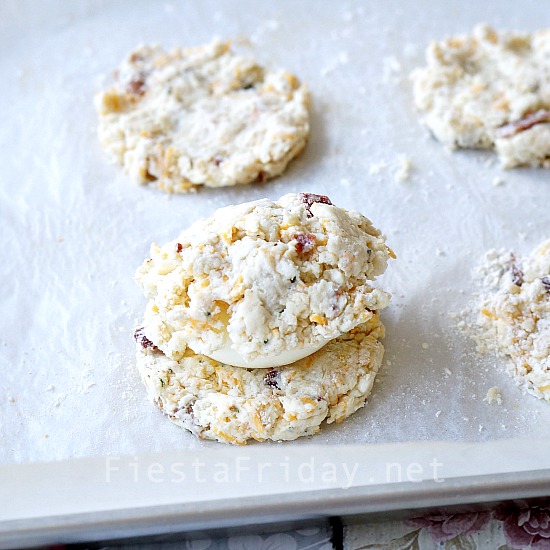 Surprise Egg in Bacon Biscuit
What could be better than a bacon biscuit? A bacon biscuit stuffed with a soft-boiled egg! Serve this Surprise Egg in Bacon Biscuit to your unsuspecting Easter egg hunters!
Author:
Angie | FiestaFriday.net
Recipe type:
Bread/Breakfast
Ingredients
2 cups all-purpose flour
½ cup butter
1 tablespoon baking powder
½ teaspoon baking soda
½ teaspoon kosher salt
1 cup shredded cheddar cheese
4 strips bacon, cooked and crumbled
2 teaspoons dried parsley
1 teaspoon garlic powder
¾ cup buttermilk
6 medium-sized eggs, to boil
1 egg, beaten, for egg wash
Instructions
In a pot big enough for the 6 eggs, heat water to boiling. Make sure there's enough water to cover the eggs once they're put in there. Use a slotted spoon or a hand-held strainer to lower the eggs into the boiling water. Try to do this quickly, so all the eggs will cook in the same amount of time.
Keep a timer. For medium eggs, boil for exactly 4½ minutes. 5 minutes for large eggs.
In the meantime, prepare a bowl of iced water, with a lot of ice cubes in it.
Once the timer goes off, lift eggs from the boiling water, and immediately plunge into the iced water.
Keep them submerged for at least 10 minutes so they get really cold. This is going to make peeling these soft-boiled eggs easier.
Peel eggs then keep them in the fridge, until they're ready to be used.
Heat oven to 450°F.
In a large bowl, mix and sift to combine the flour, baking powder and soda, salt, and garlic powder.
Cut in cold butter, either using a pastry blender or two knives, or grate frozen butter into flour mixture. Mix until it resembles coarse crumbs, and you can still see little chunks of butter.
Add cheese, bacon, parsley and stir.
Add buttermilk; stir with a spatula or spoon just until the dough comes together, about 15 stirs.
Transfer dough onto a lightly floured work surface. Knead briefly into a rough ball, then divide into 6 portions.
Divide each portion into 2, then flatten each portion into a circle. A biscuit or cookie cutter is helpful here (*See photos above).
Place an egg on a circle, then cover it with another circle. Pinch the edges to enclose the egg.
Brush top with egg wash.
Place on a baking sheet lined with parchment paper.
Bake for 15 minutes, or until top is golden brown.
Serve warm.
If you like this recipe, please give it a ⭐⭐⭐⭐⭐ rating in the comments section below. Thanks!
Pin This To make Later – Follow me on Pinterest