Learn how to make basic buttermilk biscuits. Once you get the hang of it, you can create any kind of biscuits you want!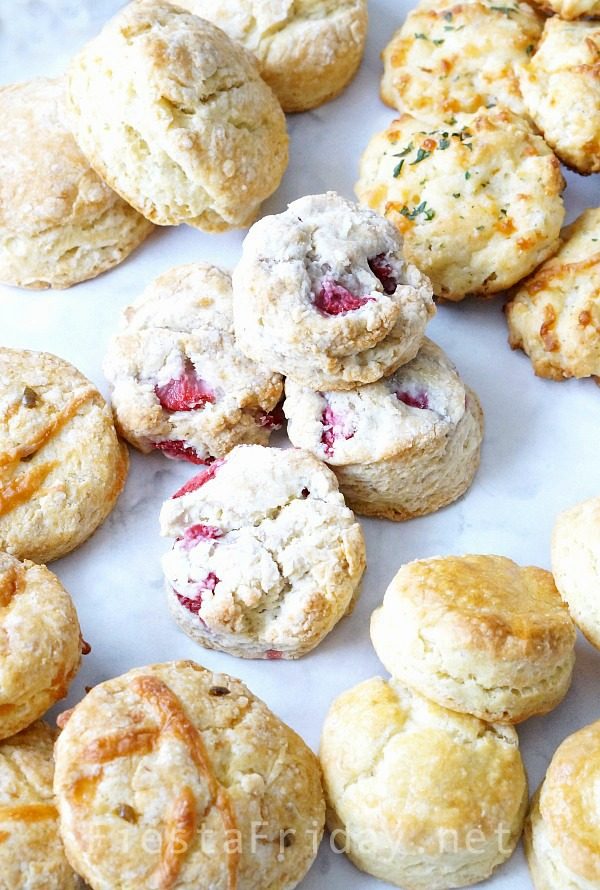 The perfect way to spend a snow day is in the kitchen, making biscuits, brewing some tea, and listening to Perfect on loop… It's perfect!
Ed Sheeran, I love you! No, wait, I mean I love your songs, you gorgeous gnome!
Settle down, Sheerios! I meant that in the most loving way. I can't help it if he reminds me of a gnome. The cutest gnome, to be sure, and the best singing-gnome in the universe! Okay, I'd better stop.
Moving on to tea… What's your favorite kind? Mine is currently Earl Grey. Though I'm more of a latte person. But there are times when I want tea.
Like when I'm having biscuits. And all the time lately I want biscuits. Which means all this time I've been drinking tea. This will be remembered as the winter of drinking tea.
With milk and sugar, okay? Always with milk and sugar.
But we're not here to talk tea, we're here to talk biscuits and how to make them. I have to admit to being a little obsessed with biscuits. It's a situation many would find understandable.
What's not to like about biscuits. Flaky, fluffy, buttery bread. That's the kind of biscuits I'm talking about. The American biscuits. Aka cousins to scones.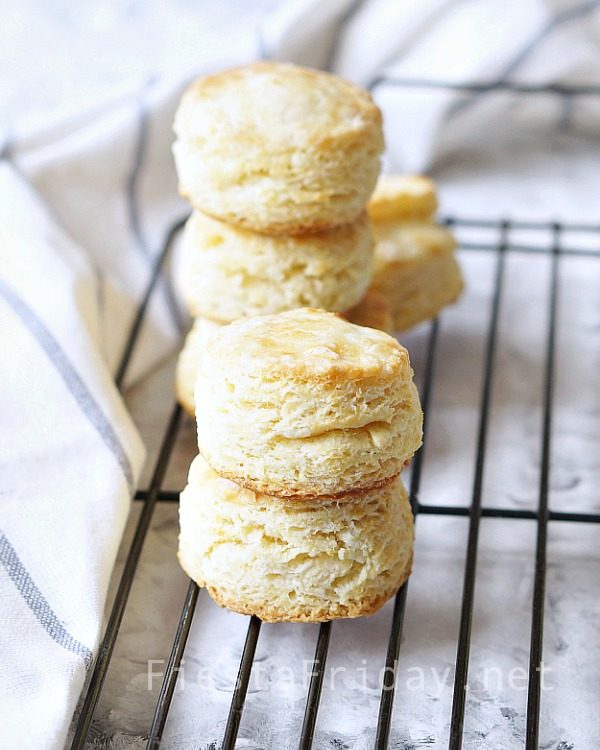 They can be difficult to perfect, but if you follow a few basic techniques you can be a master of biscuits. And soon you'll be able to make them in your sleep! But please, don't sleep while making these biscuits.
They don't take very long at all.
You should be able to enjoy your biscuits in about 30-40 minutes, as long as you have everything in place.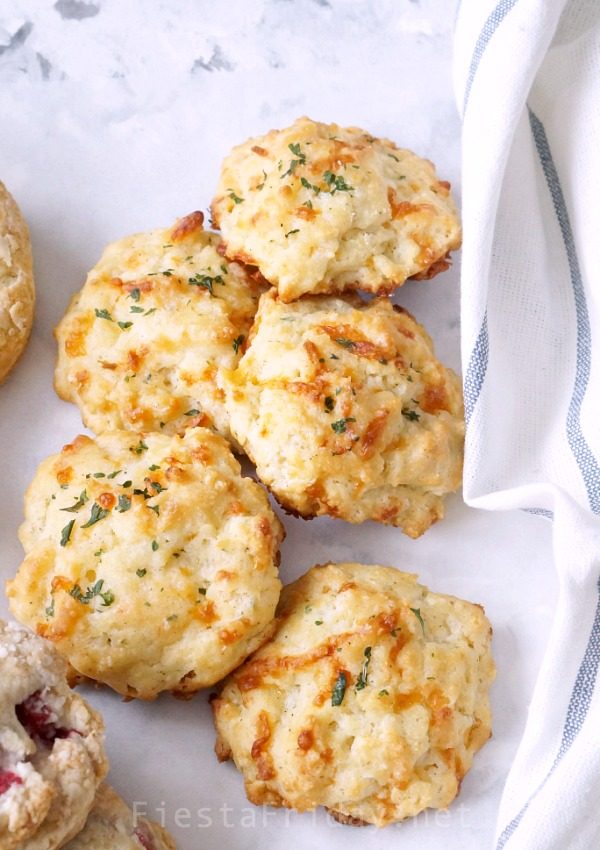 It beats going to the store to buy them. You won't have to get out of your pajamas or comb your hair or put on your lipstick.
Not to mention you won't need to get in your cold car, shake all the way to the store trying to get warm, then run into an acquaintance and spend half an hour chitchatting out of politeness.
Then when you're done shopping for your measly purchase, you somehow always manage to get in the slowest cashier line!
And your tea will be cold…
So, lesson learned, when it comes to biscuits, just make them yourself in your cozy kitchen, listening to Ed S.
You might even have extra time to make several kinds.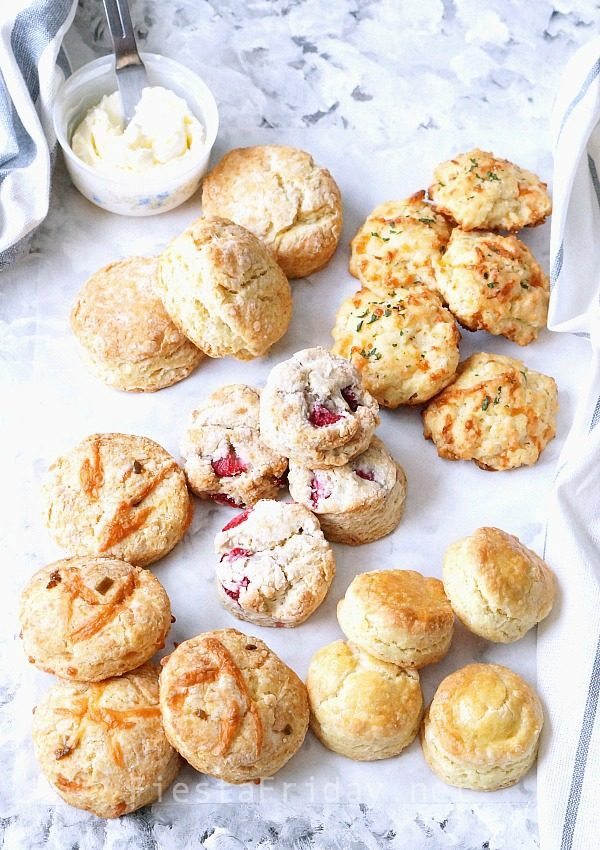 Clockwise from top left: Plain Biscuits made with a mix of cake and all-purpose flour, Cheddar Herb Drop Biscuits, Plain made with unbleached all-purpose flour, Cornmeal Pepper Jack Cheese Biscuits, and Strawberry Biscuits in the center
This moment has been long wished for and dreamed about, y'all. By me. The making of many kinds of biscuits. In one baking session.
So, because I had nothing else to do, and nowhere to go (snow day, y'all) I made my dream come true.
Besides, my daughter was there to help, bless her heart. She ain't got nowhere to go, for once. Well, I declare! She spends every wakin' moment goin' out and hangin' out with her "free-ends", and not with her poor ol' momma who pines for her company.
And apparently after baking all these biscuits, you'll gain a Southern accent, y'all!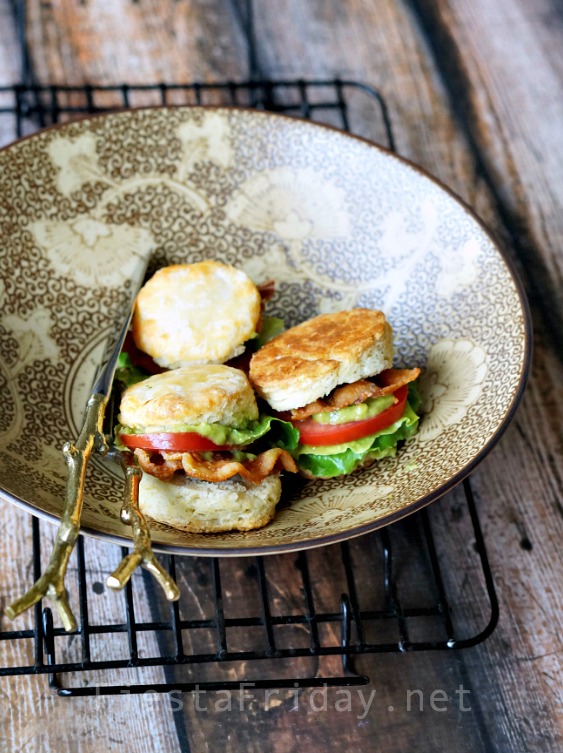 That's because Southerners are known to be obsessed with biscuits, just like I am. They also seem to have the advantage when it comes to biscuit-making. Supposedly, biscuits made in the South are the best.
But I'm going to tell you that you don't have to live in the South to be able to make good biscuits. Just follow these tips below.
---
How To Make Biscuits
The Flour
Southerners swear by White Lily flour. It's a softer, low protein and less gluten wheat flour, and therefore helps in producing tender and tall biscuits. But, guess what? Any all-purpose flour makes great biscuits, too! You may get sturdier, less fluffy biscuits, but they are perfect for sandwiches and for eating with stews and soups.
Alternatively, you can mix cake flour and all-purpose flour.
Always sift your flour with the rest of the dry ingredients before making the dough. This will distribute the baking powder/soda throughout, so your biscuits will rise evenly.
The Fat
You can use butter, lard, or shortening. I've tried butter and shortening. Butter wins!
Keep the butter as cold as possible, even frozen if you decide to grate it.
The Liquid
Buttermilk only! Okay, if you must, you can use milk. But that's it. No half & half or cream. Save them for scones.
Start with 3/4 cup of buttermilk for every 2 cups of flour, but you can add more as needed. You're looking for a soft dough that doesn't crumble, but not sticky wet. For drop biscuits, you will need more than 1 cup.
Working The Dough
Most recipes will tell you to not overwork the dough. This is true, but please don't be afraid, you won't break it! Just be gentle. Use a spatula or a wooden spoon to mix the dough, instead of your hands, to keep it cold. Once it forms into a ball, fold the dough several times, if you're making plain biscuits. This will create layers. Southern Living has a nice video demonstrating this.
Obviously, if you're making drop biscuits or biscuits with added chunky ingredients in it (i.e., the Strawberry Biscuits), you won't be doing any folding. Just roll it into desired thickness, and cut.
Cutting The Dough
Use only a biscuit/cookie cutter or a sharp knife, and don't twist. Just push the cutter straight down and lift straight up.
Don't use a glass, the rim is not thin or sharp enough and will pinch the edges of your biscuits, "shutting" them and preventing them from rising.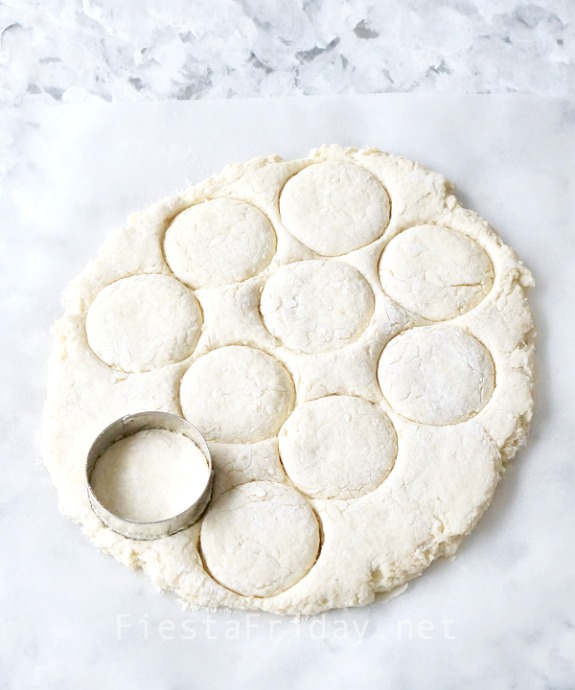 Oven Temperature
Always start with a high temperature, above 400°F. Since all ovens are not made equal, you'll have to figure out what works best for you. Some recipes call for temperatures as high as 500°F. For me, 450°F for 12-15 minutes works like a charm for small 2-inch biscuits.
---
There you have it! Not so hard, is it? My daughter was able to get the hang of it after her third try. Then she went to town! Look at what she came up with.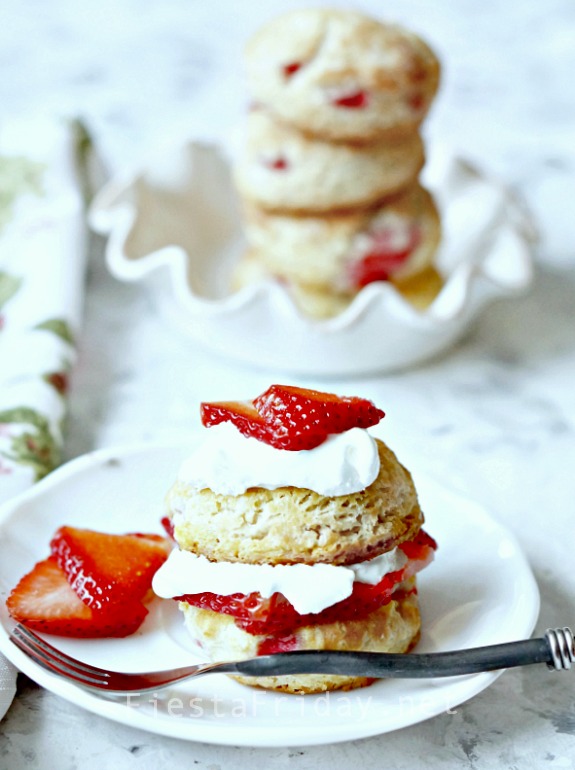 She called it "Strawberry Strawberry Shortcake". Two (double) Strawberries, because she added strawberries in the dough. Isn't it cute?!
For her dad, we served this Biscuits and Sausage Gravy. I have to warn you, it's not the prettiest thing, but oh, was it good!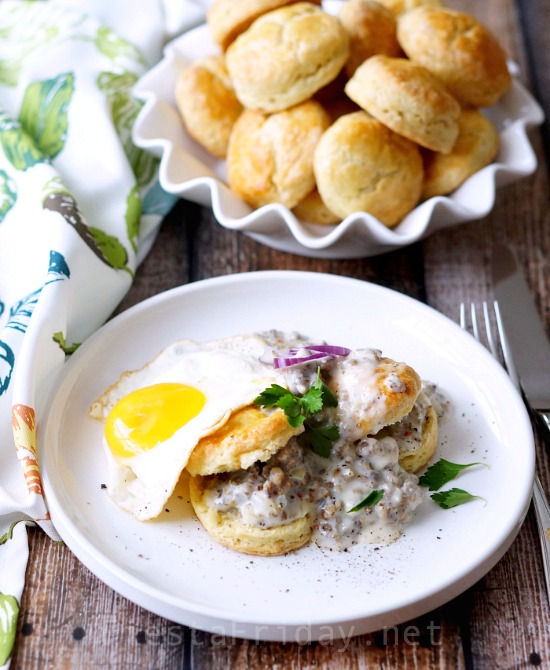 We also made Guacamole BLT Biscuit Slider Appetizers with the little plain ones. The photo is somewhere above.
The only biscuit that didn't work for us was the Cornmeal Pepper Jack Cheese Biscuit, hence no recipe. It came out a little too dense; it may have been the cornmeal. But the idea is a good one. The plan was to serve it with chili con carne. Chili, corn biscuit, pepper jack cheese… doesn't it sound good?! It bears revisiting.
Buttermilk Biscuits
Learn how to make basic buttermilk biscuits. Once you get the hang of it, you can create whatever kind of biscuits you want!
Author:
Angie | FiestaFriday.net
Yield:
10 (3-inch) biscuits
Ingredients
2 cups flour
½ cup butter
1 tablespoon baking powder
½ teaspoon baking soda
½ teaspoon kosher salt
¾ cup buttermilk
For Cheddar Herb Drop Biscuits
1 cup shredded cheddar cheese
2 teaspoons dried parsley
2 teaspoons dried chives
1 teaspoon garlic powder
½ cup more buttermilk
For Strawberry Biscuits
1 cup cut-up fresh strawberries
2 tablespoons sugar
Instructions
Keep all ingredients and utensils cold.
Heat oven to 450°F.
In a large bowl, mix and sift all dry ingredients.
Cut in cold butter, either using a pastry blender or two knives, or grate frozen butter into flour mixture. Mix until it resemble coarse crumbs, and you can still see little chunks of butter.
Add buttermilk; stir with a spatula or spoon just until the dough comes together, about 15 stirs.
Transfer dough onto a lightly floured work surface. Roll into a rough rectangle or oval, 1-inch thick.
Sprinkle lightly with flour and fold the dough in half, top to bottom. You can use a bench scraper to do this.
Roll it again into a rectangle/oval, and fold it again, this time side to side.
Do a few more folding, about 5 times total.
Roll the dough into desired thickness. Thinner if you want to use them for sandwiches, but otherwise ¾-inch is my preferred thickness.
Use a biscuit cutter or a knife to cut the dough. Re-roll scraps and continue cutting. Your re-rolled scraps won't give you as much rise as the first batch, but they will still taste good.
Place on a baking sheet lined with parchment paper. I like crisp edges so I spread them apart.
Bake for 15 minutes, or until top is golden brown.
For Cheddar Herb Drop Biscuits
Add cheese, herbs, garlic powder prior to adding buttermilk.
Make sure to add ½ cup more buttermilk, as indicated in the ingredient list, to the basic biscuit recipe.
Drop about 2 tablespoons for each biscuit on parchment-lined baking sheet, and bake as the basic buttermilk biscuits. Brush top with melted butter before serving. Makes 20 drop biscuits.
For Strawberry Biscuits
Add strawberries and sugar prior to adding buttermilk.
Skip the folding step. Just roll dough and cut, sprinkling with flour more liberally, the strawberries make the dough stickier.
Follow the same direction for cutting and baking as the basic biscuits.
Notes
You can brush egg wash prior to baking, which will give the biscuits crisp brown crust on top.
Or brush with buttermilk to give them a softer brown crust.
If you like this recipe, please give it a ⭐⭐⭐⭐⭐ rating in the comments section below. Thanks!
Save This To Make Later