So, we had another nor'easter. Two days into spring, exactly. Don't you feel sorry for me?
We had more days of school closing. At this rate, we'd probably be in school until the end of June! I'm definitely feeling sorry for myself now. And for my daffodils! They were up and blooming, but now are buried deep in the snow.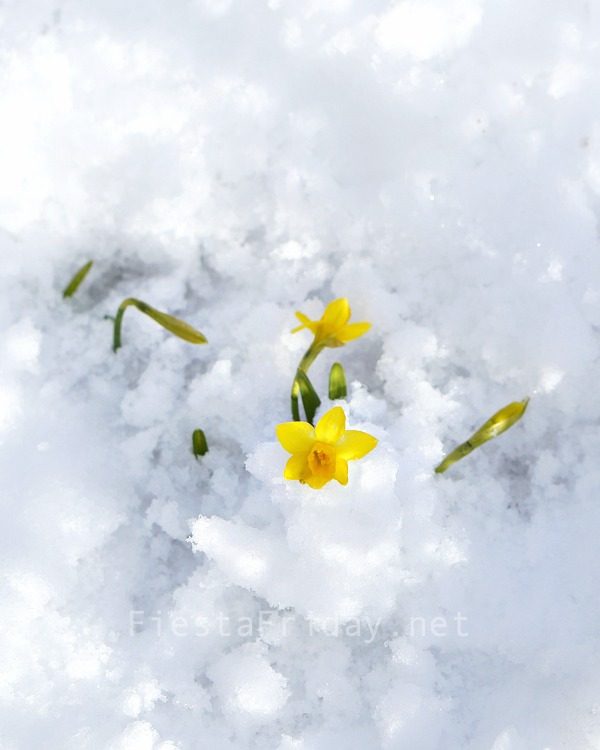 It's not without any benefits, however, these snow days.
I had so much free time at home with nothing else to do except watch the husband shovel the snow that I ended up cooking and baking the whole entire content of my fridge and pantry! Well, maybe not everything, but I was definitely a maniac!

And as soon as school ends today, it'll be Spring Break. That means I should have enough time to write the recipes. The operative word there is "should." I'll do my best!
Favorite recipes from last week's fiesta:
Lemon Ricotta Pancakes from Anjana @ Happy and Harried
"I loooove ricotta and love using ricotta when baking. These pancakes with all their lemon flavor have me yearning for Spring!" — Alex
Easter Bunny Brioche Buns from Ginger @ Ginger and Bread
"How adorable are these! Every bunny (sorry :P) needs these for Easter breakfast. I'm guessing they taste pretty amazing too!" — Laurena
McMullan's Irish Nachos from Mollie @ Frugal HausFrau
"What!? Nachos made with 'homemade' potato chips! then loaded up with all kinds of goodies! Oh yes, I'm there! Don't you just want to pick these right out of that skillet! ?" — Laurena
Vanilla and Mocha Cookie Sandwiches from Jess @ Cooking Is My Sport
"I love that Jess made a homemade version of a very popular store-bought cookie, and she made them look and sound delicious! Her mocha flavor is inventive and she has inspired me to make my own sandwich cookies :D" — Alex
***
Now, let's party! Join Fiesta Friday #216 by adding your link. Don't forget to link your post to FiestaFriday.net and the co-hosts' blogs, so we can feature you. Your cohosts this week are Petra @ Love Food Eat and Zeba @ Food For The Soul
If you're new to Fiesta Friday, please read the guidelines.
[inlinkz_linkup id=772132 mode=1]