Boxty is a traditional Irish potato pancake. Make it small or big, thick or thin, the choice is yours. Its versatility only adds to its ingenuity. Perfect for St. Patrick's Day!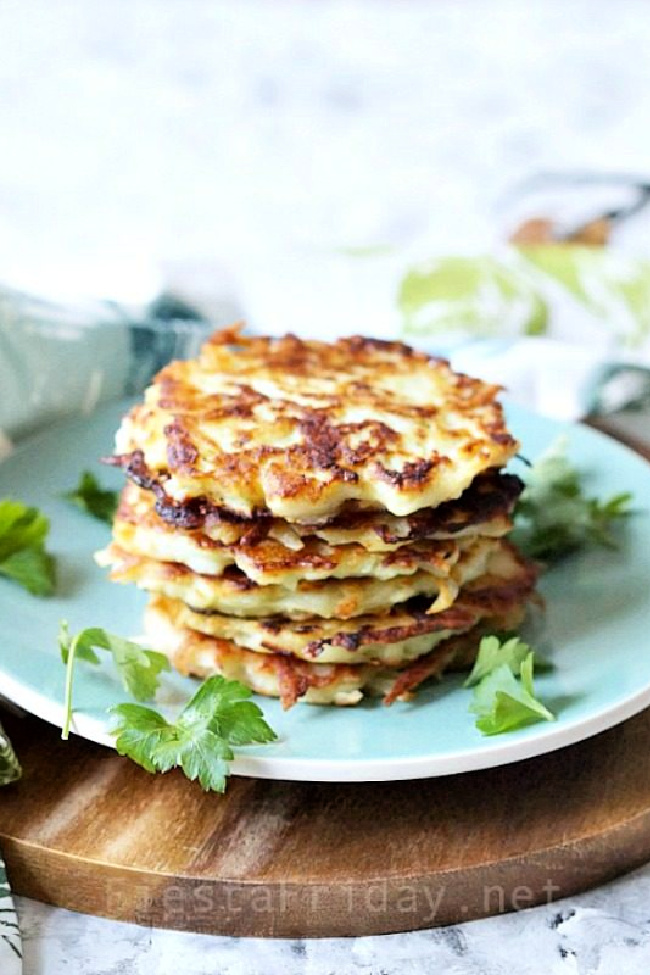 Instead of thinking outside the box, this time let's think inside the box…ty.
You know, boxty. The Irish potato pancake. Something I heard for the first time when Prince William was about to be married. If I remember correctly, Anderson Cooper was discussing it.
Somehow, somewhere, someone heard a rumor that boxty was to be served at the very secret bachelor party.
Whether it was true or not, I have no idea. But AC was in London, covering the wedding, and in preparation, was getting a lesson in everything British. From Isha Sesay and Richard Quest, I think.
They talked about what appropriate things to wear and not to wear, what to do and not do, say and not say, and so on and so forth.
Then there was a mention of boxty. And AC went," What?! What's a boxty?!" along with me. So, someone got him a boxty, and it was a sad piece of what looked like bacon inside some kind of a bun. And AC went," It's disgusting!" along with me.
Isha Sesay made an excuse that it'd be better with some brown sauce, but AC wasn't convinced, and definitely wasn't impressed, along with me.
Well, fast forward…Uhm…8 years later, I'm now changing my tune. Who knows about AC, but I'm a changed woman, for sure, when it comes to Irish cuisine or at least the boxty.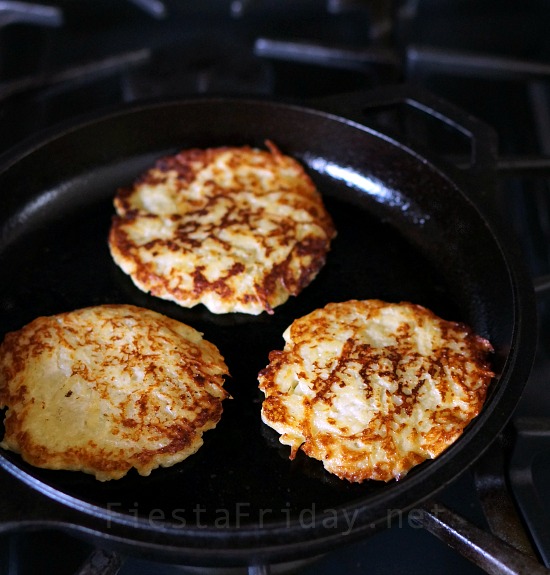 Honestly, in my opinion, Irish cuisine may not be haute cuisine, but it's definitely delicious cuisine! And boxty is a great example.
What Is Boxty?
Boxty is an Irish potato pancake, made with both cooked and raw potatoes. The cooked potatoes come in the form of mashed potatoes, while the raw potatoes are shredded. Flour, eggs, and milk are added to the potatoes to form a batter, which is then fried with a little oil or butter just like regular pancakes.
What Anderson Cooper was served might have been a London interpretation of it, but the real boxty is something of a revelation to me. It's like a better hash brown if that's possible.
If you ever google a boxty recipe, you'll come across many kinds. Some with less flour and liquid and therefore, more hash brown-ey. Others with more flour and liquid and therefore, more pancake-y.
I tried many versions. And many sizes.
Here you see two different kinds.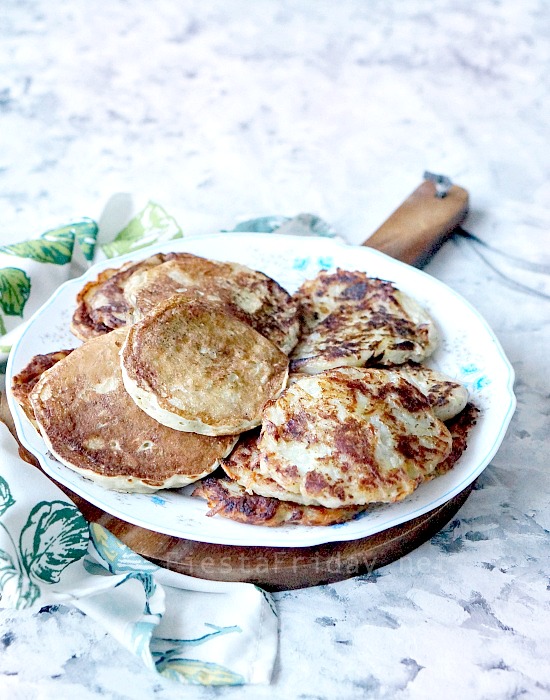 You can tell from the texture, the ones on the left are the more pancake-y.
And still more here, thinner and bigger in size, more like crepes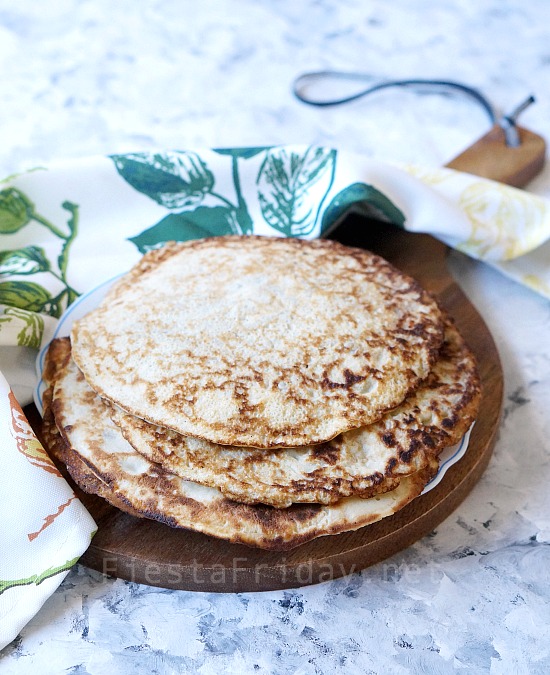 They're all good! I've decided, however, to present to you a boxty that's in between, not too hash brown-ey, not too pancake-y.
Because balance is the spice of life, and compromise makes the world go 'round. That comes from the wisdom of Yoda, by the way.
Oh, no?! He never said that?! Well, I'm sure he will…in the next movie.
Is anybody else looking forward to the next Star Wars movie?! Me, too!
Let's not get distracted, though. We're talking about boxty, remember?
Once you decide what kind of boxty you want, and you make it, the next decision to make is what topping or filling you want.
That's when you need to start thinking inside the boxty.
Here are two suggestions I have for you.
Serve it, naturally, as breakfast, with eggs and bacon. Or in this case, thinly sliced corned beef. Perfect for St. Patrick's Day.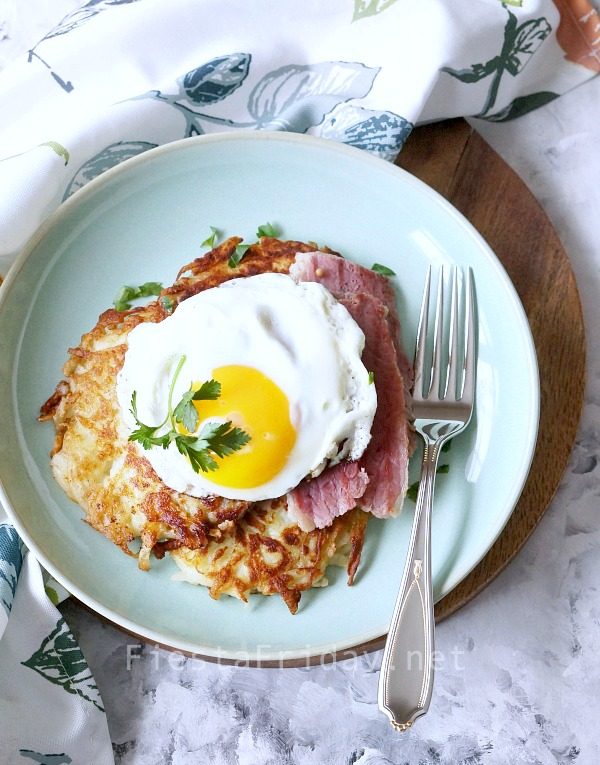 Or you can serve it as lunch or dinner, with creamy chicken and broccoli ragout. Also perfect for St. Patrick's Day.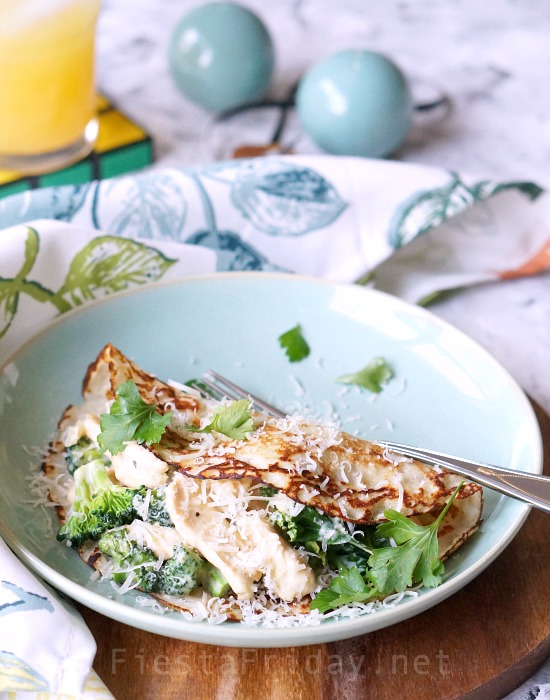 St. Patrick's Day Boxty
Boxty is a traditional Irish potato pancake, so it's perfect for St. Patrick's Day!
Author:
Angie | FiestaFriday.net
Yield:
10 (3-inch) pancakes
Ingredients
2 cups cooked and mashed potatoes
2 cups raw potatoes, shredded and squeezed dry
¼ cup all-purpose flour
1 large egg, beaten
½ cup milk
½ teaspoon salt
Butter and/or cooking oil
Instructions
In a large bowl, mix all ingredients until combined. You'll get a stiff but spreadable batter.
In a large frying pan, on medium high heat, add a little amount of butter or oil.
Drop batter by the spoonfuls (about ¼ cup for 3-inch pancakes), flattening and spreading/shaping with a spatula as needed.
Cook for 2 minutes, then flip and cook 2 more minutes, or until pancakes are golden brown.
Best served immediately while still warm.
Notes
You can easily vary the ratios of the cooked/raw potatoes, flour, milk, and eggs, to suit your taste.
Serve with your regular breakfast favorites such as bacon, sausages, or eggs. Or make it Irish-American by serving it with corned beef.
If you make a thinner and bigger-sized boxty, you can treat it like a crepe, and put in any filling of your choice.
If you like this recipe, please give it a ⭐⭐⭐⭐⭐ rating in the comments section below. Thanks!
Pin This To make Later!