It was finally warm enough yesterday to melt all the snow around the house. The persistent patch on the deck eventually gave up by the time I checked on it around mid afternoon.
Hurray! Now I can at least get out of my kitchen and step on the deck without worrying about slipping. And from there, the whole wide world is open to me. By that I mean the backyard. The gateway to my sanity.

As a perpetual gardener, I need to be outside, mingling with the plants, touching them and talking to them. It's been so long since I last had a visit with them. I miss them!
I hope it'll continue to keep warming up and then….STOP! right around 75 degrees. Wouldn't that be sweet? Hey, you can always hope. Miracles do happen!
Have a wonderful weekend, everybody! And Happy Easter!
Favorite recipes from last week's fiesta: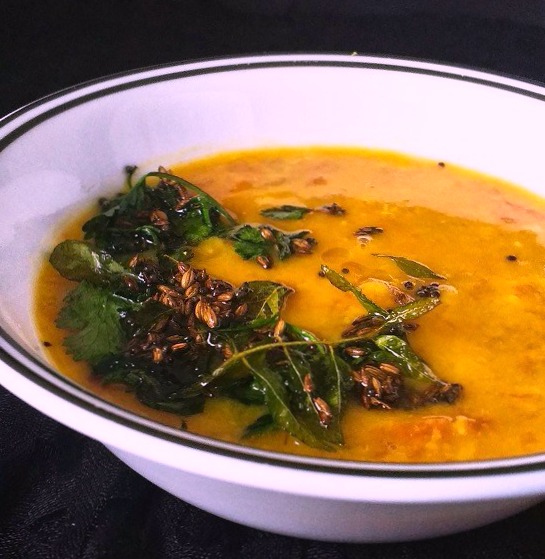 Simple Dal Recipe from Lathi @ Lathi's Kitchen
"The simple dal is an all-time comfort food especially for this snowy cold spring. I love how Lathi presented it in such a simple classic way!" — Zeba
"This makes me want to have dal for dinner, tonight! Dal is such a comfort food and how delicious with all the spices and flavors going on here. Sometimes simple is simply the best." — Petra
Pineapple Beef Tacos from Alex @ Turks Who Eat
"I love the combination of pineapple and meat. Just reading about these tacos is making me crave one, or two or hmm…perhaps even a third if there is room!" — Petra
Creamy Sorrel Soup from Sue @ birgerbird
"Love how beautiful this dish is. A very creative and healthy way to present sorrel with the roasted baby turnips dancing in it…" — Zeba
Buckwheat Carrot Chia Muffins from Monika @ Everyday Healthy Recipes
"Monika is sharing her delicious sounding muffins, chia seeds are so delicious and even better here paired with so much goodness, apple juice, carrots.. you name it. I don't eat muffins often but I would happily tuck in to one of these any time!" — Petra
***
Now, let's party! Join Fiesta Friday #217 by adding your link. Don't forget to link your post to FiestaFriday.net and the co-hosts' blogs, so we can feature you. Your cohosts this week are Abbey @ Three Cats and a Girl and yours truly. It's about time!
If you're new to Fiesta Friday, please read the guidelines.
[inlinkz_linkup id=773234 mode=1]