Roasted Salmon, flavored with everything that pairs well with the bold-tasting fish. Flavors such as fennel, garlic, lemon, and mustard. It's such a fabulously quick and easy recipe you will want to memorize it!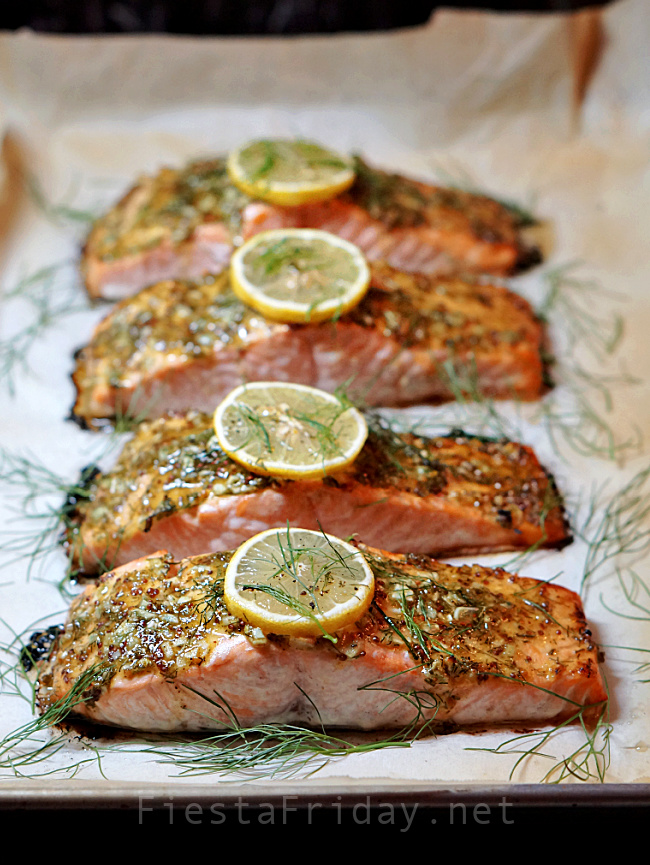 We've been trying to add more fish to our diet. It's part of our family's New Year's resolution of eating healthy. I'm happy to say that everyone is warming up to the idea of a weekly fish dinner.
And not just fried fish, either, because first of all, that's just like cheating. Fried fish is not hard to like, is it? Secondly, fried fish is not all that healthy, is it?
The first installment of the weekly fish dinner came in the form of this Roasted Salmon.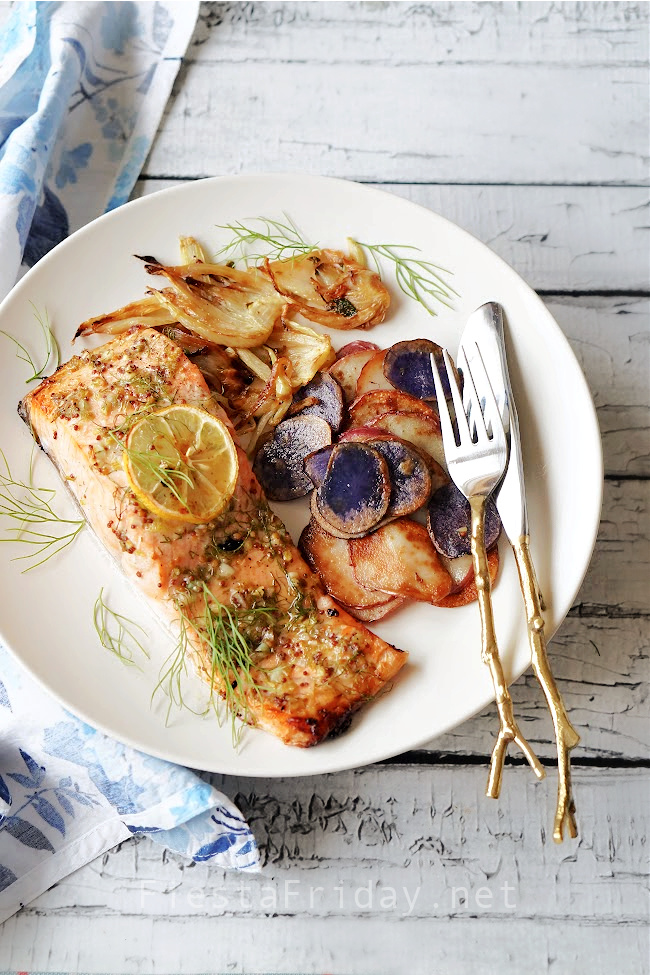 Paired with the much-maligned mustard.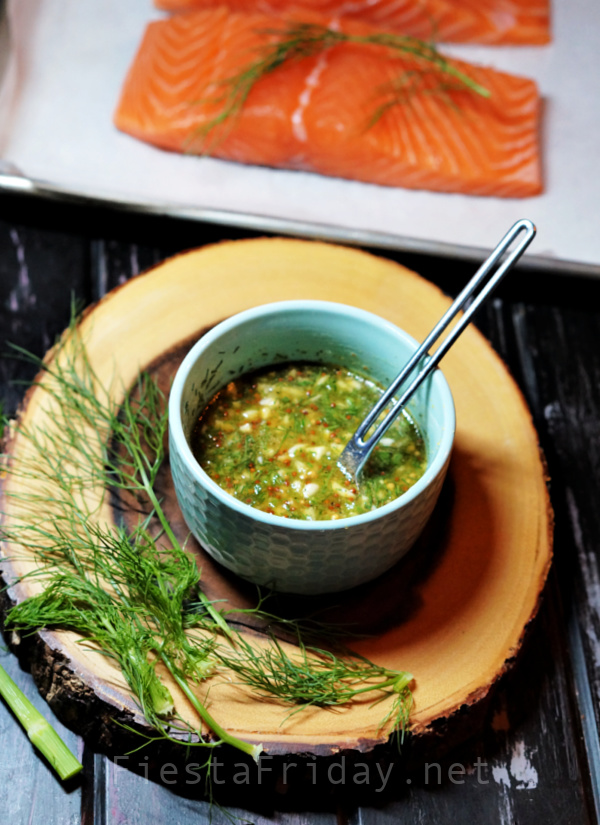 Whole grain mustard, to be exact. Maligned by the husband, to be exact. I myself have an ongoing love affair with grain mustard. I dollop it on everything! So might as well dollop it on the salmon, right?!
Also paired with the oft-forgotten fennels.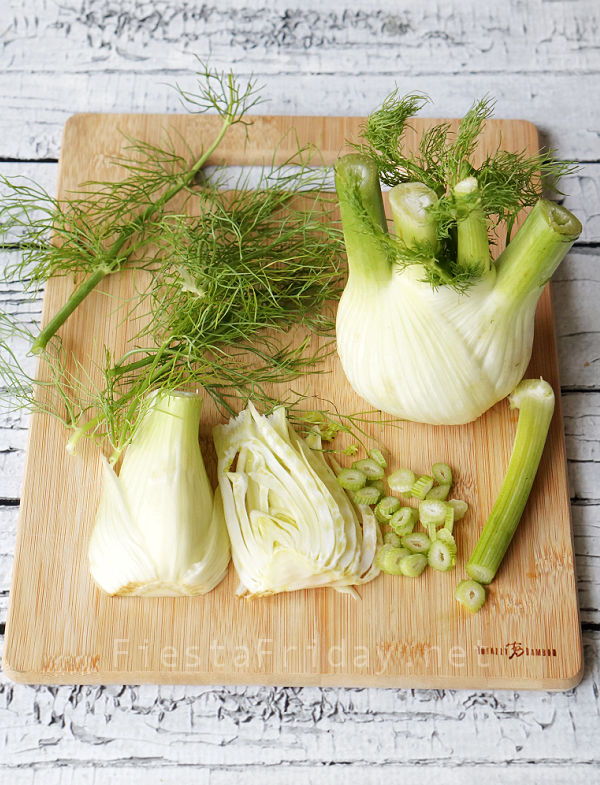 Bulb fennels, that is. Forgotten by many cooks everywhere. Evidenced by their scant appearance in cookbooks and restaurant menus. I myself have always loved fennels.
One year I scattered too many fennel seeds in my vegetable garden that I created a fennel jungle. Also, everything else croaked. I found out later that fennels tend to inhibit the growth of other plants nearby. Oops!
Ingredients Needed to make this Roasted Salmon
Salmon Fillets
Fennel Fronds
Garlic
Lemon
Whole Grain Mustard
Extra-Virgin Olive Oil
Honey or sugar or maple syrup
Salt & Pepper
Pretty straightforward so far, isn't it?! I told you it's an easy recipe. Preparation is minimal and cooking time is under 15 minutes. What more can you ask?!
What can you serve with this Roasted Salmon?
Here are some ideas:
Rice Pilaf
Roasted Potatoes
Roasted Vegetables
Side Salad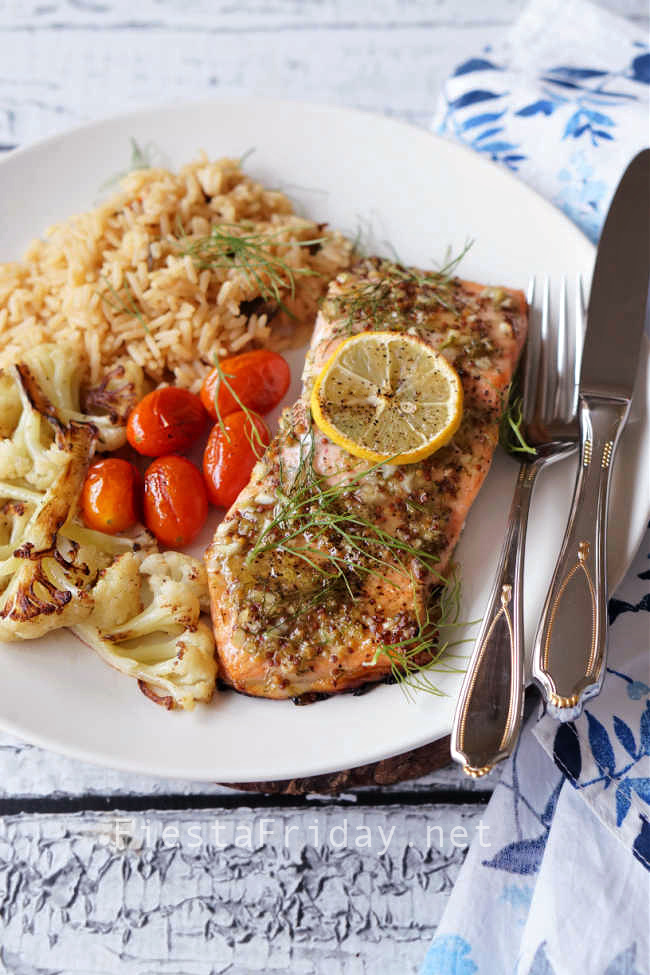 Roasted Salmon with Rice Pilaf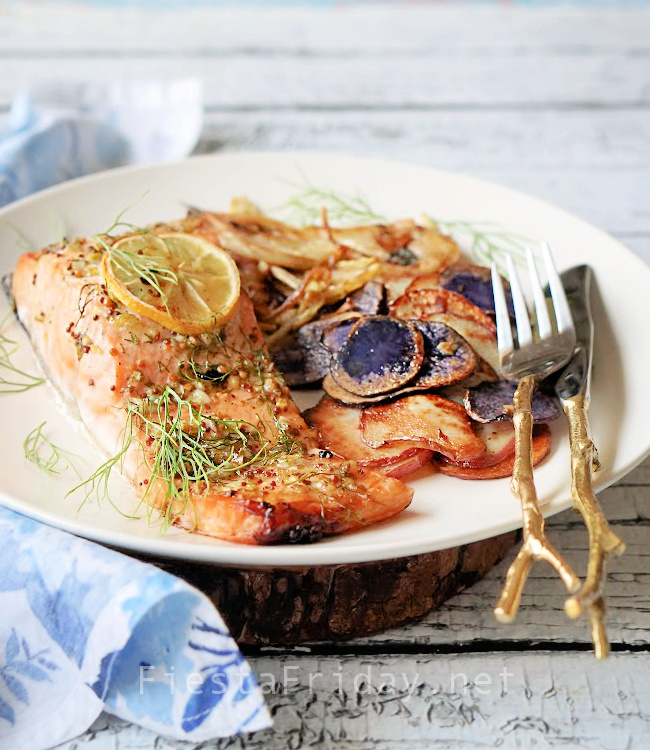 Roasted Salmon with Roasted Potatoes & Roasted Fennels
If you're looking for more salmon recipes, check these out: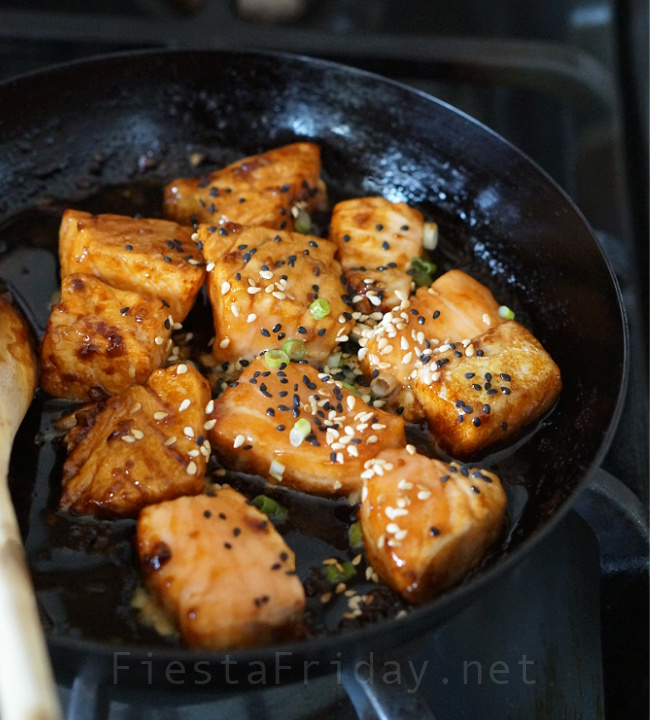 Soy Sauce Garlic Butter Noodles with Salmon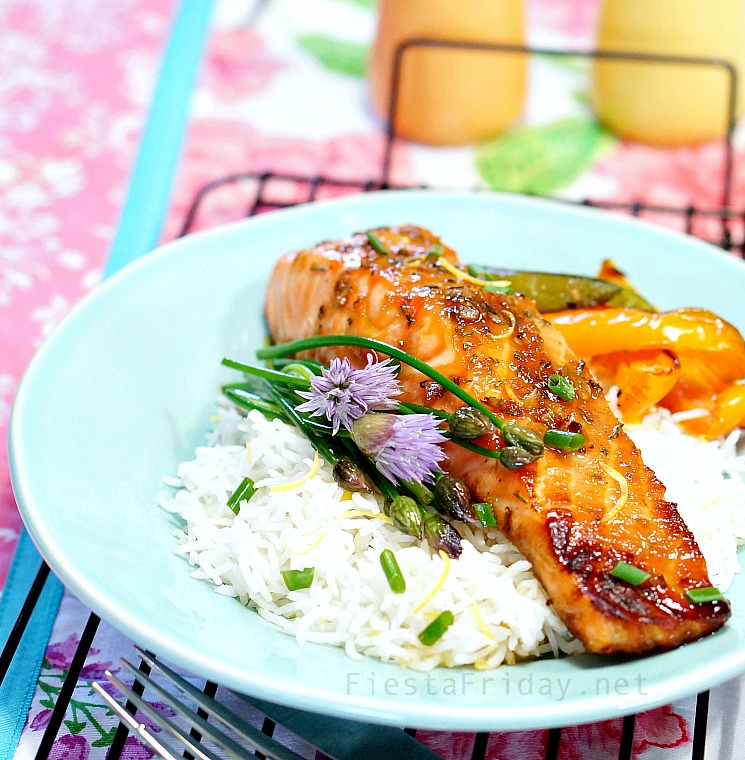 Broiled Salmon
Roasted Salmon with Garlic Fennel Mustard Sauce
Author:
Angie | FiestaFriday.net
Ingredients
4 salmon fillets, about ½ pound each
2 cloves garlic, minced
2 tablespoons chopped fennel fronds (See Notes below)
2 tablespoons whole grain mustard
2 tablespoons olive oil
2 tablespoons lemon juice
1 tablespoon lemon zest
1 tablespoon honey or sugar or maple syrup
1 teaspoon kosher salt
½ teaspoon black pepper
4 lemon slices & fennel fronds for garnish
Instructions
Heat oven to 400°F (on convection roast setting) or 450°F if there's no convection setting.
Mix all the sauce ingredients in a bowl.
Place salmon pieces on a sheet pan lined with parchment paper. Spoon the sauce over the fillets.
Roast for about 12 - 15 minutes.
Garnish each fillet with a slice of lemon and extra fennel fronds. Serve with roasted potatoes or rice pilaf.
Notes
Use the fronds (leaves) and small stems only. Save the bulb for another recipe.
If you like this recipe, please give it a ⭐⭐⭐⭐⭐ rating in the comments section below. Thanks!
Pin This To make Later!