Broiled Salmon glazed with honey & soy sauce reduction that's been infused with rosemary and lemon zest. It really is unforgettably flavorful! This IS the BEST salmon recipe!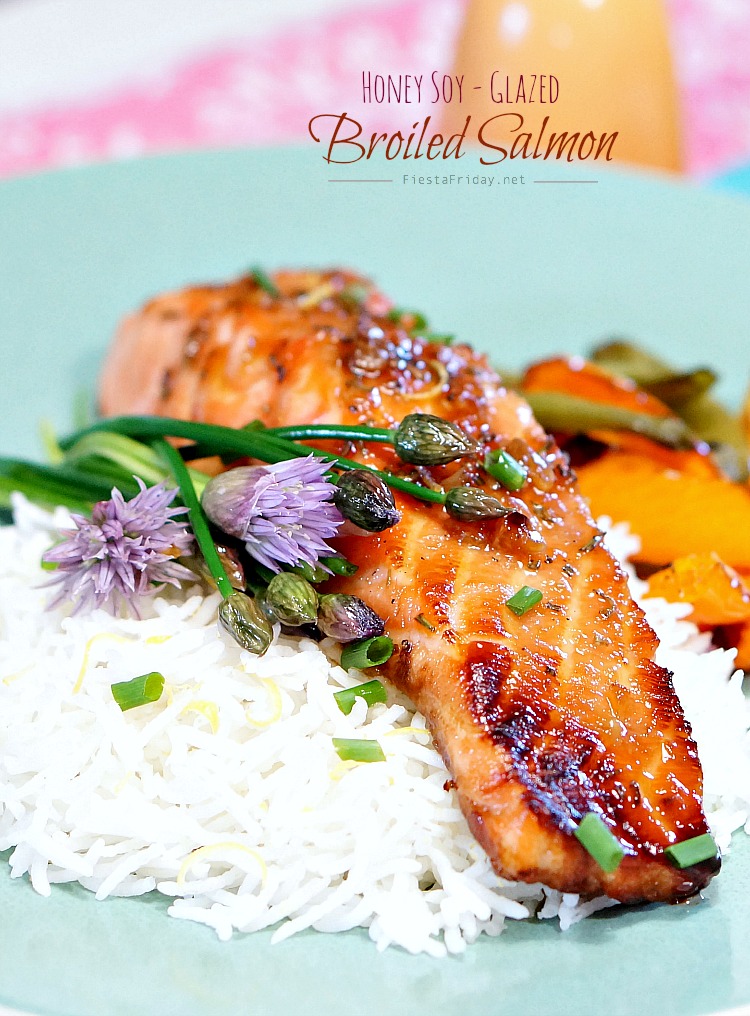 This post was originally titled Broiled Salmon with Rosemary & Lemon Zest-Infused Honey Soy Sauce Glaze. Whew! That title was a mouthful! But I was trying to be as descriptive as possible, so my readers would know exactly what they'd be getting. I have since changed it to a more manageable and easier-to-remember title. Broiled Salmon, that's it!
We're trying to add more fish in our diet, the hubs and I. So we've been eating a lot of it lately, especially salmon, since it's one of the healthiest fish and is on the superfoods list.
I find that I actually enjoy salmon. As long as it's the farm-raised kind (I know…I know…just keep reading, please…) It doesn't taste or smell as salmon-ey or as strong as the wild-caught salmon and is just plain delicious baked or broiled just until it's still slightly pink inside, the way I think salmon truly needs to be cooked.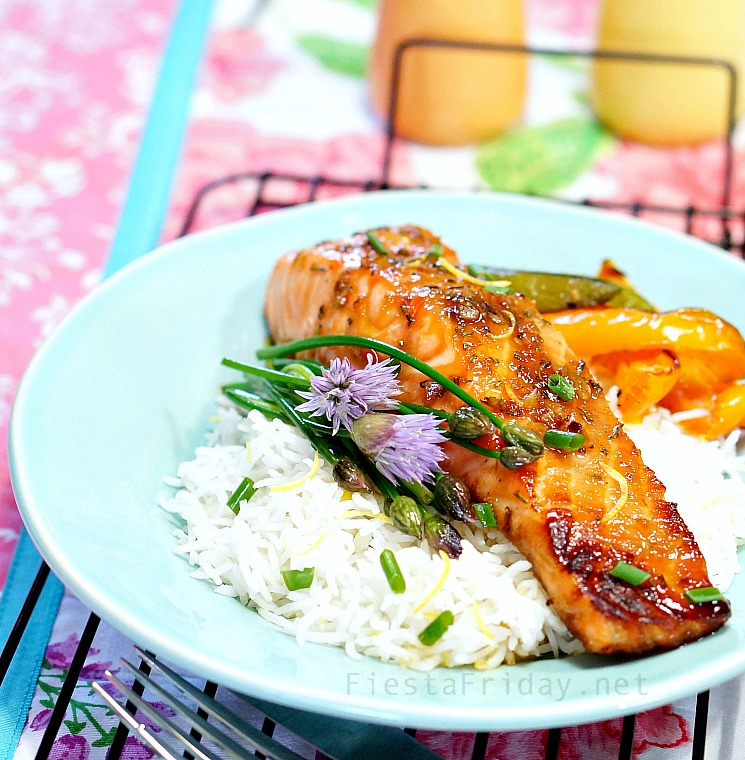 Every time I have salmon cooked that way I keep wanting to eat more. And since I was convinced it was healthy food, I've been indulging.
But then, of course, I was just in my kids' pediatrician's office and got to talking to the nurse. She strongly advocated wild-caught salmon and when I came home I started googling.
Good grief! So much chatter about farm-raised vs wild-caught salmon out there! So many differing opinions! I don't know what to believe anymore. However, it's enough to give me pause that some seem to think farm-raised salmon is one of the most toxic foods you can put in your body!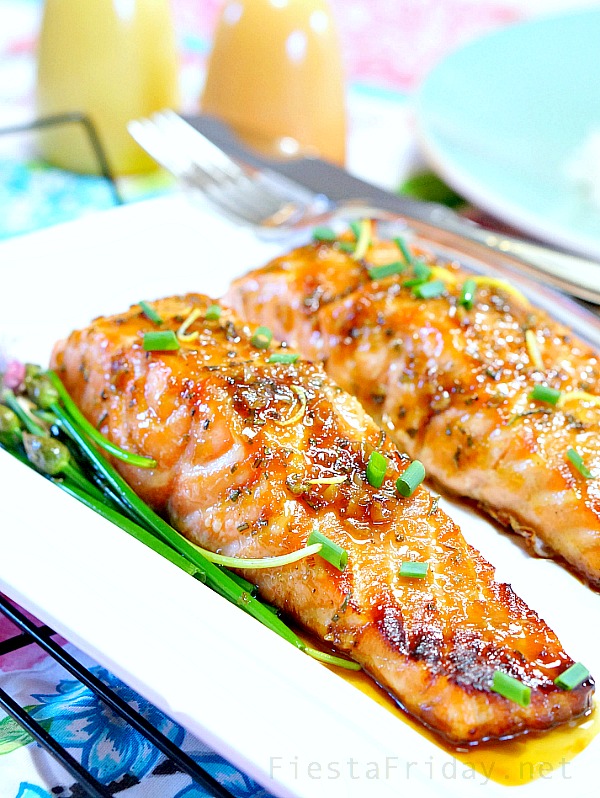 Say whaaaat?! And here I am, eating so much of it thinking it's healthy! Why do these things always happen to me?! Aargh…
And what should I do with the fillets I just bought? I can't throw them away! So, I'm closing my eyes and eating them and enjoying them one last time before I start getting myself used to the wild-caught ones.
Update: We've started buying "responsibly raised" organic salmon. Not sure what that really means, but I suppose it makes us feel a little better knowing we're consuming "responsibly raised" fish!
If you want to know more about the fish you consume as it relates to toxicity and mercury level and all that, I'd recommend this article Mercury in Fish: How Did It Get There and What To Do About It?
About Salmon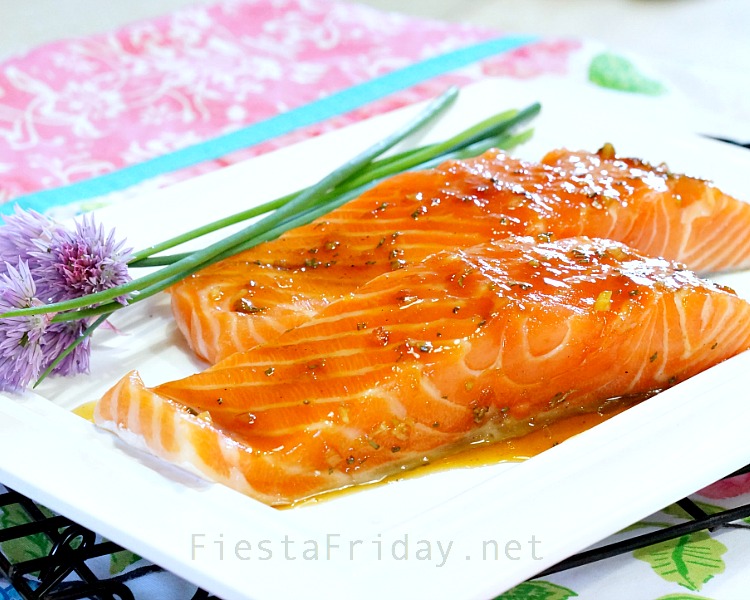 Salmon benefits greatly from being cooked in some kind of sweet sauce, in my opinion. That's my favorite way of eating salmon, anyway. Seriously, I've cooked so much of it lately that I have become quite an expert, if in my own mind and under my own standards.
Truly, the best recipes (and I must have tried at least half a dozen) for salmon typically involve adding something sweet. Sugar, honey, fruit juice, etc. It matters not where the sweet comes from. It just enhances the flavor of the fish. Sour or salty doesn't do as much to salmon, somehow.
This is all a matter of preference, of course. I'm just telling you what I like. You do what you like with your salmon, y'hear?!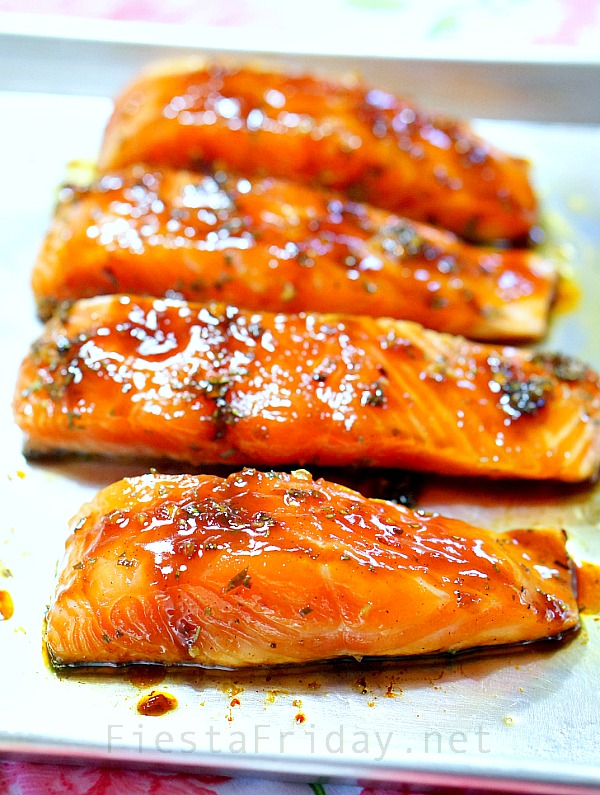 However, do yourself a favor and follow these suggestions if you want to get the best results:
NEVER OVERCOOK!
This used to be my #1 mistake! No wonder I didn't like salmon. Overcooked and dry salmon tastes like cat food. Not that I know what cat food tastes like, but I'd imagine that's what it tastes like. Overcooked salmon just tastes nasty. So, make sure you keep an eye on your salmon. It cooks a lot quicker than you think.
Start with a dry piece of fish
What I mean is that you should pat dry your fish after you rinse it. And when I say dry, I mean REALLY DRY. Which means lots of paper towels. Since salmon cooks so fast, you want to be able to get the exterior to crisp up fast, which you can achieve only if you start with a dry piece. "Wet" fish ends up poaching instead.
Get fillets with the skin on
The skin helps the fish to not get stuck to the pan. It also helps keep the fish intact while cooking. It's very easy to remove later before serving.
Don't move it around too much
After serving broken fillets too many times, I find the easiest way to keep them looking pretty is by not flipping them at all. I start by pan-frying the fish, skin side down, then continue cooking by broiling. That's the absolute easiest way!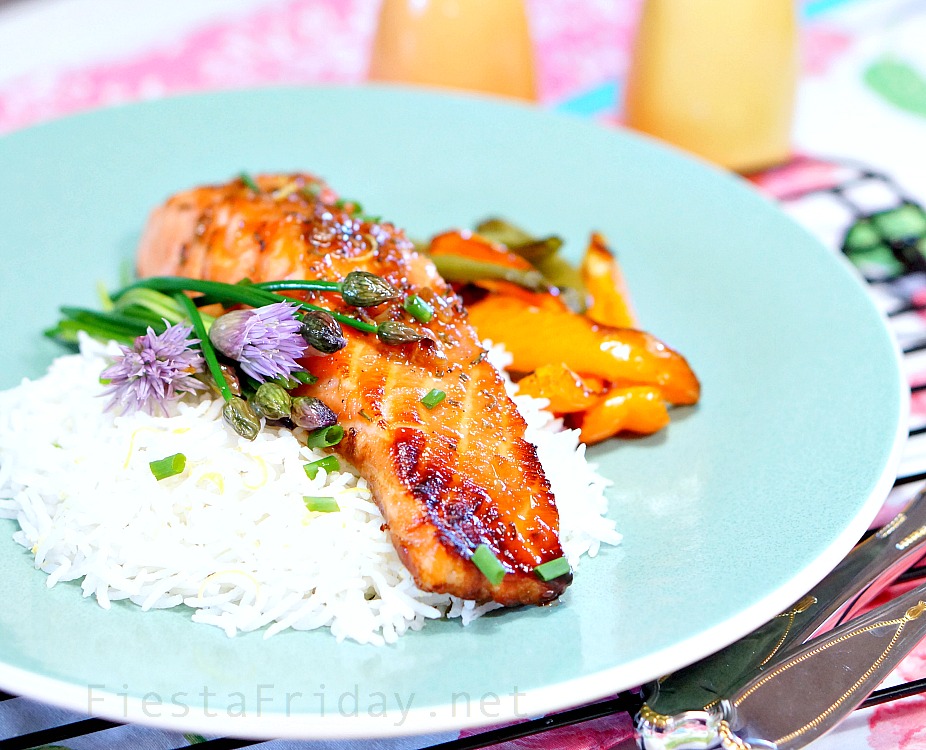 Broiled Salmon with Rosemary and Lemon Zest-Infused Honey Soy Sauce Glaze
Rosemary and Lemon Zest infuse the honey glaze and make the salmon unforgettably flavorful! This IS the BEST salmon recipe!
Recipe type:
Entrée / Seafood
Ingredients
4 skin-on salmon fillets (about 5 oz. each)
1 tablespoon olive oil or butter
¼ cup honey-soy glaze
For the glaze
¼ cup honey
3 tablespoons soy sauce
1 tablespoon lemon juice
3 cloves garlic, finely minced
1 teaspoon black pepper
2 tablespoons finely minced fresh rosemary
Grated zest of 1 lemon
Instructions
Place honey, soy sauce, lemon juice, garlic, and pepper in a small saucepan.
Cook over medium heat, stirring to combine, until sauce is just starting to bubble (about 2-3 minutes).
Add rosemary and lemon zest and stir for another minute.
Remove from heat and let cool for 15 minutes to let herbs infuse the sauce/glaze.
Strain and discard solids (optional).
Drizzle glaze all over salmon fillets, and marinate for 30 minutes.
In an oven-proof skillet, set over medium-high heat, add oil/butter.
Sear salmon fillets, skin side down, for just 1 minute.
Remove the skillet from heat and place it in the oven set high on broil.
Continue cooking, 5 inches under the broiler, for another 5 minutes for every inch thickness of salmon (i.e., if your salmon fillets are 1.5 inches thick, then cook them for 7.5 minutes).
Drizzle any left-over glaze. Serve immediately.
If you like this recipe, please give it a ⭐⭐⭐⭐⭐ rating in the comments section below. Thanks!

Save This To Make Later