Broiled Salmon with Rosemary and Lemon Zest-Infused Honey Soy Sauce Glaze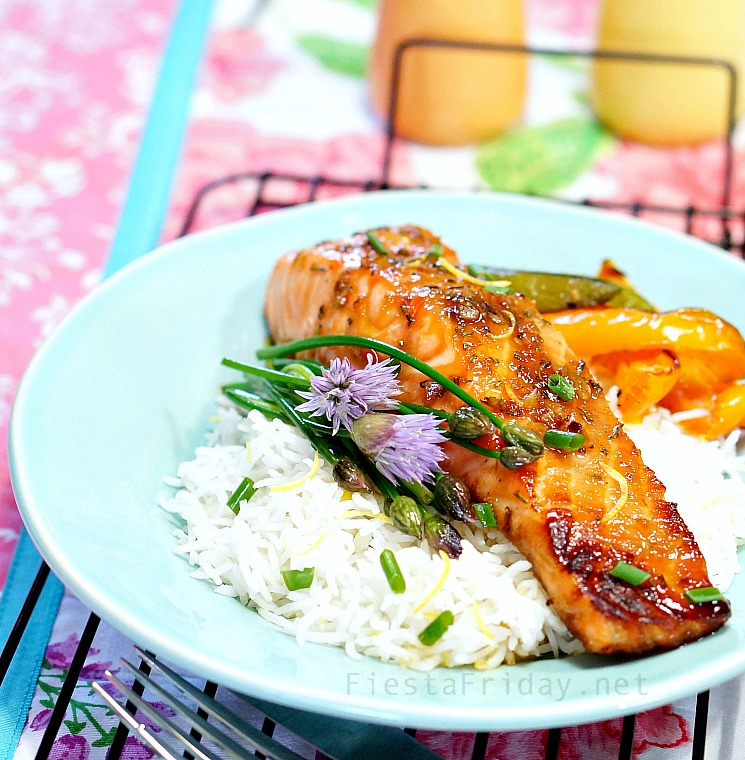 Recipe type:
Entrée / Seafood
4 skin-on salmon fillets (about 5 oz. each)
1 tablespoon olive oil or butter
¼ cup honey-soy glaze
¼ cup honey
3 tablespoons soy sauce
1 tablespoon lemon juice
3 cloves garlic, finely minced
1 teaspoon black pepper
2 tablespoons finely minced fresh rosemary
Grated zest of 1 lemon
Place honey, soy sauce, lemon juice, garlic, and pepper in a small saucepan.
Cook over medium heat, stirring to combine, until sauce is just starting to bubble (about 2-3 minutes).
Add rosemary and lemon zest and stir for another minute.
Remove from heat and let cool for 15 minutes to let herbs infuse the sauce/glaze.
Strain and discard solids (optional).
Drizzle glaze all over salmon fillets, marinate for 30 minutes.
In an oven-proof skillet, set over medium-high heat, add oil/butter.
Sear salmon fillets, skin side down, for just 1 minute.
Remove skillet from heat and place it in the oven set high on broil.
Continue cooking, 5 inches under the broiler, for another 5 minutes for every inch thickness of salmon (i.e., if your salmon fillets are 1.5 inches thick, then cook them for 7.5 minutes).
Drizzle any left-over glaze. Serve immediately.
Recipe by
Fiesta Friday
at https://fiestafriday.net/2015/06/09/broiled-salmon-with-rosemary-and-lemon-zest-infused-honey-soy-sauce-glaze/