Time to partaaay…it's Fridaaay!! With two awesome co-hosts! Quinn @Dad Whats 4 Dinner and Naina @Spice in the City.
As you know, Naina is an old Fiesta Friday friend… I mean she is NOT old, just an old friend…oh, you know what I mean!
Quinn, however, is a new co-host for us, and he was like… Am I going to be the first guy? And I am so sorry to have to burst his bubble, but unfortunately, he is not the first guy to co-host. Or the second, for that matter.
We've had other guy co-hosts before. It's an equal opportunity party over here. Right, people?
So, whether you're a man or a woman, or a Caitlyn, you're welcome to the party, and you can be a co-host if you want. Just let me know.
Co-hosting can be a eye-opening experience, by the way. Many of my co-hosts have told me that. I guess you need to be one to find out.
Moving on to the fabulous posts from last week's party. I had such a hard time selecting features. So many excellent posts! This happens every week! Thank goodness I have co-hosts to help me! These are our combined picks:
Tuna and Watermelon Soldiers, Beef and Kimchi Filo Cups Canapés from Petra @Food Eat Love
"The soldiers and filo cups look so fancy. I am impressed by how Petra created these amazing dishes. They are made perfectly and presented very beautiful. I just don't know how to put my amazement in words." — Jhuls
Pav Bhaji from Sonal @Foodbound
"I always like hearing about the history behind a certain food or dish, and this vegetable curry with bread certainly satisfies that. Who can resist the description of serving the warm, flavourful vegetables slathered on buttered and toasted bread? Stirring a pat of butter into the sauce at the very end really brought it over the top (at least for me and my love of butter!). Finally, Sonal also offers a very pretty way of serving it in glasses with small chunks of bread, proving that this dish can be as elegant or possibly as messy as one desires!" — Laurie
Vegan avocado, coconut and lime tart from Margy @La Petite Casserole
"This is such an unusual recipe, but I find myself drooling at the thought! I was surprised how much this appeals to me. The combined flavors of avocado, coconut, lime and raspberries just sound so fabulous. I am going to make this, that's a definite! And despite what Margy said, I thought the tart looked beautiful!" — Angie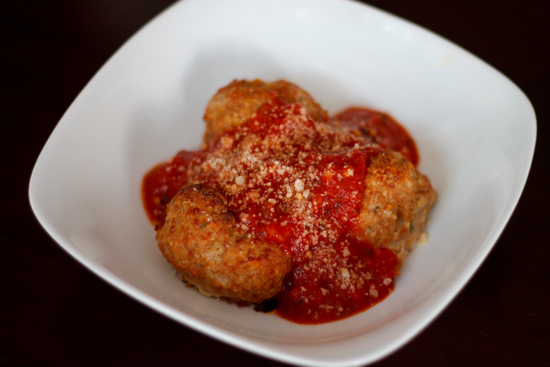 White Bean Meatballs from Sarah @ Sarah 'n Spice
"Sarah provided such a creative substitute for breadcrumbs in meatballs–cannellini beans! Then end result is a meatball full of vegetables and full of flavour. I don't usually think of meatballs as being a summer-y sort of food, but these ones certainly are, from the vegetables and fresh herbs to the touch of summer immortalized in sun-dried tomatoes." — Laurie
*****
Now let's party! Join Fiesta Friday #72 by adding your link. To add your link, click on the blue "Add your link" button below. If you're new to Fiesta Friday, please read the guidelines
[inlinkz_linkup id=535259 mode=1]