Tres Leches Cake topped with vanilla whipped cream and decorated simply with fresh strawberries and grapes. It's the lightest and freshest Tres Leches Cake there is!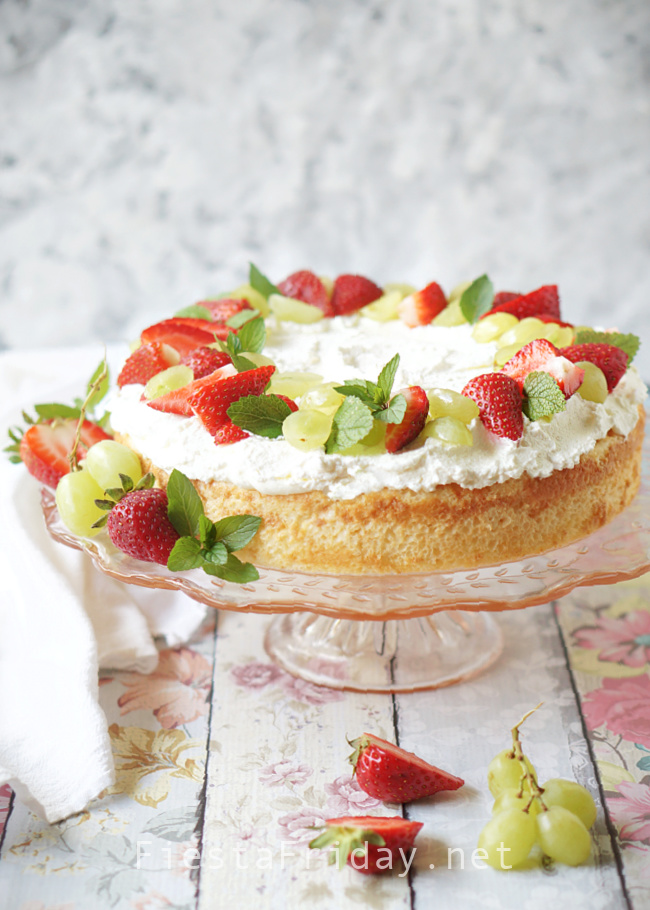 Tres Leches Cake (Pastel de Tres Leches) hasn't always been my favorite cake. The texture takes getting used to. And sometimes it's just a little bit too sweet for my taste.
When my daughter first made her version, however, I was instantly converted into a Tres Leches fan. Yes! My baby girl (okay, not so baby anymore now) is becoming quite the baker. Her specialties include the best blondie ever known to the universe, and now, this Tres Leches Cake with Fresh Fruits.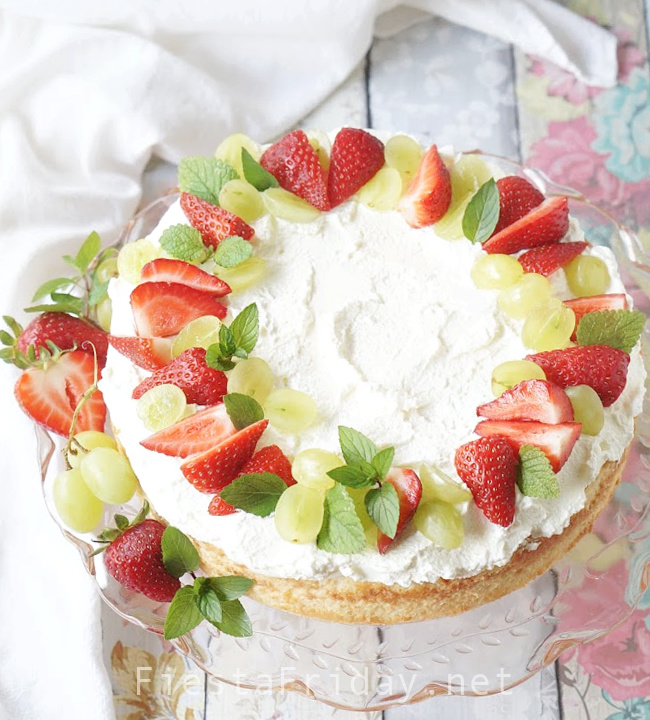 It's THE BEST! I swear!
She starts with a fat-free sponge cake as the base, which is so smart. The cake acts like a sponge (that's why it's called sponge cake, ha!) that soaks up all the goodies, i.e., the three kinds of milk (that's why this cake is called Tres Leches. Tres = Three, Leches = Milk(s).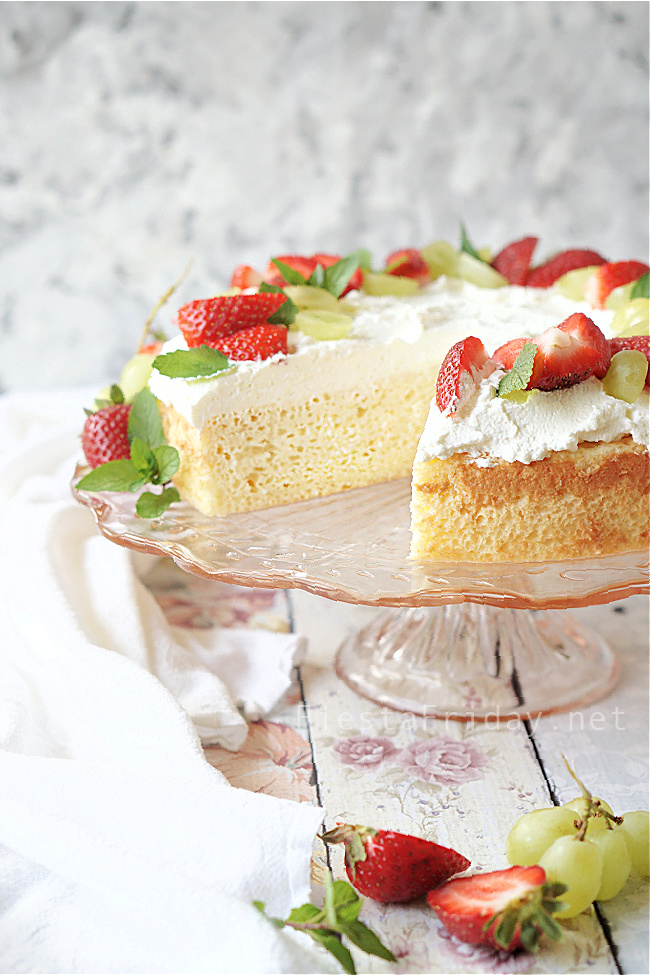 The three kinds of milk she uses are fat-free evaporated milk, fresh whole milk, and condensed milk. She doesn't use heavy or whipping cream, which, again, is so smart! That ensures that the cake stays light.
The minimal sugar used in the cake batter, along with that in the condensed milk, provides just enough sweetness to the cake.
Finally, the cake topping of vanilla whipped cream and fresh fruits amplify the freshness of the Tres Leches Cake. The end result is just so pleasing and refreshing. Not the typically heavy, sodden, and toothache-inducing cake found in some stores and buffets.
My daughter's Tres Leches Cake is truly THE BEST Tres Leches Cake!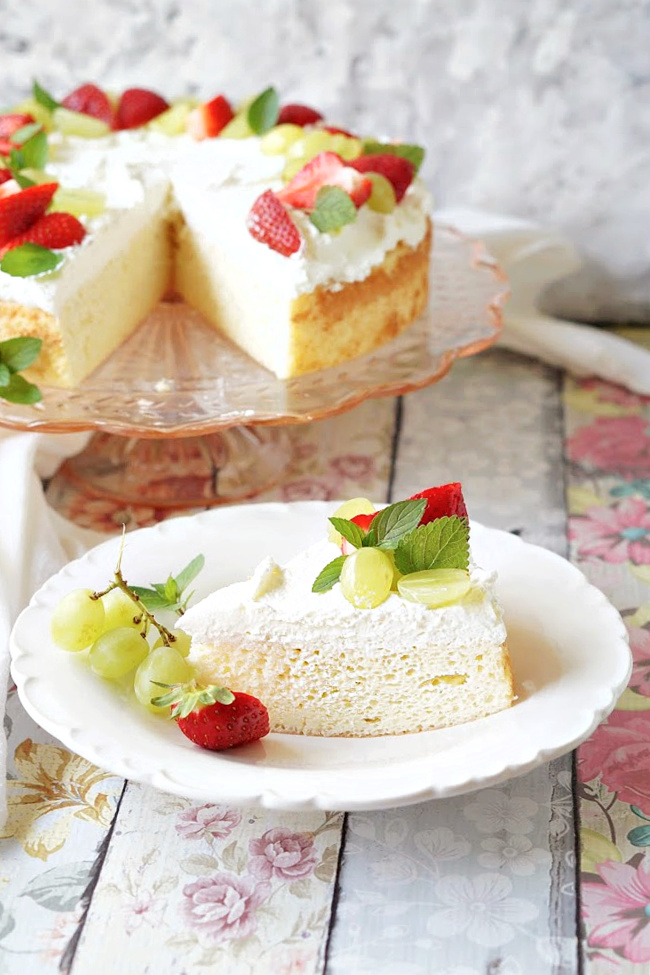 The Origin of Tres Leches Cake
Soaking a cake in liquid is such an interesting concept that I began to be curious about the origin of it. After reading several articles, I became convinced that no one particular person or country singularly invented the idea.
It most likely evolved from a cook's way of extending the life of stale cakes or cookies. As to who that cook was that started it, history has neglected to record it, so who really knows?!
It's sort of like dunking your cookie into milk; who invented the practice?! Everybody, am I right?! It's instinctive and spontaneous.
So, most writers seem to agree that the method most likely started in Medieval Europe with the making of tiramisu and trifle cakes.
Tres Leches Cake, in particular, is thought to have been first served in Nicaragua, though there's some dispute about it. At any rate, the cake had become popular throughout Latin America by the 1940s when Nestle decided to print a recipe for the cake on its condensed milk label.
In the US, Tres Leches Cake (Pastel Tres Leches) is most associated with Mexican cuisine and is served at many birthdays, weddings, and other celebrations.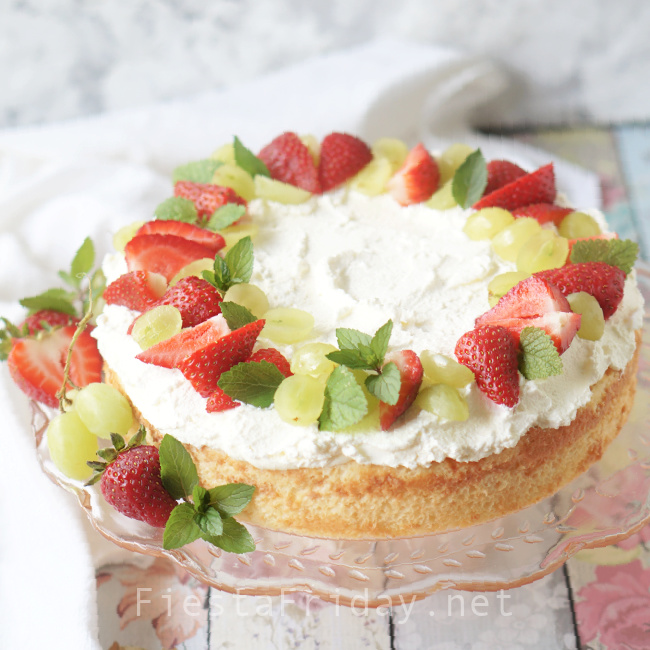 A Few Tips, Tricks & Ideas
The best way to separate the egg yolk from the white is by cracking it, then catching the yolk with one hand over a bowl while allowing the white to flow out of your fingers.
It is easier to separate eggs when they're cold (straight from the fridge), but room-temperature eggs are easier to whip and they may give you a slightly bigger volume.
Tres Leches cake is supposed to be super moist. Sometimes you can see the liquid pooling on the bottom of the cake when it's served. But if you don't like it to be that wet, you can reduce the amount of the milk bath or the length of time the cake is soaking so that it's not completely soaked through.
This Tres Leches Cake with Fresh Fruits is one of the simpler versions, but there are many versions out there, ranging from skinny to decadent. Some of them are flavored with chocolate, coconut, pumpkin, and even matcha!
Some recipes use butter or pound cake as the base, and the topping also varies, from buttercream to meringue. The choice is yours.
This recipe makes an 8-inch round cake about 2 1/2-inch height (minus the topping). You can double it to make a 2-tiered cake.
You can also cut the sponge cake with a biscuit cutter to make mini cakes like the ones in the photo below. How cute are they?!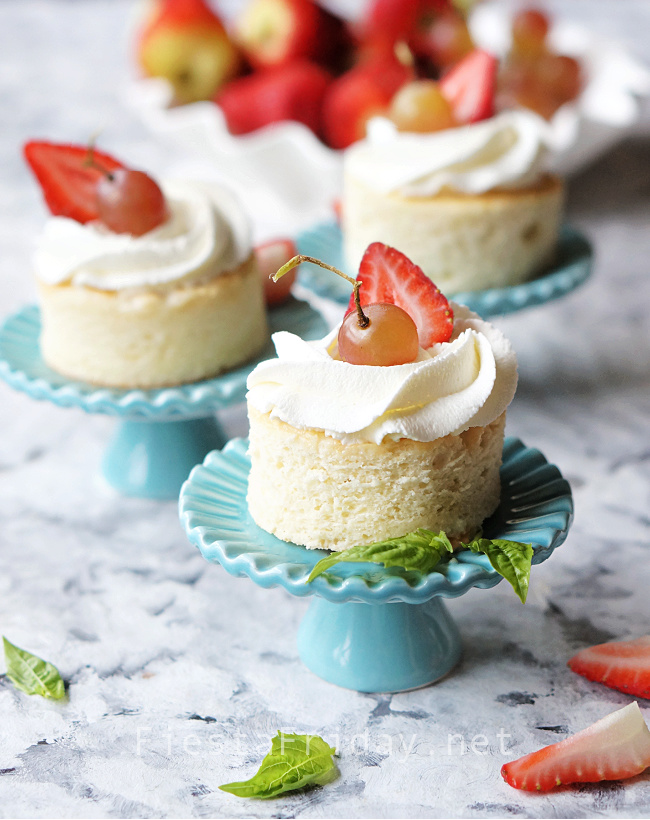 Handy Dandy Printable Recipe for the Pastel de Tres Leches:
Tres Leches Cake with Fresh Fruits
Tres Leches Cake topped with vanilla whipped cream and decorated simply with fresh strawberries and grapes. It's the lightest and freshest Tres Leches Cake there is!
Author:
Angie | FiestaFriday.net
Ingredients
For the sponge cake
4 (large) egg whites
¼ tsp cream of tartar
½ cup granulated sugar
2 (large) egg yolks
½ cup milk
1 cup self-rising flour (or ¾ cup all-purpose flour) *See Notes #1
1 teaspoon baking powder (if using all-purpose flour)
1 teaspoon vanilla extract
For the milk bath
¼ cup sweetened condensed milk
½ cup fresh whole milk
½ cup fat-free evaporated milk
¼ teaspoon salt
For the vanilla whipped cream topping
1¼ cups heavy cream
2 tablespoons granulated sugar
1 teaspoon vanilla extract
For the fruit topping
Fresh seasonal fruits of your choice
Instructions
For the sponge cake
Heat oven to 350° F.
In a clean bowl, beat the egg whites, with the cream of tartar. Once foamy, add the sugar one tablespoon at a time and continue whipping until stiff peaks form. Set aside.
In another bowl, mix milk, egg yolks, and vanilla. Add flour and baking powder, and mix until combined.
Gently fold in the whipped egg whites into the cake batter.
Pour the batter into an 8-inch round cake pan that's been greased and lined with parchment paper.
Bake the cake for 20 - 25 minutes or until an inserted toothpick comes out clean.
Allow cake to cool completely before soaking.
For the milk bath
Combine sweetened condensed milk, whole milk, evaporated milk, and vanilla.
Once the cake is cool, place in a container large enough to accommodate the cake. Pour the milk bath over the cake and let it soak for at least 1 hour to overnight in the fridge.
For the whipped cream topping
Whip together heavy cream, sugar, and vanilla. Use to top the cake.
Decorate the cake with fresh fruits.
Notes
1. We tried both all-purpose and self-rising flour, and found that self-rising flour resulted in a lighter (spongier) cake, while all-purpose flour resulted in a denser (sturdier) cake.
2. The large cake in the photos above was made with self-rising flour, and the mini cakes were made with all-purpose flour.
3. This is a cake that's best served cold.
If you like this recipe, please give it a ⭐⭐⭐⭐⭐ rating in the comments section below. Thanks!

Pin This To make Later – Follow me on Pinterest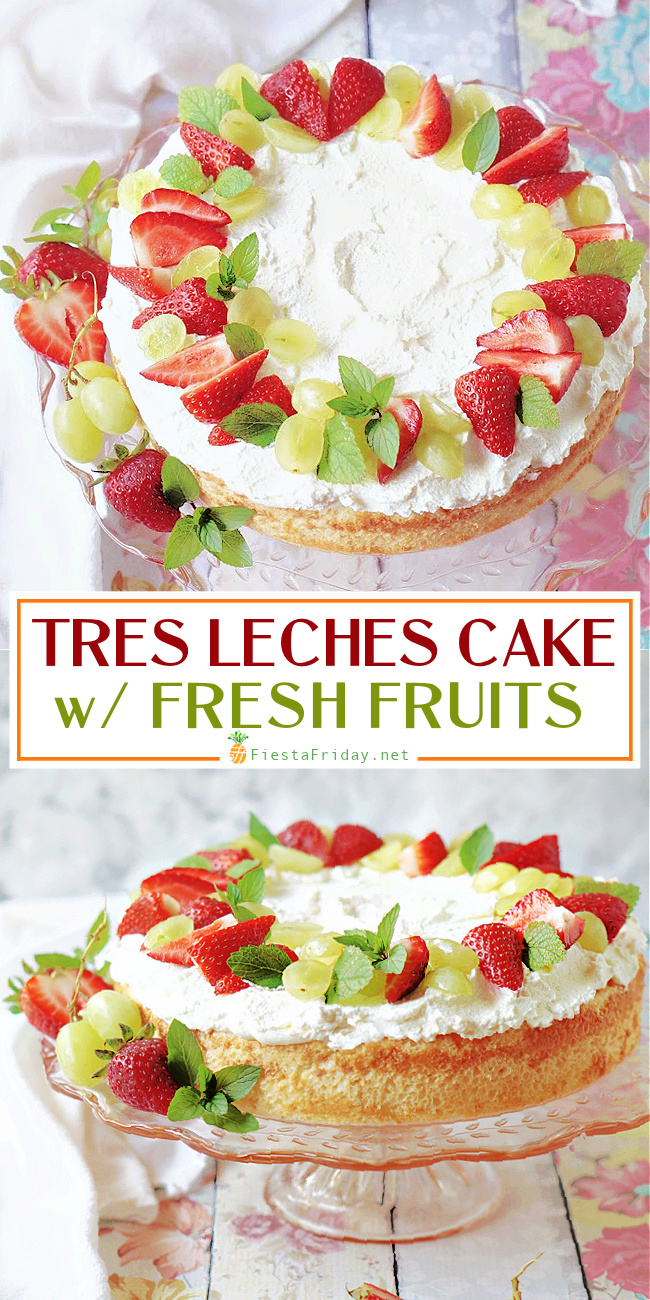 I'm bringing this to my Fiesta, 'coz what's a fiesta without Tres Leches?!