Tres Leches Cake with Fresh Fruits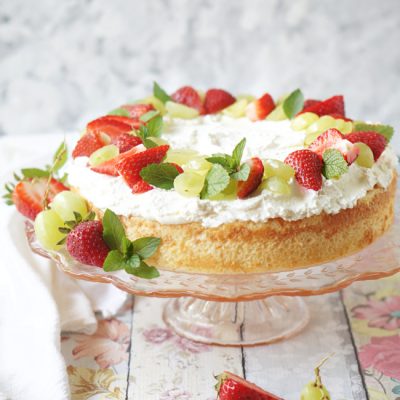 Author:
Angie | FiestaFriday.net
4 (large) egg whites
¼ tsp cream of tartar
½ cup granulated sugar
2 (large) egg yolks
½ cup milk
1 cup self-rising flour (or ¾ cup all-purpose flour) *See Notes #1
1 teaspoon baking powder (if using all-purpose flour)
1 teaspoon vanilla extract
¼ cup sweetened condensed milk
½ cup fresh whole milk
½ cup fat-free evaporated milk
¼ teaspoon salt
1¼ cups heavy cream
2 tablespoons granulated sugar
1 teaspoon vanilla extract
Fresh seasonal fruits of your choice
Heat oven to 350° F.
In a clean bowl, beat the egg whites, with the cream of tartar. Once foamy, add the sugar one tablespoon at a time and continue whipping until stiff peaks form. Set aside.
In another bowl, mix milk, egg yolks, and vanilla. Add flour and baking powder, and mix until combined.
Gently fold in the whipped egg whites into the cake batter.
Pour the batter into an 8-inch round cake pan that's been greased and lined with parchment paper.
Bake the cake for 20 - 25 minutes or until an inserted toothpick comes out clean.
Allow cake to cool completely before soaking.
Combine sweetened condensed milk, whole milk, evaporated milk, and vanilla.
Once the cake is cool, place in a container large enough to accommodate the cake. Pour the milk bath over the cake and let it soak for at least 1 hour to overnight in the fridge.
Whip together heavy cream, sugar, and vanilla. Use to top the cake.
Decorate the cake with fresh fruits.
1. We tried both all-purpose and self-rising flour, and found that self-rising flour resulted in a lighter (spongier) cake, while all-purpose flour resulted in a denser (sturdier) cake.
2. The large cake in the photos above was made with self-rising flour, and the mini cakes were made with all-purpose flour.
3. This is a cake that's best served cold.
Recipe by
Fiesta Friday
at https://fiestafriday.net/2021/04/14/tres-leches-cake-with-fresh-fruits/