Dark Chocolate Espresso Banana Bread is your breakfast and morning coffee combined in a single bite. Yes, it appears you can have your coffee and eat it, too!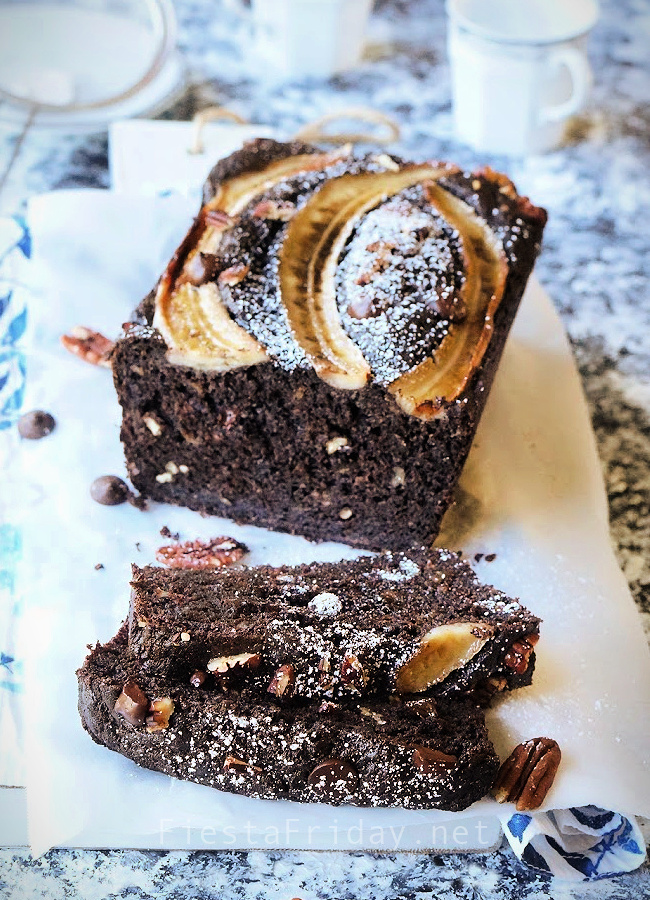 This Dark Chocolate Espresso Banana Bread has been brought to you today by the Espresso Chocolate Chip Banana Nut Muffins.
Because… when you work hard to come up with a great foolproof recipe, you should never NOT repeat it. That's how I feel about the muffin version. I think it's a winning recipe. I've made it several times now and each time the muffins come out as good as the first time I made them.
Therefore, I borrowed that great recipe and with minor adjustments, turned it into this Dark Chocolate Espresso Banana Bread.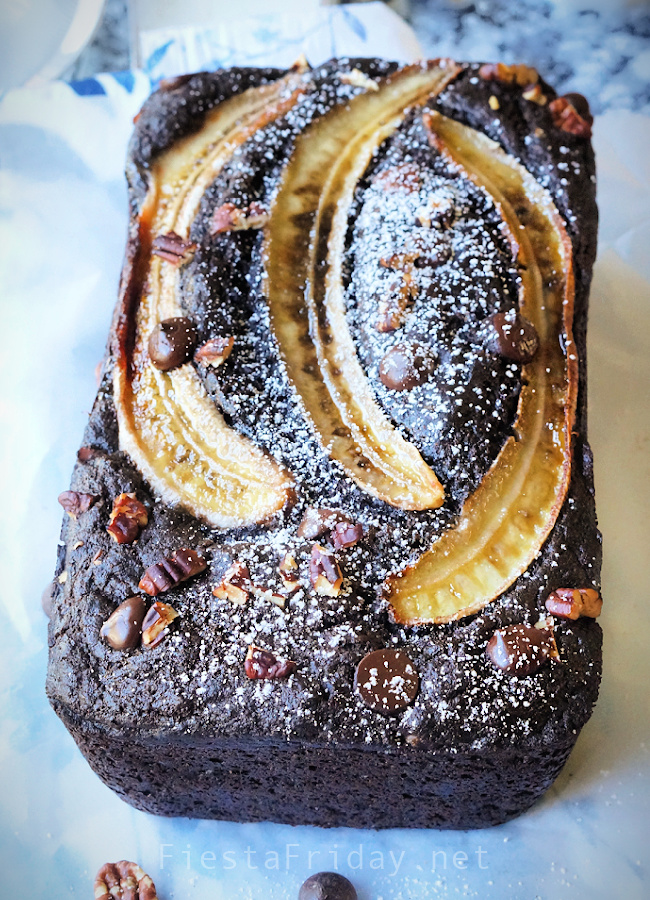 If you must plagiarize, then plagiarize yourself. That's the only form of plagiarism allowed legally. Because it's really not plagiarism. Well, what is it, then? Okay, never mind… I don't really want to go there.
Let's focus on this beguiling banana bread instead. So dark and mysterious, this chocolate espresso banana bread may even be better than its muffin cousins.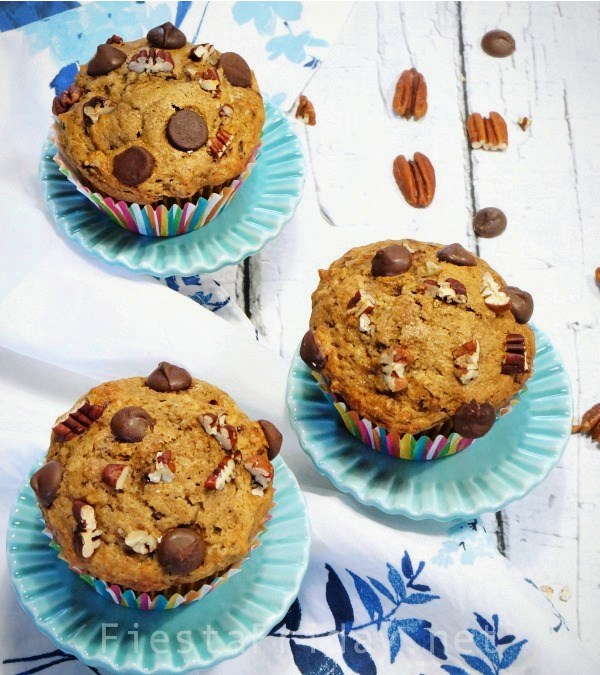 All the good flavors in those muffins are intensified here with the addition of dark cocoa powder. I'm forever a fan of dark chocolate! Yes, with an exclamation point!
I can go on and on about dark chocolate and how good this banana bread is, but I think you get the point by now.
The point is, and I do have one, go make this Dark Chocolate Espresso Banana Bread, like pronto!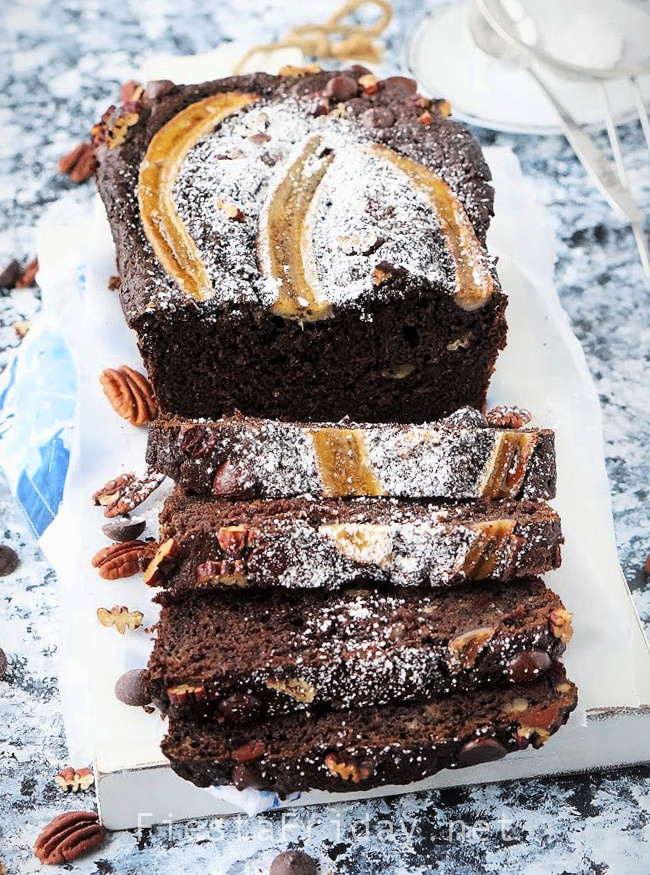 Tips & Tricks and sometimes BTWs
This is such an easy and fool-proof recipe that I don't have that any tips & tricks for you. But I do have a BTW, so by the way… to prevent the banana slices from browning, brush them with lemon juice before baking.
The loaf below didn't benefit from this great BTW 🙂 and suffers from brown banana slices as a result.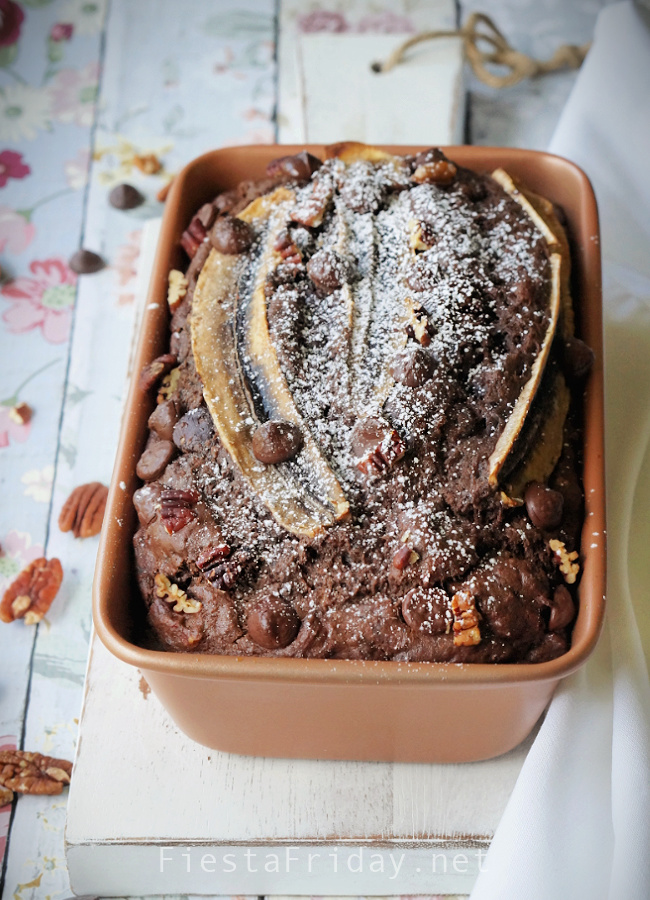 It also did not receive the star treatment of Special Dark cocoa powder, unlike its counterpart below. Poor little loaf…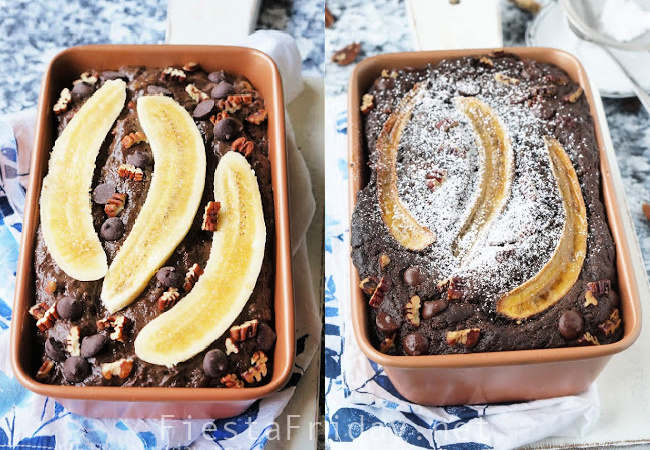 Dark Chocolate Espresso Banana Bread
This Dark Chocolate Espresso Banana Bread is your breakfast and morning coffee combined in a single bite. Yes, it appears you can have your coffee and eat it, too!
Author:
Angie | FiestaFriday.net
Recipe type:
Breakfast/Bread
Ingredients
1 cup whole-wheat flour
1 cup all-purpose flour
¼ cup Hershey Special Dark Cocoa Powder
1 tablespoon aluminum-free baking powder
1 teaspoon baking soda
½ teaspoon salt
1 tablespoon espresso powder
¾ cup toasted pecan, chopped, divided
¾ cup dark chocolate baking chips, divided
1 stick butter, melted
¾ cup brown sugar
2 large eggs, beaten
2 teaspoons vanilla
¾ cup buttermilk
1 cup mashed, very ripe bananas
1 banana, not too ripe, sliced lengthwise into thirds
1 teaspoon lemon juice
(Optional) Powdered sugar
Instructions
Heat oven to 400°F. Spray a 9x5 loaf pan with baking spray.
In a large bowl, mix flours, baking powder, and soda, salt, espresso powder, ½ cup each of the nuts, and chocolate chips, reserving the rest to top the bread. Whisk and set aside.
In another bowl, mix melted butter, sugar, eggs, mashed bananas, vanilla, and buttermilk. Whisk to combine.
Pour the wet mixture into the dry mixture. Use a spatula to mix just until combined. Don't overmix.
Pour batter into sprayed loaf pan. Place banana slices on top of the batter, then brush them with lemon juice to prevent browning.
Sprinkle the remaining nuts and chocolate chips in between the banana slices.
Bake at 400°F for 10 minutes. Then reduce heat to 350°F and continue baking for 30 more minutes, for a total of 40 minutes baking time, or until a toothpick inserted into the center of the loaf comes out clean.
Cool in the pan for 5 minutes, then remove and place on a wire rack to cool completely before slicing. Dust with powdered sugar, if you like.
If you like this recipe, please give it a ⭐⭐⭐⭐⭐ rating in the comments section below. Thanks!

Save This To Make Later