These Espresso Chocolate Chip Banana Nut Muffins are your breakfast and coffee combined in a single bite! Yup, you can have your morning coffee and eat it, too!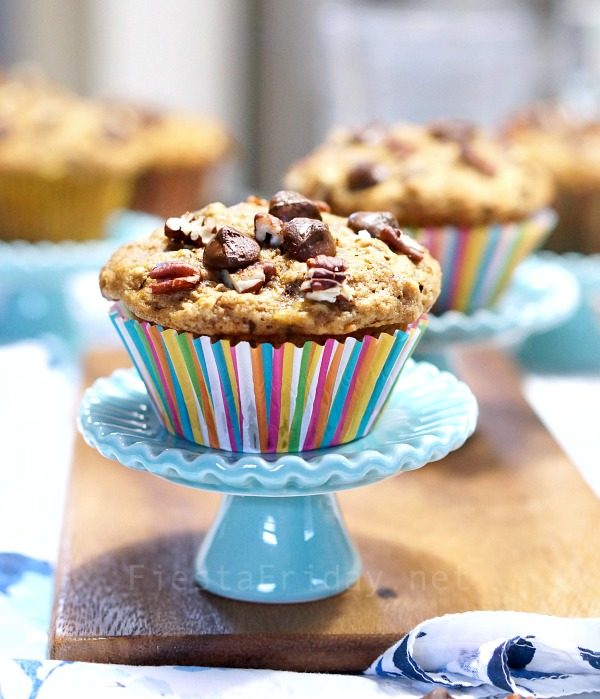 If there's anything that can motivate me to work a little harder, pull me off my couch, plant me in front of a computer, and write a recipe in HTML, it's Instagram.
Yup, strange, isn't it?
Because I'm not even that much into instagramming. I think I've always been afraid of getting sucked into the depth of the "I" addiction. The name alone can tempt the very strong. Who doesn't like anything Insta?!
But, here's what happened.
I made muffins. Espresso-flavored muffins. Espresso Chocolate Chip Banana Nut Muffins, to be exact.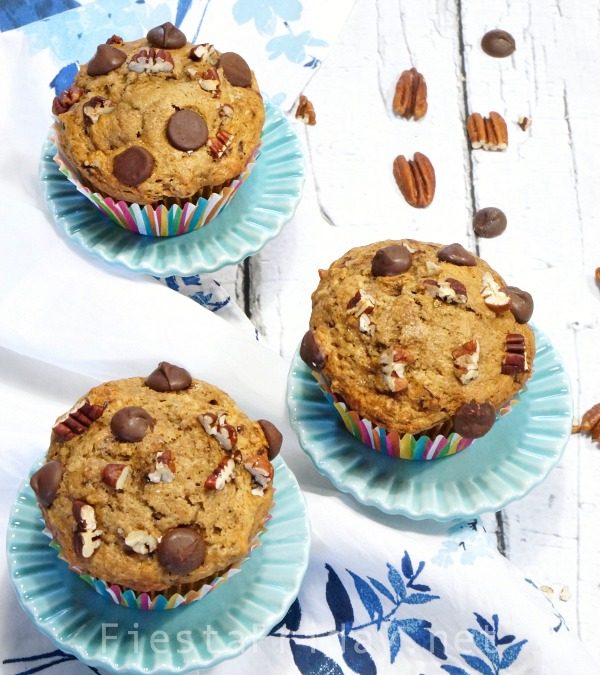 They were good muffins. So I took pictures and posted on Instagram. Because they were good! And you're supposed to instagram good things, are you not?
In my Instagram post, I mentioned #recipesoonontheblog.
And with that, the damage is done. If you promise, you must deliver.
Also, I brought some of the muffins to work, and carelessly spilled that there was espresso…and chocolate…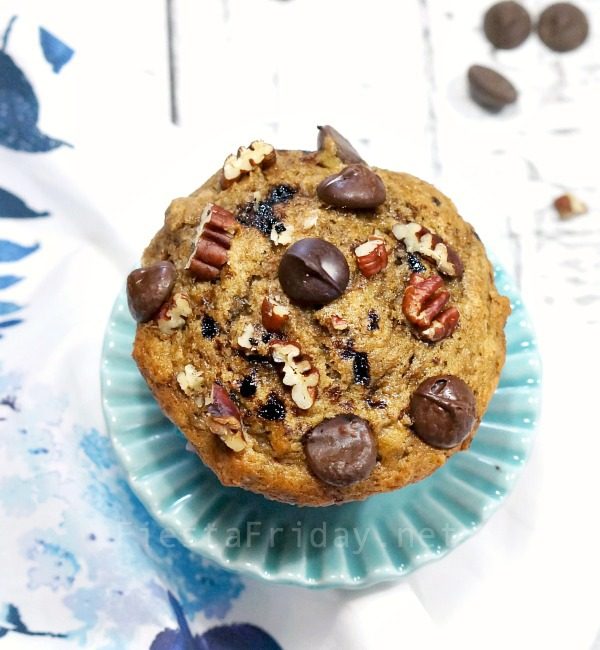 I didn't even get to say the banana and nut parts before someone started hyperventilating. Apparently, some people get very excited over espresso and chocolate. No sooner had the words espresso and chocolate come out of my mouth than I heard…GASP! RECIPE!
And that's why I really, really need to post this recipe. Darn you, Instagram! And darn you, espresso and chocolate!
I'm saying that without anger, of course. I'm not resentful or anything like that. I will never, ever darn espresso or chocolate.
Or even Instagram. Except maybe just one time, when I innocently searched for an innocent hashtag, and instead I got uhm… let's just say it starts with a "P" and ends with an "N", and there's "OR" in the middle. And just to be clear, it is NOT "POPCORN".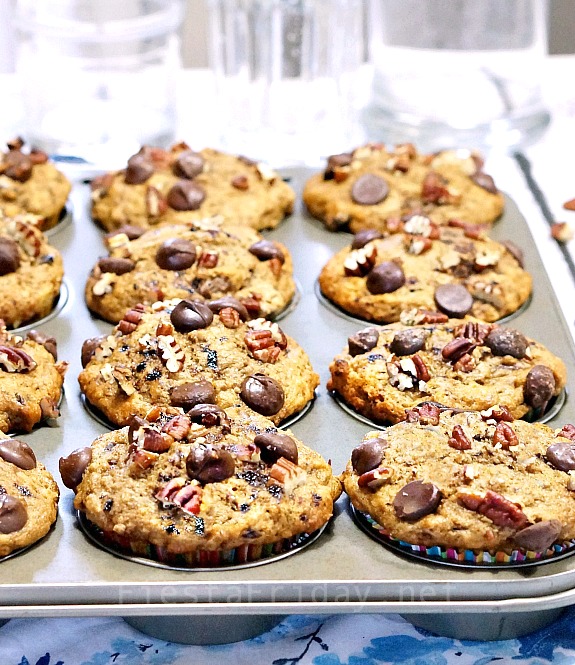 Has that ever happened to anyone?! It was so shocking I ended up not going back to Instagram for weeks!
So now you know why I'm not big on Instagram. I'm a little scared of it.
However, I'm seriously more than willing to share this recipe. And not in the least bit scared of doing it. Because it works beautifully. Life's too short to be trying recipes that don't work!
I based my recipe on Heidi Swanson's Espresso Banana Muffins. When I saw that recipe, I knew instantly I could improve it. By that I mean I could simplify the method, as well as cater it to my personal preferences, i.e., my preferred baking nut is pecan, preferred baking liquid buttermilk, preferred sugar brown, etc.
And this Espresso Chocolate Chip Banana Muffin is my preferred version.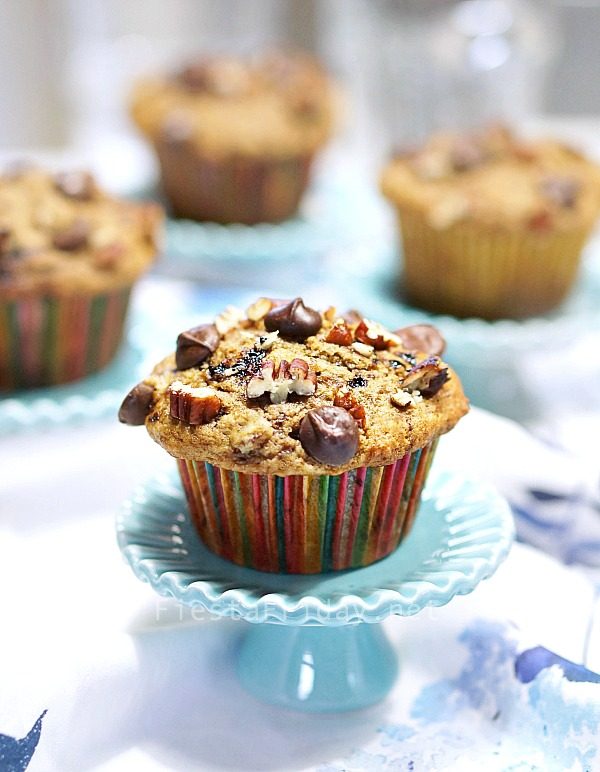 So good! (espresso and chocolate, need I say more?) And quite healthy (whole wheat, dark chocolate and all). And pretty much fool-proof (c'mon, it's a muffin recipe!) So go make some and insta them! Or is it gram them? As you can see, I have yet to master the art of instagramming.
Chocolate Chip Espresso Banana Nut Muffins
These Espresso Chocolate Chip Banana Nut Muffins are your breakfast and coffee combined in a single bite! Yup, you can have your morning coffee and eat it, too!
Author:
Angie | FiestaFriday.net
Ingredients
1¼ cups whole-wheat flour
1 cup all-purpose flour
2 teaspoons aluminum-free baking powder
1 teaspoon baking soda
½ teaspoon salt
1 tablespoon espresso powder
¾ cup toasted pecan, chopped, divided
¾ cup dark chocolate baking chips, divided
1 stick butter, melted
¾ cup brown sugar
2 large eggs, beaten
2 teaspoons vanilla
1 cup mashed, very ripe bananas
¾ cup buttermilk
Instructions
Heat oven to 425°F. Line muffin tin with cupcake liners.
In a large bowl, mix flours, baking powder and soda, salt, espresso powder, ½ cup each of the nuts and chocolate chips, reserving the rest to top muffins. Whisk and set aside.
In another bowl, mix melted butter, sugar, eggs, mashed bananas, vanilla, and buttermilk. Whisk to combine.
Pour wet mixture into dry mixture. Use a spatula to mix just until combined. Don't overmix.
Spoon batter into lined muffin tin. To get the high-domed, big-topped, bakery-style muffins, fill the cups all the way to the top (*See photo below).
Sprinkle the remaining nuts and chocolate chips on top.
Bake at 425°F for 7 minutes. Then reduce heat to 350°F and continue baking for 13 more minutes, for a total of 20 minutes baking time.
Cool in the tin for just a couple of minutes, then remove and place on a wire rack to cool completely.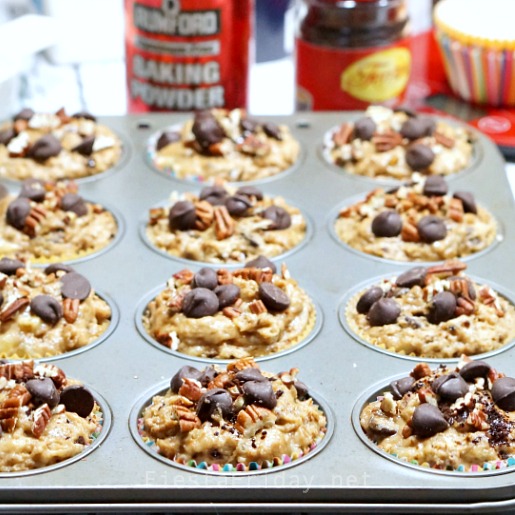 If you like this recipe, please give it a ⭐⭐⭐⭐⭐ rating in the comments section below. Thanks!
Pin This To make Later!