Ack! There's a snake in my hummus! A two-headed snake!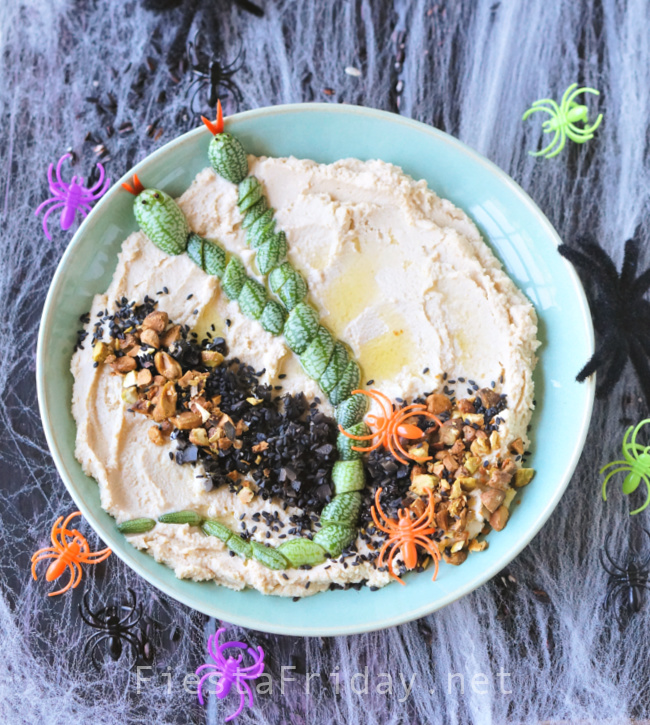 Halloween is going to be such a dud this year. For the little ones, at least. Trick-or-treating will be limited, most likely. But that doesn't mean that you can't still celebrate fashionably within the confines of your own home.
With the help of a healthy and humble dip like hummus. If you can call hummus or two-headed snakes fashionable, that is.
It's just an idea for a healthy snack for Halloween, from my house to yours. We get to eat too much sugar on that day, anyway. I shall publish a recipe once I have it written, although I'm pretty sure everyone knows how to make hummus.
Now, take a look at these:
Halloween Peanut Butter Ritz Cookies
"Love this Halloween idea using Ritz crackers instead of Oreos. I have nothing against Oreos – it's one of my all-time favorite cookies – but you eat way too many sweets on Halloween, anyway, so it's good to have a salty or less sweet option." — Angie
Butternut Hominy Chicken Stew
"I just find this stew incredibly appetizing. Makes me want to dig into that bowl right now! It also sounds so hearty and wholesome." — Angie
Spaghetti Bolognese – meat free
"Anytime I can incorporate more vegetables into a meal, I feel like a winner. And this vegetarian Bolognese sounds delicious with eggplants and mushrooms in it." — Angie
Waste Not – 3 recipes for orange peel
"This is so inspiring! Instead of throwing away the peel after consuming oranges, why not turn it into edible goodies? Like the chocolate-dipped candied orange peel in the photo above?" — Angie
***
Now, let's party! Join Fiesta Friday #351 by adding your link(s). Don't forget to link your post to FiestaFriday.net and the cohost(s), so you can be featured. Your cohost this week is Laurena @ Life Diet Health
If you're interested in cohosting Fiesta Friday Link Party, please let me know.
If you're new to Fiesta Friday, please read the guidelines.
You are invited to the Inlinkz link party!